DIGITAL MARKETING VS TRADITIONAL MARKETING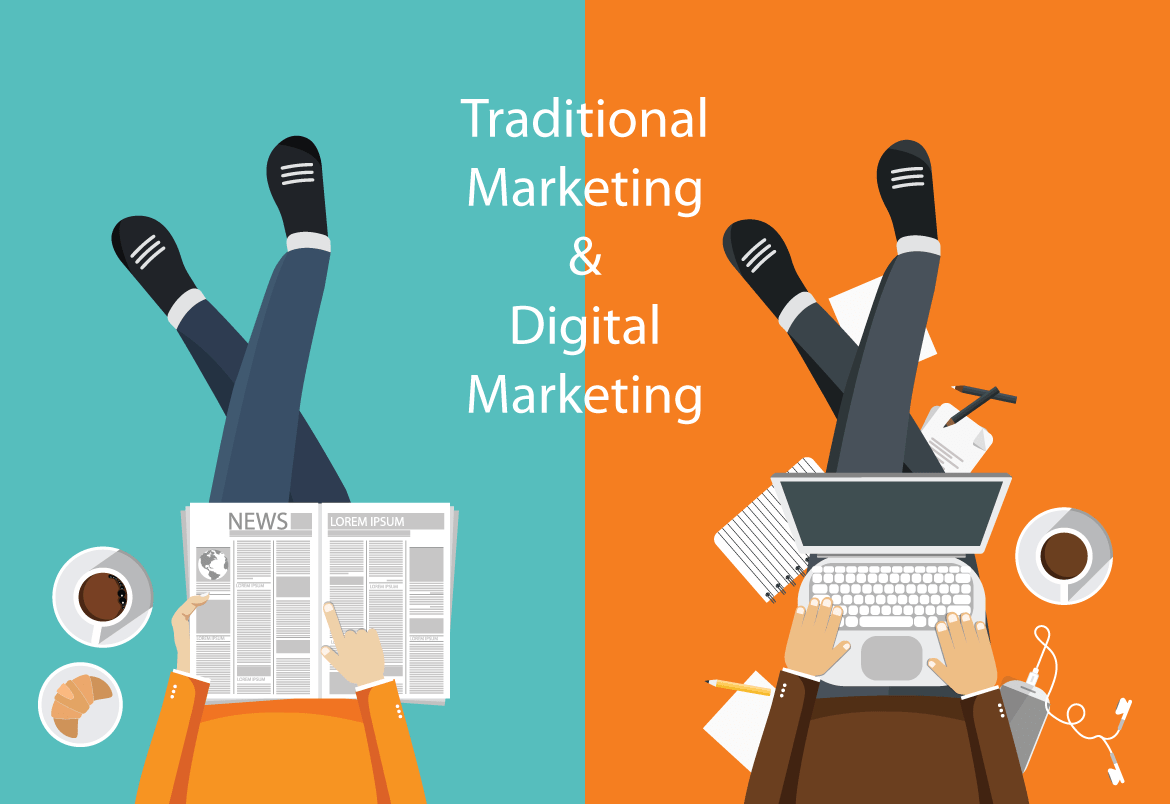 Traditional Marketing VS Digital Marketing


What is digital marketing?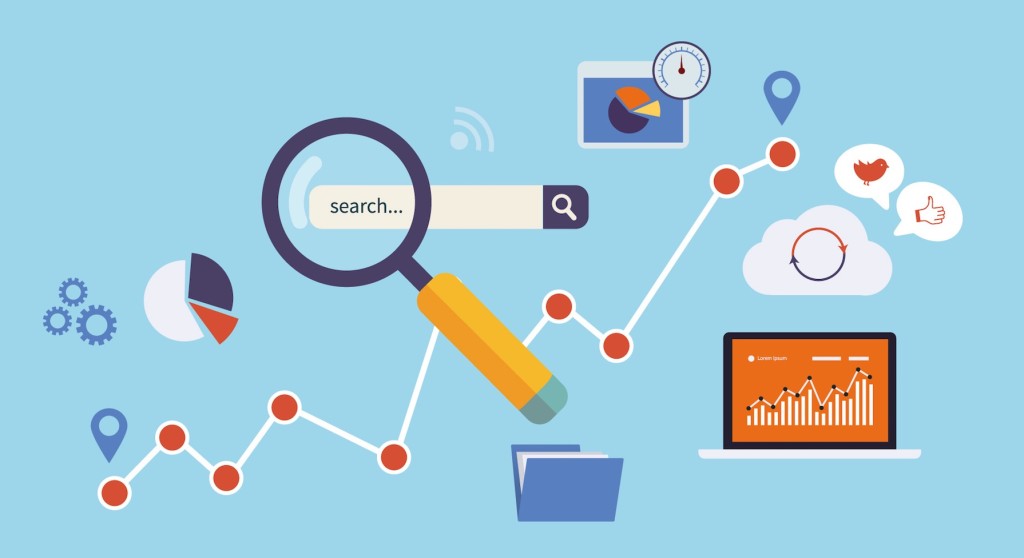 What is digital marketing?
Digital marketing is the marketing aspect that involves online technologies such as digital media and different digital marketing channels to promote products and services. The way people interact with the brand has changed with time, and with the advent of the COVID-19 virus, the digital marketing trend has increased like never before. 
Focus well on your digital marketing funnel.
According to HubSpot, 96% of consumers know more about a brand online. As an international digital agency with clients all over the world, we can back this up. With this change in consumer behavior, it has become more critical than ever to focus on the digital strategy to promote brands and connect with potential customers using the internet and other forms of digital communication. You would be surprised to know that text and multimedia messages are also marketing channels like email, SEO, social media, and web-based advertising. Read this guide on PPC campaign strategy.
You could work with us, the leading digital marketing agency to assist you in digital marketing.
There are three types of digital media:
Earned Media
Owned Media
Paid Media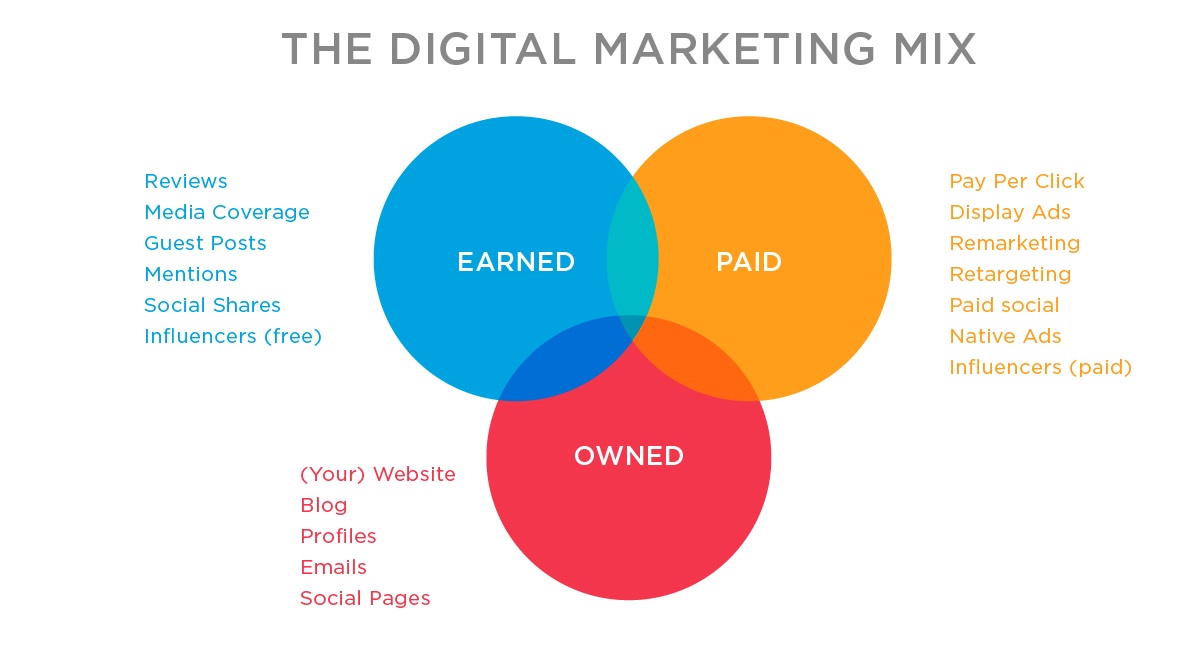 Earned Owned and Paid Media
Earned Media
Earned media is the publicity a company gets through word of mouth in the online environment. 
As earned media is the organic reach, it becomes one of the most critical media forms for brands. As people talk about the brands themselves, there is a huge opportunity for better visibility and customer loyalty.
Owned Media
Owned media is the form of digital media which a company holds forever. 
These marketing channels are crucial for engaging the users and lead nurturing. Website content, blogs, social media pages, videos, YouTube channels, etc., which the company controls with its name, are the forms of owned media.
Paid Media
Paid media constitutes the reach a brand gains with payments. 
As organic reach takes time and is sometimes limited, brands use paid media for reaching more audiences and creating brand awareness or lead generation. Therefore, paid media is one of the most effective marketing channels to promote your brand on the web, and good campaigns on the proper channels can bring outstanding results.
What is traditional marketing?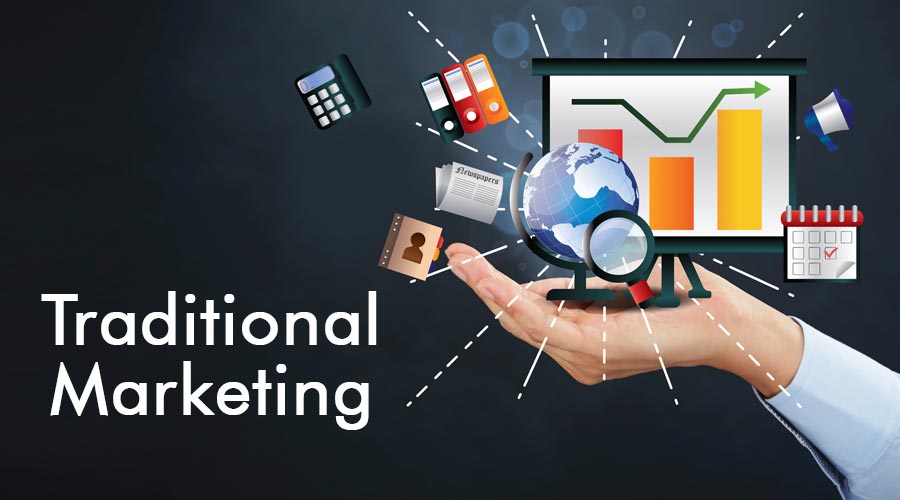 What is traditional marketing?
The significant difference between digital and traditional marketing is how an audience encounters the marketing message. And traditional marketing utilizes conventional media that includes magazines and newspapers, print, broadcast, telemarketing, or direct mail to engage the audience and broaden the reach.
What are the types of traditional media?
Traditional media generally includes all the non-digital advertising and marketing methods.
Traditional media is:
Cold calling
Door-to-door sales
Banner ads
Television advertisements
Radio advertising
Print advertising
Direct mail advertisements
Billboards and off-site signs


Advantages of digital marketing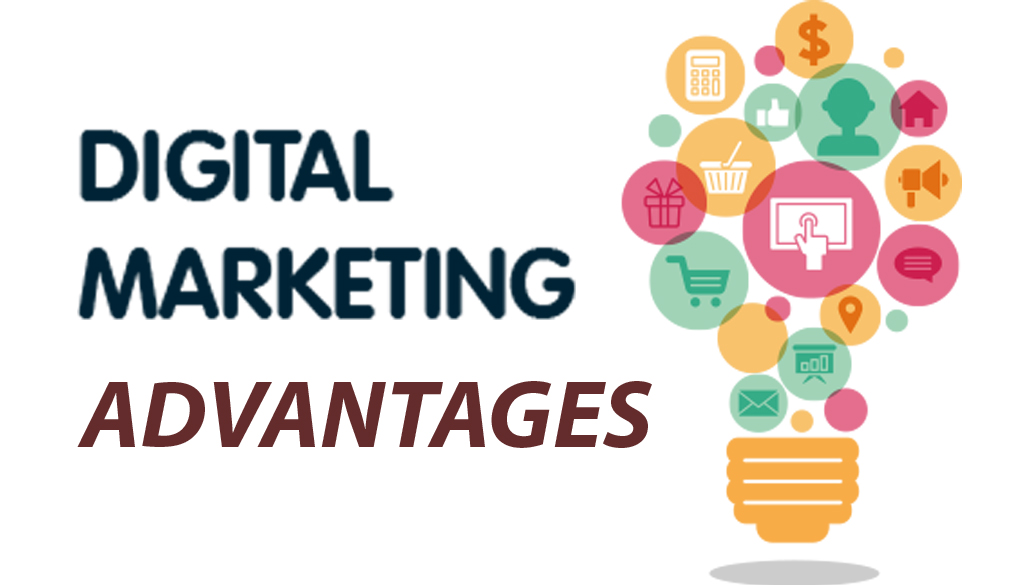 Advantages of digital marketing


Global reach
With digital marketing, any brand could reach new markets and trade globally; and track and measure the results. As of January 2021, there were 4.66 billion active internet users worldwide - 59.5 percent of the global population. 
Of this total, 92.6 percent (4.32 billion) accessed the internet via mobile devices. With this tremendous reach, the wisest decision anybody could make is to invest in internet marketing channels.
Lower costs with a focus on ROI and ROAS
A properly planned digital marketing strategy allows you to target the customers who might be the right fit for your product. Not everybody on the internet is your customer. You could create a customer persona and target the people who fit this criterion. 
Web analytics and other online metric tools make it very easy to measure your online marketing campaigns. It gives a clear idea of where the budget is spent and how much ROI (return on investment) and ROAS (return on advertising spend) could be obtained for every dollar spent. 
The top-notch digital marketing agency like CodeDesign could help you get at least 3X to 4X return on your advertising budget. With the digitalization in marketing, the marketing budget is no more an expanse but an investment in the brand's growth.
Personalization
Not all customers are in the same stage of the marketing funnel. Thus, it makes excellent sense to provide personalized offers to each customer viewing your website or advertisement offer. However, it is impossible to add the personalization touch in traditional marketing, leading to weaker bonds between the brand and the customer. 
However, with digital marketing, you could greet your audience with a personalized message in email marketing and create different ad copies for people at different customer journey stages.
Advantages of traditional marketing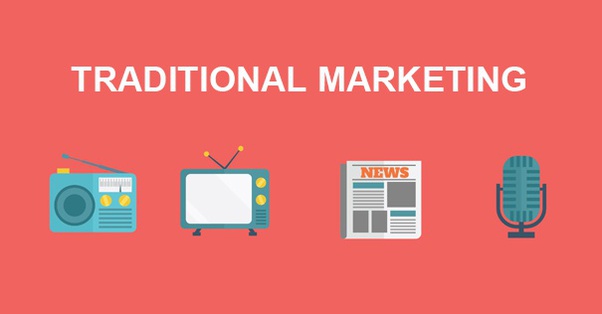 Advantages of traditional marketing
Local audience reach
The best part of traditional marketing is that it allows to reach the local audience and penetrate a local market. Traditional marketing also plays a vital role in getting the locals talking and interacting with them on the regional and daily basis. Today's marketing is more than exchanging products for money. 
Instead, it is more about personal relationships between the brand and the consumer. Look, traditional marketing techniques like newspaper ads, commercials, local TV, or billboards significantly impact the local customers as the target audience feels more organic and less corporate.
Traditional marketing is tried and tested.
With the advent of digital marketing, many people wonder why traditional marketing are still around. If your product is best for an audience situated in the local area, then traditional marketing could have a higher success rate. 
Billboards and TV advertisements are proven techniques to increase brand awareness and establish authority. 
For example, a 15-minute show on Burj Khalifa could considerably enhance brand authority for the people who pass that area and online viewers if the brand pushed the same video online.
Hardcopy marketing are easier to process and recall
The attention span of people online is deficient. Thus it is evident that paper marketing could have the edge over digital media in recalling for people. In one report sponsored by a Canadian entity, it was apparent that paper marketing was more accessible for people to process and remember. 
It means that people found it easier and more inclined to remember what they read in a printed advertisement than they did in a digital ad.
Digital Marketing VS Traditional Marketing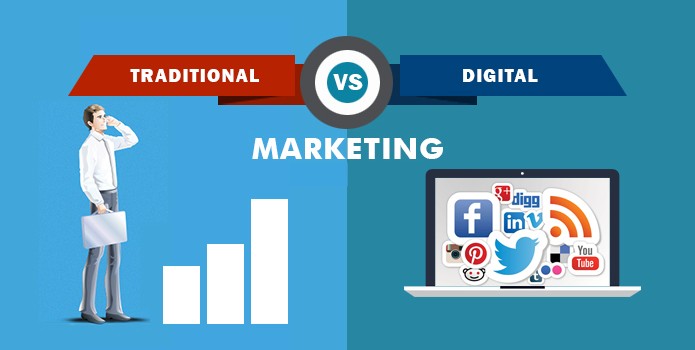 Digital Marketing Vs Traditional Marketing


Traditional marketing is static, whereas digital marketing is dynamic.
In digital marketing, you could specify the exact audience to who you want to show the ad. At the same time, you get to schedule small budgets for testing and have enough resources for A/B testing. You may also change the ad copy, budget, audience, etc., even when the ad is live. In contrast, you have no control over your target audience in a traditional marketing strategy.
The internet advertising industry is going crazy with such an immense shift of customer attention towards digital media.
Traditional Marketing is a one-way communication channel as people cannot send messages to the brand. In contrast, digital marketing allows people to send messages to the brand through comments on the advertisement, direct statements or responding to the chatbots.
Targeting an audience is standardized in traditional marketing, whereas it could be customized in the case of digital marketing.
Traditional marketing are costlier, and it is difficult to measure the results as there is no guarantee who would your ad reach. For example, a print ad could cost between $2000-$16,000, but specifying the people is impossible. However, you could run various versions of ads in digital marketing and test it on your customer persona to find the exact audience and ad copy that could bring the maximum return on investment.
Many local businesses still rely on traditional marketing for business operations and lead generations. However, the increase in popularity of digital marketing and a complete track on return on investment makes digital marketing a better option.
You could re-target your audience if they interacted with your ad but didn't perform the targeted action. You don't leverage such opportunities with traditional marketing. With the increase in competition and algorithm twerks, sometimes digital marketing become a bit painful and confusing. However, with the benefits that outweigh the cons, any brand could best invest in SEO agency and digital marketing to leverage the power of globalization and digitalization.
Traditional marketing is less effective and more expensive, but digital marketing is more effective and less costly.
The lack of features like selecting the audience to target or connecting with them with a personalized message at the preferred time makes traditional marketing less significant. Hence, many marketers agree that digital marketing has the edge over traditional marketing because of its increased effectiveness with the return on advertising spend and enhanced personalization. 
Traditional media and digital media are competitive as most brands try their best to converse with their audience. In such a competitive atmosphere, personalization becomes the differentiating factor. As a result, personalized advertisements have at least 50% higher effectivity than non-personalized ones. And digital marketing gives you complete control over personalization.
Why is CodeDesign regarded as the best digital marketing agency?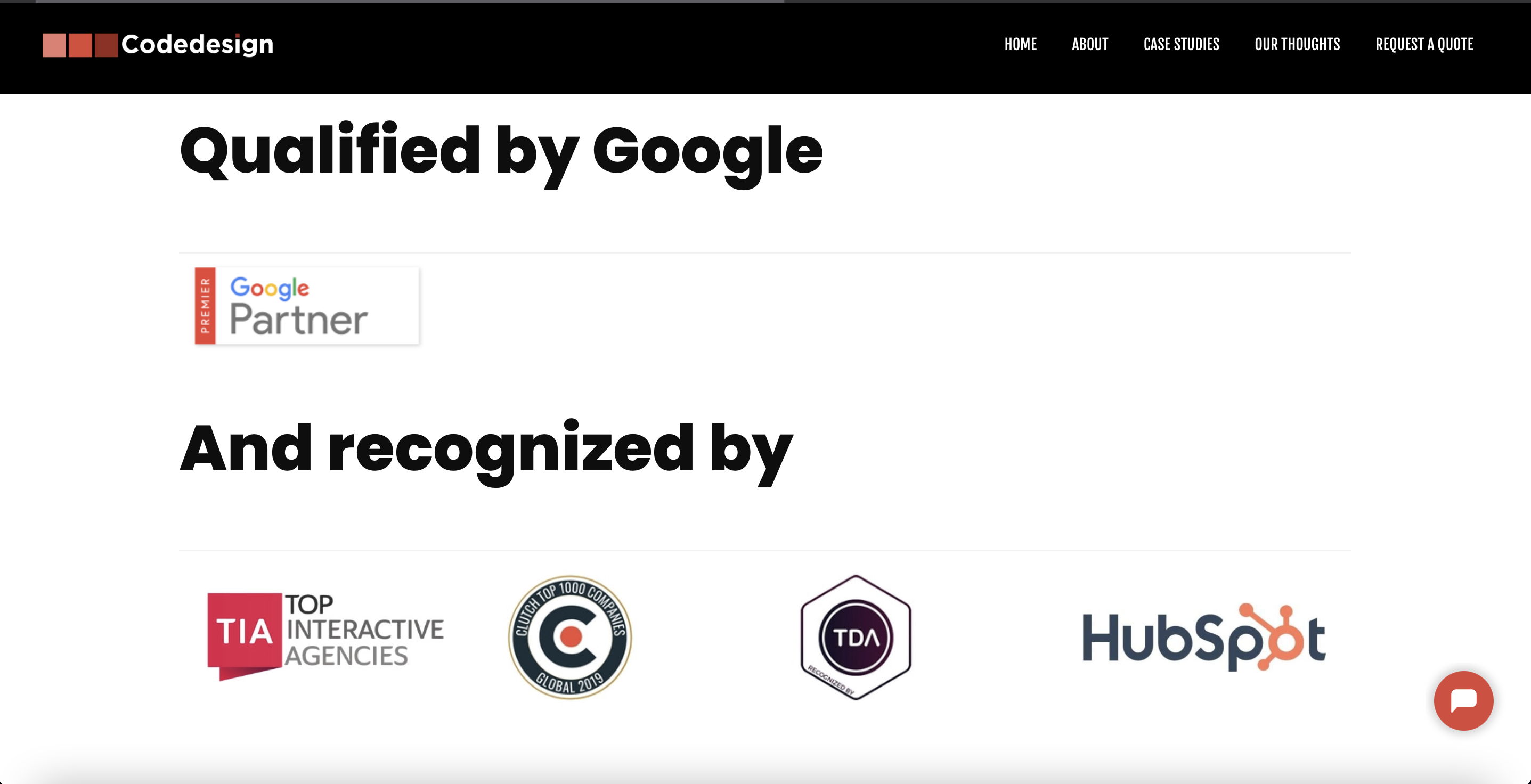 CodeDesign- Top Digital Marketing Agency
CodeDesign is a leading name in advertising industry. Our digital marketing experts have put together thousands of successful digital marketing campaigns for businesses looking to increase sales, leads, phone calls, transactions, and qualified website traffic.
The most crucial variable to track
We have an 86% client retention rate and a client recommendation score of 376% higher than the market average. We have a winning culture, a bespoke expert team that together are the perfect recipe for a successful digital presence.
CodeDesign is a leading:
- Amazon marketing agency, and
Feel free to contact us to see the unprecedented growth of your business.
---