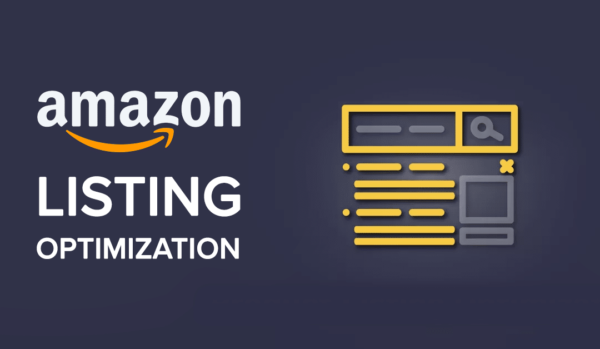 Increase your sales with Amazon SEO
What is Amazon Listing Optimization?
Amazon Listing Optimization is the process of taking deliberate actions to improve the ranking of your product for specific search queries and rank higher in the organic search results. You could take all the actions like improving the keyword research, optimizing product description, using proper images, and improving the seller reputation on Amazon. It is crucial for your strategy as the Amazon marketplace is very competitive. 
Of course, Amazon is a competitive marketplace, so it takes a bit of work to rank your products higher than the competition. But with the right strategy and a bit of effort, you can definitely see results.
So, let's get started! 
Why Is Amazon Listing Optimization Important?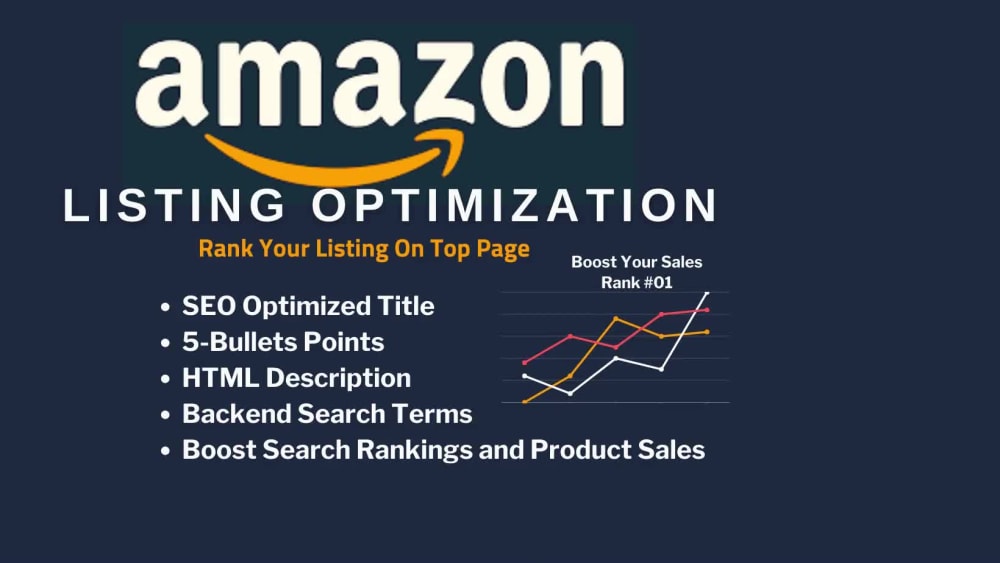 Importance
You may be wondering why you should even bother optimizing your Amazon listings. Isn't the Amazon algorithm supposed to take care of that for you?
While it's true that Amazon's algorithm takes many factors into account when ranking your product, there are still a few things you can do to give your listing a little boost.
Amazon listing optimization is one of the most important (and often overlooked) aspects of Amazon selling. It's the process of improving the visibility and ranking of your product listing in order to increase traffic and sales.
Think about it this way: if you're driving through a city and you don't know which way to go, you're going to have a hard time getting anywhere. The same is true for Amazon shoppers. If they can't find your product, they can't buy it.
That's where Amazon listing optimization comes in. By improving your product listing, you make it easier for shoppers to find and buy your product. This can lead to increased traffic and sales, as well as a higher ranking in Amazon's search results.
Also, it can help you stand out from the competition. If your product is listed near the top of the search results, it will be more likely to be seen and purchased by customers. Read these Amazon FBA tips.
In addition, optimized listings tend to convert better than unoptimized listings. This means you'll see more sales and higher profits from your Amazon business.
What Are the Elements of a Listing on Amazon?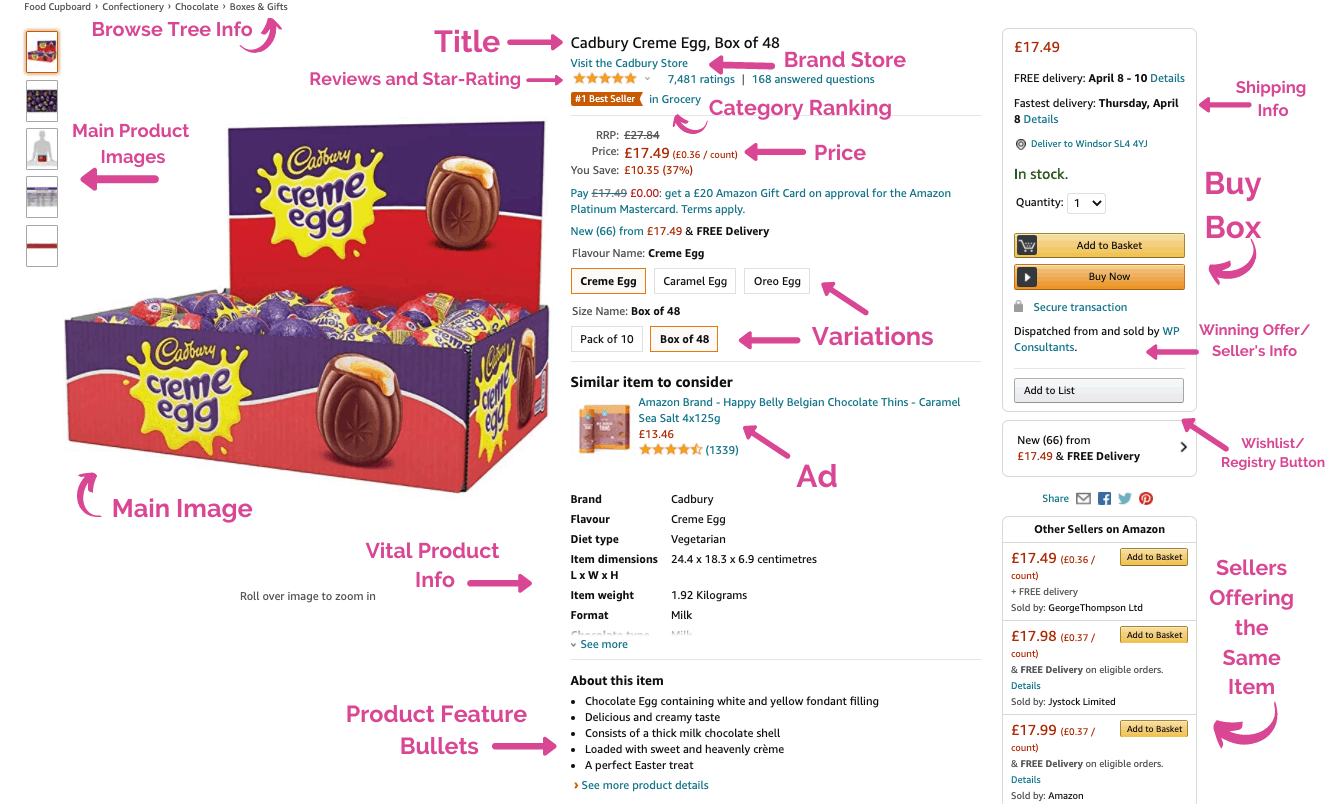 Elements of Amazon Listing
Amazon listings have a number of elements that you can optimize to improve your sales.
Title: The title is the most important element of your product listing. This grabs your potential buyers' attention and convinces them to click through to learn more about your product. Make sure your title is clear and concise, and includes all of the relevant keywords that describe your product.
Bullet points are also important, as they allow you to list the product's features and benefits in a more detailed way. The description should be used to explain in detail why the customer should buy your product.
Description: The description is where you go into more detail about your product. Make sure to include all of the key features and benefits, and write in a customer-friendly tone.
Images: Images are key for Amazon listings, as they're one of the only ways to show potential buyers what your product looks like. Make sure to use high-quality images that show off your product in the best light.
Price: Don't forget to set a competitive price for your product! You don't want to price yourself out of competition, but you also don't want to sell yourself short.
You could work with us, CodeDesign, the leading digital marketing agency to grow your business.
Step 1: Keyword research 
Keywords play a crucial role in product listing
Always begin your keyword research with short-term or direct keywords that defines your product. For example, you could take the product's common name or something very much related to it. Later, you could check on Amazon, the bestsellers, and use the reverse ASIN lookup method to find out which keywords they rank for, using Sonar, Helium 10, or Keyword Inspector.
Once you know the short-tail or seed keywords, it is time to take a step ahead and generate a list of Amazon keywords using Amazon's suggested searches or other keyword research tools.
When you search for a particular product on Amazon, you would see many suggested keywords as well. These are the terms that are generally searched for in your niche. To get a step ahead and have complete data on traffic versus competition of these keywords, you could use Amazon keyword research tools.
Tools like Sonar, Helium 10, Scientific Seller, and Keywordtool.io could generate a good list of keywords relevant to your seed keywords. Then you could also get an idea of how difficult it would be to rank on some keywords based on search traffic and keyword volume. So unless you are a pro in your niche, try to target and track keywords with moderate difficulty and sound volume.
As an Amazon seller, it becomes crucial for you to have a complete look at the backend keywords and try to find keywords that your targeted audience could easily find. You should also be continuously tracking for new keywords.
Title of the product: 
You have the opportunity to put around 200 characters in the Amazon product title. Try to keep the name human-friendly and see whether or not people could remember the name. You could then incorporate five keywords in the title. Aim for a descriptive and readable title.
Backend Keywords: 
Backend Keywords are not viewed by the users but are obviously indexed by Amazon. You could add up to 249 bytes of generic keywords in the search terms. Backend keywords have a direct impact on the search results. Thus it becomes crucial for you to focus on those keywords, even when they are out of sight.
Product description optimization: 
Adding keywords to your product description in the form of bullet points is sublime. Bullet points are easier to read, and incorporated keywords help the algorithm know the relevance of your product. Your potential customers would read the description before finalizing the purchase of the product. Thus, you should add all the specifications, benefits, and how it could come in help. Make sure that you perfectly balance the incorporation of keywords and specifications to satisfy your consumers.
Filter terms: 
For many products, Amazon provides the option of filtering out whether the product is meant for men or women, size is more or less than a particular mark. Thus, you should be vigilant in checking out all these boxes and information to get visibility in front of people who use filters to get the right product.
Step 2: Optimize the content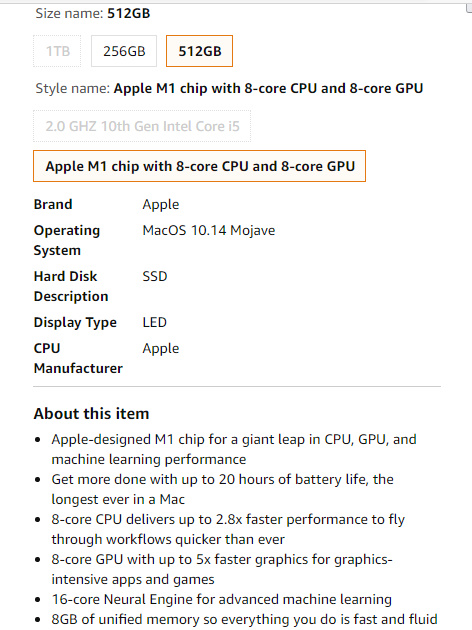 Optimize the information about your product to make it user-centric
Content Optimization is necessary to increase the relevancy of your product in the eyes of both, algorithm and the buyer. Your potential customer would decide based on how well your content and images are, as they can't physically see or touch the product. The three essential areas you need to cover while improving your content are product texts, product information, and images. Also, check what's a good CPC.
Price, attributes, customer's question and answer section, and review are other vital areas that could increase your click-through rate, sales, and overall revenue.
Add relevant information related to your product.
Highlight how the product could solve customer's problems.
Present the content in a desired and readable format so that customers don't feel overwhelmed with data.
Other content options include Enhanced Brand Content(EBC) for sellers with Amazon Brand Registry or A+ Content for vendors. These are yet other areas that could improve your overall ranking drastically.
How to Optimize Your Product Title?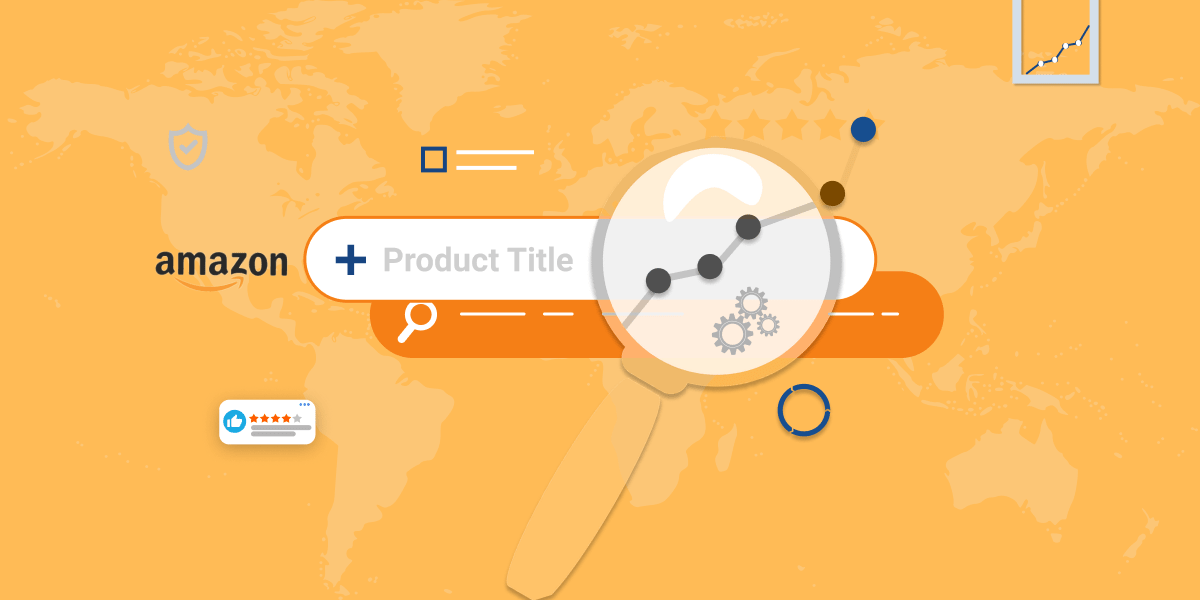 Optimize Your Product Title
When it comes to your product title, you want to make sure to include as many relevant keywords as possible. This will help your product show up in search results and give shoppers a better idea of what your product is.
In addition to keywords, be sure to also include the following:
-The name of your brand
-The name of the product
-Any unique features or selling points
-The size of the product
-The color of the product
-Any other pertinent information
Make sure to test out different titles and see which ones perform the best. You can use tools like Google AdWords Keyword Planner to help you come up with ideas for keywords to include in your title.
How to Optimize Your Product Descriptions?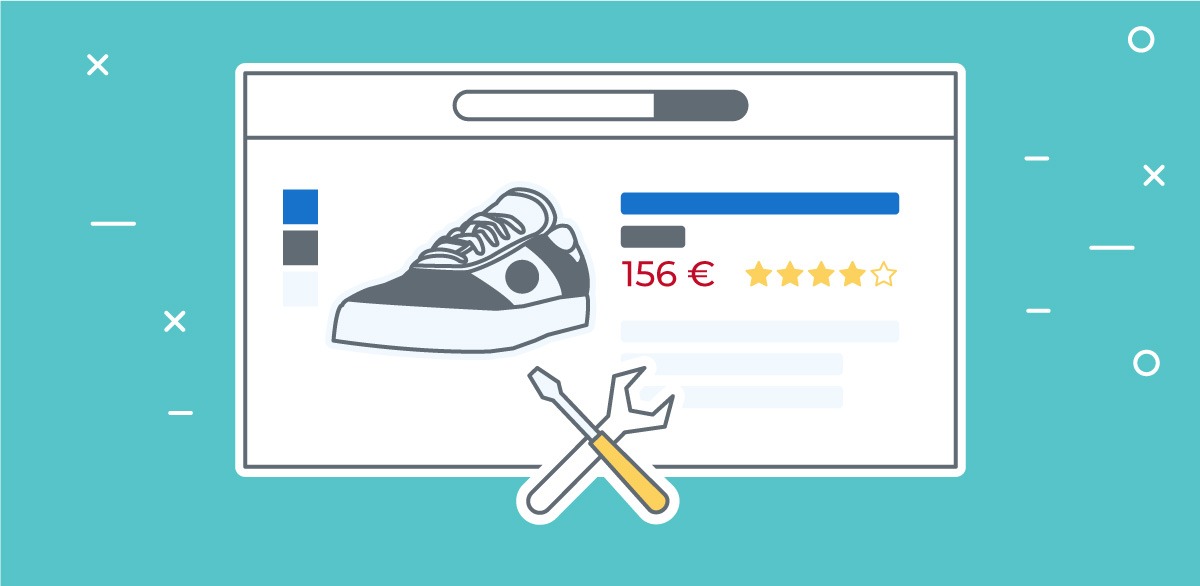 Optimize Your Product Description 
Writing effective product descriptions is key to boosting your sales on Amazon. Here are a few tips to help you get started:
Be clear and concise - You want to make sure that your customer knows exactly what your product is and what it can do for them. Use clear, concise language to describe your product.
Include benefits - When writing your descriptions, focus on the benefits that your product provides. Why should customers buy your product over others?
Make use of keywords - Make sure to include keywords in your descriptions to help customers find your product when they're searching on Amazon.
At the same time, make sure your descriptions are error-free. Typos and mistakes can be off-putting to potential customers and may cause them to look elsewhere for a purchase. Spellcheck and review your work carefully before publishing. Write in a customer-friendly tone. Use terms that shoppers are likely to use when searching for products on Amazon. Be descriptive and use persuasive language to sell your product.
Following these tips will help you create effective and eye-catching Amazon listings that will help boost your sales.
Step 3: Optimizing Product Images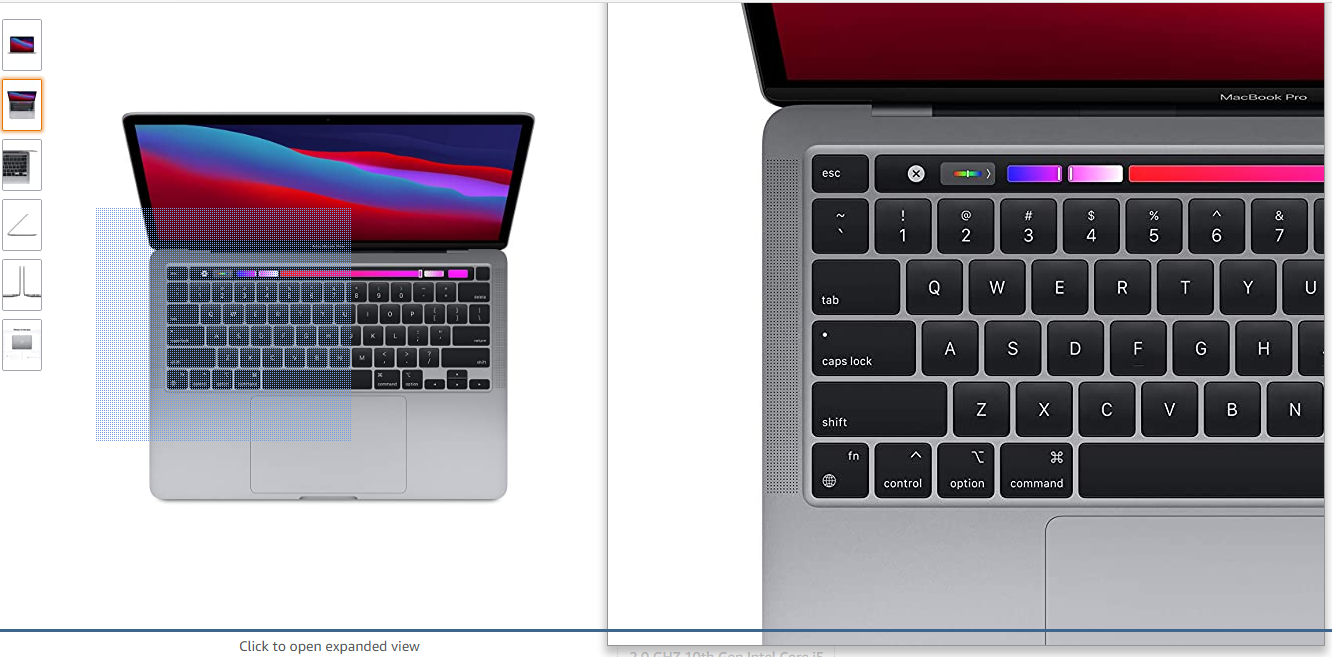 Images are a crucial part of your product listing
Amazon's A10 algorithm would prefer your product over others if you have a better click-through rate and conversion rate. This analysis clearly suggests that your click-through rate(CTR), which is generally influenced by the images, directly impacts your ranking.
According to Amazon's product image requirement,
Make sure that the background of the image is white(RGB 255,255,255).
You could use cropped or close-up pictures of the product.
The product and props should fill 85% or more of the image frame.
Additional texts, graphics, or unnecessary images are not allowed.
In the frame, you should cover the full image of the product.
Use a high-resolution camera to take your pictures
Make sure your images are clear and do not have any glare
Use a white background for your images
Remove any branding from your images
You are allowed to add up to eight additional images of the product. You should use this opportunity to cover all the visual aspects of the product. Also, you must be aware of the zoom function by Amazon. Thus, you should only add high-quality and high-resolution images to bridge the gap between the consumer and the product.
Try to add pictures of the product from different angles so that the prospective customer could know what they really should expect. Also, it increases the trust factor in the customers.
Your images should be clear and high resolution so that potential buyers can see what they're buying. Capturing your product in use can also be helpful, as it gives buyers a better sense of how the product will look and function in their lives.
When uploading your images, be sure to follow Amazon's specific guidelines. For example, your image files should be formatted as JPEGs and must be at least 1000 pixels on the longest side. If you're looking for a more professional look, you can also hire a photographer to take your product photos. This will ensure that your images are of the best quality and will help you stand out from the competition.
If you're looking for more help with your Amazon listings, our team of experts can assist you!
For establishing a better connection with your prospects, you could also show how your product could be used in the images. For example, if you have a microwave oven as your product, try to add pictures of actual food inside the oven. This way, the prospective customer could resonate with the feeling, and the click-through rate could increase. 
Step 4: Optimize Amazon Review Strategy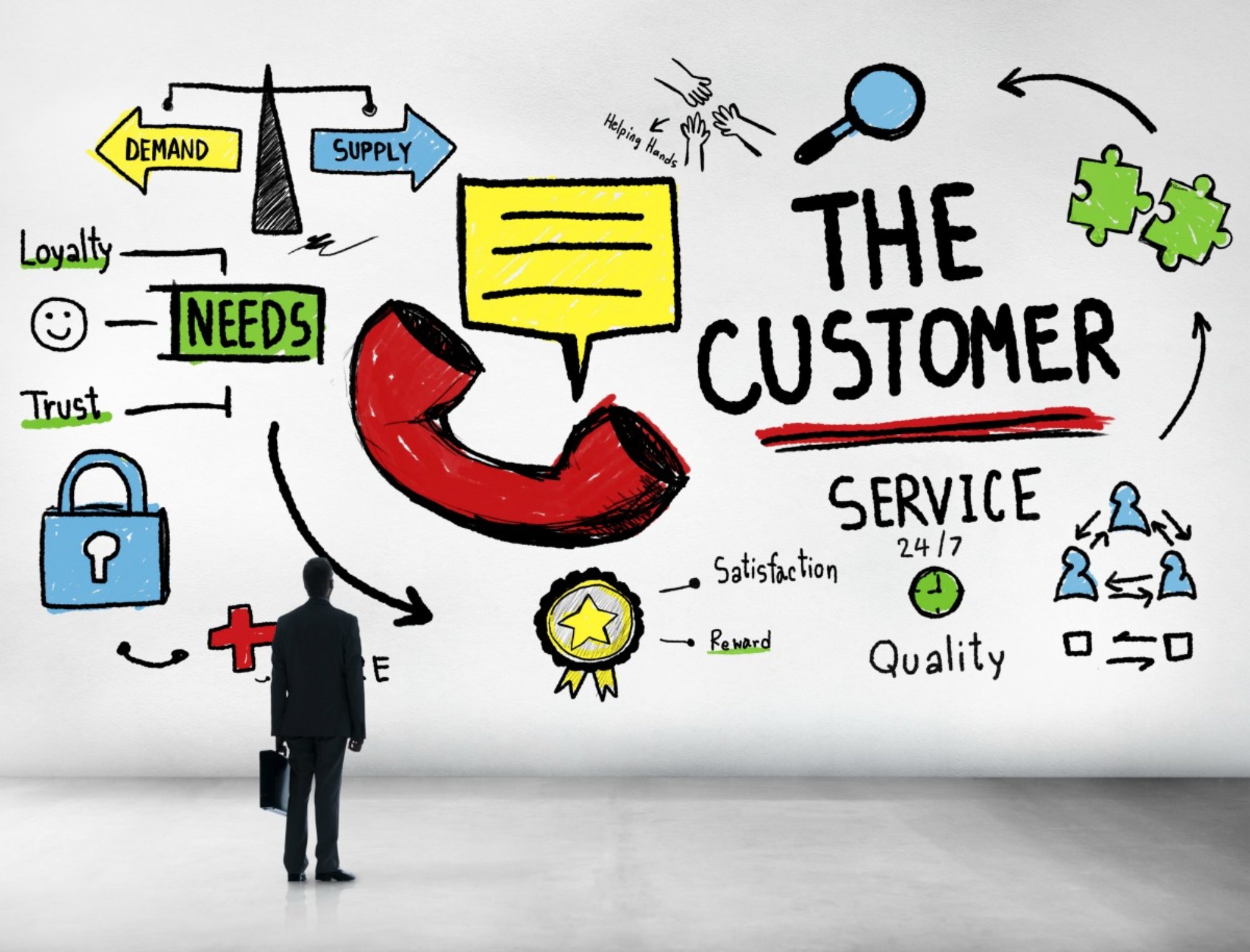 The secret formula to succeed in the online e-commerce venture is authority+social proof. Amazon is a credible platform where 44% of people begin their search for products. Amazon has always put its customers at the core of every strategy. Similarly, you need to prove yourself as a credible vendor with good positive reviews to let your potential customers trust you and choose you over the competitor.
According to a report by Amazon, only 1% of buyers leave any review. Thus, it is a task for you to persuade your customers to write legitimate and positive things about you.
First and foremost, give the best user experience to your customers. Be ready to respond to the queries of your customers in the earliest hour possible. Respond to the negative comments and put your opinion for why the customer is not satisfied or how you could help them. A positive and prompt response could calm your unsatisfied customer to either remove the negative review or give you a chance by exchanging the product(if they received a defect mode) instead of a refund.
As only 1% of people leave reviews, you could add a well-crafted card in the product box to remind your customers to leave a review about their experience.
With the help of an Amazon seller account, you could send follow-up emails to your existing customers and ask them how much they liked the product and would they like to leave a review? Keep the tone of the email friendly and personalized to get a better response.
Step 5: Customer Question & Answer Section Optimization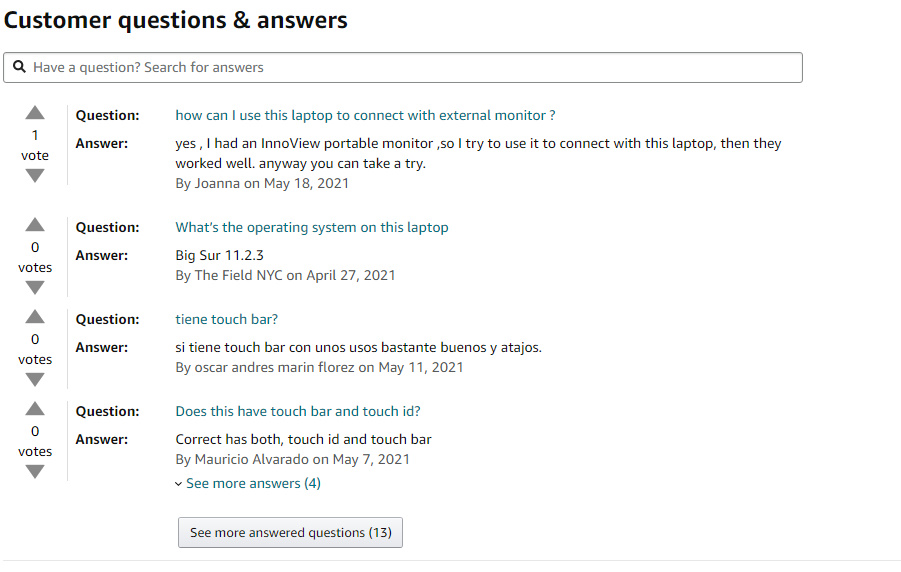 Customers Question & Answer section should be yet another vital area of your optimization strategy to increase click-through rate and appease the algorithm. You can't put every single answer to the possible queries in the description section. Thus it is essential to answer quick and concise answers to your prospective customer's question to earn conversion and trust from your audience.
You build yourself a good reputation as a seller if you are prompt in answering your customers' questions. There is also an increased chance of conversion and product exposure.
Keep your answer direct and concise. Avoid jargon, and answer with the objective of helping and not selling.
Answer as fast as you could. With the new standard of the market, customers want to get immediate solutions to their problems.
Be professional and friendly with your tone.
If you follow these steps, then there is a high chance that you build yourself a reputation as an authority in the market and build solid and meaningful relationships with your potential customers. Also, read this guide on digital marketing vs traditional marketing.
How to Optimize Your Pricing and Shipping?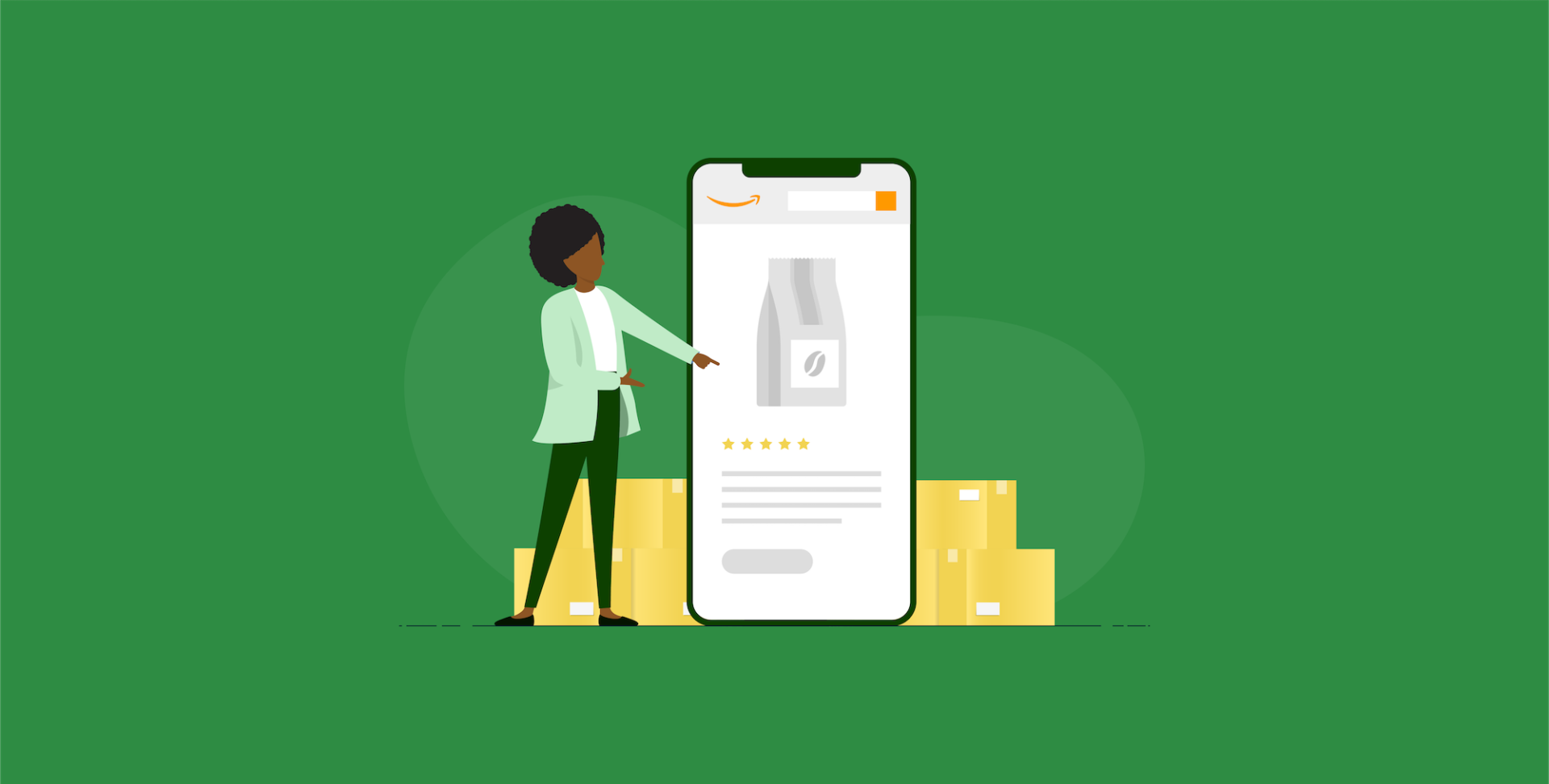 Optimize Your Amazon Listing Pricing and Shipping
Pricing and shipping are two important factors to consider when optimizing your Amazon listings.
You want to make sure you're pricing your items at a fair price that still allows you to make a profit. You also want to consider how much it will cost you to ship the item, and whether you're offering free shipping.
Some things to keep in mind when pricing:
-Amazon takes a commission on each sale, so be sure to factor that into your price
-Price your item the same as or lower than other sellers
-Check the "Frequently Bought Together" section to see what other items people are buying with your product, and price accordingly
-Keep in mind that people are more likely to buy if the price is lower than the other sellers selling the exact same product.
When it comes to shipping, you want to offer a shipping option that's affordable for your customers and still allows you to make a profit. You can offer free shipping, or calculate shipping based on the weight of the item and the destination.
If you're unsure about what shipping options to offer, Amazon offers a variety of shipping calculators to help you get started.
What Is Amazon's A10 Algorithm?
Amazon's A10 algorithm is what powers the company's search engine. It's responsible for delivering the most relevant results to users based on their search terms.
The A10 algorithm takes into account a variety of factors when ranking items, including:
-How often the item has been purchased
-How many reviews it has
-The relevancy of the keywords used in the search
-The timeliness of the item


What Are the factors that Amazon's A10 algorithm look for?
There's no doubt that Amazon is king when it comes to online shopping. And, part of the reason for their success is their algorithm, which determines the order in which products are displayed on the page.
So, what factors does the A10 algorithm take into account? Here are some of the main ones:
- The relevance of a product to the customer's search terms
- The popularity of a product
- The conversion rate
Keyword Prominence
It is essential that Amazon's A10 algorithm understand the relevance of your product so that they could show up your product when users search for something related to it.
It is more likely to show up in the search results if Amazon thinks your product is pertinent to a customer's keyword search. And as stated above, it could only be achieved by having relevant keywords in your listings.
No doubt, keywords are an essential part of your Amazon listing, and hence you should put a right amount of time and energy to optimise your listing with proper keyword density and occurence. Without them, customers won't be able to find or purchase your product. But how do you choose the best keywords?
You may obtain relevant, popular keywords to use in your listing to boost SEO by using a variety of tools. And, then you could use these keywords in your title, bullet points, description, and backend search phrases
Sales volume
It goes without saying that your products will rank higher the more you sell. It means that a higher conversion rate in itself could improve rankings. Hence, the products with high impressions but low conversions will not be ranked by Amazon.
Launching sponsored advertising campaigns is an effective strategy to increase your sales volume if you have a brand-new product. You might find new potential consumers in the search results by focusing on niche-specific keywords.
If the keywords you choose for your sponsored advertisements campaign perform effectively, this will help you improve the relevancy of your keywords by raising your organic keyword ranking and organic sales.
How many sales are necessary? Well, this answer totally depends on the product you're offering and the market's size.
Conversion Rate[number of conversions divided by the total number of visitors]
Amazon would not be very happy if your Amazon listing receives a large number of views (or impressions) each month but does not result in sales. Since the algorithm wants to be certain that a sale will be made, it won't prioritise or display your listing to potential customers.
Despite the fact that there isn't a set "goal" conversion rate you should shoot for, you want it to be as high as feasible. You must make sure your listing is conversion-optimized if you want to raise this rate. This entails improving the photos, title, bullet points, description, A+ content, and price of your products in addition to attempting to increase the number of reviews you have.
Conclusion
Amazon marketplace is the best platform in the world to sell products online and connect with a global community of online buyers. As an Amazon seller, you should be keen to take all the steps to optimize your product listing on Amazon. The marketplace is competitive, but if you take the right steps like proper keyword research and content optimization, then you could see better results with time. 
Optimizing your Amazon listings can help you get more sales and better rankings on the site. By using the right keywords and making sure your listings are clear and accurate, you can attract more buyers and improve your visibility.
Product image is the primary way how customers get to feel connected with the product. Thus, use high-quality images to let the customers feel confident with what they are purchasing. Reviews are yet another deciding factor. Therefore, take proactive steps to ask your customers for your review.
FREQUENTLY ASKED QUESTIONS:
1. What is Amazon SERP?
The term SERP stands for "Search Engine Results Page" and, in Amazon's case, are the first results shown to users when they complete a search on the platform.
2. How many keywords should I use for Amazon Listing?
The best option is to use all the 200 characters the platform offers to optimize your product title. In it, try to include as many unique Amazon keywords related to your brand as you can. Frequently, a great product title with good keywords can help you improve your Click Thorugh Rate while augmenting your overall sales.
3.  What is Amazon keyword stuffing?
Keyword stuffing is a "strategy" that uses the exact keywords repeatedly in your content, a practice that isn't recommended for any business. In the past, this tactic was acceptable in SEO. Still, since it causes a poor user experience making it difficult for customers to find the items they want to buy, it has been banned, and it's useless for your Amazon SEO.
4.  What is Amazon A+ content?
The Amazon A+ content is a premium product feature that allows you to change product descriptions of any branded Amazon Standard Identification Number with any rich text and images. The option is free and unlimited for both sellers and vendors. It is advantageous to help you increase traffic and sales while also allowing you to cross-promote the rest of your products.
CodeDesign is a leading:
- Amazon marketing agency, and
Feel free to contact us to see the unprecedented growth of your business.
---