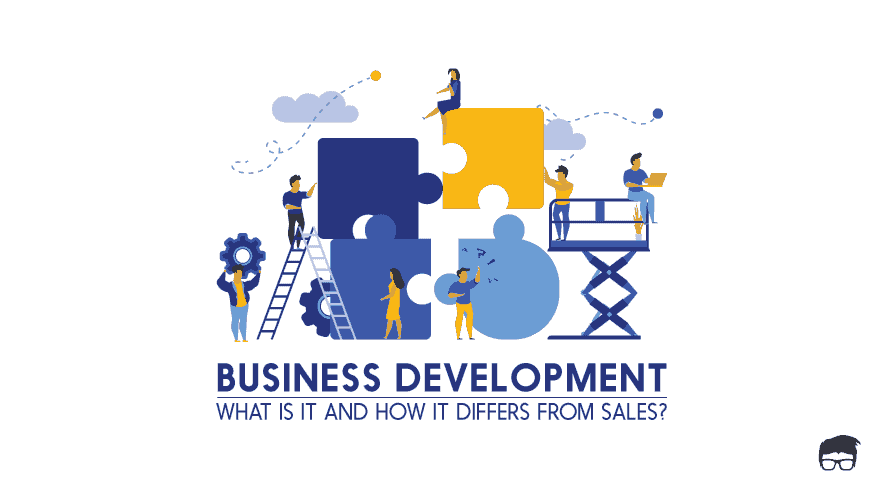 Business Development Strategy
What is business development?
Business development involves a vast array of concepts, strategies, and actions that a business owner and management undertake to enhance the overall performance of their organization. These efforts may include diverse aims, such as boosting sales, broadening the company's reach, forming strategic alliances, and improving profits.
The efficacy of business development activities affects all company departments, including sales, marketing, manufacturing, human resources, accounting, finance, product development, and vendor management. Hence, as a business owner or management, you should always be alert about emerging market opportunities, avenues for expansion, competitor strategies, and the company's current revenue streams. CodeDesign is a leading digital marketing agency ranked #1 in Lisbon, Portugal. You could work with us to accelerate your business growth.
Importance of strategic Business development plan
Any successful business must have a clear direction for the future and a well-defined plan in place. This involves establishing goals, target dates, and a purpose before commencing operations. Companies must regularly assess their past and future performance to provide guidance, enabling them to chart a course of action.
If a company needs more strategic planning, its chances of failing are high. A strategic plan enables businesses to identify their current state and where they want to be. It helps them prioritize what's essential, chart a path toward success, avoid potential obstacles, and filter out unnecessary distractions. Read this guide on what's a good CPC.
Let's say you are about to launch a SaaS company and help marketers with keyword research data. We are talking about a hypothetical situation. Still, if you look at your business from a broader perspective, you'll realize that you need to understand your unique value proposition, meaning what makes your product different and better. For example, one significant differentiator would be if your backend processes the real-time data to present marketers with keywords that could be shown in the Google autocomplete feature.
Now, why am I talking about your unique selling point? There would already be several options available in the market, and if you have to stay there for long, you need to cut the crap and directly communicate your value to your target audience. And the same goes for any business. You need to clearly and effectively stand out and have a long-term plan for standing in the long run. Check this article on how e-commerce influences supply chain management.
Your hypothetical keyword data business must continually evaluate and optimize its performance to stay competitive. This could involve several things, including tracking metrics such as customer acquisition cost, lifetime value, and churn rate. Reviewing these metrics would help you and your management make informed marketing, sales, and product development decisions.
Additionally, a business must keep up with the latest technological advancements and market trends to remain relevant. A SaaS business can navigate the competitive landscape and achieve sustainable growth by having a strategic plan and consistently evaluating its performance.
Why do you need a business development strategy?
Business development is an essential component for the growth of your company that involves tying together various departments to improve a company's sales, revenues, customer service, product offerings, talent, and brand awareness. It helps to promote growth across departments in the following ways:
Building important relationships:
Cultivating new talent, networking with prospective partners, and courting potential customers are all key aspects of business development. As a business owner, you should identify the relationships that demand the most attention and strengthen existing ones, leading to new business opportunities, generating leads, and making critical hires.
Boosting revenue and lowering costs:
Business development is crucial for increasing the amount of money coming into an organization while ensuring less money is going out. Focusing on business development can help your company identify which markets and products have the most profit potential and which deals to chase first. It also entails making decisions that help keep costs down while identifying growth areas and the funding needed to facilitate such expansion.
Improving the company's overall image:
A business development plan can help your company to evolve into a better brand. By working closely with the marketing team, you can develop campaigns that solidify the company's target audience and reach new customers and markets. Understanding the inner workings of a company's products and services and its customers can help inform new marketing campaigns that guide potential customers to products and services that could benefit them.
Opening expansion into new markets:
Business development involves analyzing demographics and customer data by remaining on top of market trends and opportunities. As a business owner, you should find ways to enter new markets and access new segments of customers.
Business Development Process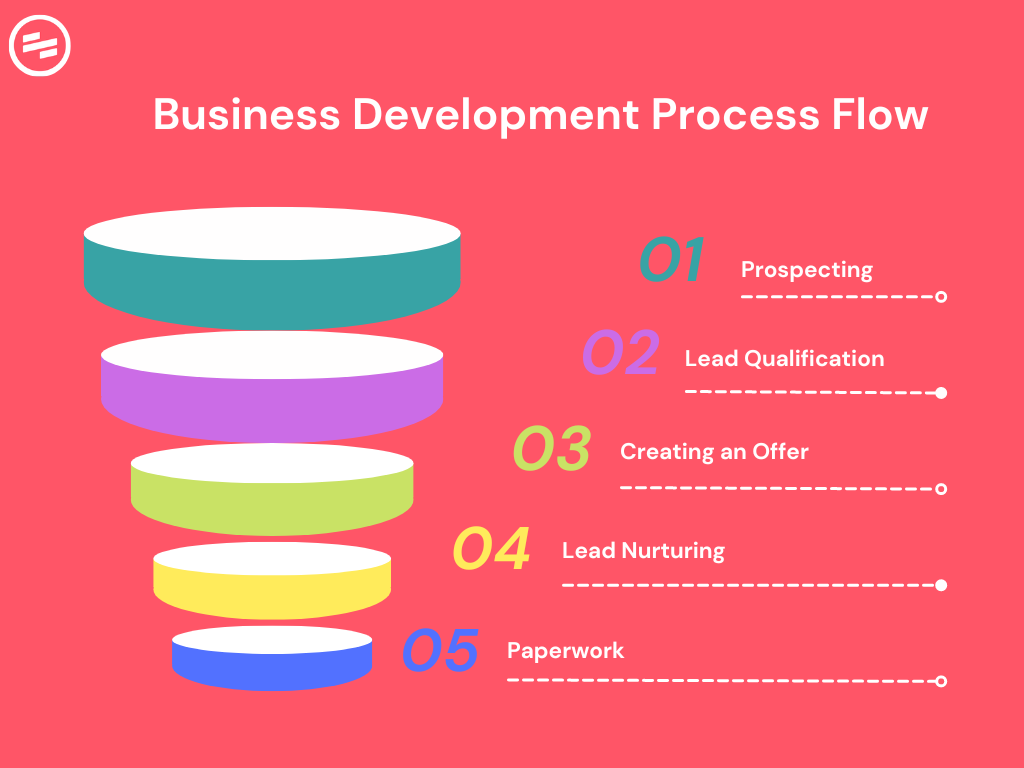 Business Development Process Flow
Identify your target audience and ensure your product or service solves their changing needs directly.
Targeting the right market is crucial for maximizing the return on your advertising investment and generating organic conversions. Most products are designed to solve specific problems for a particular audience. The first step to any successful venture is being obsessed with your target customers, meaning that you talk in their language, consider their changing needs, and have a constant feedback loop in place to make sure that you are the best option when it comes about solving their problem through your product or service. Have a proper digital marketing funnel in place.
Conducting a target market analysis can help you identify your customer base and understand their desires, values, and preferences. This, in turn, enables you to determine the best advertising platforms, product offerings, messaging, and visuals for attracting prospects and driving conversions. Deciding on your total addressable market (TAM) - the maximum market size for your product or service is essential.
You can consult social media and web analytics to obtain a high-level overview of your customer base. These tools provide insights into your customers' location, age, gender, interests, etc. Additionally, you can use U.S. Census Bureau data to augment this information.
A mix of primary and secondary data sources is recommended for a comprehensive target market analysis. Preliminary data includes customer insights through surveys, interviews, or focus groups. In contrast, secondary data refers to information from a third party, such as a government agency or market research firm. Read these linkedin ads best practices 2023.
Be data-driven in your business development strategies.
Formulating effective business development strategies requires a comprehensive analysis of market data. Processing and analyzing big data can uncover the size and composition of target markets, key players, potential customers, and competitors. It can also reveal unmet customer needs and provide insights on business, geo-political, and economic drivers in diverse international markets.
To align business development strategy with objectives, it's essential to clearly define those objectives and assess current data tracking and usage processes. Any process that doesn't align with goals should be eliminated, while new opportunities for tracking and using data that align with objectives should be identified. Creating a data roadmap for gathering, tracking, and using data is crucial, and it should be reviewed and adjusted frequently to ensure alignment with current objectives. Check out how voice search optimization could affect your marketing strategy.
Big data analysis can increase productivity, including identifying inefficient processes, talent gaps, and equipment performance levels. Companies can make more informed decisions based on metrics rather than opinions, leading to system improvements that increase productivity and efficiency.
Market research is a big part of your overall strategy.
A comprehensive business development plan must include market research as a critical element. You must gather and analyze data about the target market, competitors, and industry patterns to make sound decisions and promote business growth. You can better comprehend your customer's requirements, preferences, and purchasing patterns by looking into the data and identifying patterns. As we talk about the customer feedback loop and changing needs of the customers, it becomes more important than ever that you have a proper market research action in place that would help you analyze the trend, find the bigger picture, and the better ways to optimize your product or service to cater to the shifting requirements and preferences of your target market by getting insight into consumer behavior.
Find the proper channels to ensure that you effectively talk to your customers.
In a world with billions of internet users, selecting a strategy that effectively reaches your targeted audience is crucial. Creating a customer persona, a fictional representation of your target audience can help you gain insight into their shared characteristics and preferred communication platforms.
Furthermore, customers go through a long journey from initial interest to taking action, passing through stages of awareness and desire. As a marketer, investing wisely in various digital marketing channels to reach and engage with the audience and ensure that the brand or promotional message resonates with them is essential.
Only some people are your target audience. Therefore, it's essential to define your ideal audience and customer persona. If you're having trouble identifying your target audience, consider exploring the following questions:
- Which channels do your customers typically use?
- What are their challenges or pain points?
- What is their primary goal?
- What communication methods do they prefer?
- What is their budget for this product or service?
Ten business development strategies to boost your growth

Business development strategies
Building genuine connections in the industry
Networking can be a valuable resource for start-ups or small businesses of any stage, offering support, problem-solving, and potential business opportunities
When you connect with people by adding mutual benefits, you build a strong support network of other leaders you can rely on in a crisis or when you need help. The basic idea behind making connections is to understand more about your prospects and have other leaders in your network who could learn from them. Let's take an example if you, as a SaaS business owner looking to get into Y Combinator, are worried that your revenue is way more to give up 7% equity. In this case, you could look into your network and look for people who have recently gone to YC or have any crucial role in this accelerator program to answer your questions.
Our CEO, Bruno Gavino, is a Digital Transformation Advisor at Y Combinator; if you need to contact him for any queries.
Business networks can also promote best practice guidance to help streamline operations and bring exposure to other individuals and organizations that may lead to new business opportunities or partnerships for new ventures. 
2. Content marketing and SEO
When discussing business development, we often discuss long-term sustainability and having a strategic Skelton to support the business. Still, proper visibility and conversion pave the way to a solid foundation. When you work with customers with a more extended consideration period, you must take content marketing and search engine optimization seriously.
Content marketing helps to enhance your brand's image by assisting customers in answering their queries in their buying journey. You must build trust with your customers in the fast-paced digital market, and they should look up to you as an authority in your niche. When your customers better perceive your brand, you are in an excellent position to build a loyal customer base. 
Read this complete guide on traditional marketing vs digital marketing and on Amazon Listing Optimization.
3. Public relations could help you build a better brand image
All businesses, brands, and individuals seek to establish a positive image among their stakeholders and the public. This is where Public Relations (PR) comes in as a vital component of business development. PR is crucial in creating a positive brand image that generates credibility and trust among potential customers.
One of the most significant benefits of PR is that it enhances brand visibility through media coverage. This can help businesses reach new audiences and increase brand awareness.PR also helps manage a company's reputation by monitoring and responding to media coverage, addressing negative feedback, and implementing crisis management strategies. This is critical in protecting the brand's reputation and maintaining a positive image.
Another essential aspect of PR is improving customer relations. By providing information about the brand's products or services, addressing customer concerns, and creating a positive customer experience, PR helps to establish a loyal customer base.
Finally, PR can help to increase sales by creating brand awareness, building trust, and establishing the brand as a thought leader in its industry. This can lead to increased customer loyalty and repeat business, resulting in growth and success for the company.
4. Effective paid advertising could help you achieve short-term milestones
To begin with, determine the objective of your marketing campaign, whether it is to enhance brand awareness, stimulate engagement and consideration, or drive leads and sales. Subsequently, pinpoint the essential metric to measure the effectiveness of your campaign, such as clicks, impressions, CTR, conversions, conversion rate, cost per conversion, leads, and impressions analyzed, among others.
To assess the performance of your campaign, you can compare it with industry benchmarks. Additionally, establish objectives to enhance your base metrics, optimize your campaign to improve your critical metrics, and determine which tactics work best for your enterprise.
On specific platforms like LinkedIn, you can access demographic data that may help you identify the audiences that respond optimally to your ads and optimize your target audience accordingly.
One piece of advice we would give you is randomly perform A/B testing on different variations of your ad creative. By optimizing your targeting and bidding, you can significantly boost your ROI. Another effective real-time optimization method for your ad campaigns is using Target CPA on Google.
Utilizing paid advertising can assist in gaining audience exposure through your desired digital marketing channel and timing. It is crucial to clearly understand your target audience to communicate with them at their preferred channel and time effectively. Other marketing strategies, such as owned media, may take longer to produce organic results, and earned media requires establishing authority. Check these companies adapting to cultural differences examples.
CodeDesign has a proven track record of assisting numerous companies in increasing their revenue, reducing customer acquisition costs, and elevating the lifetime value of their customers. We welcome you to view our portfolio to gain insight into our expertise in the marketing domain.
5. Outbound marketing could help you with your early sales goals
Despite being a long-standing tool in the marketing world, email continues to yield an impressive return on investment. While many of us are accustomed to receiving newsletters from websites, we often need to pay more attention to the significance of cold emailing in our outbound strategy.
Cold emailing involves sending unsolicited emails to potential customers, where we initiate the conversation and offer our solutions to a large audience base. While unsolicited emails are typically viewed negatively, personalized and value-driven cold emails can change the perception of these messages.
Rather than using impersonal and sales-oriented tactics, outbound marketing can be creative and tailored to the target audience. Businesses can craft cold emails that resonate with recipients by understanding the audience and generating responses and leads. On the other hand, many salespeople also talk about cold mailing. 
While cold calls are often associated with negative connotations, the truth is that they can be effective for many businesses. Despite their reputation, outbound sales and marketing strategies are still necessary for reaching new audiences and initiating conversations, which is where cold calling comes into play. However, it's essential to approach cold calling correctly and consider the quality of the talks rather than solely focusing on the volume of calls made.
While some may view cold calling as a numbers game, it's crucial to prioritize the quality of the interactions. This is why many companies are moving away from scripted sales pitches and towards approaches like SPIN selling, which prioritize assisting customers in solving their problems.
6. Talk with users in mind and clearly explain your USP
A value proposition can define your business's purpose, customer relationships, and product or service benefits. It serves as the foundation for your marketing materials and helps you effectively communicate your unique selling point (USP) by describing the value you provide to your customers.
To create a comprehensive value proposition, you should consider competitor analysis. This involves examining two or three (or more) companies that offer similar solutions to your own, studying their website, products, and services pages, and learning from their strengths and weaknesses.
In addition, buyer personas can help you understand your customers and effectively communicate with them by putting yourself in their shoes. You can tailor your messaging and offerings to serve them better by understanding their needs, wants, and pain points.
A USP, short for unique selling proposition, refers to the distinct advantage that sets your business apart from others in the market. It is a specific benefit highlighting what makes your brand superior.
Developing a well-defined USP is essential for shaping your marketing strategy and impacting branding, messaging, and copywriting decisions. At its core, a USP should provide an immediate answer to the question that potential customers are likely to have when they come across your brand: "What makes your business different from others?"
To create a compelling USP, it is essential to focus on your strengths and identify what makes your brand or product uniquely valuable to your target audience. Being "unique" alone is insufficient, as it must be centered around a relevant and significant aspect to your customers. With a vital and relevant USP, your messaging will likely have the desired impact.
7. Have a proper Customer Feedback loop in place
A customer feedback loop is a valuable tool for retaining existing customers, which is more beneficial than acquiring new ones. It enables you to build customer engagement and understand their needs and expectations for your products and services. This can lead to the creation of long-term relationships, earning their trust and loyalty. By responding promptly to customer complaints and taking action to resolve issues, you can reduce the number of dissatisfied customers. The feedback loop serves as a reality check, ensuring that ideas are tested with users to determine what is effective. It also highlights common customer issues and identifies areas of the process that generate excitement. Research indicates that 79% of customers will return to a brand based on their purchase and service experience, while 89% will switch if dissatisfied. The feedback loop provides a churn collateral process, allowing you to address customer issues and improve the overall customer experience.
Customer feedback doesn't always imply negative comments and complaints about a product or service. Customers also share positive experiences about how the product has helped them overcome their problems and how efficiently it works.
Thus, customer feedback can be positive and negative; leveraging this feedback to generate revenue is critical.
Closing the loop in customer feedback means resolving the problem faced by a customer and providing a solution. For instance, if a customer reports receiving a defective product, the company can close the loop by apologizing, replacing the product, and providing a new one.
8. Focus on getting referrals and reviews.
Referrals are often viewed as a key tool for converting network and customer satisfaction into new business. While they can be effective, and some companies rely solely on them, referrals are a passive approach. They rely on clients and connections to identify potential business opportunities and provide referrals at the right time.
It is important to pay attention to online reviews to attract new business actively. A whopping 84% of customers trust online reviews as much as personal recommendations. Therefore, setting up a Google Alert for your company to monitor and respond to reviews when necessary is essential. This shows that you care about your business and your customers, creating goodwill that can attract new business.
9. Analyze visitors and update your website.
An attractive website design can create various avenues for a business to thrive. Including a video that highlights the company's offerings can also improve the website's effectiveness. However, only providing details about products and services may not make a website successful.
It is crucial to offer complimentary resources, information, expertise, and utilities to support their accomplishments and guarantee visitors' browsing experience satisfaction. Additionally, it is important to make sharing these resources with others convenient and effortless for visitors without encountering obstacles such as lengthy forms or multiple pop-up windows.
10. Innovate and give a unique offer to customers.
To achieve business growth and stand out in a competitive market, innovation is imperative. Offering unique products and services is a proven method of attracting and retaining customers, as individuals prefer novel and innovative offerings. Thus, it is vital to think creatively and devise innovative ideas that have yet to be introduced by competitors.
Innovation can be incorporated into various aspects of a business, such as processes, workflow, ideas, and methods, to benefit customers or clients. However, before introducing any innovation, it is important to conduct thorough research to understand the pain points that customers experience within a particular niche. By identifying these pain points, a business can create innovative solutions that directly address the needs of its customers.
Implementing such innovations can drive business growth by differentiating a company from its competitors within a crowded marketplace. 
As a result, brainstorming and generating winning concepts after conducting thorough market research is essential to developing an innovative strategy that resonates with customers and drives business growth.
Comparing Business Development and Marketing Strategies
Your business's growth depends on business development and marketing strategies, but it can be confusing as these terms are often used interchangeably. While these can have common characteristics in some areas, each strategy has its advantages and are completely different from each other in some areas.
Business development strategy points out and pursues suitable occasions to expand your business's market share and revenue. This involves examining and analyzing new markets, exploring possible partnerships and collaborations, and finding ways to enter new markets. Business development often includes direct communication and building connections with other businesses or individuals.
Marketing, on the other hand, is a much broader approach. It includes everything a company does to promote and sell its products. Market research, public relations, product creation, pricing, advertising, and sales are all part of marketing. Marketing is used to attract and retain customers by establishing a strong image of the company and thus increasing the demand for the products or services of the company.
The scope is the first and most significant difference between business development and marketing. Business development typically focuses on the long-term growth and expansion of your business. At the same time, marketing is more planned and focuses on short-term goals, such as driving product sales and revenue for your business. 
Business development involves building one-to-one relationships, while marketing is focused on creating a broad message that echoes with a large audience.
The second differentiating factor between these two strategies is the focus. Business development primarily focuses on creating new possibilities for collaboration and partnerships, while marketing focuses on promoting existing products or services. For example, let us say you are an owner of a company, you can use business development to explore new markets and identify prospects, while marketing would then be used to create advertising campaigns that resonate with those customers and convert those prospects into potential customers and drive sales.
With all these differences, these two strategies can be used on common grounds to achieve shared goals. By aligning their efforts, you can create a cohesive strategy for your business that would maximize your company's growth potential. For instance, your company might use business development to establish partnerships with complementary businesses, which can be leveraged for marketing. Alternatively, you can use marketing to generate leads and drive sales, which your company's business development team can follow up on to explore new opportunities.
Both business development and marketing strategies require deep knowledge and understanding of the market, including customer needs and preferences, industry trends, and competitive dynamics. Both strategies also require careful planning and execution to be successful. Therefore, the choice between using a business development or marketing strategy will depend on your business's specific goals.
If you want to expand into new markets or identify new opportunities for your business, business development is the best approach. On the other hand, if you want to drive sales or build brand awareness, you may focus more on marketing efforts. Careful planning and execution are essential for success, whether a company focuses on business development, marketing, or combining both.
Business Development vs. Sales
Sales is a process of converting leads or prospects into new clients. Business development is a broader term that encloses many activities beyond the sales function. And while there are some overlapping, most traditional business development strategies are only marginally involved in closing new clients. 
Business development often needs to be clarified with sales. This is not so surprising as many people with clear roles in sales are now using the title "Business Developer." This is done because the company believes that the business developer designation avoids many possible stigmas associated with the sales.
Nowhere is this practice more prevailing than in professional services. Accountants, strategy consultants, and lawyers do not want to be seen as "pushy salespeople." This bias based on title is firmly rooted even though developing new business is an essential role of most senior members of professional services firms.
Since many clients want to meet and get to know the professionals they will work with, the sales role is well-established in many firms. The preference for sales roles also discourages firms from fielding a full-time sales force.
Some firms have one or more Business Developers on staff as an alternative approach to leveraging fee-earners' time. In the professional services context, these folks are often involved in lead generation, qualification, and supporting the salesperson/team to close new clients. In other organizational contexts, this role is a sales support role.
This confusing picture results in that many professional services firms call sales "business development" and make it part of every senior professional's role. They may also include marketing functions, such as lead generation and nurturing, in the professional's business development responsibilities.
What knowledge is critical for a business owner to possess to create an effective business development strategy?
For business owners to create an effective business development strategy, they need to understand various crucial aspects. This includes staying up-to-date with the latest information on the current state of the business, such as its strengths, weaknesses, opportunities, and threats via SWOT analysis. 
Furthermore, they should be informed about industry trends, growth projections, and competitor developments. It is also important for them to clearly understand the primary sources of sales and revenues of the current business, any dependencies, and the customer profile. 
Additionally, they should keep an eye out for new and untapped market opportunities and identify new domains, products, and sectors that complement the existing business for future expansion. They should take a long-term view and carefully evaluate the proposed initiatives while being aware of the cost areas and exploring possible cost-saving options.
Business Development Strategy ethics
Business development strategy encloses a range of activities that expand a business's reach, increase profits and build strategic partnerships. However, it is important to ensure that these activities are conducted ethically, concerning the views and values of all stakeholders involved. Business development ethics refers to the values that guide the right conduct in business development, such as honesty, fairness, and accountability.
In today's business world, there is an increasing concern among customers and investors about good practices. Therefore, you must prioritize ethical behavior in your business's business development strategies, especially when it comes to building trust and ensuring a positive reputation with stakeholders. Failing to do so can result in negative results, such as reputational damage, legal actions against your company, and loss of trust.
One of the most important ethical principles that you, as a business owner, should adhere to is honesty. This involves being transparent about your business's practices, services, and products. Being honest also means admitting mistakes and taking responsibility for any negative consequences that may arise from your business's actions. Honesty builds trust with customers, partners, and other stakeholders, which is important for maintaining a positive reputation for the business.
Another important ethical principle is fairness. Business development strategy should be performed in such a manner that is fair to all parties involved. For instance, when negotiating a partnership agreement, you, as a business owner, should ensure that the terms are mutually beneficial and that each party is getting a fair deal. This means avoiding taking advantage of any power imbalance and not resorting to unethical tactics such as deception to gain an advantage.
Accountability is another vital ethical principle in business development. As a business owner, you should take responsibility for your actions' impact on all stakeholders, including customers, employees, and the wider community. This involves conducting thorough due diligence before entering into any new business venture to ensure that the impact on stakeholders is taken into account. It also means being willing to take corrective action if negative consequences arise from the business's activities.
Apart from these core ethical principles, there are other ethical considerations that you, as a business owner, should be aware of. For instance, respecting intellectual property rights and avoiding infringement is critical to avoid legal repercussions and reputational damage. 
Similarly, maintaining confidentiality is essential when negotiating partnerships or discussing sensitive business information. Breaching confidentiality can also have serious legal and reputational consequences.
Lastly, as a business owner, you should consider the environmental impact of your business's activities. Sustainable development is increasingly important to stakeholders, and businesses must consider the environmental impact of their activities and work to minimize any negative effects. This can involve adopting sustainable practices, such as reducing waste and using renewable energy sources.
Investing time in developing a sound business development strategy is critical to achieving success.
Developing a solid business development strategy requires a calculated approach, despite the fast-paced nature of today's business environment. The benefits of investing time in creating a sound strategy are crucial to achieving long-term success for your business. 
The benefit of investing time in developing a business development strategy is that it allows you to clarify your objectives and goals. Creating a roadmap to success with a clear vision of what you want to achieve is only possible. By defining your objectives and goals, you can outline a plan that details the steps you need to take to attain them. This ensures that all members of your organization are on the same page, working towards a shared vision.
A well-crafted business development strategy enables you to identify potential risks and roadblocks that could impede your efforts. A thorough analysis of your market, competition, and internal capabilities can help you identify these obstacles and develop contingency plans to mitigate them. This proactive approach helps you avoid costly mistakes in the future.
Allocating resources effectively is also a benefit of investing time in developing a business development strategy. By identifying the areas where you need to invest resources, you can maximize the use of your limited time and money. This helps you prioritize your efforts and focus on the activities that are most likely to drive growth and profitability.
A well-crafted business development strategy helps you stay focused and disciplined. It is easy to get distracted by the latest trends and shiny objects in today's globalized world. Having a clear plan in place lets you stay focused on what is important and avoid wasting time and resources on activities that do not align with your goals.
About CodeDesign
Codedesign is a digital marketing agency specializing in e-commerce and B2B online marketing. Our digital team utilizes the latest digital marketing tools and strategies to help clients reach their business goals. We offer comprehensive services such as website design, search engine optimization (SEO), content marketing, performance marketing, social media marketing, CRM and marketing automation, email marketing, and more. Our experts create and implement customized digital marketing campaigns to increase website traffic, generate leads, and drive sales. Our expertise in e-commerce and B2B marketing allows us to understand the nuances of the digital marketplace and create effective marketing solutions tailored to their client's needs.
CodeDesign is leading:
- Digital Agency
- Digital Marketing Agency
- Amazon Marketing Agency


Feel free to contact us to see the unprecedented growth of your business.
---