LinkedIn Advertising: A complete guide to excel in 2023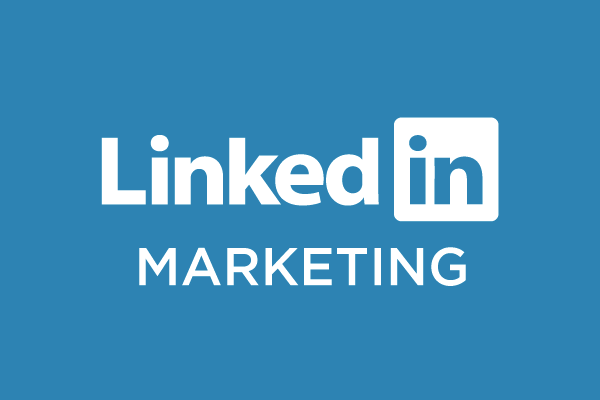 Linkedin marketing and advertising
LinkedIn is the worlds largest professional network with 750M+ professionals, out of which over 80% of the members drive business decisions and have 2X the buying power of the average web audience. LinkedIn is undoubtedly the number one platform for B2B lead generation, and with the proper LinkedIn advertising strategy, you could easily reach your ideal customers on the world's largest professional network. You could work with us, the leading digital marketing agency to assist you in LinkedIn marketing.
In this guide of LinkedIn advertising, we would be focusing on the types of ad formats available, how you could create an exciting ad, and discuss the steps to achieve your lead generation goals. Here is a complete guide on CRM implementation.


Create a free LinkedIn page for your brand to attract followers and build brand awareness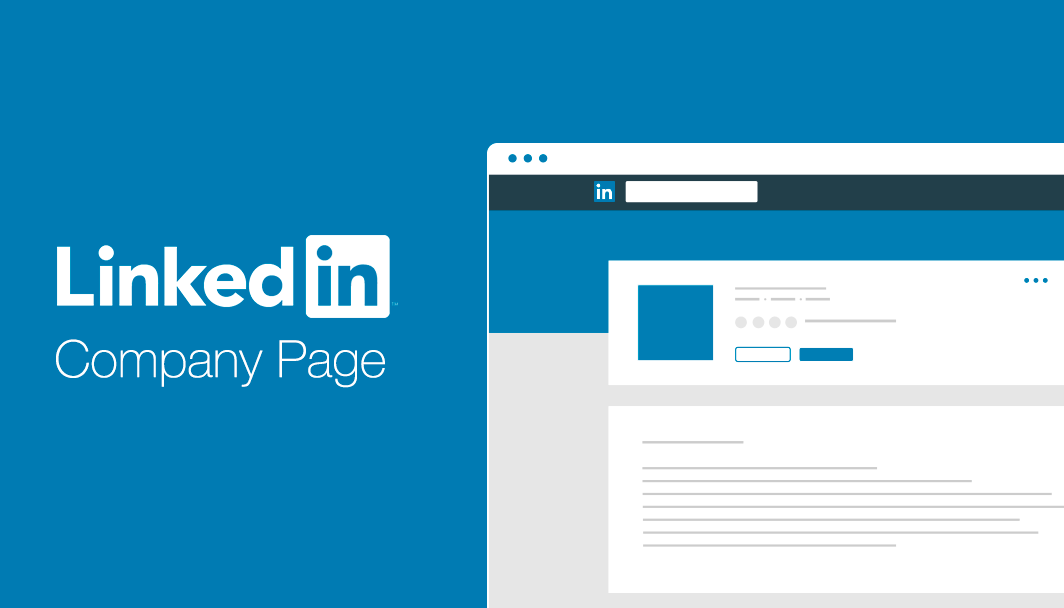 How to create a company page on LinkedIn 
A LinkedIn page works as the destination for your target audience to find you and acts as the voice of your organisation on LinkedIn. It could work as the destination to know more about your brand, product or services, job opportunities and interact with members on LinkedIn as an organisation. Find this complete guide on digital marketing funnel.
Here are the points to keep in mind while creating a LinkedIn page for your business:
Ensure that there is no other page on LinkedIn of your organisation. Every page has a unique URL that is structured as: linkedin.com/company/[Your Company Name]
You must already have a LinkedIn profile with your real first and last name and confirm the email address associated with your personal LinkedIn account.
Claim your page if it is already on LinkedIn as a listing page
Give complete information about your brand because the complete pages see a 30% increase in weekly page views, as per LinkedIn
You must also add other super admin struggled page because LinkedIn doesn't allow to replace or remove admin's and can't provide page admin information. Hence in case a super admin loses access to the page or leaves the organisation in the future, it would be a hassle to get access to the page.
Types of LinkedIn Ads to promote your business
Sponsored Ads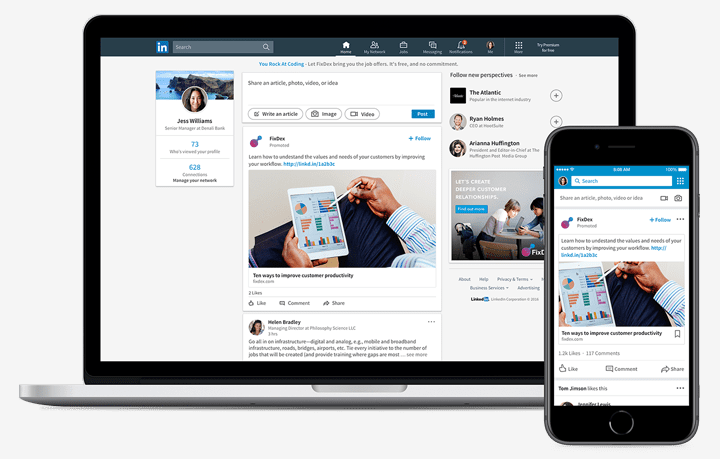 LinkedIn sponsored ads
Native ads that appear in the LinkedIn feed
You could use sponsored ads in the following formats:
Single Image Ads
Video Ads
Carousel Ads
Event Ads
You would need a LinkedIn page to start with sponsored ads. You could create posts that would appear on your LinkedIn page and in the newsfeed of your followers. You could easily boost these pages to your target audience or use direct sponsored content to test ads on a specific group of audience without publishing them on your LinkedIn page. On the campaign manager page, you could easily measured your campaign performance based on various metrics like impressions, clicks understand your audience better with demographic reporting. LinkedIn also allows you to install LinkedIn Insight Tag to track leads and conversions on your website. This is what you need to know about B2B sales outsourcing.
Sponsored Messaging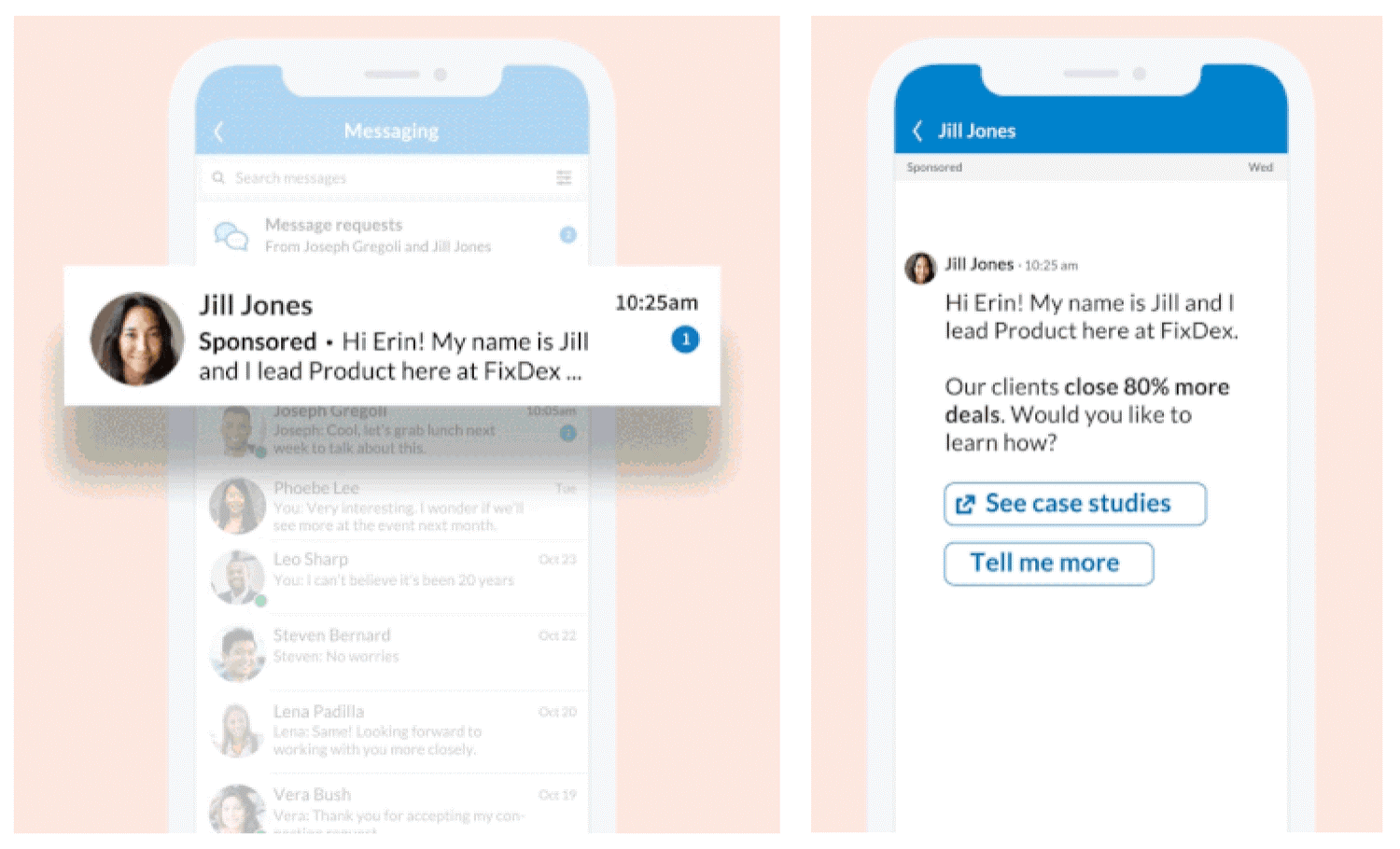 LinkedIn Sponsored Messaging
Sponsored messaging is the LinkedIn advertisement format where you could engage with your prospects in the message section to start conversation with your target professionals.
It is a great option to reach your audience in their message box in a personal way and keep the prospects engaged to drive quality results. Read this guide on PPC campaign strategy.
LinkedIn allows you with two formats in sponsored messaging to spark the right action as per your need.


Message Ads: 
You could send direct and personalised message to your prospects with a link to your landing page to spark immediate action. You could pair it with Leeds and ad formats to drive quality leads for your business.
Conversation Ads: 
It is useful to start conversations with your prospects and give them options to let them choose their own path experience. Your message could have more than one call to action to let the prospects have an experience as per their need.
The first step towards getting started with sponsored messaging is to pick up the sender who could be relevant and credible to your audience and could serve as the face of your brand. The next step is to choose your ad format and determine what you're offering to your audience. If you have multiple call to actions, you could go with conversation ad campaigns, otherwise you can go with message ad campaigns.
In the campaign manager section, you could get a valuable audience insights about your audience, and in the case of conversation ad, you can also get insights about detailed click reporting and how engaged they are in the conversation.
Text Ads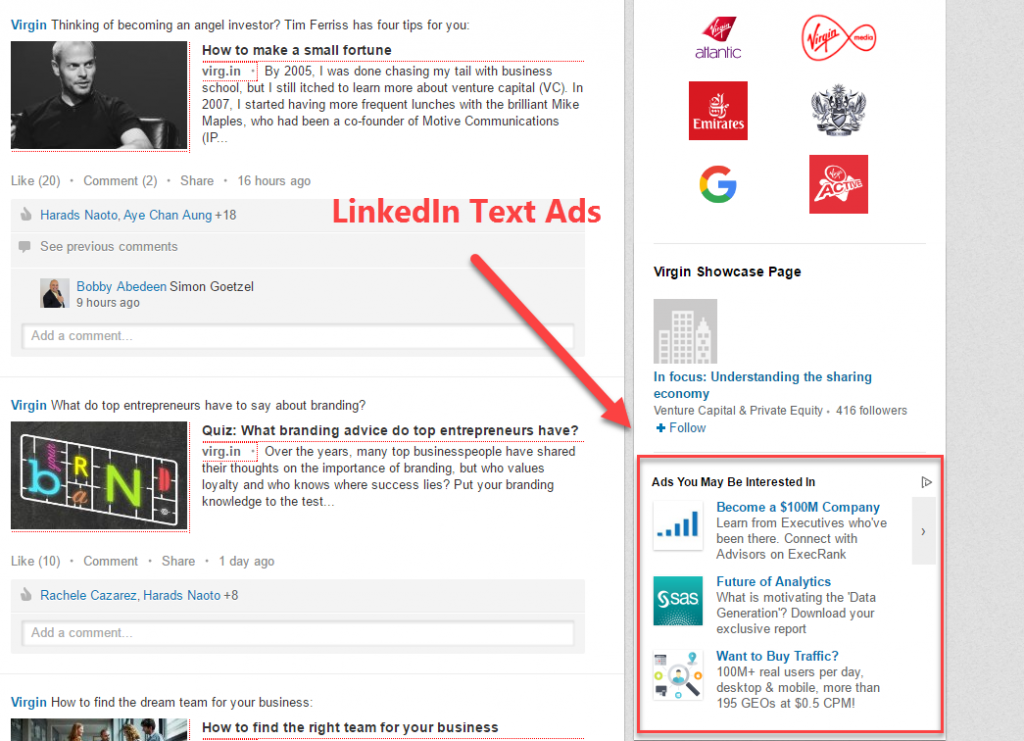 LinkedIn text ads
The text ads show up along the top and right hand corner of LinkedIn's desktop feed and could be a great opportunity to build strong leads with a professional demographic. If you are on a tight budget, LinkedIn text ads could be a great way to cast a wide net.
You could easily create your own budget and ads without any long-term commitment or contracts. You could pay for the ads based on per click or per impression. With the help of conversion tracking, you could easily track the number of leads you're getting from your ads on LinkedIn.
Dynamic Ads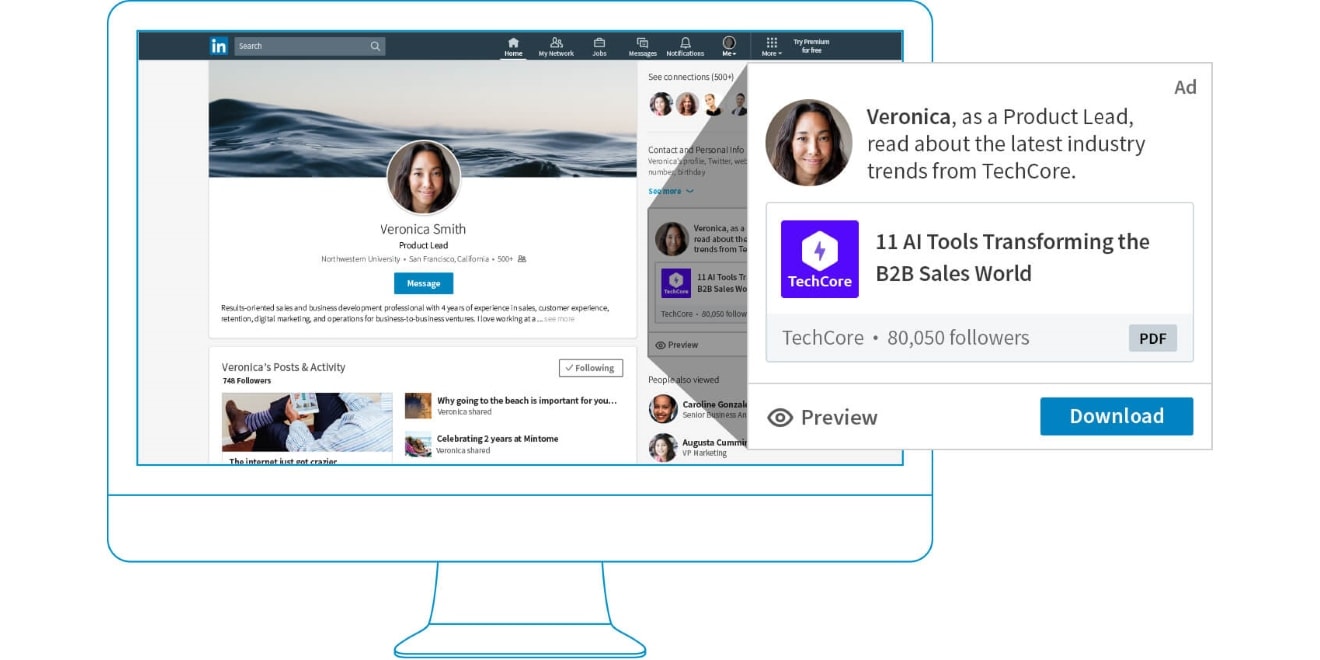 LinkedIn dynamic ads
Dynamic ads are designed in a way to automatically excite your prospects by personalising the ads for them. LinkedIn would use your prospect's profile data like photo, company name, job title, and more to personalised experience for your audience and automate the individualised campaigns at scale throughout the LinkedIn desktop. Dynamic apps are a great method to build brand awareness, increase followers for your LinkedIn page, and generate leads.
Types of dynamic ads:


Follower ads
Follower ads are personalized LinkedIn advertising that aims to promote your LinkedIn Page to others. 
These ads aim to increase brand awareness, website visits, and engagement by encouraging users to follow your page. These ads are dynamic and tailored to your target audience. 
The specifications for LinkedIn follower ads include 
- an ad description of up to 70 characters, 
- an ad headline of up to 50 characters (or the option to choose a pre-set option), 
- a company name of up to 25 characters, 
- and an ad image that should be 100 x 100px in JPG or PNG format for best results.
Spotlight ads
Spotlight ads are a great way to highlight your products, services, content, and more. 
They allow members to click on the ad and be directed directly to your landing page or website.
Similar to follower ads, these dynamic ads use personalization to connect with audiences. 
The goal of spotlight ads is brand awareness, website visits, engagement, lead generation and job applicants. 
LinkedIn spotlight ad specifications include:
- an ad description of up to 70 characters, 
- an ad headline of up to 50 characters, 
- a company name of up to 25 characters, 
- an image of preferred size 100x100 pixels for JPG or PNG, 
- a CTA of up to 18 characters, 
- and an optional custom background of 300x250 pixels and 2MB or less.
LinkedIn Ads Objectives
LinkedIn allows you to advertise with objectives in mind to create campaigns around specific business goals. LinkedIn allows mainly three types of objectives, awareness ads, consideration ads, and conversion ads on LinkedIn. Let us dive deeper into the aforesaid objectives to have a better grasp on how businesses can walk through all stages of a funnel and achieve their desired goals.
LinkedIn Advertising to create awareness
The awareness ads could help your brand to get on to top of people's minds and help you come in the view of a number of people on the internet. It could be helpful if you want to get more views for your posts, increase in followers and get more engagement. Though these ads are costlier than the other platforms, you could get a better return because of the presence of professionals who have more decision making power and 2X the buying power of the average web audience.
LinkedIn Advertising for consideration
The consideration ads could help you get qualified leads by increasing the website visits, enhance engagement rate, or increase the video views to leave a lasting impression in the minds of the people who were somewhat familiar with your brand. You could choose "website visits" as your goal if you want more eyeballs on your landing page or direct the LinkedIn traffic to your website.
It is evident that if your target audience likes, comments, or shares your post, or visits to your other social media platforms and websites, it means they are somewhat interested in your product or service and have a familiarity with your offering and the brand. You could choose "engagement" as your objective if the aforesaid is your objective.
You could also choose "video views" as an option to get more eyeballs in your shared videos which could share your business story, information about the latest products, or anything that could excite your prospects.
LinkedIn Advertising to get conversions and leads
If your business school is at the last stage of sales funnel, and intends to generate leads or drive sales, you could use conversion ads on LinkedIn. The Lead generation objective allows you to gain leads, and the people who clicks on your ad are subjected to form pre-filled with LinkedIn profile data.
The website conversions objective allows you to let the website visitors perform a specific task on your website, like, signing up to a newsletter, purchasing a product, or downloading an e-book.
If you have a job opening in your company, you could use Job applicants objective to spread the word of mouth about your company's latest job opening with the job post.
LinkedIn Advertising best practises to reach a highly segmented target audience in 2022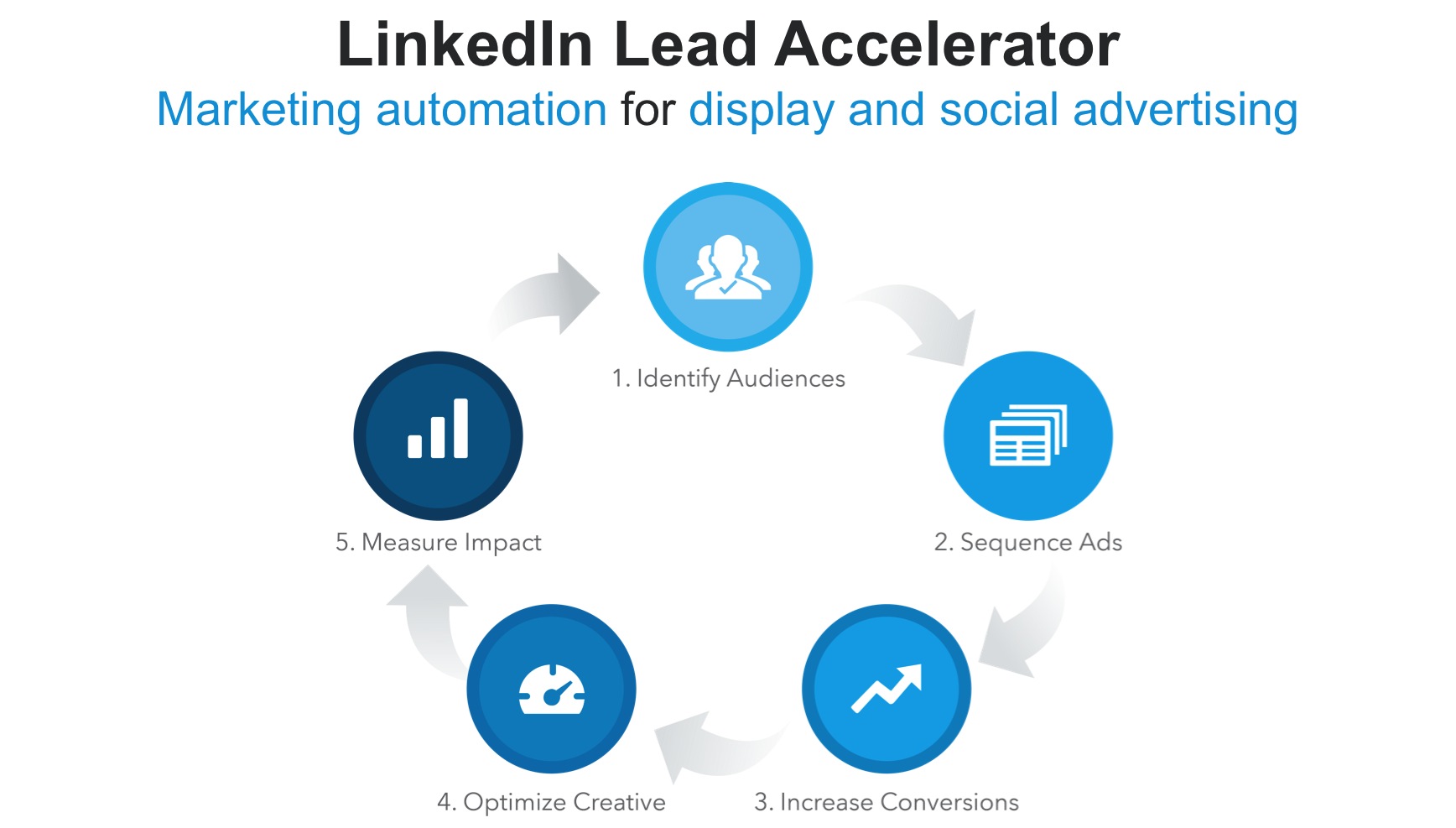 Narrow down your audience size to keep it in a range between 100K to 300K users
Divide your budget into smaller campaigns to be more precise and have a better data insight
Start with the lowest CPC bid and gradually increase the bid to get better results
Use A/B testing to see which version of your ad performs better
Be highly specific with the demographics to ensure your ads are reaching the right audience
Make use of the exclude feature, if you don't want a specific group of people to see your ads, if they don't fit in your target audience
Create your buyer persona to communicate with the right set of audience
In marketing, customer persona helps you understand more about your target audience and paves a way for you to talk to them in a more appealing and convincing manner. In the customer persona profile, you talk about your customers needs and wants, then understand their purchasing decisions to get their behaviour and insight so that you could create more targeted content. When you know about the challenges and the motivations of your customers, it becomes very easy for you to have better conversations with them.
In the marketing world, it is useful to find brands segmenting the audience to find more detailed information about them including the demographic, gender, social economic status and so on. However, it sometimes become difficult to create the right piece of content for the brands while still being in the shoes of the customers. In such a scenario, empathy mapping is a great way to help the brands visualise about what the customers hear, think, feel, and see, while still maintaining the customer perspective.
Your audience is hyper specific for your business. Hence, it is important for you to speak the language and take the conversation method into consideration to refine the overall communication style with him. Create persona specific content and partner with people your personas love to leave a striking effect.
Focus on the customer journey to get the best results
As we discussed earlier, LinkedIn offers various ad types to target your customers in a manner that best suits your objective and audience. However, the different LinkedIn ad types are generally appropriate for different stages of the customer journey. 
For the customers who are at the top of the funnel, they would need more quality content like e-books, white papers, and webinars in exchange for contact info or lead generation. These people need you to show authority and convince them about how you could solve the problem, as these people might be generally searching about their problems.
The prospects at the middle of the funnel already know you, however, they need you to get them like you more. These people are aware of the problem and are looking for the various options available in the market and trying to figure out the best one to choose. You could target these existing leads with more tailored content such as buying guides.
You need to get the leads at the bottom of the funnel choose you from the various options available in the market. These are your hot leads who are almost at the verge of conversions. You could offer them free trials, demos, special product offers, discounts, and assessments. 
Get insights from other social media platforms
One of the best practises for social media advertising is to leverage almost all the platforms like Google ads, Bing ads, and Facebook ads. It would give you insights about which ad copy or target parameters worked well for your business. 
If you look at your best performing landing pages and keywords from the Google ads perspective, she would get ideas on which particular words, phrases, tunes, landing pages, and others help you resonate well with your prospects. In this scenario, you could easily implement these copy elements into your LinkedIn advertising campaign.
Facebook advertising is cheaper than LinkedIn advertising. In such a case, if you look at your best performing Facebook ads in terms of click through rates and conversion rates, you would be able to get ideas about the custom audiences that responded in the most appropriate manners. Facebook Pixels would also help you understand whether the visitors who previously visited your website are converting or not. In such a case, you could use the remarketing as a tool to get the most benefits out of your advertisements.
Target the decision makers
Many times B2B companies target the team members of the target companies. Let's assume that the ad was perfect and team member was excited after reading your content on your landing page. However, the catch in this scene is that the team members generally are not the ones who make the final calls. In such a scenario, you have targeted the right company but not the right person who makes the decision.
The best part about LinkedIn start it allows you to target the C-level positions. If you Target the decision makers with personalised marketing and start conversations with them using the empathy map, your chances for getting your product or services sold would increase dramatically. 
Make use of gated content to entice the interest of your audience
Gated content requires your audience to sign up and submit some of their contact information to get it. If you take an example, some of the advertisements would prompt offers like an e-book on a given subject, but if you try to download it, you need to share your email address. LinkedIn is considered as the social media for the professionals. In such a scenario, it makes a lot sense to offer the right type of content to your target audience to establish authority and make yourself look a prominent figure in your niche.
If you have been running an event, let's say a podcast, conference, or a webinar, it would make a lot sense to target attendees with contextual gated content with LinkedIn's lead generation forms to have significant conversion rates.
You must create a highly targeted audience list through lead gen forms, event attendee email lists, and any other audience that shows interest in your offer. Then, create an effective landing page with a download CTA to have better conversations directly with an audience that already has your solution on the top of their mind.
Create an A/B Testing Strategy for your LinkedIn Ads
To have a successful E/B test, you need to change one variable at a time to see if it increases your metrics. If you are struggling to find our target audience, or if you're confused about two sets of groups, you could set up to exact same campaigns with different target audience to see which group response to your advertisement in a better manner.
You could easily run an EB test for your LinkedIn sponsored content but simply following three steps. Here are they:
1. Create a campaign that you want to promote and customise the creative, building, budget, etc., then create an exact replica of that campaign as a second campaign.
2. Now when you have to exact campaigns, you should change exactly one available at a time and then both these campaigns for at least two weeks, and use the E/be significant test to monitor the results.
3. At the end of the campaign durations, it is the time for you to glean the results from all of your tests and see what insights are available to you about your target audience and the success of your campaigns.
Why should you use LinkedIn ads?
You should use Linked ads for your business growth as running ads on LinkedIn can bring many benefits for your business, including:
- Reaching a large audience: LinkedIn has about 134.5 million daily active users, including professionals and businesses from various industries. This gives you the opportunity to target a specific audience based on job titles, company size, and industry.
- Efficient retargeting: LinkedIn's Matched Audiences allows you to upload a list of users you want to show retargeting ads. As these users are already interested in your product or service, retargeting ads can help drive them to conversions. If you want to retarget website visitors, start by installing the LinkedIn Insight Tag. This helps you track conversions, retarget and get real-time insights on the professional traits and content preferences of your website visitors.
- Tailored ads for each stage of the funnel: LinkedIn's objective-based advertising allows you to create different goals and ads depending on the stage of the funnel your audience is in. This helps to keep prospects engaged and aware of your brand as they move through the conversion process.
Want to learn how to set up a LinkedIn ad?
Follow the instructions listed below to create your own LinkedIn ad.
Step 1: Create a LinkedIn Page if you don't have one already
To create a LinkedIn ad, you need to have a LinkedIn page. If you don't have one already, you can create one by visiting the LinkedIn website and following the prompts. 
A LinkedIn page allows you to establish your business or brand among the professional network.
Step 2: Log in to Campaign Manager or create an account.
LinkedIn's Campaign Manager is the platform where you can create and manage all your advertising campaigns, set budgets, and track performance. 
It is also known as LinkedIn's ad manager, and you can access the platform by logging in with your LinkedIn account.
Step 3: Select your ad objective
Before you start creating your ad, you need to consider what type of action you want to inspire among your audience, whether it is website visits, lead generation or brand awareness. Your ad objective will determine the type of ad you create and the targeting options you have.
Step 4: Choose your target audience
Once you have selected your ad objective, you can start targeting your audience. You can target your audience by location, job title, company name, industry type, and personal or professional interests. 
LinkedIn also offers Matched Audiences, a targeting feature that utilizes your business information and LinkedIn's professional data to enhance your marketing efforts. It offers various options such as retargeting, targeting specific contacts, targeting specific accounts, and targeting similar audiences. It allows you to connect with people you already know by retargeting people who've visited your website or uploading a list of email contacts.
Note: LinkedIn suggests targeting a minimum audience size of 50,000 for initial campaigns of Sponsored Content and Text Ads and 15,000 for Message Ads.
Step 5: Select an ad format
Depending on your objective, you'll be able to pick from Sponsored Content options (single-image, carousel or video ads), Text Ads or Message Ads. Each format has its own advantages and limitations, so choosing the one that best suits your ad objective and target audience is essential.
Step 6: Create your budget and schedule
Once you have selected your ad format, you can set your budget and schedule. The campaign Manager will provide a budget range based on other competing bids for your ideal audience. Alternatively, you can set your budgets and bid on the marketing space. 
The initial 2-4 weeks are typically considered a learning experience to determine what works or doesn't.
LinkedIn uses an auction system that drive the most value to both members and advertisers. To win auctions and maximize your campaign's success, your ads must have both a good relevancy score and an appropriate bid — and this combination determines who wins the auction and serves ads on the platform
Note:
- LinkedIn recommends A/B testing and experimenting before you double down on a particular campaign's budget.
- For testing, LinkedIn recommends a daily budget of at least $100 or a monthly budget of $5,000.
Step 7: Start building your ad.
In this step, you'll start creating your ad. Depending on the format you've chosen, you'll be able to add text, images, videos, and other elements to your ad. 
The campaign Manager will share previews so you can get a sense of the final look of your ad. This will allow you to make any necessary adjustments before launching the ad.
Step 8: Provide payment information
Before you can debut your ad to the world, you'll have to provide payment information. This includes your credit card or billing information. Once that's done, you're ready to launch your ad.
Step 9: Measure performance and track conversion
Once your ad is live, you can track its performance using the reporting dashboard in Campaign Manager. 
From here, you can review performance metrics, access charts and demographics, or export a CSV report. 
This is also where you'd go for conversion tracking. By measuring performance, you can see how your ad is doing and make any necessary adjustments to improve it.
LinkedIn Ad Creatives Best Practices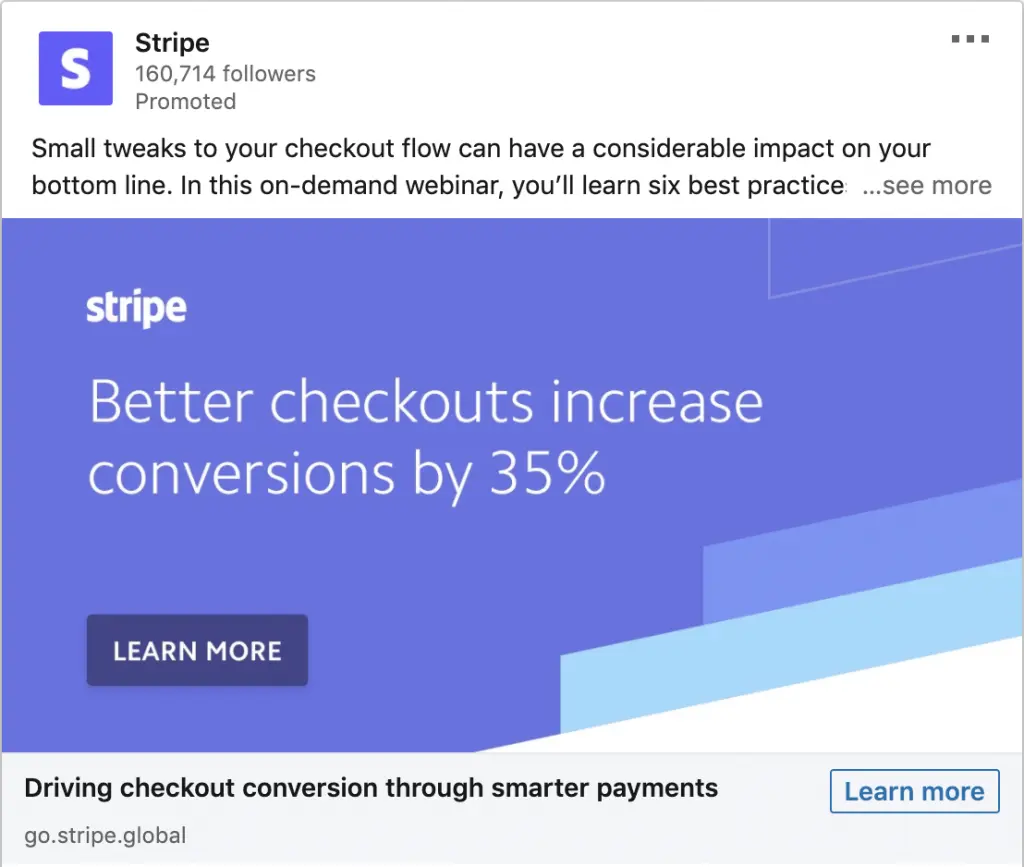 Create compelling content to catch the attention of your target audience and give them a reason to click on your ad
Ensure that you use strong call to action phrases like try, download, request a quote, or sign up
As you already know that the LinkedIn background colour is neutral, hence the images with bright colours are more likely to catch the attention of your audience
Refresh your apps with new text or images at least once per month to maintain the freshness and stop the declining of CTR
As per LinkedIn, Tuesday and Wednesday are optimal days to launch message ads
You could make use of LinkedIn ads rotation to optimise your campaign results. If your customers find you on Google ranking for prominent keywords in your niche with
SEO, you'll develop authority.
FREQUENTLY ASKED QUESTIONS:
1. Does Linkedin have a 20% rule?
Facebook has a requirement to reject any ad with 20% more text than images. Fortunately, Linkedin does not follow this pattern, leaving you free space for the amount of text you think you should put.
Ideally, your image should be striking enough to hook with a persuasive text and a call to action. Your overlay should give a general understanding of your topic, highlight your product's attributes or showcase information about the service you offer.
2. What kind of ads perform better on Linkedin?
Linkedin data suggests that one of the most shared content within its platform is video, having an engagement of 2 to 3.5 times higher for B2B businesses, being more successful than static posts.
3.  What kind of ads aren't allowed on Linkedin?
Data collection and privacy.
Health matters
Affiliate advertising
Copyrighted content
Counterfeit goods
Drugs and related products
Fake documents
Hacking and cracking
Loans and financial services
Occult pursuits
Opposition
Politics
4. How much LinkedIn ads cost in 2022?
To offer you the full Linkedin Ads cost, we have to talk about the average CPC, CPM and CPS:
CPC (Cost Per Click):

 On average, this metric is around $5.39, which could look a bit expensive, but the reality is that most clicks come from highly qualified leads. 

CPM (Cost Per Impression):

 The usual cost is around $6.37, representing the cost for a thousand impressions. It is an excellent campaign for brand awareness, and although it seems more expensive than CPC, you are only paying for viewers and not how many clicks.

CPS (Cost Per Send):

 This metric applies to InMail messages, and brands use it to get in touch directly with the audience through their LinkedIn inbox. Its cost is around 

$0.70

, and it doesn't matter if the user checks it or not. This type of ad is great for bottom-of-the-funnel campaigns, which is suitable for users that are familiar with your brand's topic and could be interested in your offer.
5. How long should LinkedIn ads be?
Ideally, the length of your copy should be under 150 characters. Try to make them concise to lead to greater engagement. If your copy is descriptive, keep it under 70 characters and be careful with copies larger than 100 characters since they could be truncated on a desktop.
About CodeDesign
Codedesign is a digital marketing agency specializing in e-commerce and B2B online marketing. Our digital team utilizes the latest digital marketing tools and strategies to help clients reach their business goals. We offer comprehensive services such as website design, search engine optimization (SEO), content marketing, performance marketing, social media marketing, CRM and marketing automation, email marketing, and more. Our experts create and implement customized digital marketing campaigns to increase website traffic, generate leads, and drive sales. Our expertise in e-commerce and B2B marketing allows us to understand the nuances of the digital marketplace and create effective marketing solutions tailored to their client's needs.
CodeDesign is leading:
- Digital Agency
- Digital Marketing Agency
- Amazon Marketing Agency


Feel free to contact us to see the unprecedented growth of your business.
---