Fertility Clinic Marketing: The dynamic way to acquire leads

Fertility Clinic Marketing
In 2023, fertility clinics ready to engage in marketing will see a boost in business. Patients are more willing to explore and discover a physician online, so they're primed to communicate with your clinic through digital channels. Search engine optimization is an important part of digital marketing for fertility clinics. This involves incorporating the keywords and phrases your potential patients search throughout the pages on your site. Your Digital marketing strategy can include social media platforms like Facebook, Twitter, Instagram, and LinkedIn. People are much more likely to become patients if they feel they already know a company well. Your clinic's website should be easy to navigate and provide a great user experience – the UX holds importance no matter how a user accesses your site. 
To boost leads and conversion rates, ensure that each of your marketing materials includes a call to action (CTA) and you have a strategic customer relationship management system. The lead generation process for fertility clinics require a strategic partner, and CodeDesign have a proven track of success. We could help you achieve your end goal to bring leads and convert those leads into patients. 
You could work with us, CodeDesign, the leading digital marketing agency to grow your business.
Read this complete guide on B2B SaaS SEO and Amazon Listing Optimization.
Offer a free consultation call
When we talk about IVF treatments, we tend to ignore the fact on how long could be the consideration phase, if we take the seriousness of the matter in account. So, even if your prospects know about your clinic and has seen some of your ads, it might be difficult for them to trust you right away. So, when you offer a free consultation, you're putting away the resistance and embracing your customer's needs first. This is a great way to build trust and showcase your expertise to them. Talking about their present fertility status, which includes the medical background, gynaecological health, history of sexually transmitted infections, and any potential familial health concerns would help you better understand the case and present them with customised solutions. Additionally, any previous fertility treatments that they may have undergone should also be discussed. 
When a patient comes to your clinic and spend about 30 minutes or more with you, then there is a great chance that you would win their trust and showcase your track record or latest medical equipments. And, just to take into consideration, you should also keep in mind that these patients who have come a long way to get consultations from you are more likely to convert. Have a proper digital marketing funnel in place.
Educational content is the stepping stone in such a serious decision
See, you need to understand that IVF treatments are a very sophisticated and personal decisions that patients make. And, when they are about to make such serious decisions, it is not surprising at all that they would invest their time into learning more about the process, reviewing various options, and look for testimonials and past success before making a decision. And, for this specific reason you've to create educational content in form of blogs where you talk about IVF treatment processes and how your clinic is an excellent choice, citing your past treatments as proofs and so on. At the same time, you could invest in video marketing. You might have seen various doctors on YouTube talking about symptoms, processes, interviews with their past patients. Now, if you think about it, they spend so much of their precious time on videos to earn trust of their customers.
At the same time, if you study your target audience, then depending on their preferences and life habits, there would be certain social media platforms that they must be using. Now, if you create social posts that are informative and authoritative, then you've a great chance that your potential customers will have a positive perception about your clinic. Read these linkedin ads best practices 2022.
Focus on building a strong brand image
It is crucial for fertility clinics, doctors, physicians, and staff to establish a strong brand and reputation. Your logo, photography, website design, and messaging all present an opportunity to communicate your brand promise and establish trust, credibility, and authority as an IVF provider.
To achieve this you must always try to use natural photography instead of relying solely on stock images. Craft your messaging in a way that evokes empathy and understanding for your patients. Focus on highlighting patient success stories rather than solely emphasizing the qualifications and experience of your physicians. Always provide accessible information about your physicians and share their educational background and their past work. By following these tips, fertility clinics can create a powerful brand that resonates with their target audience and ultimately attracts more patients. Check these companies adapting to cultural differences examples.
Having a well-designed and fully responsive clinic website is crucial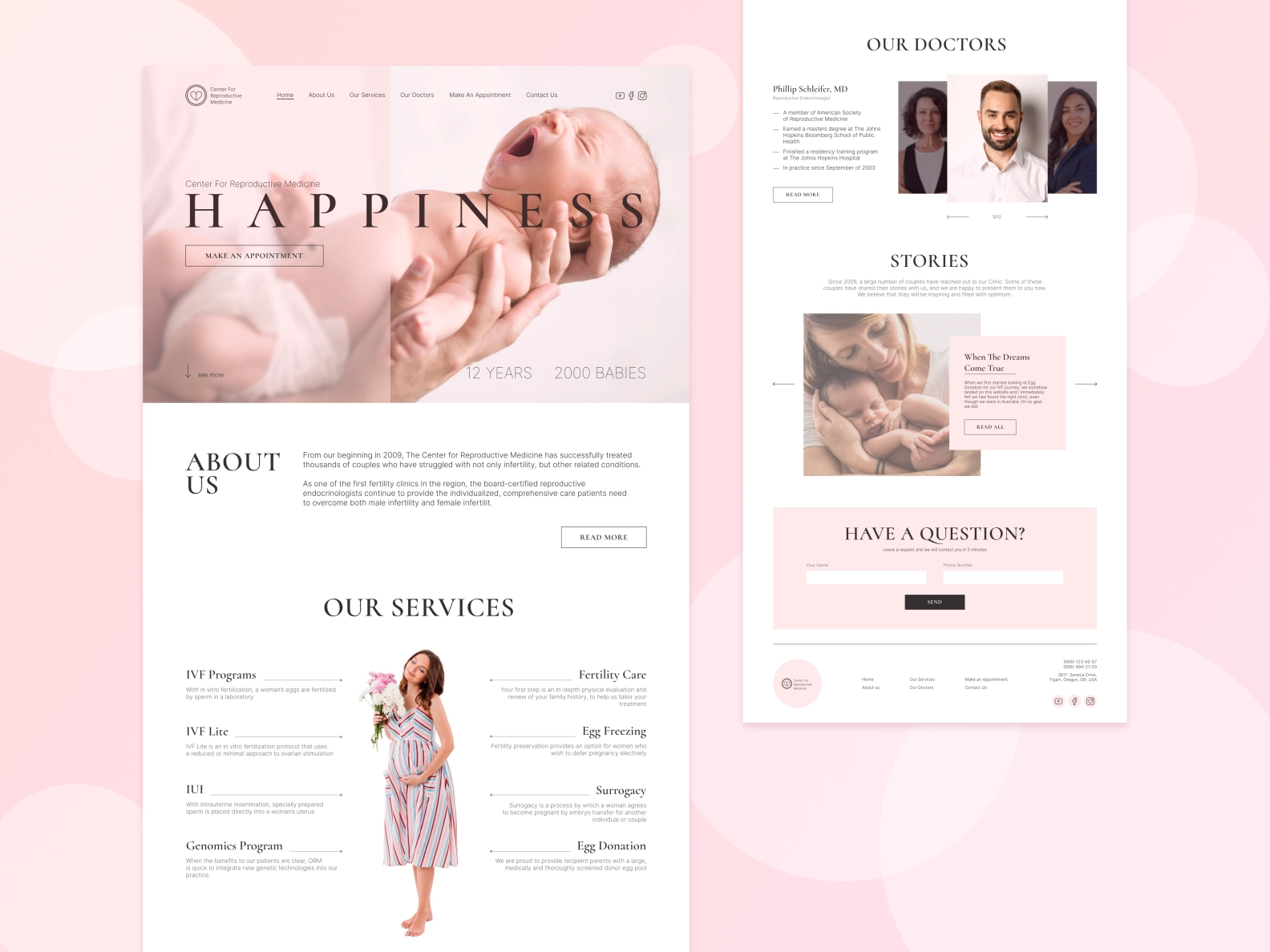 Fertility Clinic Website
Some medical practitioners do not include enough content on their clinic website to educate their clients about why they are the greatest option on the market. You'll also need a website that can hold your audience's attention, especially given people's short attention spans.
To take advantage of digitalization and get most of digital's potential, you should put a lot of effort into your website and search engine optimization. Download digital marketing plan template.
A website dedicated for clinic or a landing page meant to hold patient's attention should foster patient empathy. Instead of only focusing on the doctor and the team, your website should showcase the previous successful case studies and have enough resources to teach the client about IVF. The website must be tailored and optimized for local search, as most clients would come from your same state or the nearby ones. At the same time, handling new patient leads in a HIPAA-compliant manner is required. Read this complete guide on IVF marketing.
Online Reputation Management is crucial to earning the trust of your potential clients.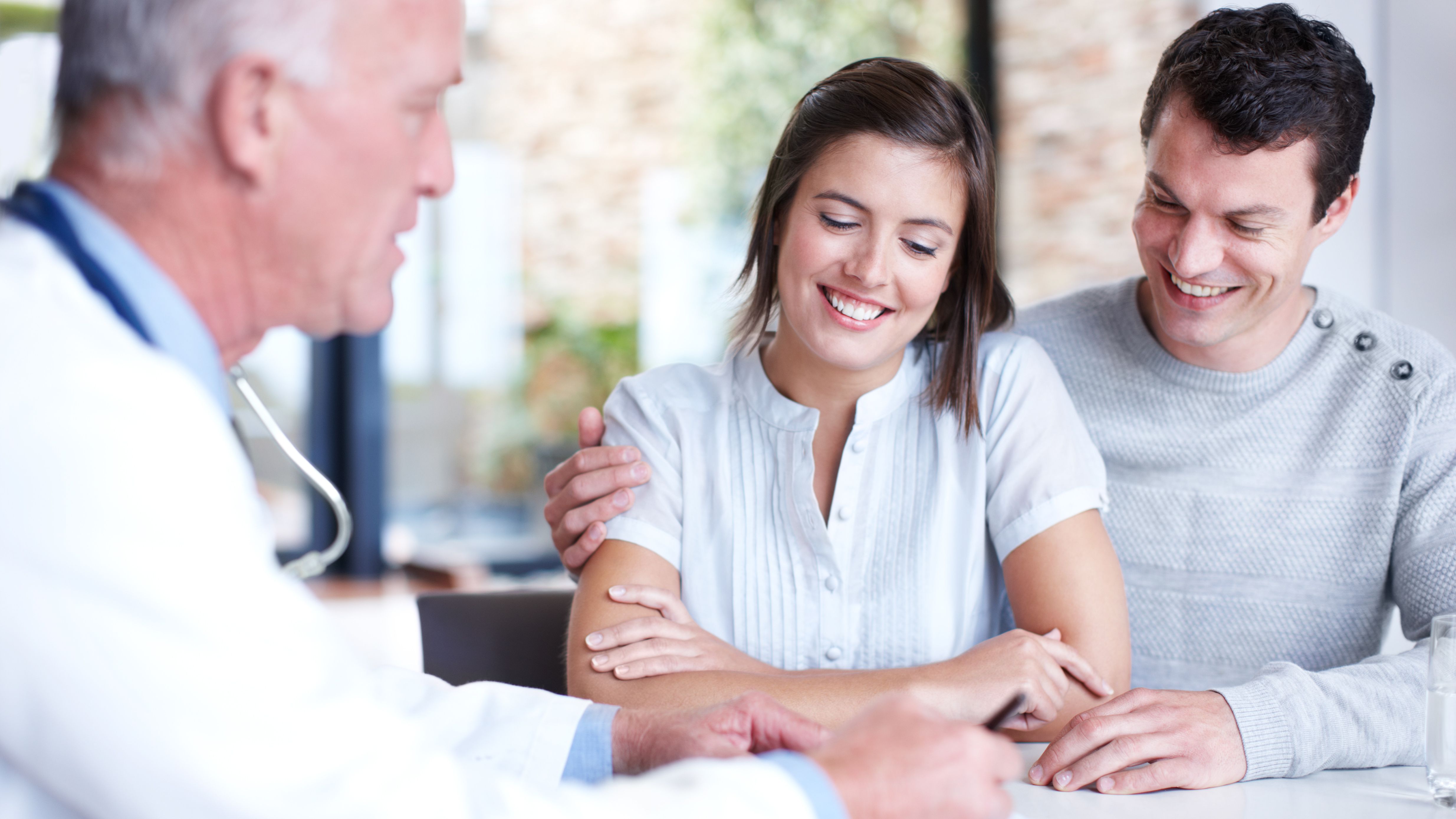 Fertility Clinic - Online Reputation Management
People online judge your talents and level of caring based on your reputation. They accomplish this by looking into your digital footprint and conducting research. The front door for your clinic's online brand is its website and social media accounts.
It would help if you focused on displaying patient testimonials that portray a positive image of your business and what you're doing to educate patients on your website.
Your content material is critical for educating potential patients and establishing trust. People could also find you online through directory listings and judge your service quality from the reviews. Online reviews can assist you in attracting more people who are looking for top clinics and comparing doctors. Read this guide on what's a good CPC.
Paid advertising is still a great way to draw attention to your clinic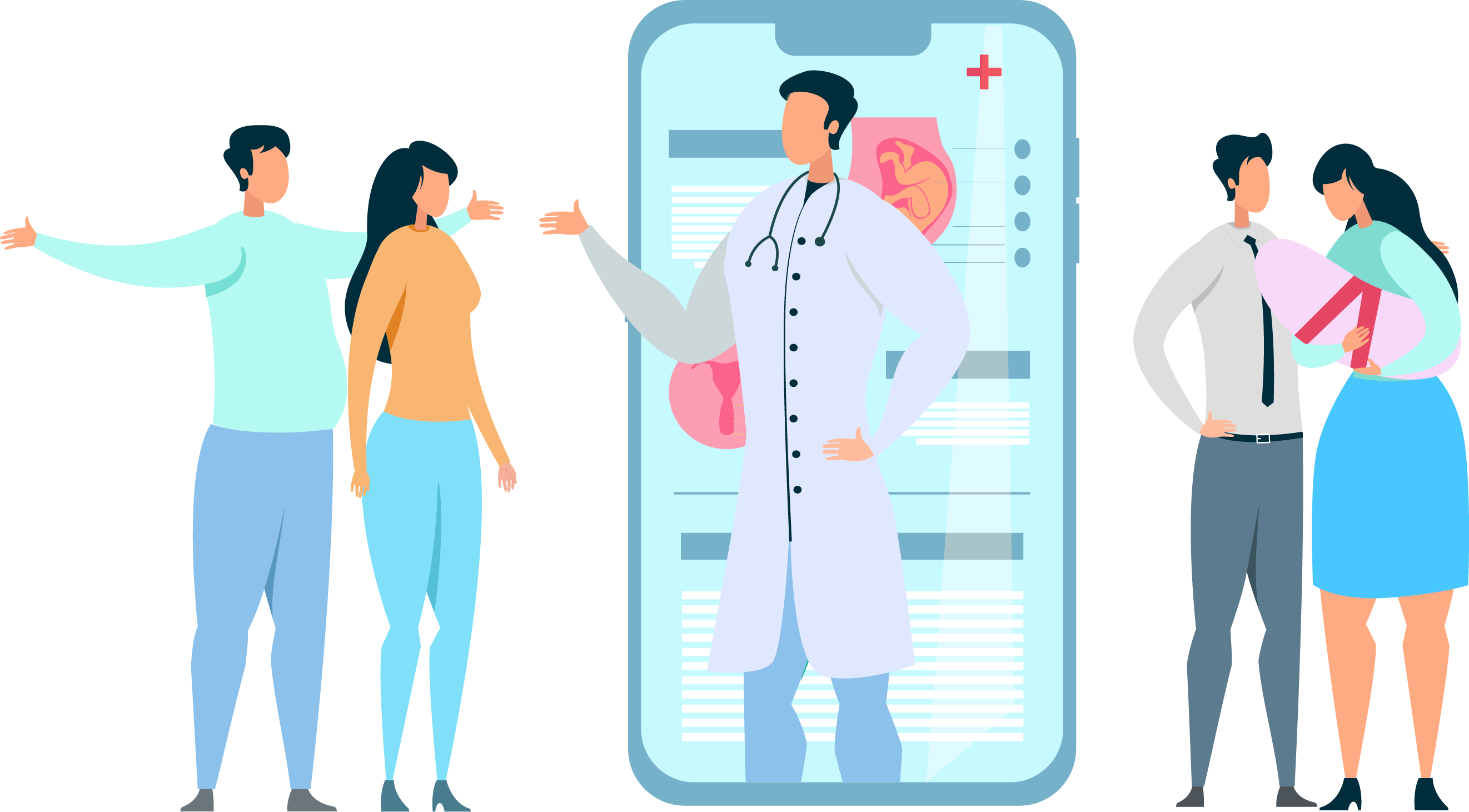 Paid advertising for fetility clinics
Paid search engine advertising remains the most effective way to attract new patients to your fertility clinic. It targets ONLY those actively looking for fertility or IVF treatment, and you pay only when they click on your ads. Patients are highly active in researching IVF and fertility treatments, so the search volume for these terms is very high. The following are some helpful hints for fertility practice search ads:
Commercial search phrases that are tailored to the therapies you want to promote could be a good strategy. For example, you could include the keywords related to your treatments – IVF, IUI, ICSI, egg freezing, etc. Get specific, as patients heavily research fertility, and they will often search for particular treatments they've discovered. Read how IVF business will change future of fertility.
You'll need to build separate pages for each treatment or disease. This ensures that your landing page has the best Google relevancy score.
Spend enough money on those keywords to receive the most impressions. RECORD EVERYTHING so you can see which keywords result in patients. Without proper conversion tracking, you might be able to generate clicks on your ads, but they may not be turning into phone calls or form submissions.
Showcase your testimonials and success stories on your website to garner trust from the audience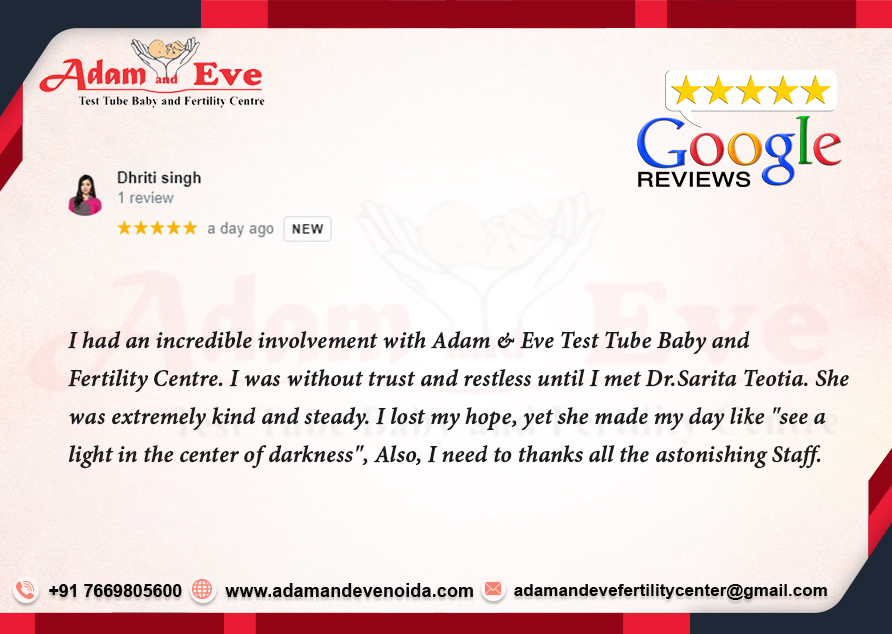 Showcase testimonials and reviews
The case studies and testimonials play a game-changing role for any IVF or fertility practice clinic as they have the caliber to earn trust and authoritativeness and show potential patients what life could look like. However, many marketers don't do an excellent job showcasing or bringing these testimonials to life. Here are a few things to think about when it comes to showcasing your fertility practice testimonials.  
Use video to bring patient testimonials to life.  Please increase the number of testimonials you create and update them more frequently. Create testimonials targeted toward different patients and services: example, egg freezing, sperm freezing, IUI, IVF, LGBT, etc.
You could also opt for featuring testimonials on your homepage. Distribute testimonials to other platforms, such as Facebook, Google My Business, and others. Here is a complete guide for you on developing a business development strategy.
Focus on all the stages of the marketing funnel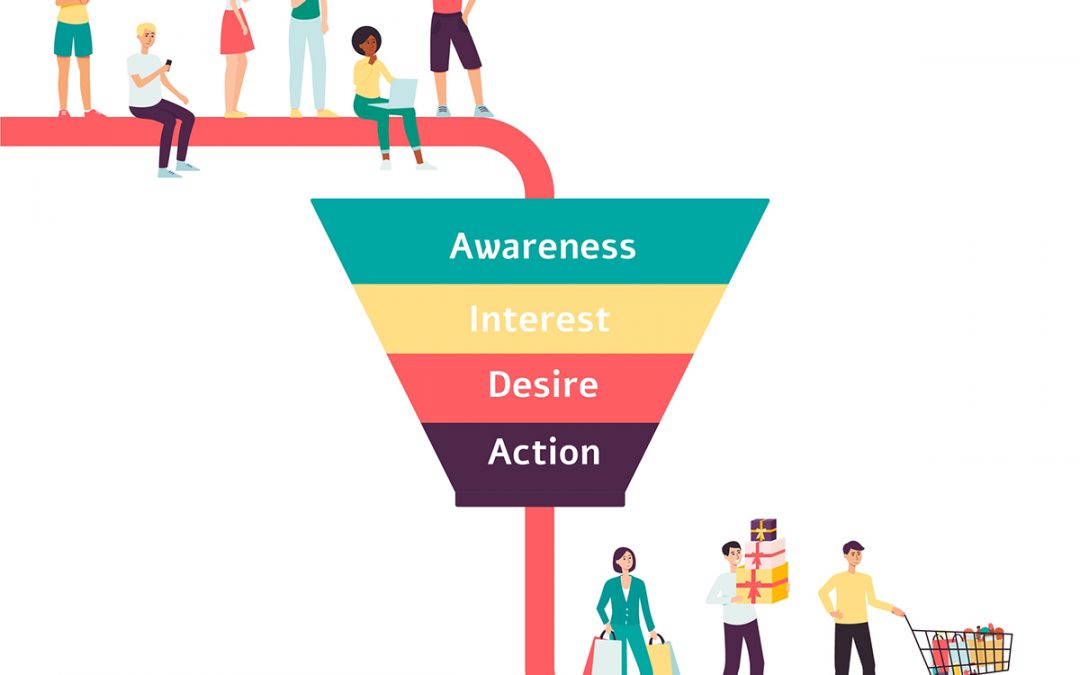 Digital Marketing Funnel
Targeting the leads on the verge of contacting a fertility clinic is the only focus for most IVF hospitals/clinics. However, most clinics don't realize that most of the potential clients could be on the stage where they could be researching the treatment methods, and that's where a digital marketing funnel and content marketing comes in. 
When most fertility executives and clinic owners think of marketing, they usually think only of this first phase. However, a complete and dedicated marketing campaign could help. The objective here should be to get as many qualified eyeballs that need your services and get them to take action: calling or requesting an appointment online.
There are various subparts of an excellent digital marketing channel to tackle all kinds of audiences, including paid advertising, local listings in your area, search engine optimization, content marketing, event marketing, and many more. At the same time, having good reviews on the internet to build a brand and maintain the continuity of brand could also improve your authoritativeness and a good user experience on the web would mean more retention. Check out how voice search optimization could affect your marketing strategy.
Conclusion
Our dedicated healthcare marketing services can help you increase your hospital's revenue. With our SEO & Digital Marketing services, we can assist your medical business to achieve more visibility and credibility in front of the right audience, and you will notice an increase in the number of visitors to your healthcare website. 
Solo healthcare practitioners, i.e., doctors & individual clinics, could also benefit from our customized digital marketing services, which will help them grow and increase their online visibility. We also believe in investing in Online Reputation Management for our medical clients as it will assist them in engaging and building trust with their patients. 
With our proven marketing tactics, it will be easier to get high-quality and bottom-of-the-funnel qualified leads. At the same time, we also have a dedicated conversion rate optimization technique to help you convert those leads into paying clients. CodeDesign, the top global name in the marketing and advertising industry, can help you increase the revenue of your hospital or clinic.
When you collaborate with a marketing partner who understands your business, growing patients and income for your fertility clinic is prominent.
About CodeDesign
Codedesign is a digital marketing agency specializing in e-commerce and B2B online marketing. Our digital team utilizes the latest digital marketing tools and strategies to help clients reach their business goals. We offer comprehensive services such as website design, search engine optimization (SEO), content marketing, performance marketing, social media marketing, CRM and marketing automation, email marketing, and more. Our experts create and implement customized digital marketing campaigns to increase website traffic, generate leads, and drive sales. Our expertise in e-commerce and B2B marketing allows us to understand the nuances of the digital marketplace and create effective marketing solutions tailored to their client's needs.
CodeDesign is leading:
- Digital Agency
- Digital Marketing Agency
- Amazon Marketing Agency


Feel free to contact us to see the unprecedented growth of your business.
---