Driving External Traffic to Your Amazon Landing Pages Is Still Very Important in 2021 and Here's How to Do It Right
Written by Kristina Radovic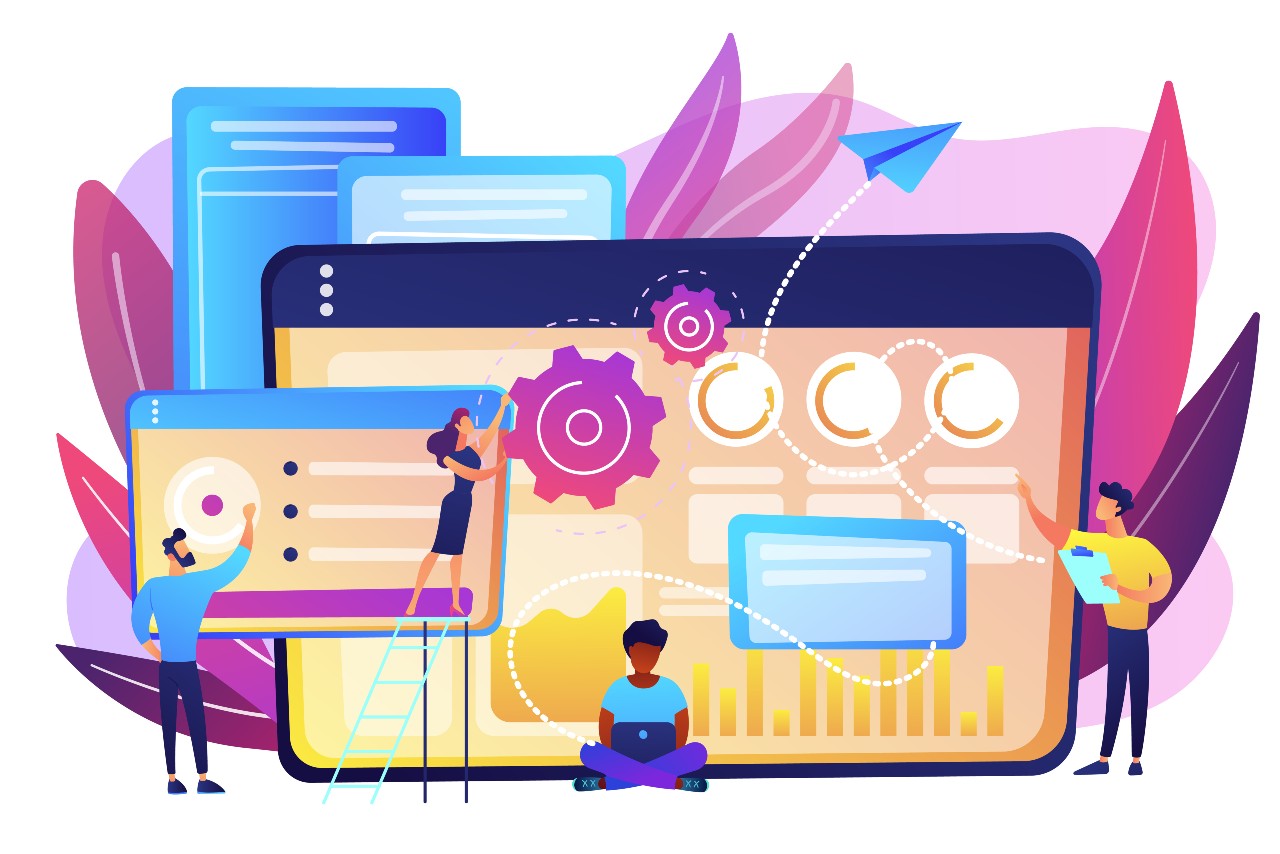 Source: Freepik/vectorjuice
Let's get straight to the point – not only is driving external traffic from campaigns outside of Amazon still important, but it's also the best way to stay ahead of your competition.
The Amazon marketplace has become a very crowded place. As the largest eCommerce platform in the world with over 350 million products in total and 1.9 million active sellers with more joining every day, it's becoming increasingly harder to stand out.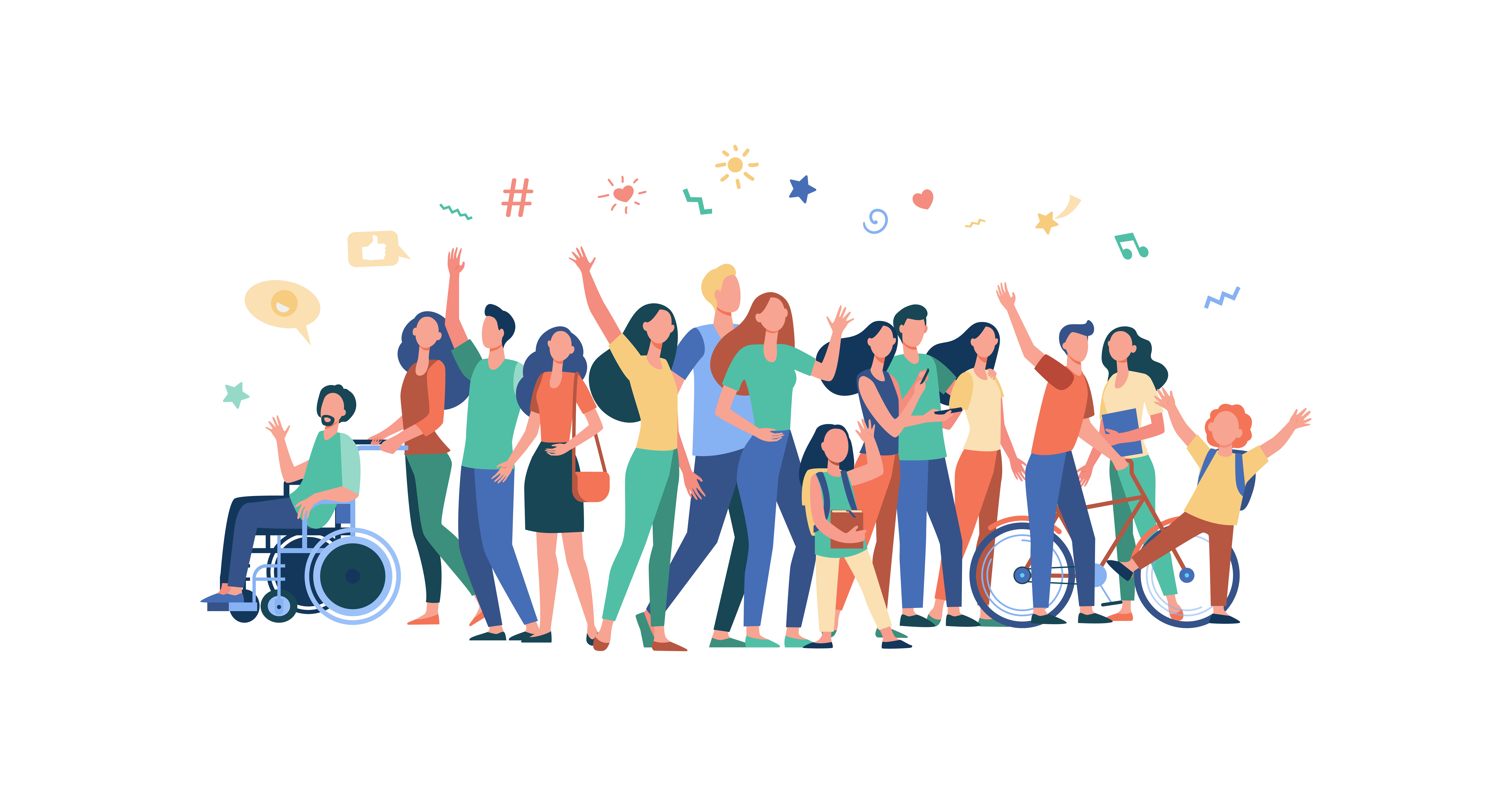 Source: Freepik/pch.vector
That's why, as an Amazon seller looking to stay afloat and expand your business, you should be using all the tools at your disposal to reach as many potential buyers as possible, on and off Amazon.
We've already talked about the most efficient digital marketing strategies you should be applying to your Amazon business. One of them touched upon marketing strategies outside of Amazon, but in this article, we'll dig deeper into what external traffic can do for your business.
How do you reach your ultimate goal as an Amazon seller?
The ultimate goal of every Amazon seller is to continuously increase sales and be profitable. And why not, reach the 10% of the $100,000 earners.
But how do you do that? In theory, it's really simple.
All you have to do is reach as many potential customers and convert them into buyers.
If you use Amazon to sell products, you would love these Amazon listing optimization tricks.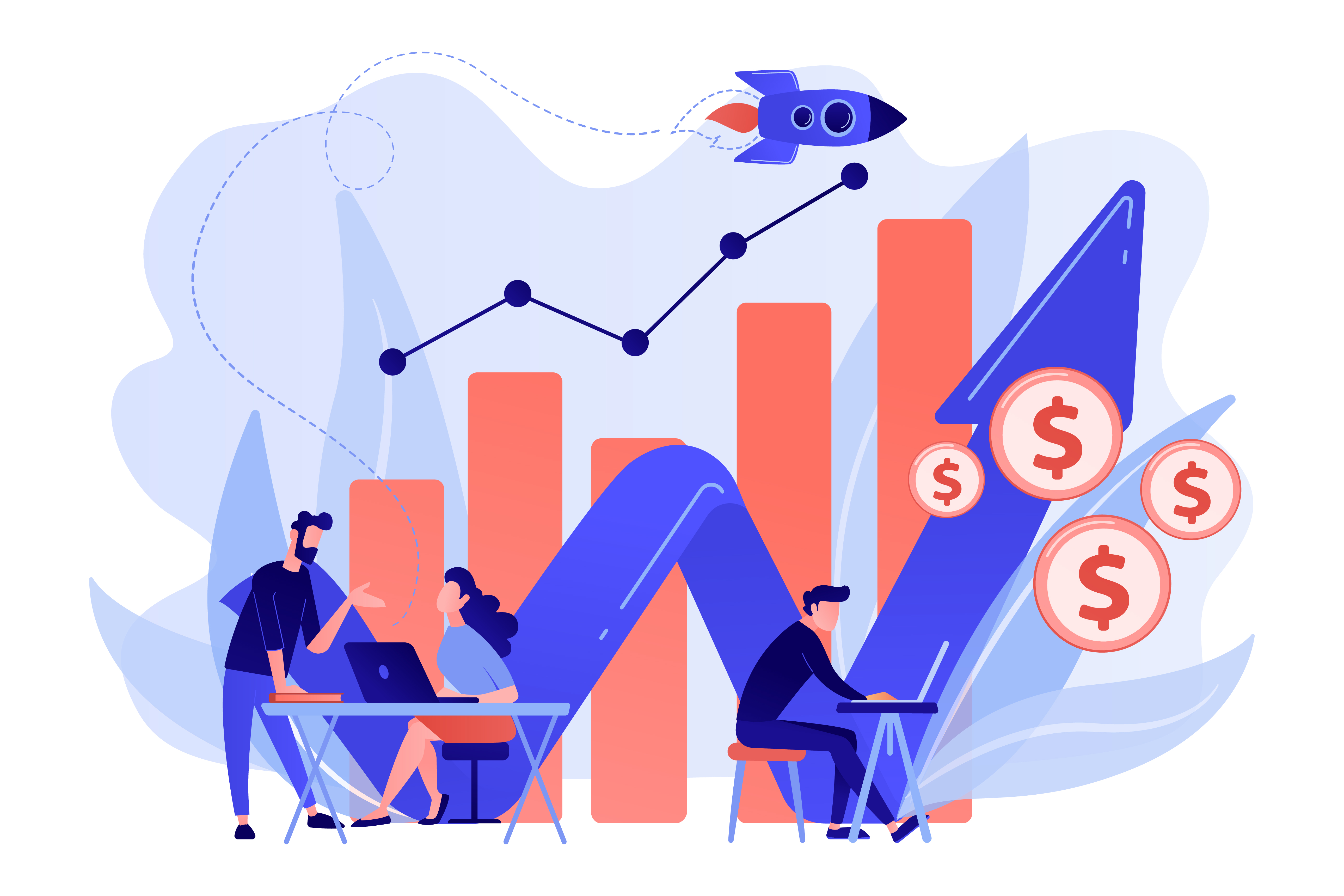 Source: Freepik/vectorjuice
In reality? It's not simple at all.
Converting customers is a completely separate science of CRO. But to get to that phase of conversion, you first have to reach all of the people you want to turn into your loyal buyers. And most of them are not regular Amazon shoppers.
That's what we're going to talk about in this article – how can driving external traffic to benefit your Amazon business, as well as which channels to use and how.
How can additional traffic not benefit your business?
First of all, by introducing new traffic channels outside of Amazon, your reach is spreading exponentially because you're gaining access to a much wider and versatile audience. Some of these people are maybe not even looking for your product or have never shopped on Amazon.
This way, you're gaining an advantage over your competitor because you're not just competing with their products anymore, you're bringing new potential customers directly to your listing.
Boosted traffic means and lead generation open the path to higher conversion rates so you can reach your ultimate goal of increased sales.
A win-win scenario
If you attract new customers to your Amazon landing page, Amazon reaps the benefits as well. Your every new buyer is Amazon's new buyer.
Some believe that Amazon even rewards those sellers who bring more traffic to their listing, and therefore Amazon itself, by sending them more traffic and giving those 3x the ranking power.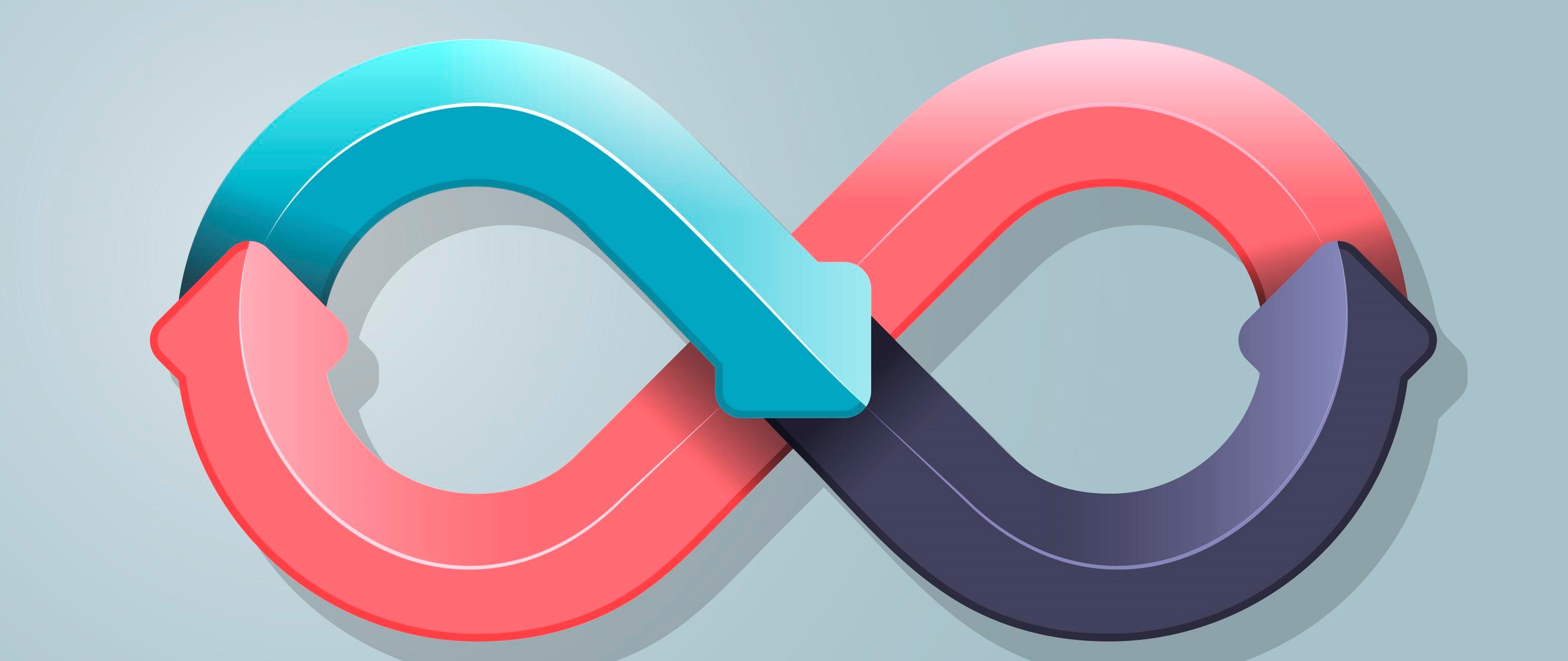 If people are all of a sudden increasingly buying your product, it indicates to Amazon that it's become very popular, rewarding you with higher visibility.
It's a symbiotic relationship.
Where does all of this traffic come from?
Amazon is an eCommerce giant. In February 2021, Amazon registered around 2.26 billion visits from desktops and mobile devices combined.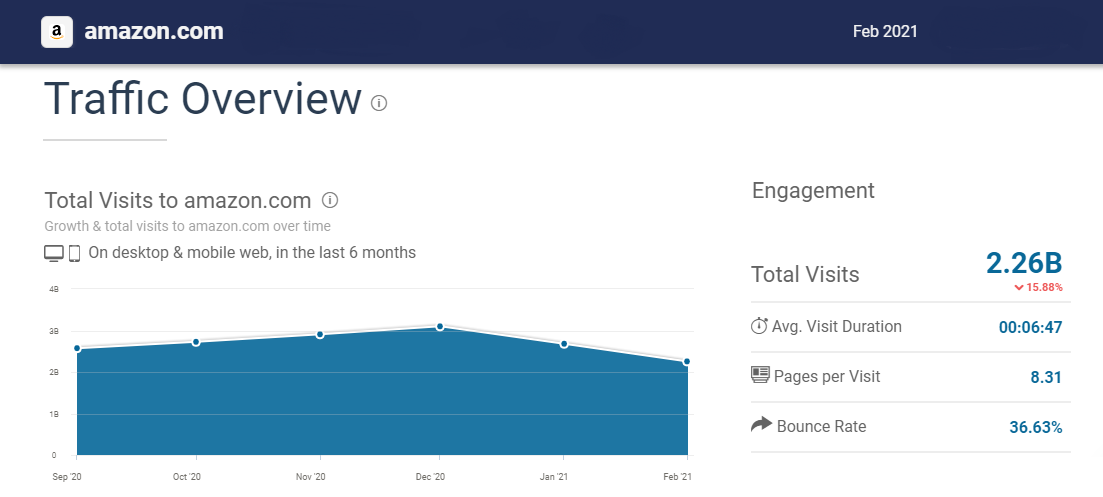 Source: Similarweb
What's not surprising at all is that the gross majority of visitors come from the USA.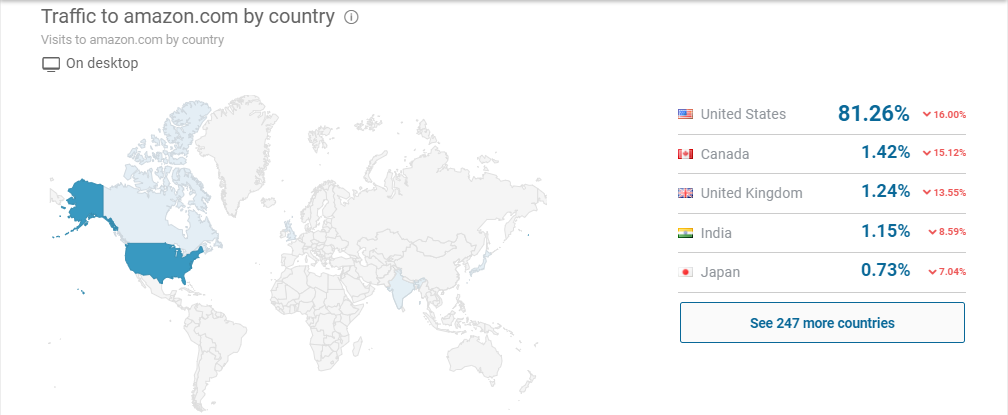 Source: Similarweb
The most interesting data, for this topic, are the traffic sources.

Source: Similarweb
Analyzing from which parts of the World Wide Web people are visiting Amazon could uncover a goldmine of possibilities for you as an Amazon seller.
Then let's go deeper into the analysis.
Amazon's traffic sources
As we could see, more than half of Amazon's traffic is direct, meaning that it comes from its own website. People are going straight to Amazon and typing their queries in the search box.
That leaves around 42% of traffic that comes from the outside. Think of it as 42% of opportunities for you to attract more potential customers. That's almost a billion visits that you can seize to scale your business.
Let's take a closer look at the most grossing traffic sources.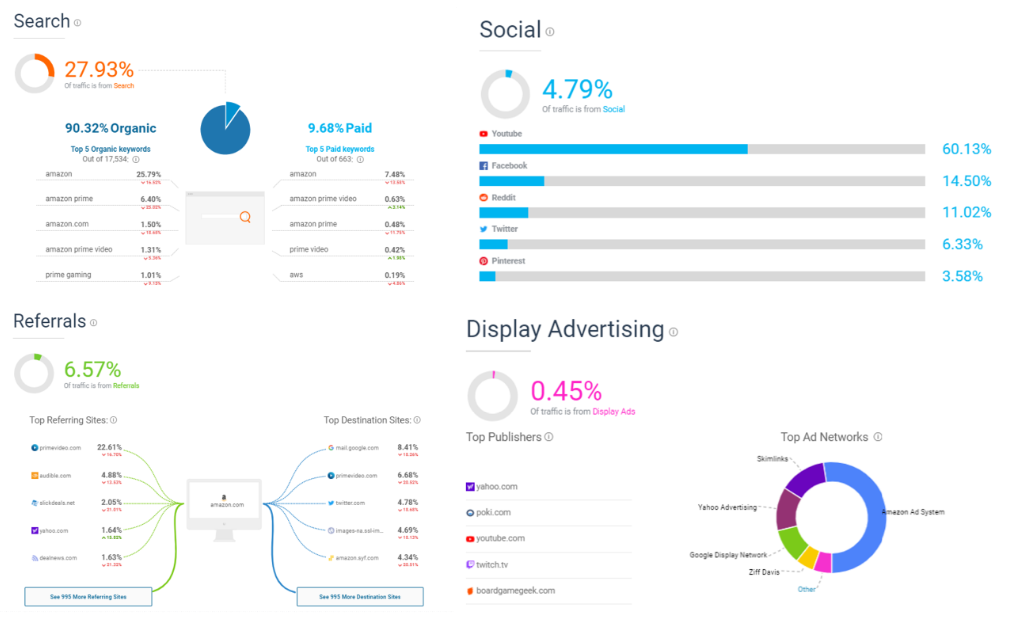 Source: Similarweb
Search
If you were not a regular Amazon visitor and you are looking for a product or a service, how you would do that?
Just like everybody else – you'd search for it using your chosen browser.
What works in your favor is the fact that 90% of search traffic is organic. That means that you don't need to invest a lot or any resources at all for ranking on search engines.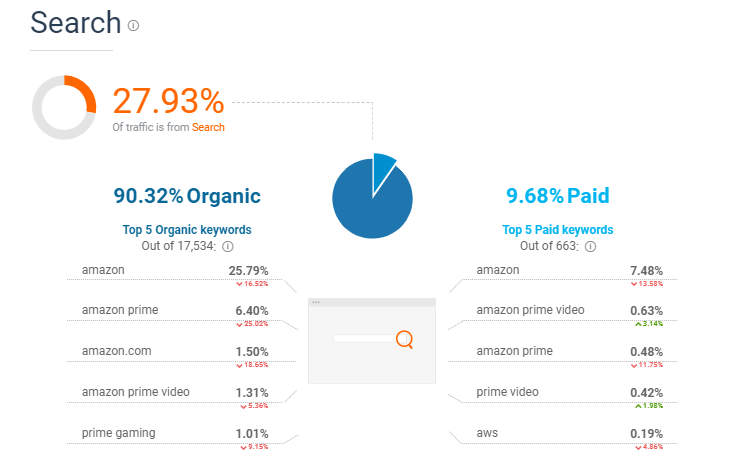 Source: Similarweb
We don't need to tell you that Google is the most used search engine in the world. Its search engine market share is astounding 92,18%.
It's followed by Bing with 8,04% and around 1.3 billion visits per month, and then Baidu with 7,34%, China's leading search engine.
So, to drive external traffic to your landing pages on Amazon, you should be focusing on Google and Bing, from where the greatest majority of your visitors would come.
Social Media
As expected, a lot of the external traffic comes from social media platforms.
What's interesting is that YouTube is in the lead with 60%. This confirms what so many experts have noticed and predicted for the past few years– video has become the king of content marketing.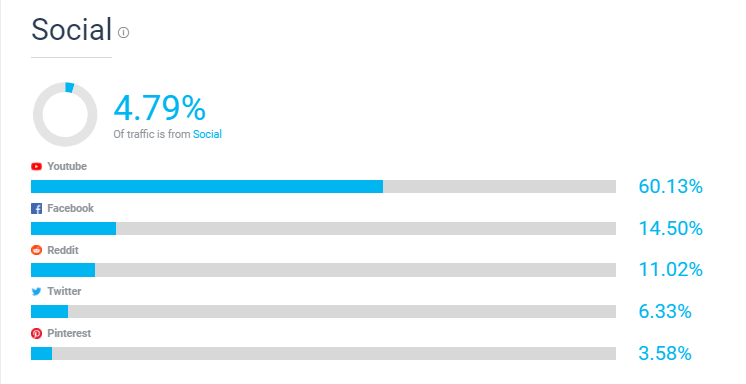 Source: Similarweb
Even though images still account for most of the ads, with over a billion hours of videos watched on YouTube PER DAY, the potential of this video platform for marketing is amazing and still pretty much untapped.
Another interesting source of outside traffic is Reddit, a forum website with discussions centered on people-generated content. There, people discuss literally everything. From personal, romantic issues to technical topics, asking for recommendations for various things, etc. Another trove of potential customers.
Referrals
A good portion of external traffic comes from referrals. These are usually accomplished through some kind of referral program, where existing customers are incentivized to introduce their friends, family, acquaintances, etc. to the seller's merchandise and convert them into buyers.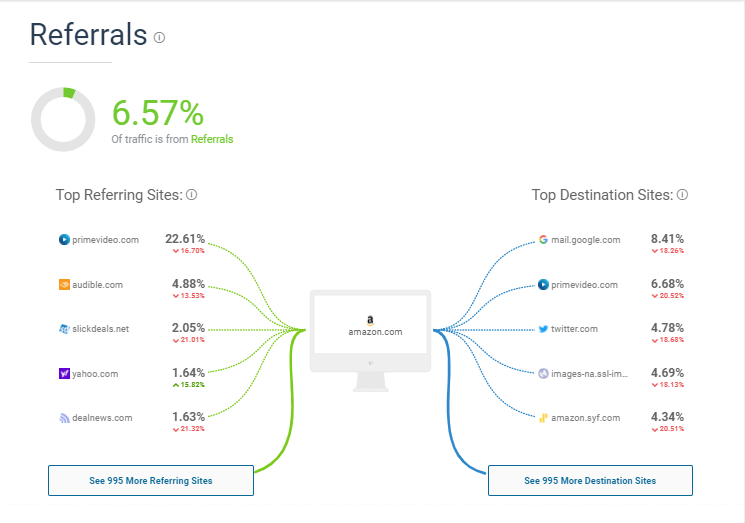 Source: Similarweb
Amazon had its own Amazon Prime Referral Program which ended in October 2017, because they've probably concluded that they no longer need it to grow their customer base.
But when they created their app, they've rolled out a $10 mobile referral program offering every new user $5 if they shared the app with their contacts, who were then offered $5 to spend on the website, if they installed the app.
This resulted in a massive organic increase in downloads which triggered the rise in the ranking, all of which has ultimately led to the app's increase in position from #80 to #27.
Email
Email marketing is definitely still holding its ground, being just a bit less efficient source of external traffic for Amazon than social media.
This indicates that even though average open rates are around 20%, emails are still an effective way of generating traffic to your website.
How to utilize all of this data to create an effective external traffic strategy?
Look at the data as a powerful fuel for the engine that are strategies which should have as output your desired results, in this case, increased sales, profitability, and a scaled Amazon business.
We will go step-by-step with utilizing all of the data we gathered in our analysis to craft powerful and effective strategies for driving external traffic to your Amazon landing pages.
Let's begin.
Preparation - Optimized high-quality product listings
Before getting into the process of strategizing, you have to have well-optimized and designed product listings in place.
This is a precondition for attaining your ultimate goal.
You can successfully drive external traffic to listings that have wrong titles, poorly written product descriptions, low-quality images, and without A+ content, but it would be in vain. Your bounce rates will be huge.
You will not convert any visitors with low-quality product listings. So take care of that first, and then move on to the next steps.
Driving traffic from search engines
Since, as we've seen, the highest percentage of outside traffic comes from Google and Bing, you should be optimizing your product listings according to their written and unwritten specifications.
That means – SEO.
Optimizing your product listings with keywords is essential. By including keywords that your target audience are likely to search for, that should be related to your products, it will make them more likely to turn up in the top 5 positions of SERPs.
If you aren't an expert in keyword research, SEO content writing, and everything else SEO-related, we strongly advise hiring an SEO expert team that will be in charge of this process.
Driving traffic from social media platforms
With 4.79% and numerous marketing possibilities, social media can drive serious traffic to your listings, especially YouTube. That's why you should start considering venturing into video marketing.
Videos can add a whole new dimension to your business that no other type of content can.
Start by making short, high-quality, visually stunning product videos that showcase everything potential customers should know about it, in an appropriate context.
So, if you're selling outdoor equipment, you should shoot videos in the outdoors, showing how your products work in real-life examples. The same goes for any other type of product.
Not that many Amazon sellers have figured out YouTube as a marketing opportunity, so think about starting up a Brand Account channel for your business.
Important! Don't forget to add links to your product listings and optimize your videos for keywords. Again, maybe it the best to leave it to experts.
However, to run a successful video marketing strategy, you would need first to gain a certain loyal following around your brand.
This is best done on Facebook and Instagram, where you have to create business profiles and enrich them with amazing content. Be consistent with your brand voice and story.
And remember, content in form of engaging texts, beautiful photos, interesting videos, etc. is the key to attracting and keeping followers.
What about Reddit? Look for discussions where you can naturally insert your products as a solution to someone's inquiry. Don't go offering your products to everyone, it may backfire.
Also, Reddit ads might be the best form of ad marketing at the moment.
Driving traffic from referrals
Though not that attractive, referral marketing is still a useful tool for generating traffic.
From time to time, launch a referring program where you would offer to your existing customers come kind of incentive (a discount, some part of your product, free shipping, special kind of membership, etc.) to turn their friends and family into your new customers.
You would have some kind of gift prepared for them as well, attractive enough for them to actually make a purchase.
Driving traffic from emails
Email marketing remains one of the pillars of driving traffic. Deemed old-fashioned and ineffective, emails still generate a considerable amount of traffic so it definitely shouldn't be overlooked.
Everyone has one or more email accounts, all you have to do is create an email campaign that is not pushy or spammy.
You shouldn't expect high conversions from emails, but with interesting content, you can make readers interested in what you're offering, which would bring them to your product listings.
Mixing it up for the best results
The key takeaway of every research is that combining different approaches into one holistic strategy generates the most success. This one's no different.
If you conduct an expert SEO of your product listings, skilfully manage your social media accounts, introduce well-crafted videos, run effective email campaigns, all the while engaging your audience, you will not fail.
CodeDesign is a performance digital marketing(internet advertising agency) and Amazon agency. We help clients worldwide in creating a digital marketing strategy and optimizing how they use digital marketing channels. For Amazon marketing, we help vendors and sellers in Amazon listing optimization and creating an  Amazon marketing strategy.
---