Advanced Marketing Strategies for Amazon Sellers with Extra Tips For a Considerable Advantage [A Definitive 2021 Guide]
Written by Kristina Radovic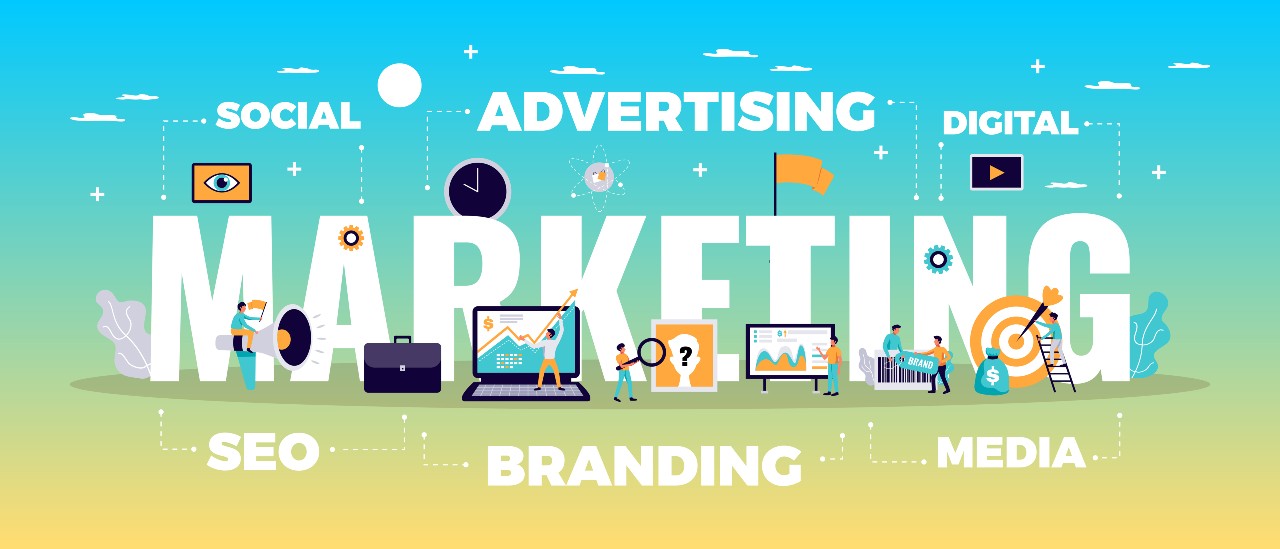 Source: Freepik/macrovector
The Amazon marketplace has become a brutal place. There are around 1.9 million active Amazon sellers, with more than 285,000 new ones joining in 2021. The competition is fierce, and will only become fiercer.
To make things worse, only 10% of current active sellers are succeeding in achieving $100,000 and only 1% achieves $1 million in yearly sales. Pretty disheartening, right?
Having high-quality products, sleek design, and great customer service is not enough anymore. You have to invest in an effective marketing strategy as well.
Whether you are thinking about joining the Amazon universe, have recently become an Amazon sellers, or you've been struggling with your sales and want to improve your marketing strategy, you have come to the right place.
This article will take you briefly through the essentials of digital marketing, marketing strategies specifically useful for Amazon sellers right to the most effective and advanced ones that will supercharge you Amazon business.
But let start with the basics. If you use Amazon to sell products, you would love these Amazon listing optimization tricks.
What is a digital marketing strategy?
For any business, especially eCommerce, and not to mention Amazon businesses, a well-crafted and an all-encompassing digital marketing strategy is crucial. So it's desirable to know what it actually is and what it entails.
>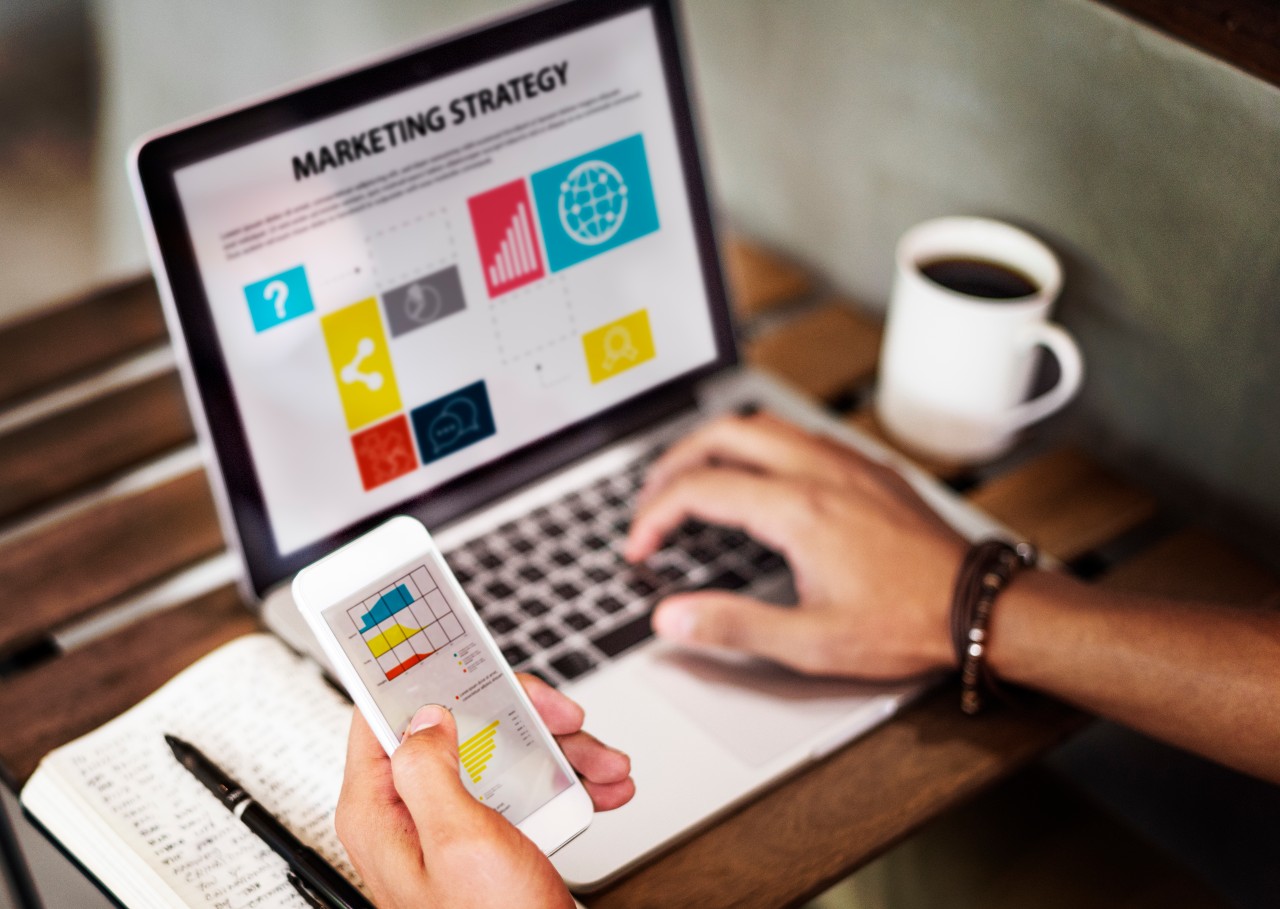 Source: Freepik/rawpixel.com
A digital marketing strategy is a long-term plan devised through the process of researching a specific market and target audiences, entailing specific objectives and goals implemented through digital channels.
The main objectives is to understand the needs and wants of prospective and existing customers, reach them with attractive content so that the ultimate goal of converting them into buyers would be attained.
The fundamentals of any marketing strategy
For any marketing strategy, whether digital or traditional, the essence is the same – how to reach and convert buyers as efficiently as possible.
There some mandatory steps that should precede the design and execution of a marketing strategy.
If you haven't already, create a recognizable, unique, and authentic brand
Do the research to get ahold of precious data to be able to make informed decisions
Get to know your target audience which shouldn't be broad in order to create effective campaigns
Pick your marketing channels wisely based on the data gathered during the research phase
Find the balance between overspending and underspending to run effective campaigns that have a positive ROI
Monitor your campaigns carefully because they're a trove of useful data, evaluate your performance and results, and make adjustments if necessary
Extra tip: Be consistent in your brand voice and the values it propagates in order to attract a loyal audience
The success of your marketing strategies depends solely on how you conduct these preparation and monitoring phases, and on the decision you make.
It's expected to run inefficient campaigns at first, but with time and experience, and if you can learn from your mistakes and apply what you've learned, you will reap the benefits soon enough.
What can we learn from Amazon?
Amazon is undoubtedly the largest eCommerce retailer in the world. Its market share in the United States has increased from 34% in 2016 to 50% in 2021. That's a huge difference!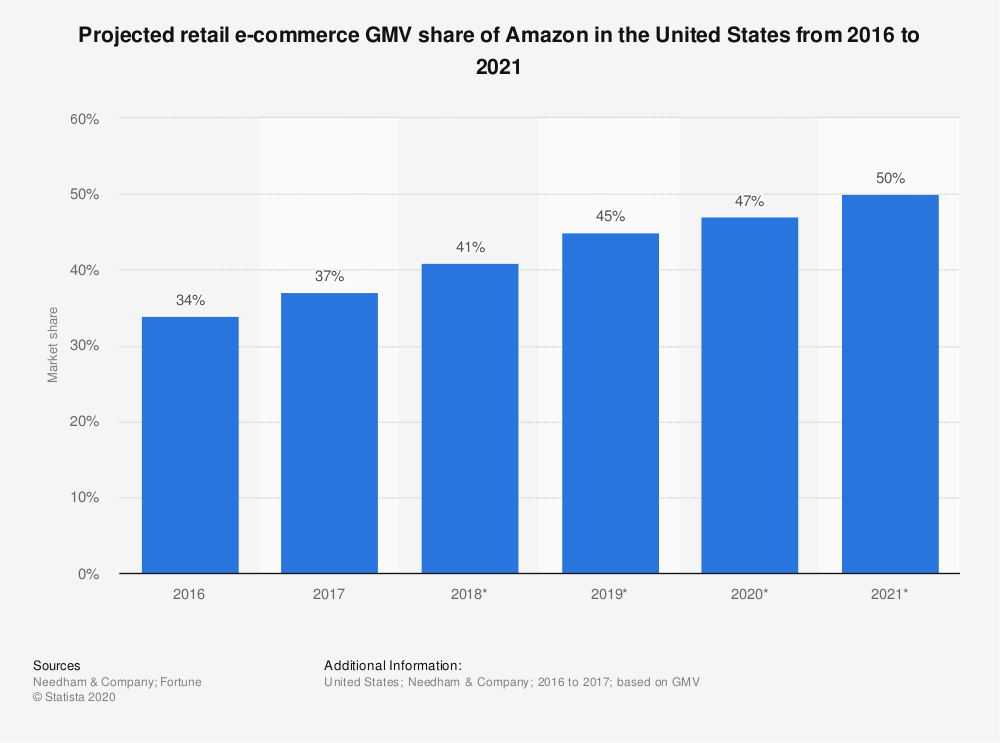 Source: Statista
Their net sales have jumped from $39 million in 2014 to $127 million in 2021. Talk about progress.
They're not doing something right, they're doing everything right.
What is Amazon's strategy?
First to know, Amazon spends a lot on marketing. In 2020, they've spent around $22 billion, around 15% increase than the year before. It's impossible to compete with that. But the essence of their strategy is very simple.
The main characteristic of Amazon as a brand is that their core approach is customer obsessed from the very beginning.
>

It means that they are completely focused on providing the best experience for their customers in order to secure customer loyalty and repeat purchases.
How they do that?
In short, they offer a wide selection of products (up to 350 million products including Amazon Marketplace sellers) with competitive prices, while striving to make the shopping experience as uncomplicated and effortless as possible.
All of their marketing efforts are focused on reaching as many customers as possible and providing them with an amazing customer experience, emphasizing what they as an eCommerce platform can offer.
Which marketing mix will benefit YOU the most as a Amazon seller?
 Of course, you probably don't have access to even a fraction of Amazon marketing resources. But that doesn't mean that, even with limited resource, you can't make wonders for you Amazon business.
>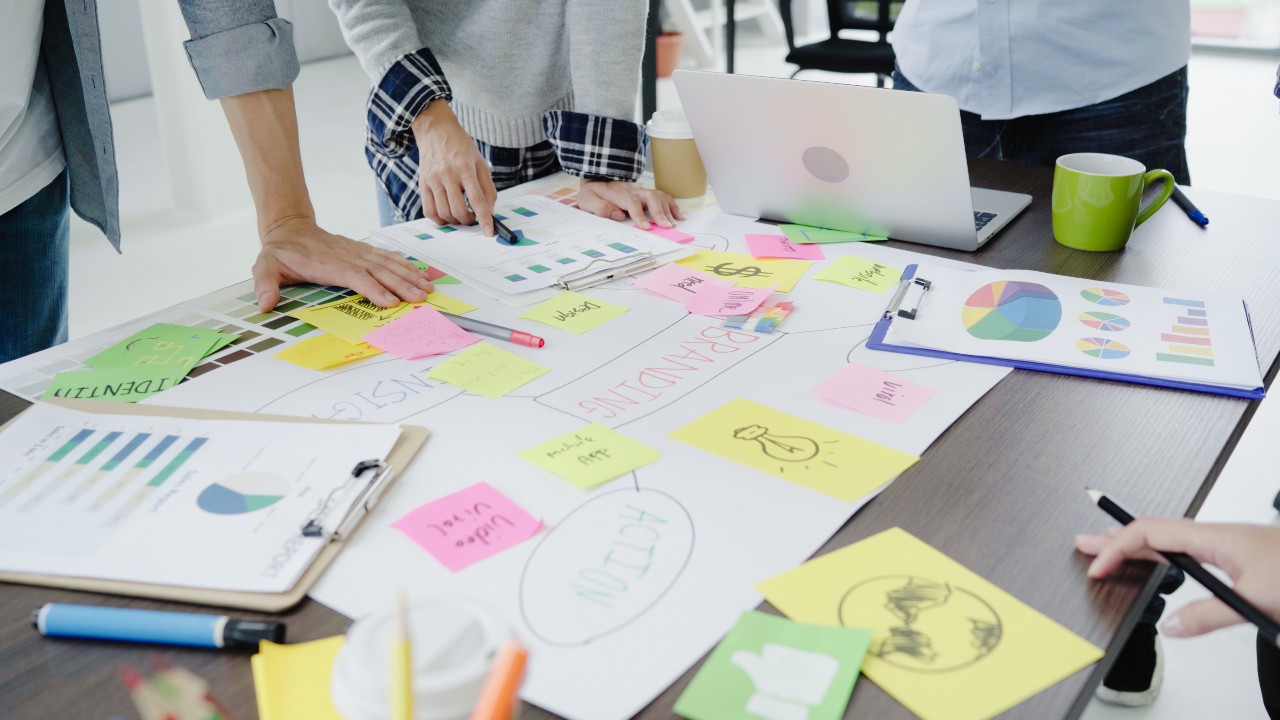 Source: Freepik/tirachardz
Here are some of the most advanced digital strategies used by digital marketing experts for some of the greatest companies, broken down to the level so that you, as an Amazon seller, can make great use of them.
SEO
If you haven't already researched everything about SEO, then at least you have heard about it – Search Engine Optimization.
In SEO, everything revolves around keywords that your potential customers type into the search bar when looking for a specific product. And if they're looking for your product, you want them to stumble upon it first.
So you have to make your product listings and descriptions relevant and optimized. There are several ranking factors to look out for:
Product title is the most important one, and there is a formula you can use – the name of your brand + clear description of what your product is for + a unique or essential feature + size + color + quantity + anything else you deem important + you can also add your seller name
>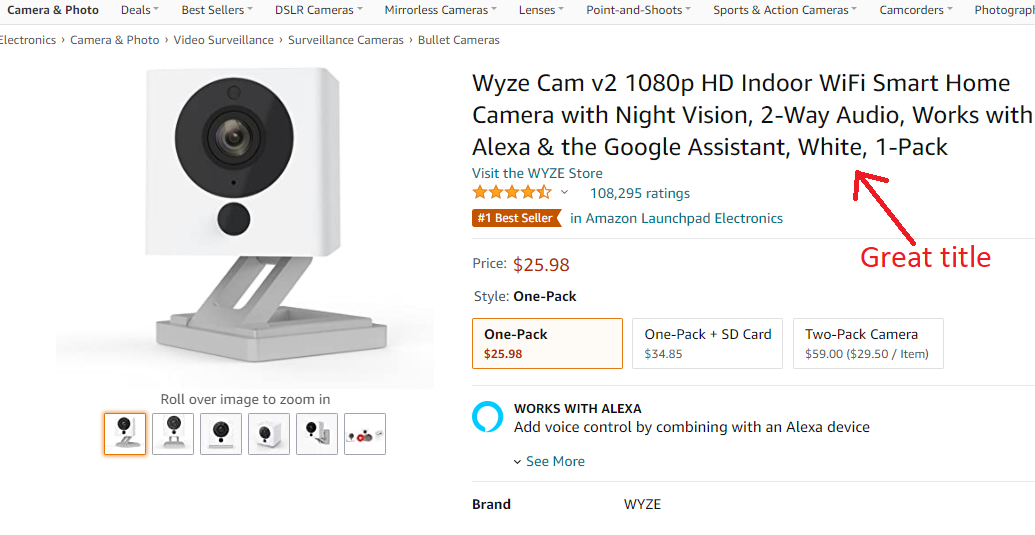 Your product description should be as detailed as possible, with the important features emphasized in bullet points, written in a clear, engaging, natural way
>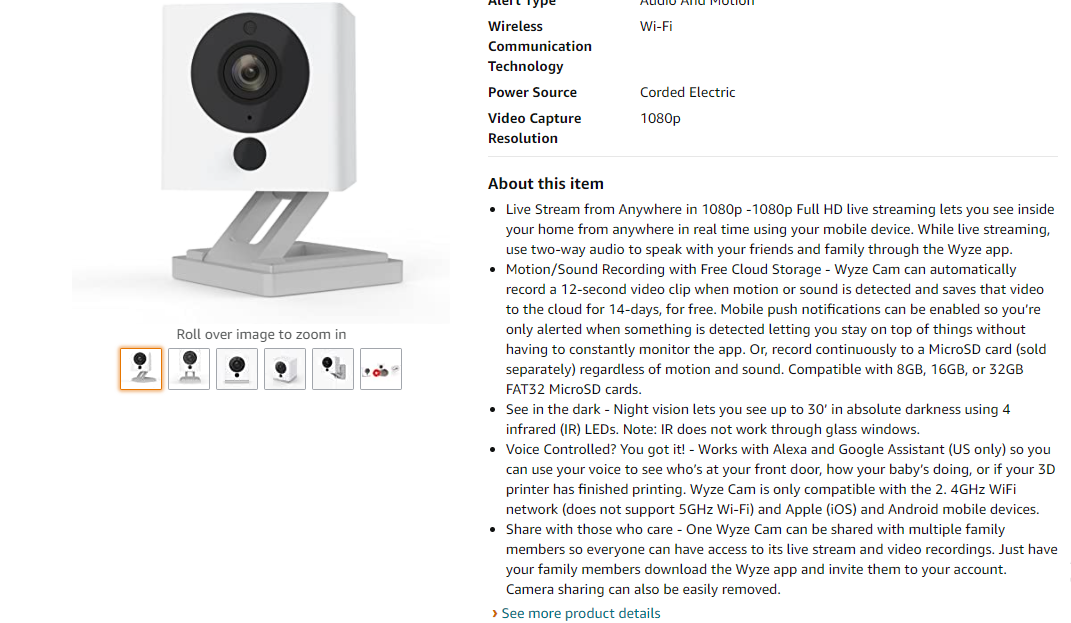 The pictures of your product should be high-quality, large, and showing every part of the product as possible, as well as the label
Extra tip: Keywords are important but if you put too much of them, known as keyword stuffing, it can negatively impact your sales.
Extra extra tip: There are also backend keywords, used only in the back section of your account and limited to only 250 characters, so use them wisely.
A+ content
Known before as Enhanced Brand Feature and reserved only for Amazon products and the Vendor product, this feature is now available to all Professional sellers approved as brand owners, as well as emerging brand owners who are part of certain selling programs, like Amazon Exclusives or Launchpad.
This tool enables a different way of putting together a product description. You can modify the description area with enhanced images and custom text placement, so you can represent your brand in a unique way.
>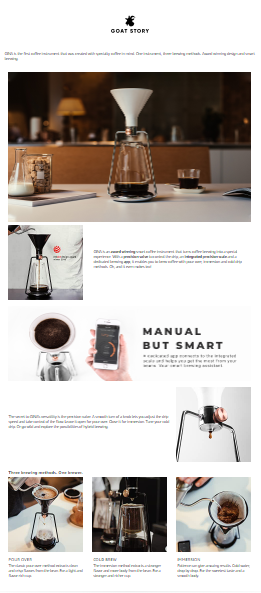 Source: Amazon/Goat Story
With A+ content, you can customize your storefront in any way you want, making it unique and stand out. According to Amazon, it can lead to increased traffic, higher conversion rates, thus increased sales.
Extra tip: A+ content is all about the visual appeal, so invest a bit more in professional photos and copy, maybe even a designer.
Social Media Marketing
If you don't include at least Instagram and Facebook in your digital marketing strategy, then what's the point?
Your brand shouldn't exist only on Amazon. That's maybe where you have started, but there are plenty of opportunities outside of the Amazon marketplace to grow your brand and expand your presence.
As an image and video-sharing platform, Instagram is a great outlet to showcase your products in various contexts. It's a great way to engage and communicate with your target audience. You can also connect with other brands and launch creative collaborations.
Facebook, on the other hand, allows you to share photos, videos, and information about your Amazon products directly on your Facebook page. Your customers can leave reviews and you can provide them customer support through Messenger.
Both platforms offer their own advertising, so you can launch effective and engaging marketing campaigns with wide reach and specific targeting.
Extra tip: You can branch out to other social media platforms as well like Pinterest, LinkedIn, Twitter, etc. but not all of them will be suitable for your business, so choose wisely.
Extra extra tip: Social media management requires a lot of time and effort, so if you are already overwhelmed, it wouldn't be a bad idea to hire someone who will be in charge of them. A talented Social Media Manager can do wonders for your brand.
Influencer marketing
We all know who they are. We see them every day, everywhere. They are digital and social media personalities with huge followings. That's why they could be a great way to advertise your products.
Believe it or not, hiring an influencer can be pretty expensive. So, unless you're one of those Amazon sellers making six figures, don't even bother.
>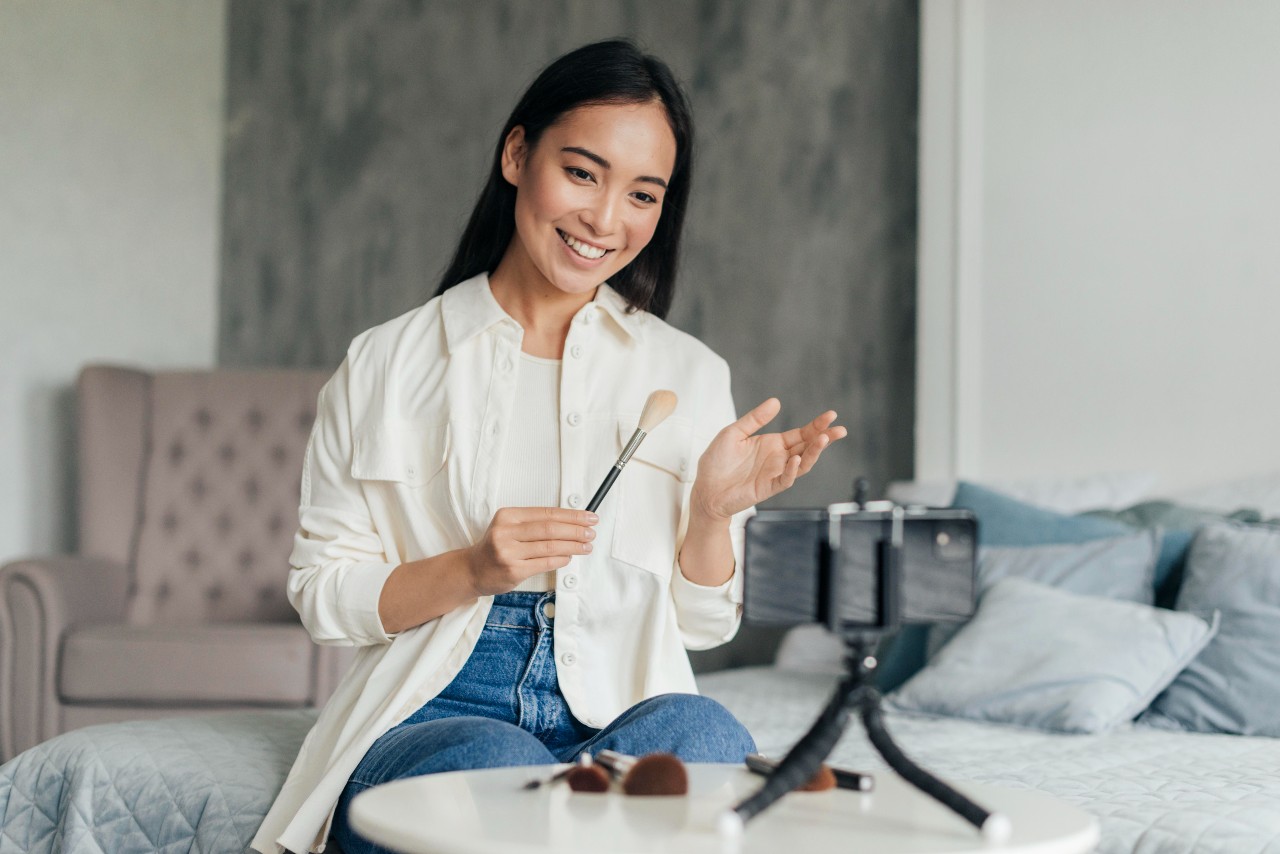 Instead, focus on micro-influencers who maybe don't have a following in hundreds of thousands, but instead a loyal and organic audience. They are usually much easier to cooperate with and would be glad to promote your products if they align with their interests and values.
Extra tip: Determine on which social media channels is your target audience most likely to spend time on, then look for influencers on those networks who can naturally act as the ambassadors for your brand and products.
Q&A
Every sellers knows about the Questions & Answers section, but what most do not know is that it's a great marketing opportunity because it gives you space to talk more about your products and advertise them in a good light.
>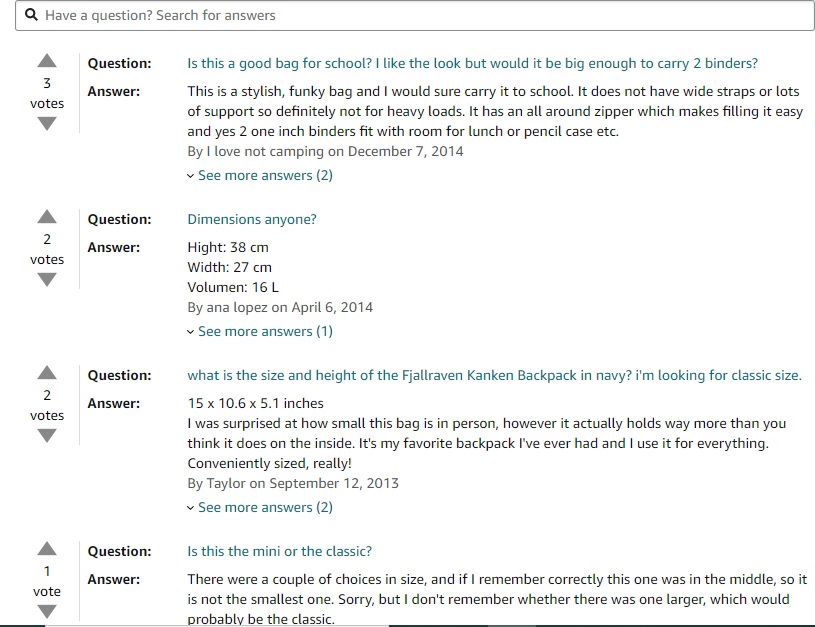 Source: Amazon/Fjallraven
Provide complete, detailed, and honest answers that will emphasize all the advantages and features of you merchandize but never provide false or misleading information.
Extra tip: You can ask your friends and family to ask some questions so you can start a conversation, and other people can join in.
Blogging
Blogging is a great way to continue the conversation outside of your Amazon store.
Most importantly, the content should be well written, engaging, useful, and tied in some way or the other to your products. 
>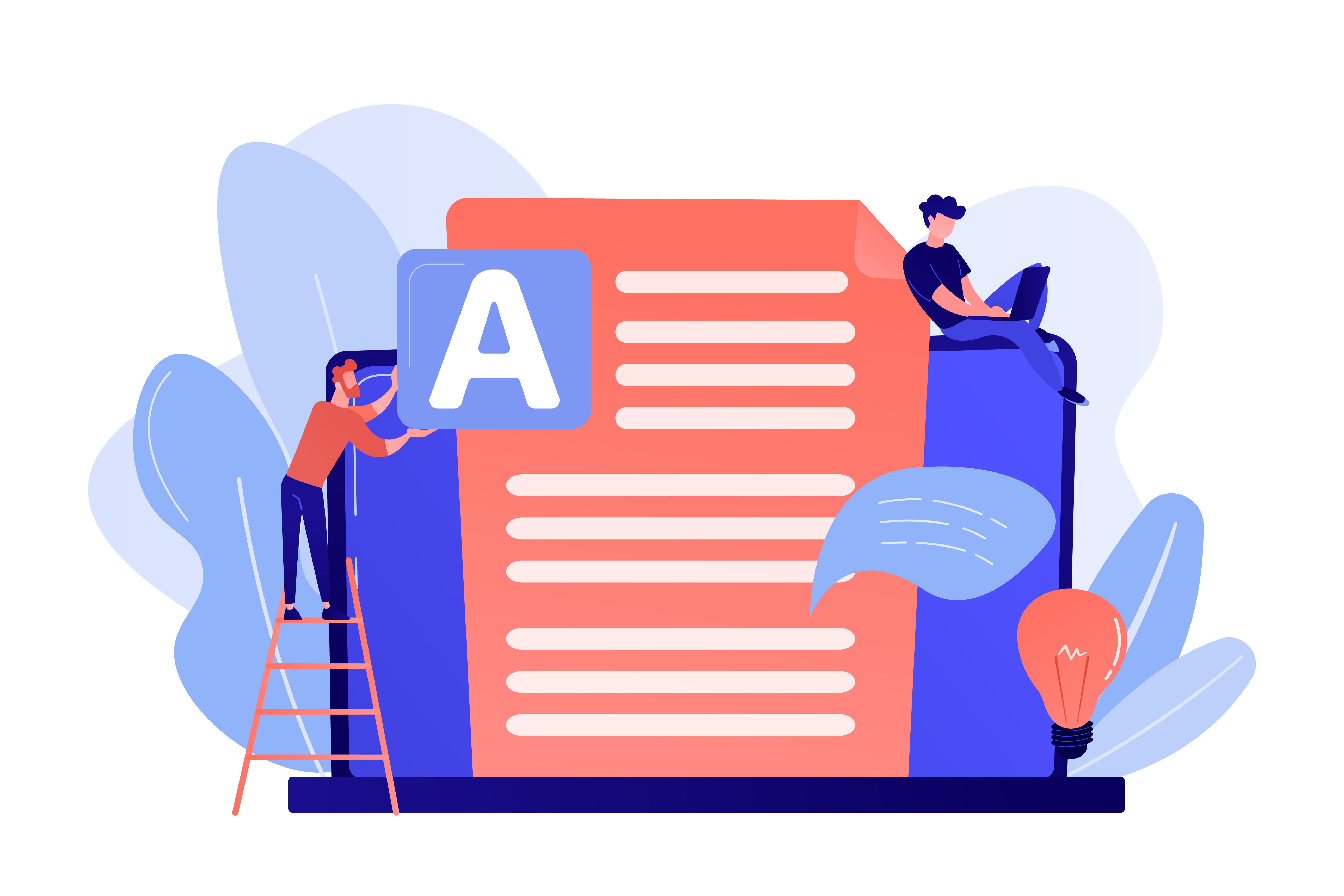 Source: Freepik/vectorjuice
The blog doesn't need to be solely in the written form. You should enrich it with great photos and videos that will attract readers and keep them coming back.
Extra tip: You can endeavor into affiliate marketing by sharing affiliate links – links to products of other brands and companies, on which you earn a commission, if purchased from your website. Check out Amazon Associates, their own affiliate marketing plan.
A powerful combination
With the combination of these strategies, you will have a powerful digital marketing plan in place that will undoubtedly raise your online visibility, make your brand stand out in the crowd, and ultimately turn it into a success story.
CodeDesign is a performance digital marketing(internet advertising agency) and Amazon agency. We help clients worldwide in creating a digital marketing strategy and optimizing how they use digital marketing channels. For Amazon marketing, we help vendors and sellers in Amazon listing optimization and creating an  Amazon marketing strategy.
---