Top 5 digital marketing ideas for Breweries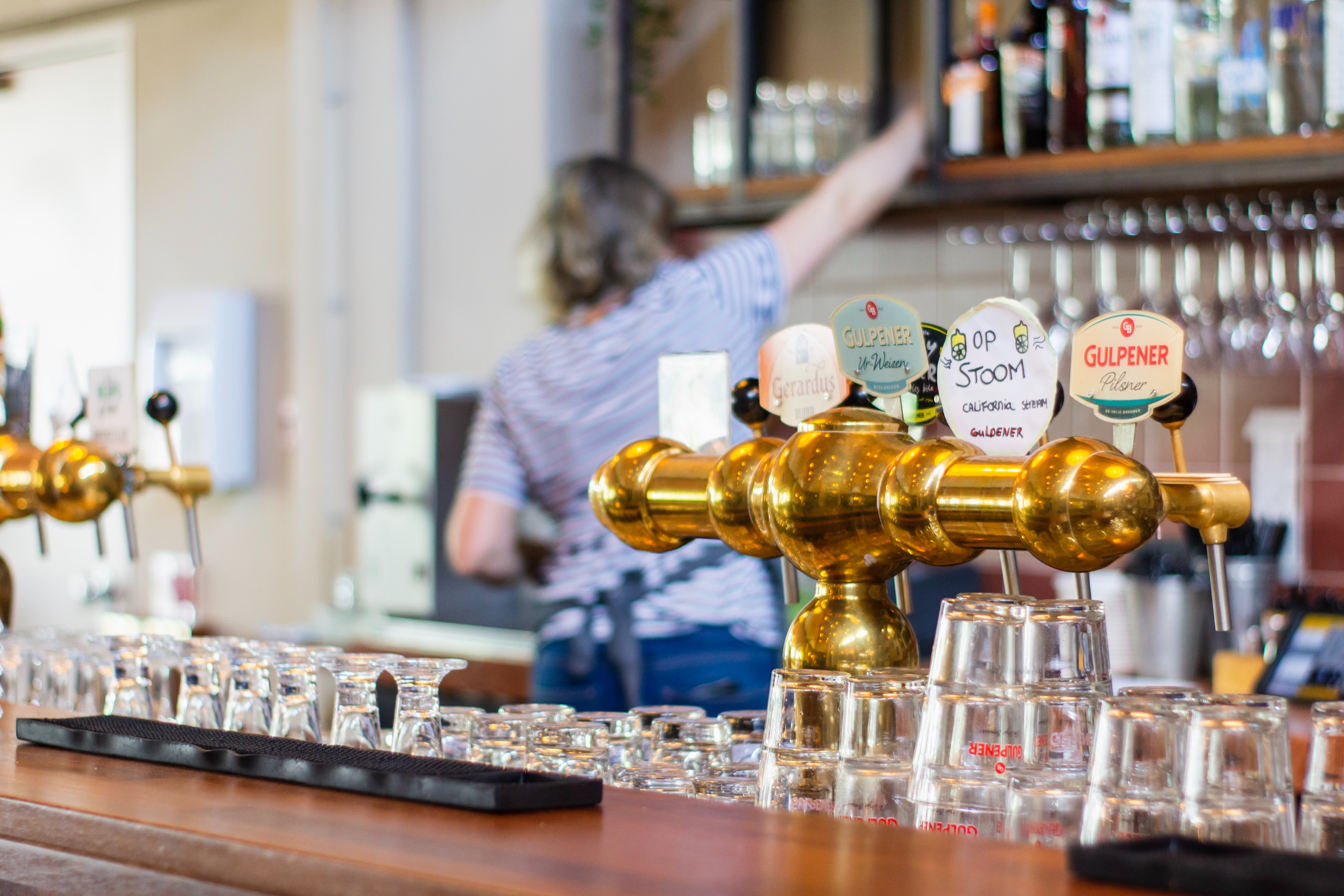 Digital Marketing for Breweries.
Drinking beers responsibly is an excellent plan for friends and family, but did you know that beer has some health benefits too?
An article from Fortune Business Insights found that beer has a bunch of nutrients like fibre, iron, vitamin B and even calcium when consumed moderately. Very curious, isn't it?
But what about breweries as a business? How profitable is it?
As it happened with every business, COVID-19 significantly damaged this business because the pandemic closed many bars, restaurants and pubs where customers consume these drinks. According to the same article, the craft beer market experienced a 6.70% lower growth during 2020, and according to a study by the Brewers Association, in 2020, the total brewers went down by 30.5% in May, while nearly 89% of breweries companies had to stop the production as their sales stopped in April.
Fortunately, 2021 arrived with a world with fewer covid cases, so the demand for these refreshing beverages raised, generating more demand for these products. The global craft beer market is expected to grow from $102.59 billion in 2021 to $210.78 billion in 2028, having a CAGR of 10.83%.
So, with all this great news for your business, the best thing to do is to take advantage of this increasing demand for your products and use the best digital marketing ideas to promote them. Let's look at the top 5 digital marketing ideas for breweries.
Keep scrolling!
CodeDesign is a leading digital marketing agency ranked #1 in Lisbon, Portugal. You could work with us to accelerate your business growth.
Create stunning Branding and Packaging.
Remember that saying that you should not judge a book by its cover? Well, in this article, we aren't talking about books - we are talking about craft beers, and these have to look stunning to sell more.
Unlike mainstream beer, when you work in the breweries business, you sell an experience, a beer with shades of different flavours, something that they won't buy in any bar.
Therefore, your package and branding must exude all that exclusivity, something that even makes it look like a collector's item, something worth keeping as a memory.
Teaming up with a good designer is essential for this, but once you have outlined the graphic line of your drink, it is time to make it look great on social media, website and any other online and offline marketing product. Read this complete guide on digital marketing funnel and then choose the right digital marketing channel for your business.
For that, your other great ally will be an outstanding beverage photographer who will make your branding shine and get the best angles of your beverages.
Don't stay only with photography, since the video is one of the most consumed contents on social networks and the internet, so make your drink image look tempting and leave your customers thirsty and desire to toast with their friends with one of your drinks.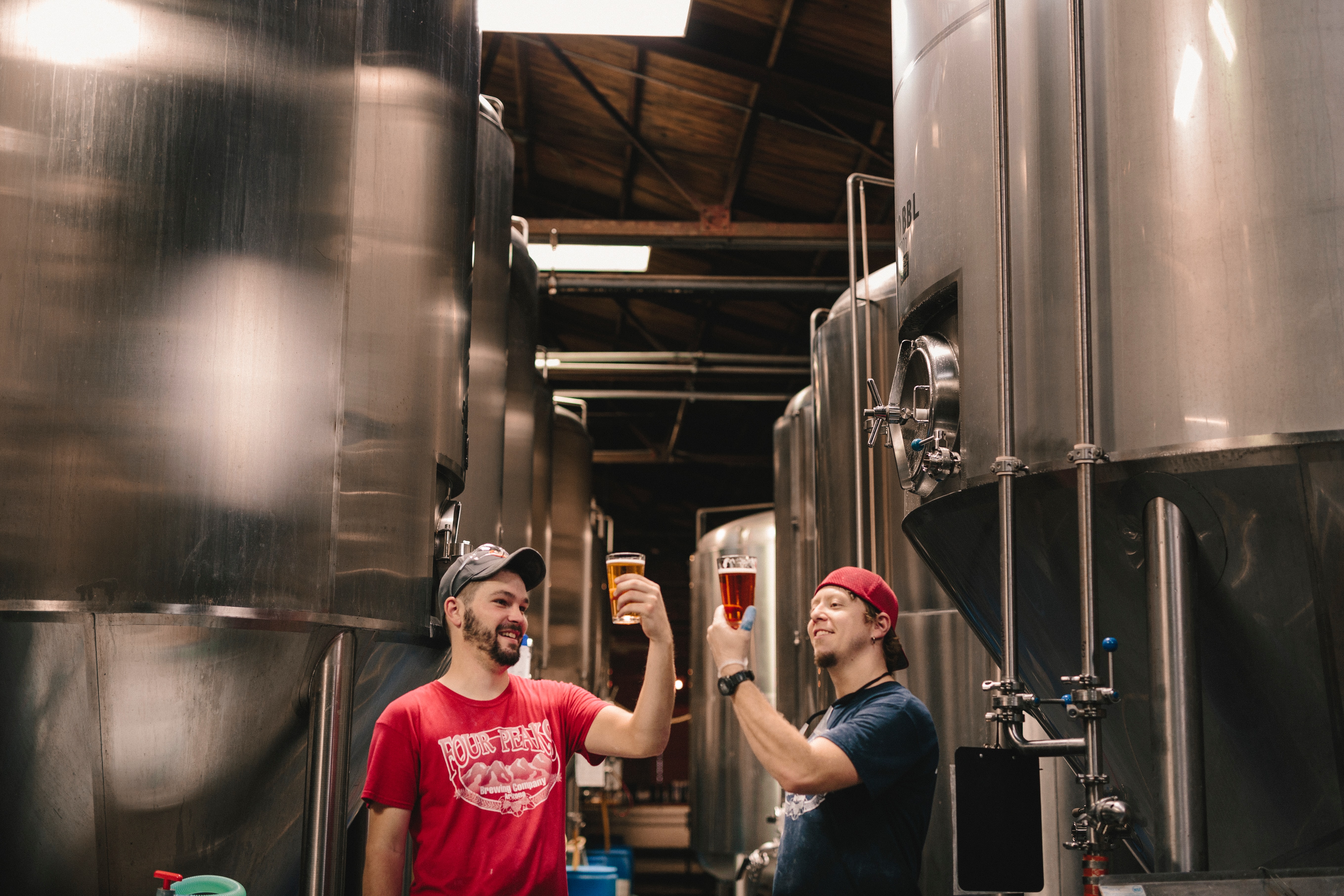 Breweries Marketing.
Promote a Beer Event
Beer will always be better shared with friends. While connoisseurs and drinkers can responsibly enjoy it alone, alcohol is usually a good icebreaker for a good time with friends.
That is why you should help your digital channels promote a beer event where you can make your product known to more people and make them associate your business with an excellent time with their friends.
The event can last from a weekend to an entire week and will be perfect for collecting more profits for your business.
Reasons to celebrate an event vary, from well-known celebrations such as Oktoberfest to your brand's anniversary. An excellent idea is to hold an event for your community or some social cause for charitable purposes. Check these Amazon FBA tips to grow your business and see how optimising your Amazon listing could help you grow. 
If producing an event yourself is too difficult, you can best associate yourself with another business. In this case, the best combination with a beer is something to eat. This way, you can associate yourself with a fast food business such as spicy pulled pork sandwiches, which usually combine wonderfully with these drinks.
When you partner with other businesses, you generate additional community buzz with this cross-promotion strategy. The idea is that both brands promote the event on their social networks, which will make them share followers and encourage word of mouth. Here is a complete guide on how you could use the digital marketing funnels to expand your customer base and how sell directly on Amazon with a detailed plan on Amazon listing optimization.
Keep your list of events open to a wide range of audiences, offering:
Corporate Meetings

Networking Events

Community Events

Club Meetups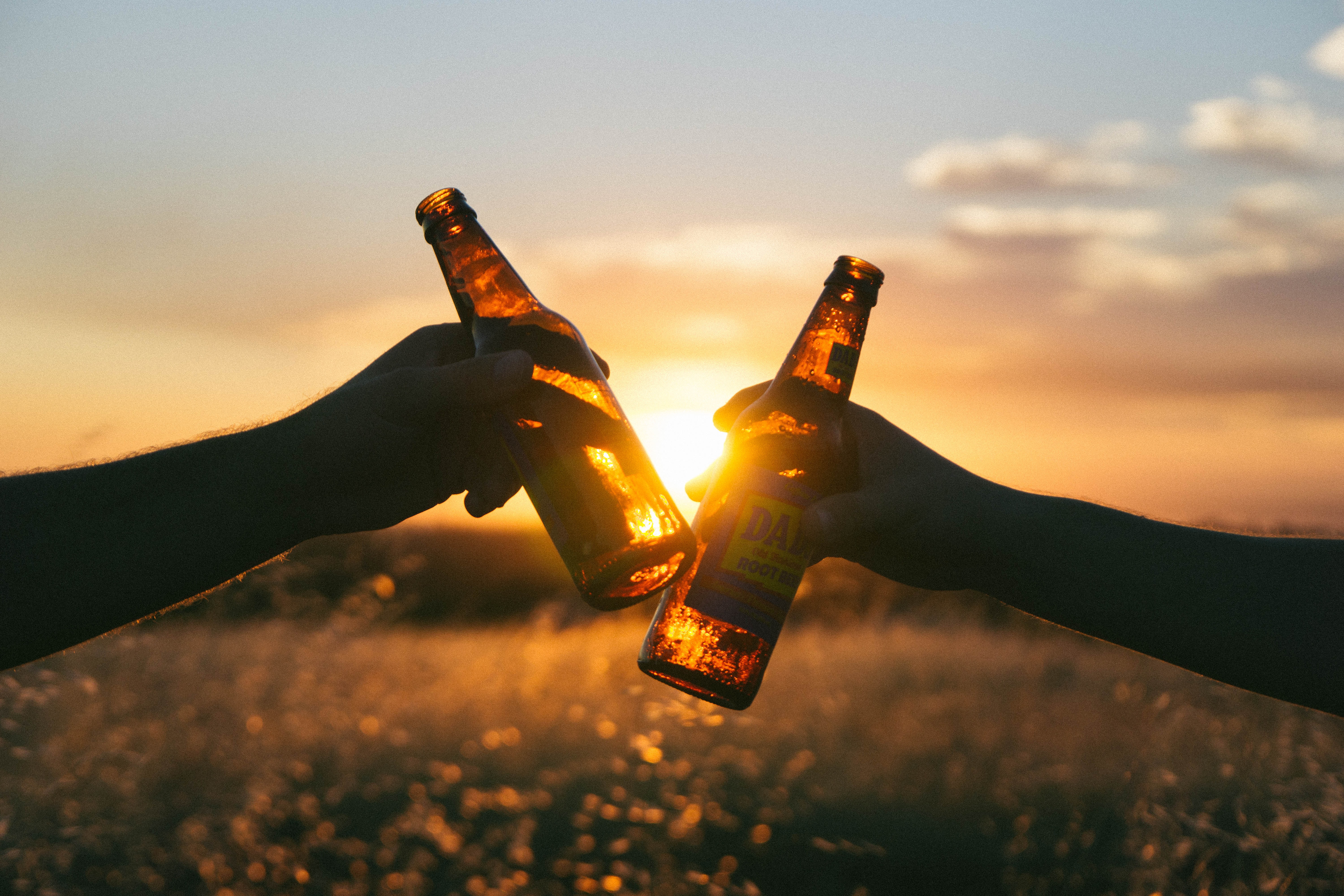 Breweries.
Tell your story
Every business has a story, and when you tell and share it, you make your customers connect with your business more personally.
We all love a good story. Since millennia ago, humanity created myths to understand themselves and keep themselves entertained, and today we connect with stories that we see in the movies or on television.
The point is your passion, why you chose this business, and how you got to where you are as a whole backstory behind it. By telling it, you will interest your audience. Above all, you will be able to differentiate yourself from others since nobody has a story equal to the other regarding business.
The story should be well structured, like a script; you'll have a beginning, middle and end, or in your case, leave your clients with a cliffhanger of what is to come for your breweries business, similar to what the post-credits scenes of a Marvel movie do for example.
You'll season this story with things like where your passion for drinks comes from, how was your first experience with one, what were your first steps and the obstacles that came your way and, to close with a flourish, how you were able to overcome them and take your business to where it is now.
Talking about your team and its values will add more to the experience of your brand story and will segment your business as a brand that maintains solid ideals. Read this guide on E-commerce supply chain and voice search optimization.
Then, all this history will be an endless source of content for your social media that you can present in the form of blogs, articles, infographics, or videos.
Suppose your story manages to connect emotionally with your audience. In that case, you will already have a great deal of ground gained, and you will have created content worthy of being shared on the networks, increasing the links for your business and making the search engines favour you in the searches.
Focus on highlighting what differentiates your brand from others. It can be the way they produce, their ingredients, or any other differentiator worth mentioning.
When you have built your story, you will have a better idea of your brand's personality, allowing you to create a well-established communication model for your audience and advertisements, an aspect essential for your branding.
Source: YouTube.
Connect with your community via Email Marketing.
Previously, in the "tell your story" tip, we said that you should publish content on social media, and yes, this is extremely important in the digital age. Still, your social platforms cannot be your only channel of communication.
Social networks work with an algorithm, which has become quite challenging to manage for businesses because if you aren't the most famous account with a significant engagement, your chances as a growing business will be nil because the algorithm will send your posts to the bottom. This can be solved, and here in this article, we teach you how to handle the algorithms of each social network.
Returning to email marketing, you can be more direct and be reviewed more frequently by your users since no algorithms determine the visibility of this message.
The good idea is to build an email list. If you're starting a more local business, implement lead collection strategies like surveys, discount coupons, or anything else you can think of. When breweries start locally, they must first win the heart of their community, so they must be your first audience to conquer and then expand to other states and bars in your country.
Once you have collected your email list, you will be helped by platforms like MailChimp, which can manage all your emails automatically and give valuable insights into how users interact with them. Try to send 1 to 2 emails per week in addition to important events or new products for your business. Don't spam; send just what's necessary to stay connected to your community and keep you top of mind.
As for content ideas for these emails, you can use the following, which you can also implement in your post calendar for social networks:
Recipes

Cocktail recipes that include beer

Food recipes that fit your beer

Tasteful beer pairings

Special offers or any coupon

Highlight and pay homage to those retailers/restaurants that carry your beer

New product releases

Videos that show how you make your beer.
Source: YouTube.
Take advantage of User Generated Content.
Finally, when your community is in love with your product, chances are that they'll start sharing those good times on their networks. Although we as businesses use these platforms for advertising, most clients use them to share their best moments is pure gold for your brewery's reputation.
The user-generated content is practically letting your public join your content strategy, being the ones who spread the word of mouth of how fantastic your breweries business is through their publications.
This will generate a cascade effect that is that your clients' followers will see how great your business is; therefore, they will need to want to try your product and join the happiness that your clients profess.
You can also publish this content on your networks, of course, with the prior consent of the creators and giving credit to whoever did it.
For example, suppose within your community, there are influencers, celebrities, politicians, or well-known people. In that case, these will be more effective promoters for your user-generated content, so build good relationships with these influential people within your community.
Extra 5 cents - Best in class for social media
All over the world, global beer brands invest millions in advertising. Breweries don't have the resources or scale to develop campaigns of this size, but following these brands might bring you some great ideas. Here are the top 5 social media accounts for breweries: 
Budweiser:
Guinness:
Heineken:
Craft Breweries: Many craft breweries also maintain engaging social media accounts, often highlighting their brewing process, unique flavor profiles, and community involvement. Here are some I love: 
The Beer Store: A Canadian beer retail chain that provides beer education, promotes various brands, and interacts well with their community.
Case Study Dois Corvos 
Dois Corvos is a local brewery in Lisbon Portugal. Portugal doesn't have the tradition with 2 very strong consolidated brands (Sagres and Super Bock) that control de market with more than 90% share. The challenge of a new brand is to create the need and organic traffic would follow.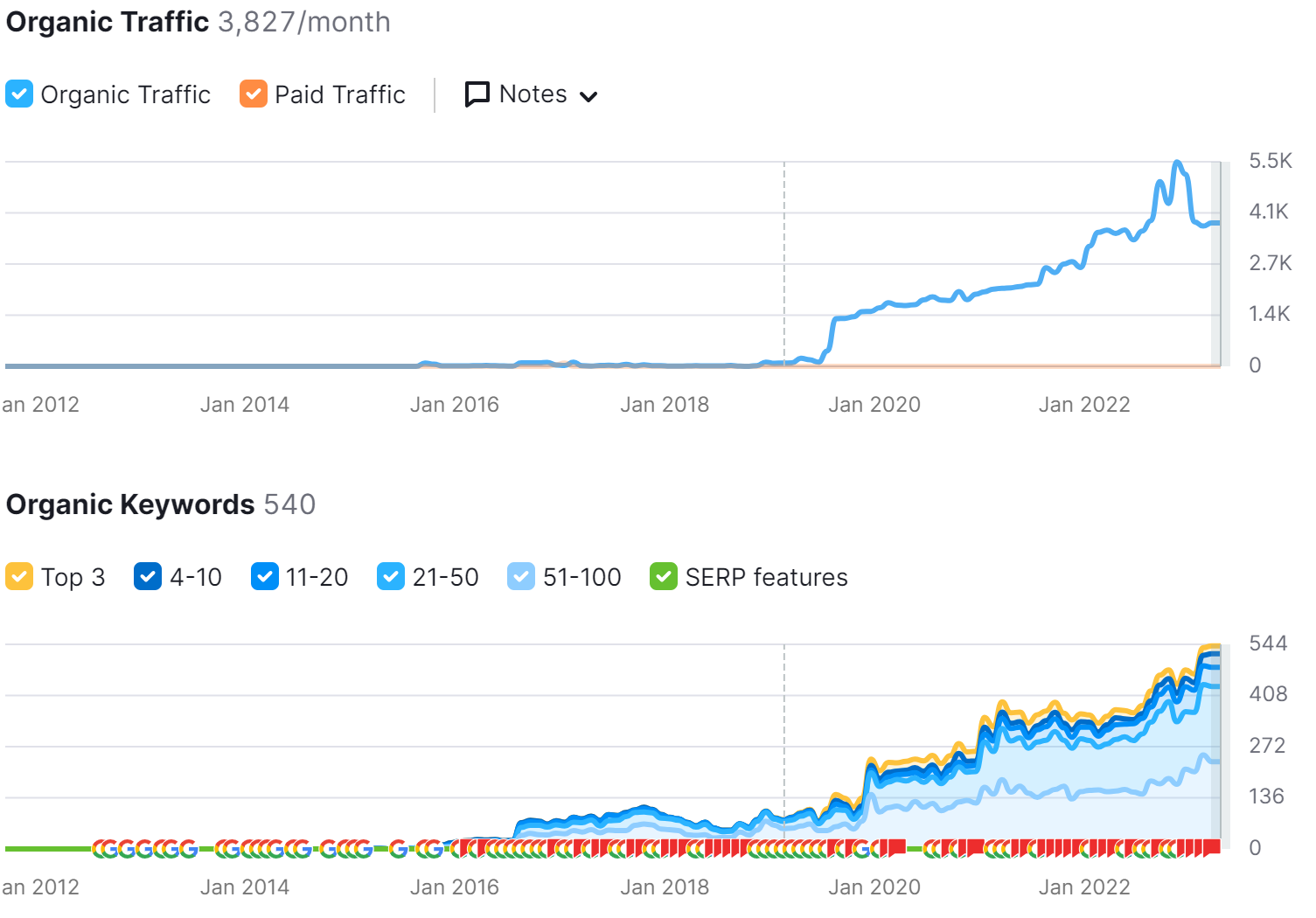 After a well-designed content strategy supported in PR (buying content in all major lifestyle magazines and blogs) traffic started to ramp off. After 2 years here are the top positions:

- So, 'Dois corvos': This keyword appears twice and it's a navigational intent (users want to find a specific page or site). It ranks first and sixth in the search results. The keyword difficulty (KD %) is marked as 'Easy', indicating it's not too hard for the website to rank for this term. It drives 6 and 1 percentage of the traffic, respectively.
- 'Boa festa' & 'Dóis': These informational intent keywords rank 21st and 25th respectively, with each contributing less than 0.01% of the traffic. They're easy to rank for.
- 'Tigers and toucans': This keyword also has informational intent and ranks 25th, but interestingly, it has a very easy difficulty level.
- 'Breweries in lisbon portugal': This keyword is marked as commercial intent (users want to investigate brands or services), ranking 25th, and is also easy to rank for.
- 'Corvos': This is an informational intent keyword and has a moderate difficulty level, labeled as 'possible'. It ranks 28th and accounts for 2.63% of the site's traffic.
In general,  'doiscorvos.pt' is doing quite well with navigational and informational keywords.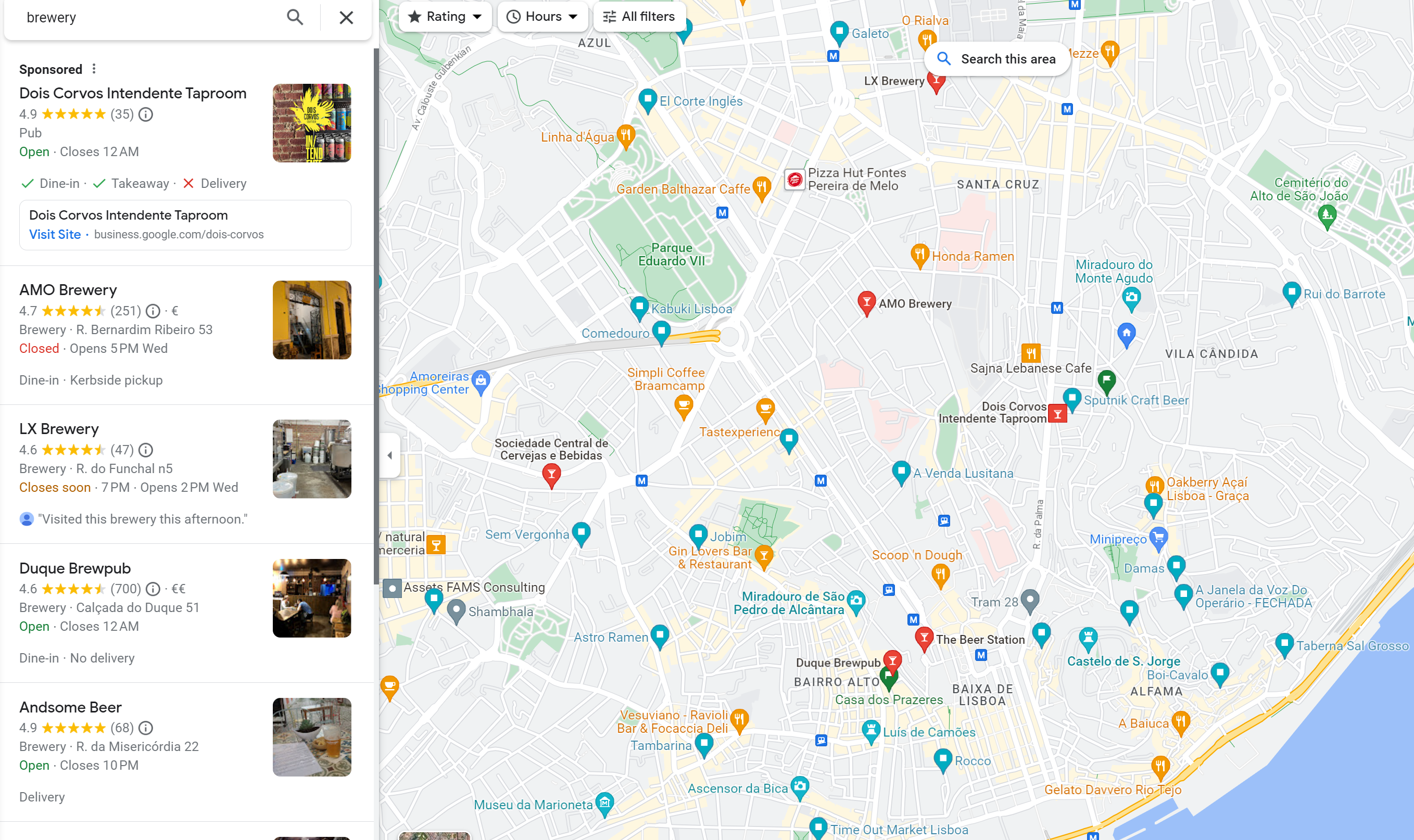 Of course there is local component to this searches as breweries are decided on the go. With a mix of paid media and organic local search the foot traffic explodes.  
How much should a brewery spend on marketing?
This the million dollar question isnt't it? Well.. our benchmark shows that on average breweries spend 5% to 7% of their income on marketing. Of course this is not the case in the beginning where 12-15% are necessary to keep building presence and brand awareness. We can help you design a marketing plan and best ways to invest the next dollar. Reach out to our team. 
Final Thoughts
Social networks and the internet, in general, are the best way to promote your brewery business today. With the help of these ideas we have given you, you can start growing your business from your entire community to other states or even your country. Complete.
With a good digital marketing strategy, these objectives can be achieved. If you want to achieve them more effectively, you need to partner with Codedesign, experts in the area of digital marketing who will devise the appropriate strategy to achieve your goals. Contact us and tell us about your business.
Until a new article cheers and see you!
About CodeDesign
Codedesign is a digital marketing agency specializing in e-commerce and B2B online marketing. Our digital team utilizes the latest digital marketing tools and strategies to help clients reach their business goals. We offer comprehensive services such as website design, search engine optimization (SEO), content marketing, performance marketing, social media marketing, CRM and marketing automation, email marketing, and more. Our experts create and implement customized digital marketing campaigns to increase website traffic, generate leads, and drive sales. Our expertise in e-commerce and B2B marketing allows us to understand the nuances of the digital marketplace and create effective marketing solutions tailored to their client's needs.
CodeDesign is leading:
- Digital Agency
- Digital Marketing Agency
- Amazon Marketing Agency


Feel free to contact us to see the unprecedented growth of your business.
---