How to benefit from Social Stories? Are all Social Stories the same?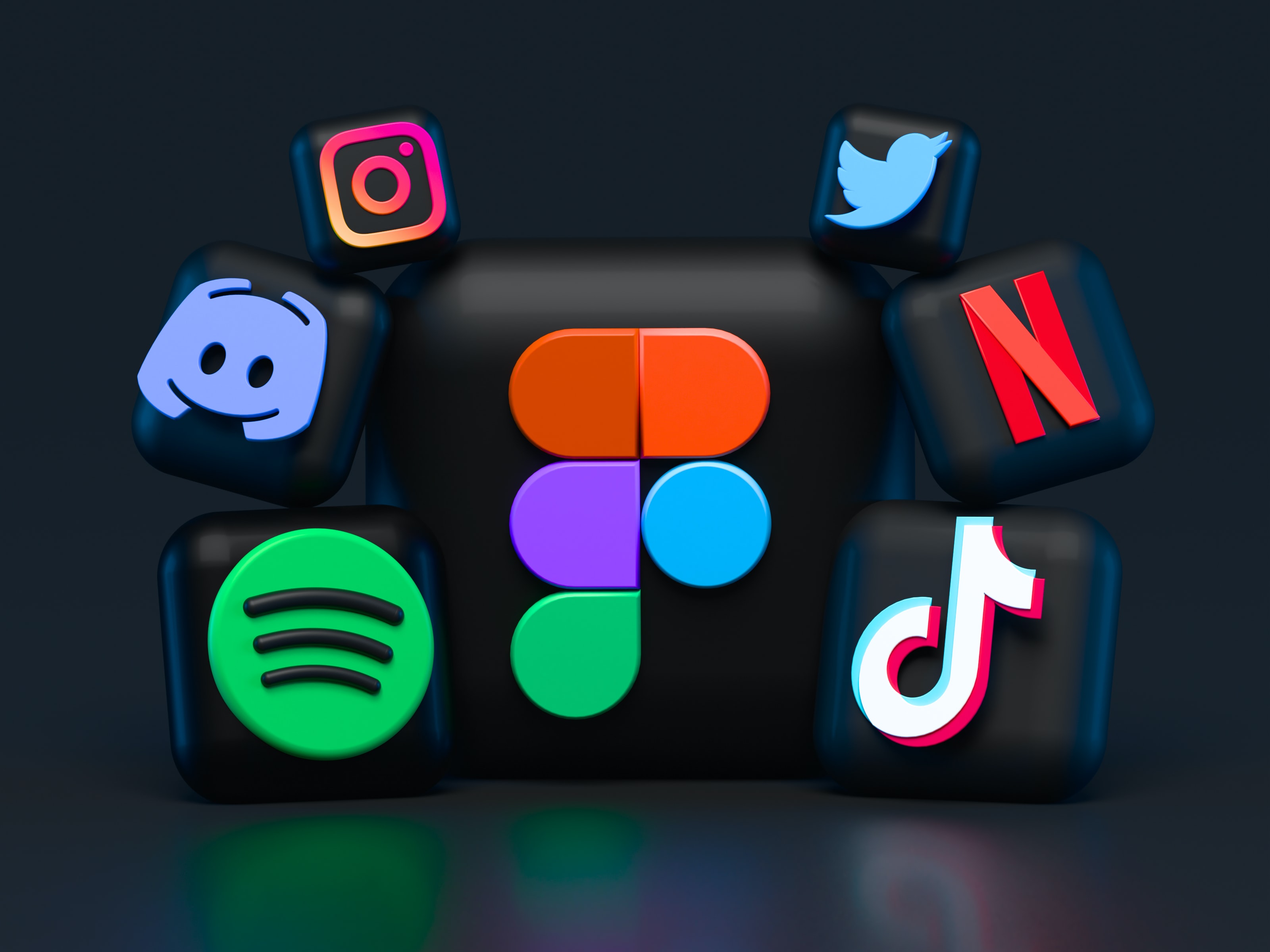 Source: Unsplash
A post needs some time to be planned, the design, the copy and the caption. They are great to create engagement with our followers, but meanwhile, other types of content generate more engagement daily. These are the stories.
Snapchat was the first social media platform to feature this option to show little videos or images for 24 hours. Mark Zuckerberg saw this function and really love it. We know what happens when Mark likes something. He buys or completely copies it for their own properties. Nowadays, every social platform has its stories, like Facebook, Instagram and Twitter, but this trend has gone even further-reaching places like Netflix and YouTube.
While you are not posting every day, which is great because people could get tired of one post if your publications aren't innovative enough, social stories are the right place to contact your customers without being a spam account.
If you want to learn how to benefit from social stories and how to use them for different social media platforms, keep reading because you will get a lot of information from this feature?
Keep reading!
Benefits of Social Stories
After adding Facebook and Instagram stories to the applications, the company studied the relationship between a brand´s stories and the consumers. Among the most relevant stats of this study:
69% of the participants commented that social stories are a great way for customers to know products or services.
62% of the participants said that they are more interested in a company after seeing their stories
1 in 2 people surveyed who read social stories have commented that this content strengthens their relationship with brands.
56% of the participants said that they browsed the brand´s website to get more information.
50% looked for the product on websites to see if they could buy it
38% talk with friends about the product or service
34% visited the physical store.
Social stories are powerful tools for marketers since it is more usual for customers to check our stories than look at our old posts. It is the perfect way to stay in constant interaction with our followers, and as statistics show, they produce excellent results for our business. This doesn't mean that you should abandon regular posts, not at all. It´s just that this type of content can help you with your engagement in an easier way.
Ideas for Social Stories
A good market study is incomplete if you don't ask customers what they want to see from brands and businesses. Here are some valuable insights about social stories:
51% of the participants said that they want quick and understandable videos. This means less complicated speeches and more messages going straight to the point.
51% of the customers want to see the special discounts and promotions. Social stories are the best way to show these offers, but never forget to announce them in a post since you can add more extra information about the promotions in it.
45% of the surveyed want to see tips or advice from the brand. Showing that your brand has a piece of good knowledge in its niche will give more authority to your brand. When you show customers that you know what you are talking about, they will give you all their trust in your services.
44% of the participants said that they want to see new products.
43% of the participants commented that they want the stories to feel real, not so produced. Since social stories are easier to produce, people expect to see a more relatable side of your business, not just the cooperative brand. If we take the social stories to the side of celebrities, we have seen that these personalities can show a little more of their daily life in this format, and fans feel closer to their idols because they can see that they are "normal people." In the case of a brand or business, you should show more of the human side of your company so people feel connected to your brand.
People like stories that are inspiring and uplifting. We should remember that social media is a place where many people go to feel better about themselves. For this reason, companies that give a little bit of happiness to their customers win more points for likability. Also, focus on the digital marketing funnel while creating the content.
Source: YouTube.
Are all Social Stories the same?
No, they are not! While all of them are recorded in vertical format, they don't have the same function or features for every social media application. 
Snapchat
Video length: 60 seconds
Time before the story ends: 24 hours
Content customization options: filters, text, handwriting
Advertiser options: yes
Outbound links: yes
Standout features: a wide variety of filters.
Back in 2013, Snapchat was the pioneer for all the stories revolution, and since its creation, many users have felt in love with its filters. One of the most famous is the "ear dog" filter. Snapchat stories come with tons of options for users like multiple snaps in a single shot, a photo timer, a grid to help with composition and all the filters that keep renewing each month.
You can see these stories in the "Discover" section of the application. Swipe right from the home screen and find all the videos and images. The discover section then splits into two sections: one shows the users you have added as friends. The other shows a "For you" section to see the personalized section of stories from brands or influencers.
Snapchat Stats (VITALSTORM): 
There are 310.7 million users in the app
24% of social media users frequent this app
61% access Snapchat daily
Source: YouTube.
Instagram
Instagram was the first application to copy the Snapchat stories model almost directly. However, it seems that the student has surpassed the teacher since the variety of options offered by this application surpasses those of Snapchat.
Although we have innumerable filters, the good thing is the additions that can help companies, such as stickers that can redirect to a specific product or the swipe up option that can redirect your consumers to your website, YouTube channel, or any other central platform of your company.
Going further, the survey options or direct questions to the public allow you to have direct contact with the opinion of your users, making it an excellent tool for doing market research.
Instagram stats:
The platform has 1 billion monthly active users.
25 million businesses are using Instagram.
By 2018 71% of US businesses were on Instagram.
200 million+ Instagram users visit at least one business profile every day.
1/3 of the most viewed Instagram stories are from businesses.
60% of Instagram users have found a business watching stories
Source: YouTube.
Facebook
 Video length: 20 seconds
Time before story disappears: 24 hours
Content customization options: type mode, filters and effects
Advertiser options: yes
Outbound links: yes
Standout features: Text, music, boomerang, selfie, pol, stickers
 Facebook has been the pioneer of social networks for a long time, and although it was copied from the model of Snapchat stories, this application still has some pluses that the application with the ghost does not present.
Facebook's algorithm is tricky for brands. While users are usually shown more entertainment content such as memes, photos of friends and videos, the promotional content of ads or that have to do with brands remain in the depths of the feed, which makes investing in ads can be risky.
But, stories are here to save brands, and it is that Facebook gives more visibility to brands within their stories, which makes your engagement can increase with your users.
While Instagram allows you to place the links in the stories from several followers, Facebook skips all this process and allows you to do it regardless of the number of fans you have on your page. That is traffic for your website without much sacrifice.
Facebook Stats:
The platform has 2.14 billion users
83% are women and 75%, men
Source: YouTube.
WhatsApp Status
 Video length: 30 secs
Time before story disappears: 24 hours
Content customization options: stickers/emoji, text, handwriting
Advertiser options: Yes
Outbound links: No
Standout features: choice between text-first or image-first 
WhatsApp stories are useful if they go hand in hand with your version of WhatsApp Business. This means that you cannot use your personal WhatsApp to market your brand. No, you must create a separate number for your entire business.
Once you have done it, you will see how your contacts will see your brand's offers and place orders by responding directly to your business number. This option is ideal for B2B type businesses.
Which stories should marketers use more?
Almost any platform has social stories, but there is no need to use all your effort unnecessary. You need to use the most popular ones: Instagram, Facebook/Messenger, WhatsApp Status, and Snapchat.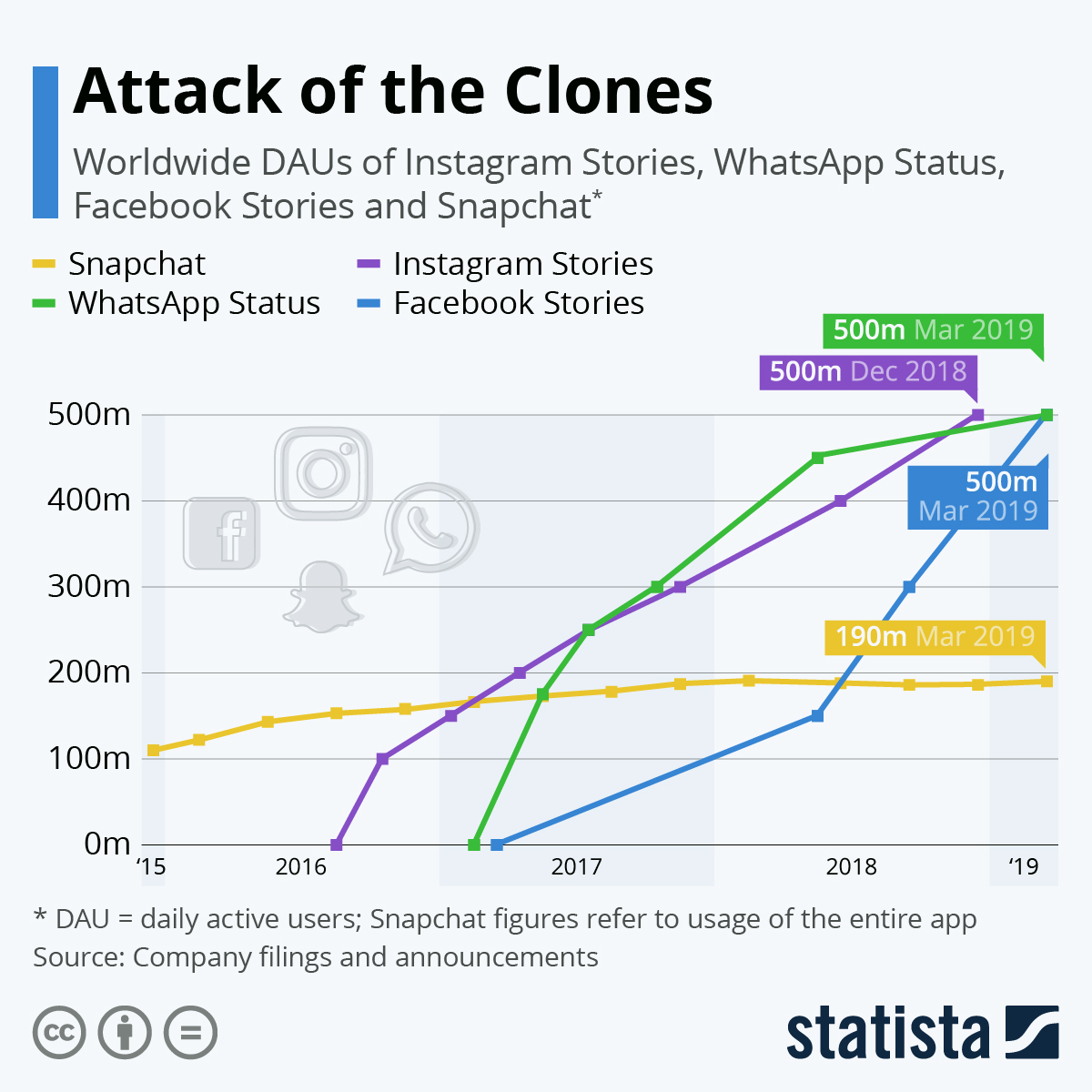 Source: Statista
If you check out this research done by Statista, you can see that Instagram, Facebook and WhatsApp have up to 500 million users as of 2019. Although it was the pioneer for this digital tendency, Snapchat is on the lowest spot, although its numbers are relevant with 190 million DAUs for this year. The Instagram, WhatsApp and Facebook stories started growing in recent years. Here is a complete guide on Amazon Listing Optimization.
Although we see that these are the most used platforms for social stories, it never hurts to look at your competition to see which platforms they are using for the same purpose. In the end, all these variants depend largely on the demographic and psychographic data for each country.
For our part, we hope that this article has been beneficial and that you can make great stories to interact with your audience. Remember that at CodeDesing,, we advise you with the best experts in digital marketing, and we give you the best articles so that you are aware of all digital trends.
See you in the next article!
Here is a complete guide on the latest revolution - Voice Search Optimization
CodeDesign is a leading:
- Amazon marketing agency, and
Feel free to contact us to see an unprecedented growth of your business.
---