The third generation audiences and how to market them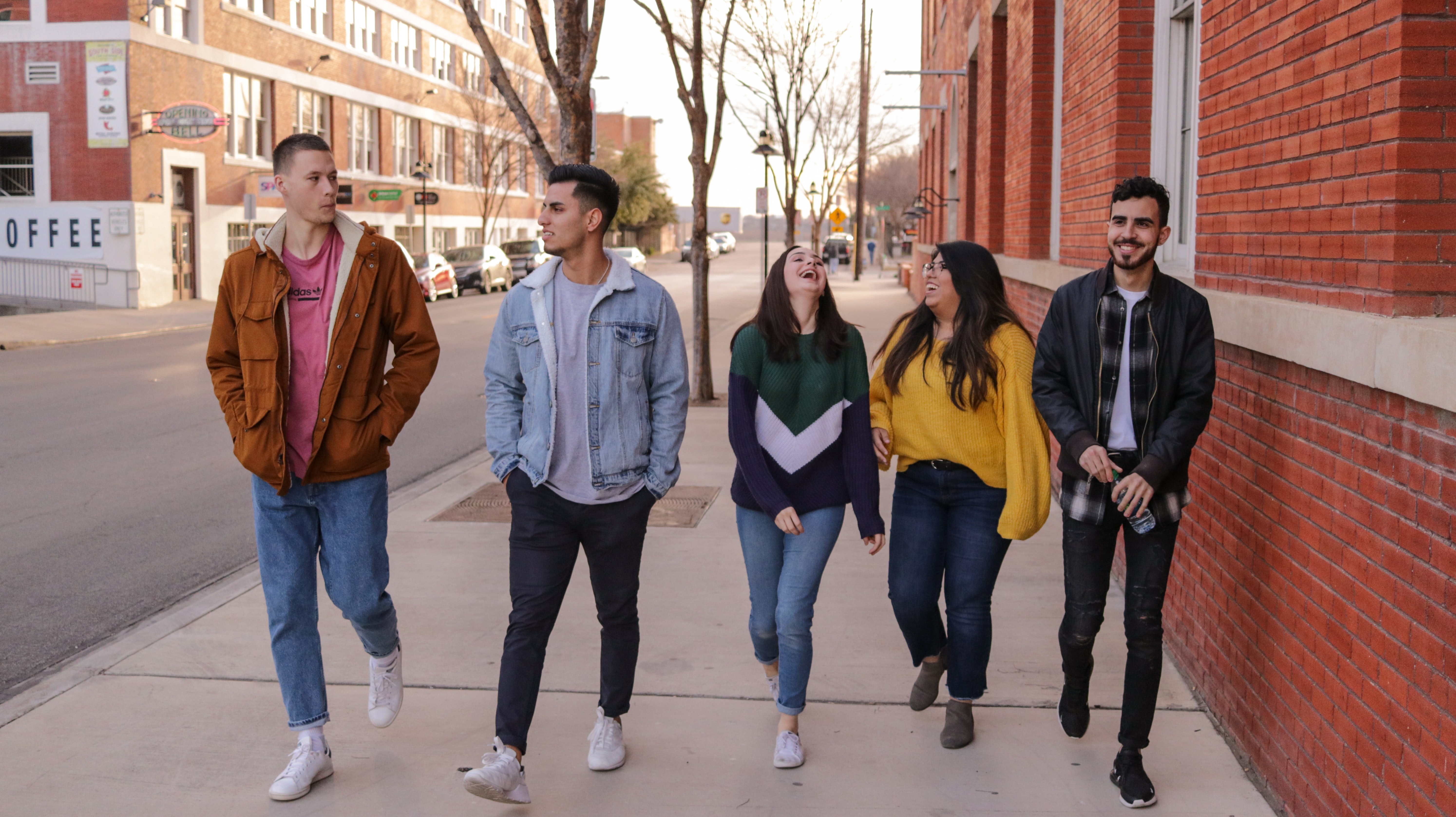 Source: Unsplash
Millennials and Generation Z are the youngest people and the most growing market. But, how do we understand them? What do they like? What do they want?
Usually, young people can even answer this type of question to themselves, as they are growing and maturing they start to understand how life could work for them and how they can fit into the society. You could work with us, the leading digital marketing agency to assist you in digital marketing.
On one side, we have millennials, people who are starting to work representing 75% of the global workforce, according to The Business Journal. These boys and girls are starting to earn their money. On the other side, gen Z may be in their late teenage years, and in some cases, their parents are the ones who buy their products and pay for their services like college or health insurance.
Representing three-quarters of the market, this article will study how we can market to all of them.
Let´s begin!
Who are they?
Millenials
Also known as Generation Y, this demographic represents the people that were born between 1981 and 1996. This generation has a great familiarity with the internet, mobile devices and social media, which is why they are termed digital natives. This generation has suffered many economic problems since starting their working life. In their early years in the labour market happened the Great Recession, and almost one decade later, they are suffering the problems of the COVID-19 pandemic.
Source: YouTube.
Gen Z
Generation Z is the people born between 1997 and 2013. They are also natural to technology and grew up watching the internet become something huge from something they can´t live without. Influencers and Youtubers are their role models, and they like new platforms like Twitch. These young people may be turning 22 by this year, so they are starting to be part of the workforce. They care about social issues like racism, LGBTQ rights and global warming.
Source: YouTube.
Use influencer marketing
Generation X, baby boomers and some millennials Brad Pitt and Angelina Jolie are huge celebrities, but most Generation Z and Millenials have found new role models on Influencers. With social media platforms being famous can be easier than appearing on big Hollywood productions. If you record yourself on YouTube and your content is good enough or go viral for a joke, you can be a huge star from day tonight. With this in mind, companies should take advantage of this trend and bring big influencers to their campaigns. Just be careful that this internet personality goes right with the values of your company.
Source: YouTube
Create interactive content
These generations want to feel included in the company´s process. For this reason, Instagram features like polls or questions are so popular. Young people want to feel involved, like the company has thought specifically about them when creating this content. Also, asking them about their opinion on the customer experience is an excellent way to understand your audience and know what they really like.
Please don´t make it too wordy.
Young people want to get right to the point as quickly as possible. For this reason, long paragraphs and videos can make them feel uninterested in your products or services.  If you create blogs, always remember to be crystal clear about your information and don't be too complicated with a high elite vocabulary. Also, remember that videos are a great complement to your articles.
Source: YouTube.
Go mobile
According to a Cox Blue article, almost 85% of millennials own a smartphone. If your website or any other platform doesn't translate to a mobile version, you will lose them. To do this, you can optimize your landing page for mobile to load quickly. Add a call to action and links to your other social media platforms to empower your marketing efforts.
5 Tips for Millennials and Gen Z marketing
Be authentic.
Audiences can smell fake marketing campaigns a hundred miles away, and "fluffy" marketing strategies will make them all go away from your company. Nowadays, many trends and social movements really engage with these generations looking to correct some mistakes made in the past. Still, if your company does not go with these tendencies or doesn't really feel that way, the best option is to avoid the problem.
This was the case of a Pepsi advertisement with Kendall Jenner as their actress. In the commercial, people are protesting on the streets against racism, and police are repressing the congregation. Suddenly Kendal Jenner arrives at the protest, and, by just offering a Pepsi to the policemen, everybody celebrates, and the problem is solved. For many people, this is the ridiculous campaign of all, due that racism is a severe issue in the United States. 
Although the company's intentions may have been good, the message is not the right one since these people are trying to solve this great issue as it is something that just a great soda could solve. "Minorities" and people that deal with discrimination felt insulted by this piece of marketing.
To avoid this type of fake marketing, it is better to tell the real story of your company and how it can speak to the motivations and needs of these young audiences. Give them a practical reason to engage with your company, and they will feel good about supporting your business. Connect them with an authentic story that they care about.
Contact them by Email.
Millennials and Gen Z  grew up with social media. They are the masters of using Instagram and Tiktok. Even more, they create all the trends on these social media platforms. But while it is good to market them on social media, they also use email to stay tuned with the brands they like, so email marketing is a great avenue to contact them.
A recent study by Campaign Monitor showed that 58% of those surveyed check their emails many times a day. Traditional marketing tactics are not lost for young people, so keep generating leads from your web page and social media.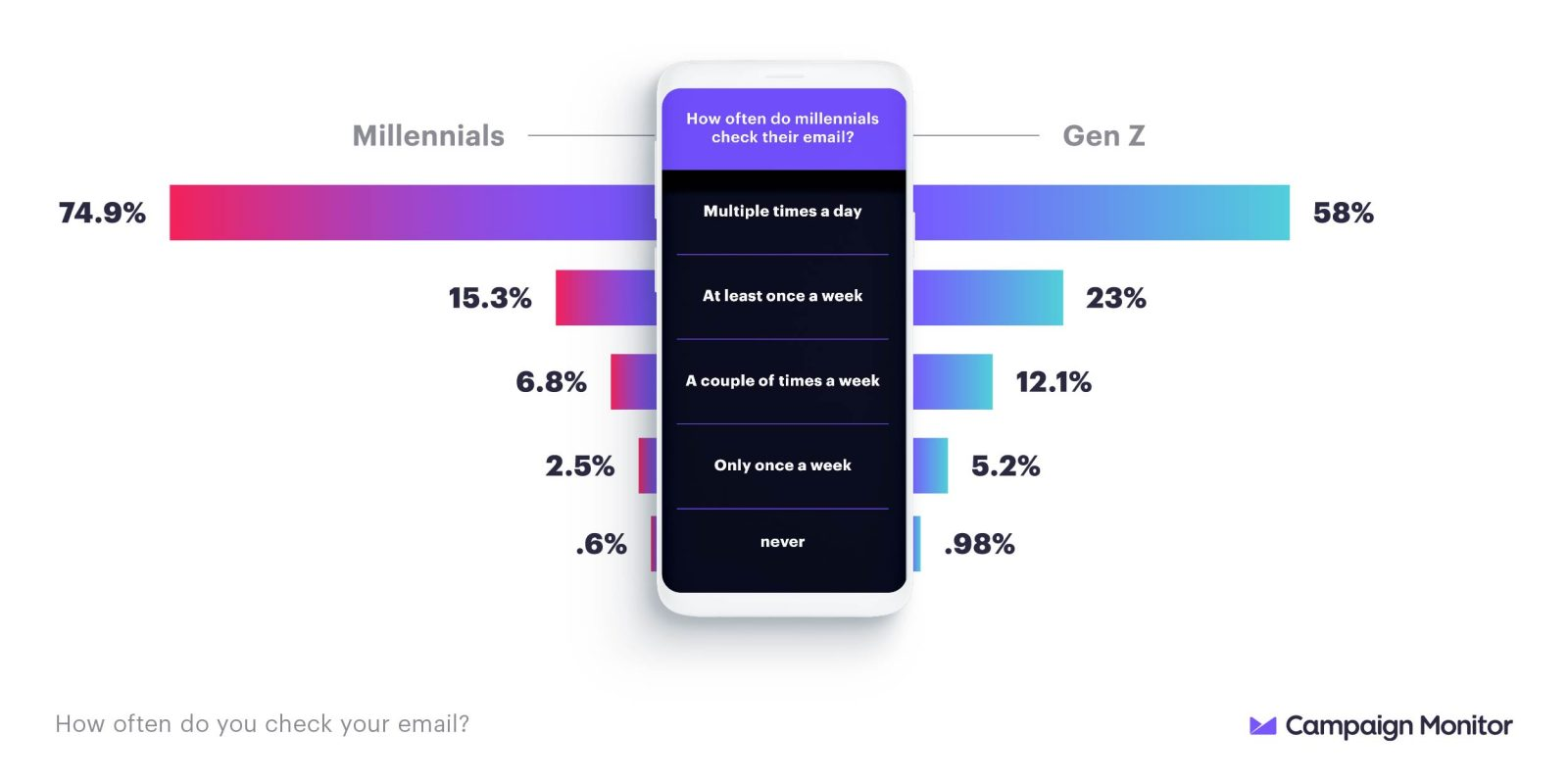 Source: Campaign Monitor
Make your videos short and full of content.
Tiktok clearly represents how short videos have to engage virally with users, almost 15 seconds and 1-minute maximum. According to the Business Journal, millennials have an attention span of 12 seconds while gen z only 8 seconds. This is not for lack of concentration, but it is more about the huge amount of options you have today.
So, to catch the attention of these audiences, your videos should go straight to the strong part in their first seconds, so they can stop and give you all their attention.
Focus on diversity and equality.
Millennials want to change the world, they want to correct all the things that have been done wrong for many years, and if your company can align with it in honest ways, they will give all their support to your brand. As we mentioned before, if you are going to talk about racism, feminism, and diversity, you really want to support these social causes, not just because you want to make more fame out of it.
Source: YouTube.
Final Thoughts
The endless cycle continues to turn. While the future continues to advance, new generations will arrive with their impetus to change the status quo and impose new values on society. For their part, the new generations that have arrived are the Millennials and Generation Z. Between their social change agenda and their new digital marketing trends, and it is seen that we could move towards a more diverse and multicultural future.
These new generations like honesty over big campaigns, so being authentic is the best option for all businesses that want to reach this audience.
We as advertisers must be aware of trends to be aware of their demands and interests.
This article shows more about how each generation experiences the customer journey and thus expands their knowledge in the different generations.
You, what generation are you from? Leave your comment in the box below!
CodeDesign is a leading:
- Amazon marketing agency, and
Feel free to contact us to see an unprecedented growth of your business.
---