Is Online the best channel for caregivers and retirement homes?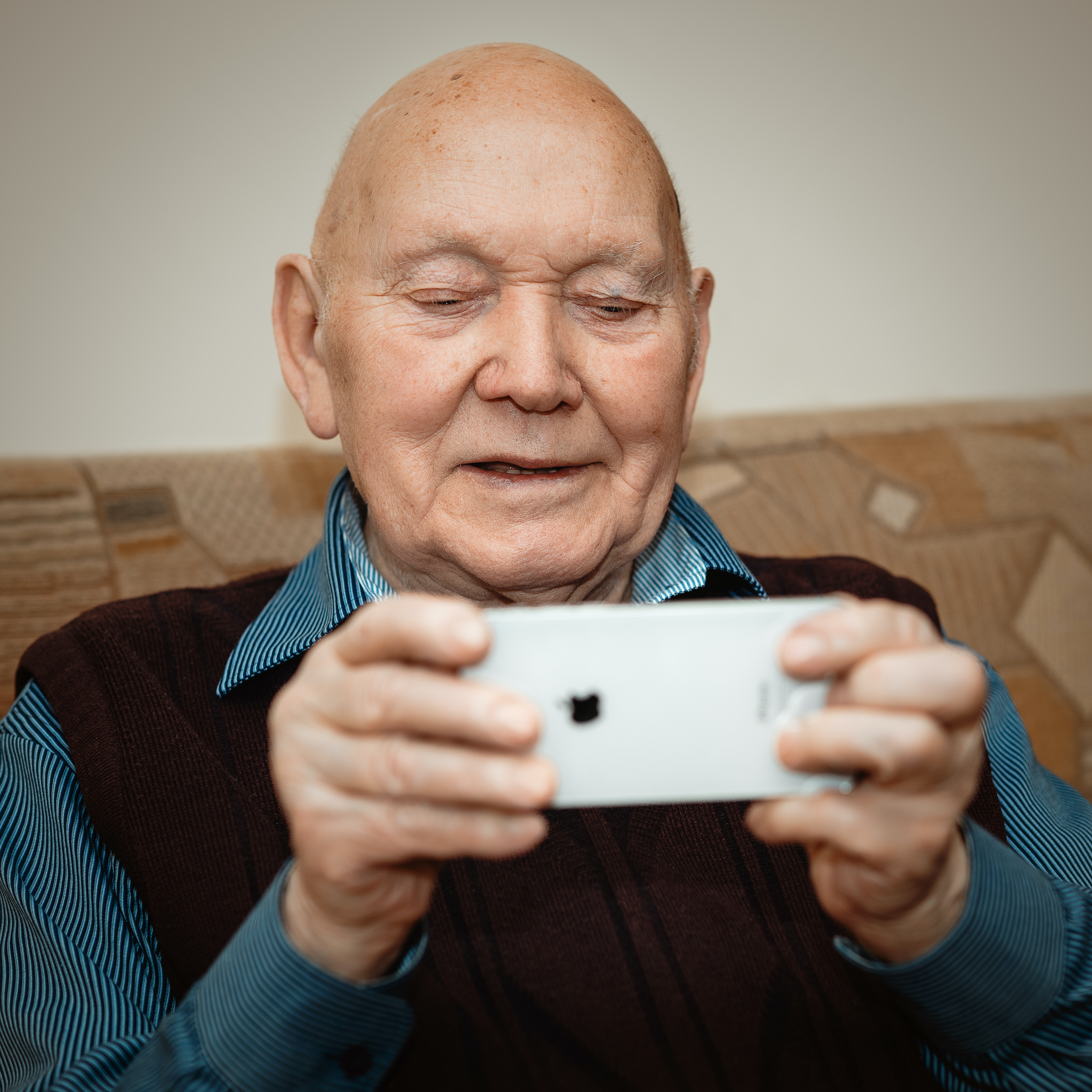 Source: Unsplash.
There comes a time in life where the elders of the house no longer want any more worries. They look for a pleasant place to spend the rest of their days in peace with friends and the company of their loved ones.
The caregivers or retirement homes are the ideal places to be in peace out of all worries; their friendly employees will take care of you and give quality care for your stay in this place.
If you own a retirement home, you might ask yourself, how do I reach my audience?
It is well known that people over 65 grew up with other media such as radio, television and newspapers. In 2021, they are still used to this type of media. But what about digital media? Will these be the best platform to promote your retirement home?
According to a Senior Housing News article, more senior living providers have shifted to a digital marketing strategy in the midst of Covid-19.
Due to Covid´s lockdown, older adults and their families spend more time online, making marketers for caregivers and retirement homes move to the online platforms. GlynnDenvis.inc, a company focused on marketing for senior living, has noted a notable drop in the number of new sales leads for caregivers in 2020, while web leads were up about 20% over the prior year.
In CodeDesign, we are happy to make alliances with Salmon Health and Retirement, which has provided senior care for 60 years.
So it seems that online is a good channel for caregivers and retirement homes, but let's go deeper and find out more information for this target audience, the senior living, and how retirement homes can maximize their marketing efforts to reach their new leads. 
Keep reading!
What platforms do older people use?
We have learned that it is not practical to be in every channel if your audience doesn't use it, and in this case, we wonder what channels older audiences use?
First, we must remark that not every older people is a perfect candidate for a retirement home. People from 60 to 75 maybe opt to all their abilities and wouldn't need the extensive care of a retirement home. Meanwhile, people in their 75s and more could be ready to change their lifestyle to a retirement home. 
The number one social media platform for those aged 65 or more is Facebook, while the second one is YouTube.
The portal Pew Research Center show us statistics of how much people of 65+ years use different social media platforms, and these are the results:
| | | | | | | | | |
| --- | --- | --- | --- | --- | --- | --- | --- | --- |
| Facebook | YouTube | Instagram | Pinterest | Linkedin | Snapchat | Twitter | WhatsApp | TikTok |
| 49% | 50% | 13% | 18% | 11% | 2% | 7% | 10% | 4% |
Source: YouTube.
Don´t market the elder. Market their children
We have seen that elders can be active on social media, but in most cases, they are not the ones looking for retirement homes while browsing the internet.
On this occasion, their children, men and women between 40 and 50+ years of age, usually look for a suitable place for their parents to retire. The idea is to market these establishments considering these two demographics, that is, parents and children.
To start promoting your retreat house, the first thing you can show is your comforts, those main features that your new guests will be able to obtain once they are welcomed to their new home. Take, for example, the care services of our client Salmon Health and Retirement.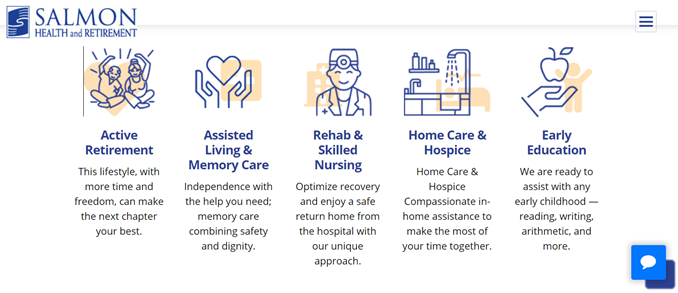 Source: Salmon Health and Retirement.
Deciding to live in a retirement home is a 100% emotional decision. Leaving behind a home where you have probably lived your whole life activates endless memories and an immense melancholy.
This is where your campaign should be empathic with the situation your new clients are facing and, instead of just showing comforts and material things, you should show your true values and good intentions with your new guests, who will feel understood and welcome to your establishment. for seniors.
Here is an example of how Salmon Health and Retirement has made its guests feel.
Source: YouTube.
Digital Marketing Tips for Caregivers and Retirement Homes
Make your website user-friendly
We must understand that our audience did not grow up with technology. It came into their lives when they were older adults, so your web platform must be easily accessible for all of them without any complications.
The first thing you should focus on is adding large letters that your users can read without a problem. By the way, do not clog them with too much text as this can confuse them.
Remember that your website is your control center for all your marketing processes. Therefore it must have a good operation and clear instructions. As a bonus, your website must be displayed in the mobile or tablet version.Also, focus on the digital marketing funnel.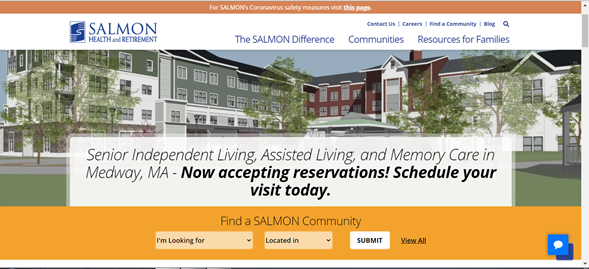 Apply SEO to your Strategy
SEO or Search Engine Optimization makes your website more visible for search engines, like Google, for example. Creating good content, answering important questions of your niche, and having great reviews on your retirement home search engines will put your website higher in all the internet searches, making your business more popular and approachable for new customers to your care services.
In CodeDesign, we have plenty of SEO articles to help you put your website at the top of all Google Searches, but some key factor is focusing on the keywords of your niche, which are the most Googled terms on the internet.
According to a Market Keep list, these are the most searched keywords on Assisted Living Facilities.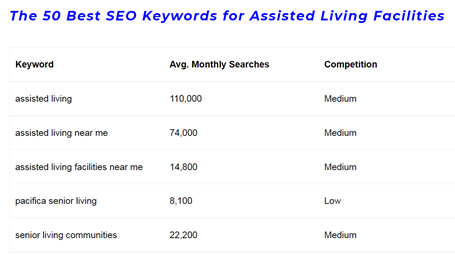 Source: MarketKeep.
Educate your audiences about your niche
Now that you've got the keywords, it's time to create new pages talking in-depth about those topics and topics. This helps your positioning on the web and gives authority to your business since your clients will see that you know what you are talking about and master it perfectly.
By creating educational content in the form of blogs or videos, you can have the opportunity to talk about what is trending in the senior retirement niche and connect those topics with the services of your establishment. For example, something we can all ask: What are the first signs of senile dementia?
Through a blog, you can explain the symptoms of this condition and then connect it directly with how your caregiver's service can help patients who suffer from it.
Source: YouTube.
Create an Email Newsletter
Email is still one of the best ways to keep in touch with your customers, and with the applications that allow you to send emails to your list of users, you can send newsletters every week or month depending on your pace.
With these emails, you can keep your clients informed about the benefits of your retirement homes, the reasons why they should join and even any special event that you are going to offer.
To obtain a list of users you can place a form that asks your users to give their email when entering your website.Here is a complete guide on Amazon Listing Optimization. 
Source: YouTube.
Residents of Retirement Homes are Happier and Healthier
A recent study from ProMatura has shown that old people who live in retirement communities are happier and in some cases healthier than older adults who haven't move into one yet.
Residents of member communities of Associated Retirement Comunity Operators, the main organism of the sector in the United Kingdom, made a survey of 2,799 residents for retirement homes and 1,111 non-residents. 55% of the community members agreed strongly that their quality of life was better than a year ago, meanwhile, only 19% of nonresidents gave the same answer. On the other hand, 36% of non-residents alleged that their quality of life didn't improve in the past year.
On the health spectrum, 61% of the residents said that their health was the same while 10% said it had improved. The residents were two to five times more likely to participate in activities like social events, trying new things, having fun with friends and exercising while non-residents weren´t that animated.
Making the decision to live your homes behind and start a new life in a retirement facility is 100% your decision and anybody should be forced to enter into a senior house. Now, if you or your parents wish to move on and retire remember that in Salmon Health and Retirement they will receive the best care services with the most beautiful locations, contact them if you like.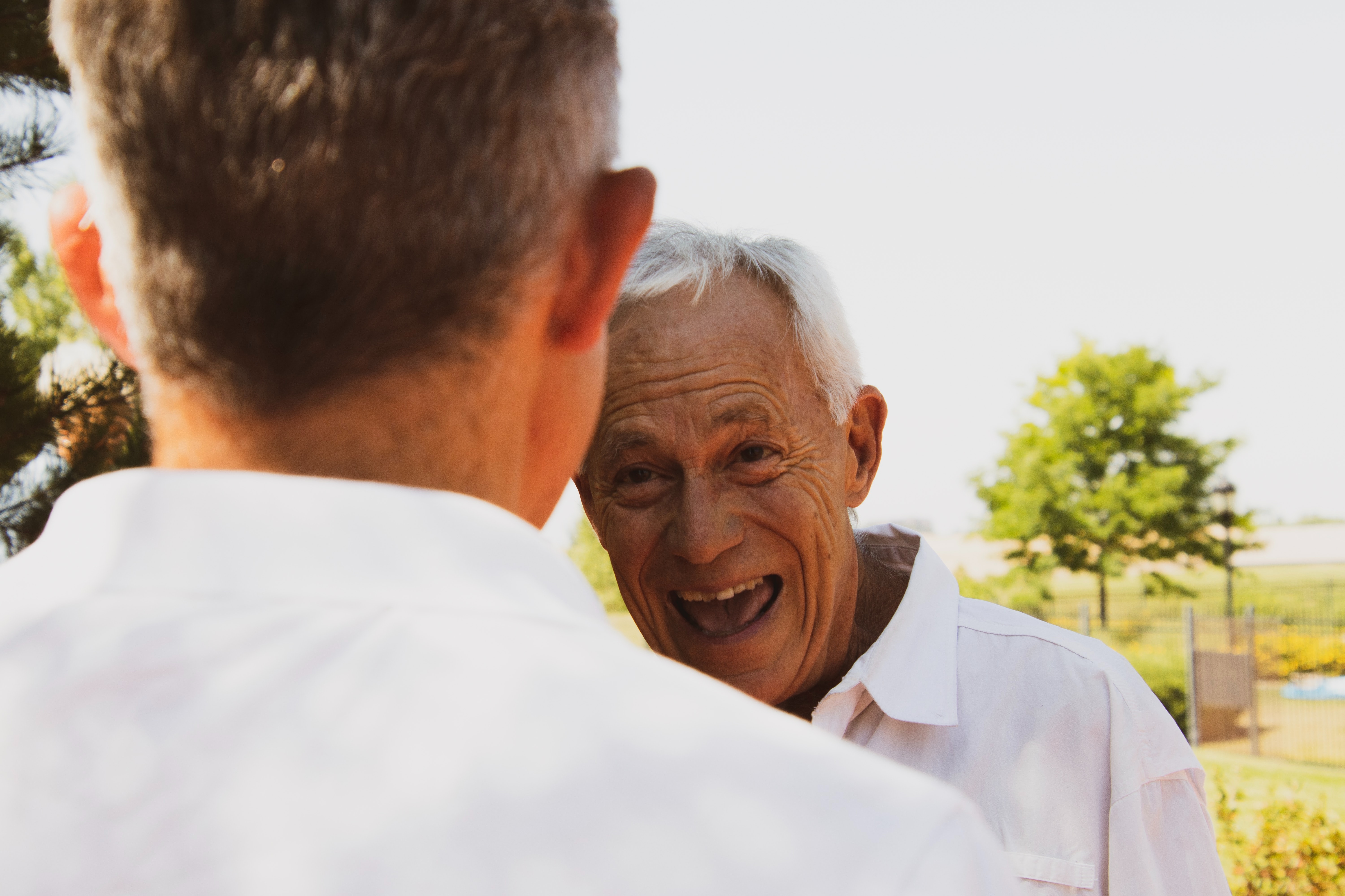 Source: Unsplash.
Final Thoughts
Retirement homes are places that can offer a peaceful and entertaining life for the elderly in the house, after years of standing up and having overcome all the obstacles in life, the best thing they can do is enjoy the time they have left. on earth.
Retirement homes are the right place for this, and digital marketing is compatible with this type of business.
Now, we should not abandon the traditional media, since even today the elderly enjoy watching TV or reading their newspapers, so it is still a valid channel to advertise our business.
By combining the current means with the old ones, you will be able to get guests who seek your services to have a dignified lifestyle for those of their age.
In the meantime, keep taking care of your adults and have a great time.
See you for another article!
Here is a complete guide on the latest revolution - Voice Search Optimization
CodeDesign is a leading:
- Amazon marketing agency, and
Feel free to contact us to see an unprecedented growth of your business.
---