5 Performance tips to get new clients into Luxury Real Estate websites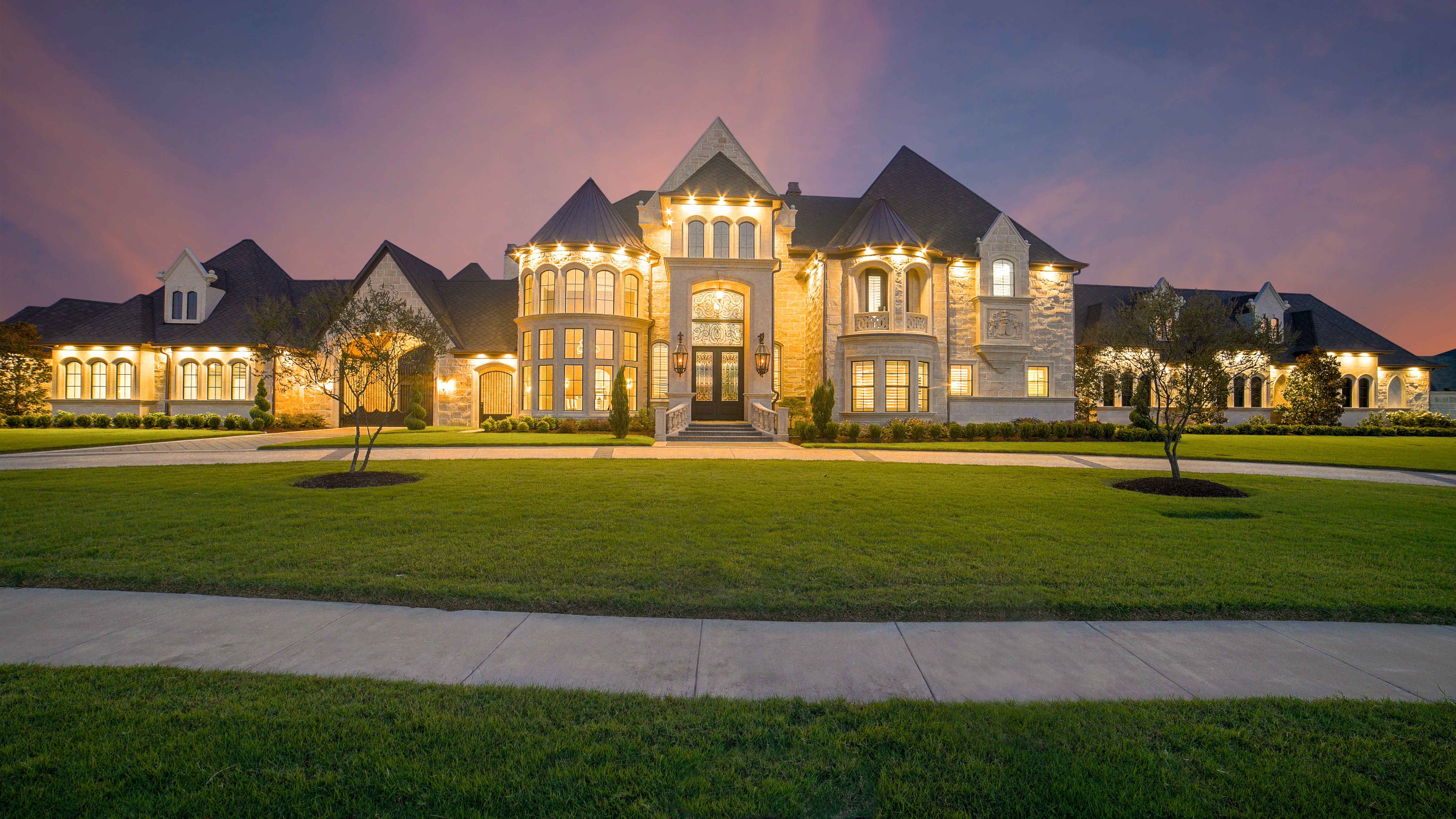 Source: Unsplash.
We have all seen those "The Cribs" shows where celebrities give us a tour of their luxurious properties. Our eyes light up when we see these beautiful houses that come equipped with endless amenities such as swimming pools, marble kitchens, terraces with ocean views, among others. 
They are the places where everybody wants to live!
The world of luxury real estate is extremely profitable for those who work in it, however if you do not manage your online strategy well or even more importantly, your web traffic, you will not get clients who want to live in your luxury properties.
In this article we will give you 5 performance tips that will help you bring more visits to your website, and in this way, get more owners to your luxurious properties.
Let's start this tour!
Make your website easy to understand and eye-catching
It would help if you looked at your website like the houses you sell. 
Once people enter your digital property, they get shocked at how beautiful and fancy things look and how easy it is to move all-around "the house" to see all their areas and features. 
Your website has to be accessible, easy to use and make customers feel welcome in it.
When online home buyers visit your website, the navigation must be intuitive, which helps them have a better user experience. The web page must be clean and uncluttered with easy-to-find navigation buttons - in most cases, the best part to place these buttons is on the top. As users start to scroll down, you should display the sections of your web page like your portfolio and more information on your real estate brand. 
Remember to put a call to action to every section of your website. As a real-estate website, you must also follow the real-estate SEO practices.
For a better illustration, let's take a look at the websites of our Luxury Real Estate clients. Also, focus on the digital marketing funnel.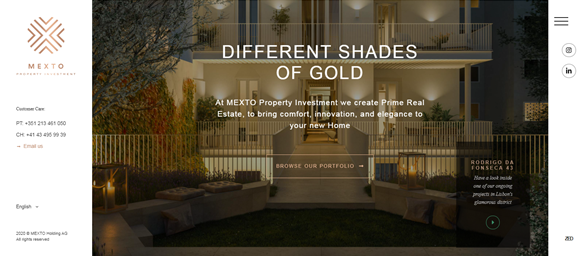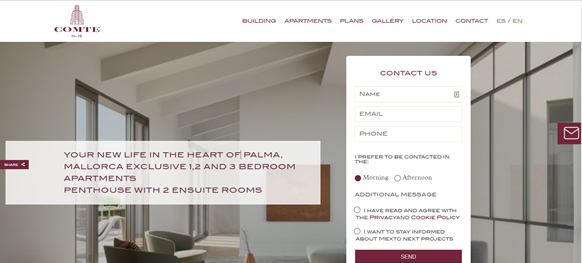 Other features you could add to your Webdesign are:
High definition photos of the housing market you specialize in:
This is good for realtors. When you show images of your houses, it gives more beauty to your website, breaking the big paragraphs to give home buyers a visual rest - make sure it is beautiful visual rest, it means, show the best places of your properties.
Give your website a plus: 
The idea to make your website look cool is not only for visual pleasure but also for converting your visitors into house owners. 
So let us illustrate you with this example. 
Have you ever gone to a luxury house where everything is beautiful, and hosts receive you with a dish or maybe a warm and sweet coffee? 
Well, if you want to convert those hot leads into new customers, you should offer them a plus, a little free reward for their visit. A great idea is to offer them a free real estate consultation or access to exclusive home buying or selling guides. 
When possible buyers realize that you know what you are talking about, and your properties have that  "je ne sais quoi" they want from their new luxury house, those hot leads will cook slowly into new conversions, and properties will be sold in no time. 
Source: YouTube.
 The show, don´t tell.
Luxury is about showing, not about bragging about it.
An image is worth more than 1000 words. For this reason, you should show your clients what you have to offer. If you show the best looks of your property, there is not much to say. Homebuyers will get in love at first sight with your luxury real estate products and won't doubt any second to contact you for buying their new home.
Internet is visual, and your best pall to achieve great goals on the internet may be a good photographer or a designer. 
Your photos look gorgeous, but videos may have a competitive advantage because they offer visitors a more immersive experience. 
Now, talking about an immersive experience, you should use an amazing tool to make your clients feel like they are in their new home, and we talk literally inside their new home.
Virtual and augmented reality are taking big steps for every industry, not just video games but also real estate and luxury hotels. With the help of this technology, you can immerse your clients into their new homes and give them a virtual visit to their new homes. All of this can be displayed on your website. With the help of a 360 camera, photographers can scam your properties and letting users have a virtual tour through their new homes.
Source: YouTube.
Go Mobile
Most homebuyers tend to look for real estate sites on their smartphones or tablets, so you lose many customers if your website is not displayable for this type of device. Let us emphasize the term HUGE.
A joint study from the National Association of REALTORS® and Google found that:
A whopping 89 percent of new home shoppers use a mobile device to search during the home buying process.
Mobile applications are used by 68 percent of new home shoppers at the onset of their search and throughout their research.
Homebuyers are busy people, so usually, but, in their free time, while they are waiting in line, at restaurants or in others people´s homes, they use their smartphone devices to visit real estate homes. In there, they can contact a broker, compare features and prices, check out neighbourhood information, read reviews and watch your digital tours.
Google has noticed this, so its algorithm takes mobile-friendly capability as a huge factor for ranking. So, if you want to be at the top of Google´s search, you must go mobile now.
Source: YouTube.
Use SEO to put your Real Estate website on the top of Google´s search
SEO is an organic way to bring more traffic to your website. It really works, but takes a lot of dedication.
90% of users who buy real estate carry out their searches online. They only search among the first 3 results, going very far, they can reach the 4th option if others do not please their luxurious tastes.
If you want Google to place your website among the first options, you have to attend to the most common search attempts, and you do this by talking about the keywords that are trending according to your area.
If we are located in Lisbon, Portugal, your website should cover topics such as:
Lisbon real estate
Lisbon homes for sale
Lisbon real estate listings
Lisbon Realtor
Lisbon real estate agent
Now, Lisbon is too extensive a piece of land to cover it all completely. If your properties are located in a single neighbourhood of the city, you will have better results targeting your efforts at that place alone. You must have a right content strategy as part of improving the visibility of your real estate website. An SEO agency could help in real-estate SEO.
What you should do is sectorize your keyword search and place the areas where you have your properties, such as the most luxurious neighbourhoods in the state, such as The Baixo or Chiado.
When you target the right market, there are more chances to generate quality leads, and when you answer or talk about their most asked questions, it gives prestige and authority to your website. Search engines will reward you by putting your digital platform in the first option as you become more popular.
Here is a list of the most searches keywords according to Wordstream: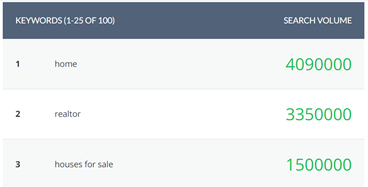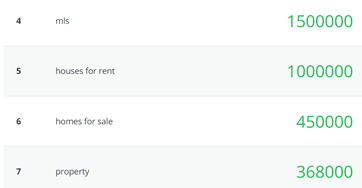 Source: Wordstream.
Use your keywords and trend terms to write blogs.
Once you know your audience's topics, it is time to start writing about them.
The keywords or the key trends of the moment are topics in which your clients are looking for answers, and through an article, you can shed light on their doubts to keep them informed about them.
This helps you for a myriad of purposes such as:
Increase your traffic on the web
Increase your credibility.
Be a reference in the world of real estate.
Have valuable content that you can take to social networks.
The idea is to hire a writer who knows about your niche, so he will have exact data on the daily events of your industry and provide valuable information for your potential leads.
You can even send your blog updates via email newsletter to stay in contact with your users.
Source: YouTube.
Investing in Real Estate in Portugal 2021
Although we have been going through a global crisis, Portugal has become an attractive destination for real estate investment, being one of the most attractive countries in the world for international buyers.
According to a Tagus Property Article, in 2020, more than half of real estate transactions in Portugal were made by foreigners. French and British were huge buyers, but Brazilians have become the main investors.
Due to its quality of life, attractive cost of living, increasing cosmopolitan and social security, this country has become a super attractive place to live or spend some vacations in luxury real estate. 
For new luxury goods, the price is 10,500 euros/m2 in some areas of Lisbon, and this shows that prices in Portugal remain at an acceptable price level compared to other European capitals.
With COVID´s pandemic, this trend is slowing down. The measures imposed by international governments have caused less demand in the real estate market, something logical since people can move around or travel to buy property.
According to Tagus Property, it is expected to have a slight price decrease for this year. In the case of luxury properties, it won't be so dramatic.
Wrapping up this article, if you are interested in getting luxury properties in Portugal, do not hesitate to visit the website of one of our successful clients, Mexto Property Investment, who are in charge of remodelling and selling properties as if each of them were a work. Of art.
Going to another more Caribbean place, you can get a property located in Spain´s Palma de Mallorca. Please take a tour of the website of our clients Comte No. 16 to find beautiful properties in this tourist place.
Until another article, see you!
Here is a complete guide on the latest revolution - Voice Search Optimization
CodeDesign is a leading:
- Amazon marketing agency, and
Feel free to contact us to see an unprecedented growth of your business.
---