10 Best Chrome Plugins for Marketers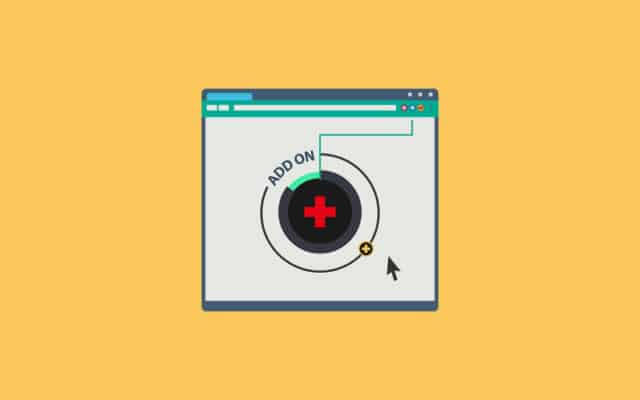 Google Chrome is the most popular web browser with approximately 67% of the global desktop browser market share. The world has experienced a digital revolution, and around half of the world's population uses the internet daily. The browsers come in handy as they serve as the platform to browse online.
Google Chrome has many extensions that digital marketers could use worldwide to assist in analytics or other marketing-related works. The chrome extensions have the caliber to support sales, marketing, quality assurance, data processing, social media, business management, and more.
It would be time-consuming and unsmart to try and find the best extensions from an ocean of chrome extensions. Thus, we have got you ten must-have chrome extensions that would come in handy for digital marketing. Also, it is advised to do a competitive analysis to remain a step ahead of the competition.
To improve the customer journey, you could opt for these Top CRM tools to automate customer engagement.
1. Buzzstream Buzzmaker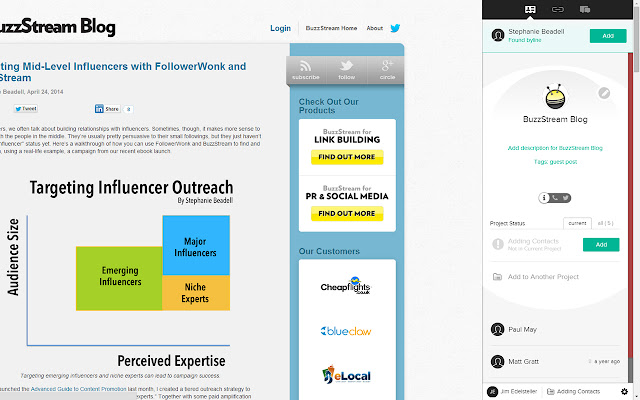 Outreaching the webmasters for link building, guest blogging, or connecting with the right audience is an important aspect of digital marketing. Digital Marketers tend to connect with the blogger community to get backlinks, reviews or get the products exposed to a wide association that may like your product.
Buzzstream Buzzmaker crawls a website that you are visiting and brings out the person's contact details associated with the website. You are also given the facility to add these contact details directly into the Buzzstream database. It reduces the workload of finding or guessing the email addresses of the person. 
You can also send mails to the contacts on your database in bulk. It is super convenient and a must-have extension. You could also view your team's history and relationship with influencers easily. You could also find and qualify placement opportunities from the list you have and prospecting tools with the List Highlighter & Navigator.
2. Grammarly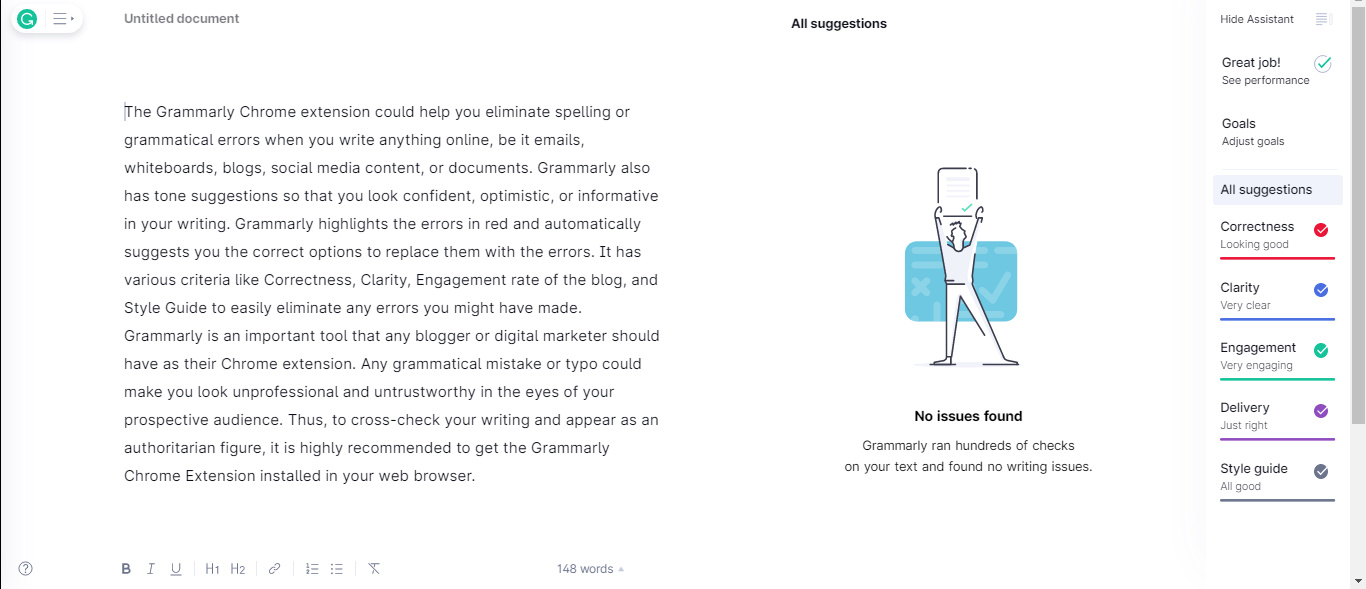 The Grammarly Chrome extension could help you eliminate spelling or grammatical errors when you write anything online, be it emails, whiteboards, blogs, social media content, or documents. Grammarly also has tone suggestions so that you look confident, optimistic, or informative in your writing. Grammarly highlights the errors in red and automatically suggests you the correct options to replace them with the errors. It has various criteria like Correctness, Clarity, Engagement rate of the blog, and Style Guide to easily eliminate any errors you might have made.
Grammarly is an important tool that any blogger or digital marketer should have as their Chrome extension. Any grammatical mistake or typo could make you look unprofessional and untrustworthy in the eyes of your prospective audience. Thus, to cross-check your writing and appear as an authoritarian figure, it is highly recommended to get the Grammarly Chrome Extension installed in your web browser.


3. MozBar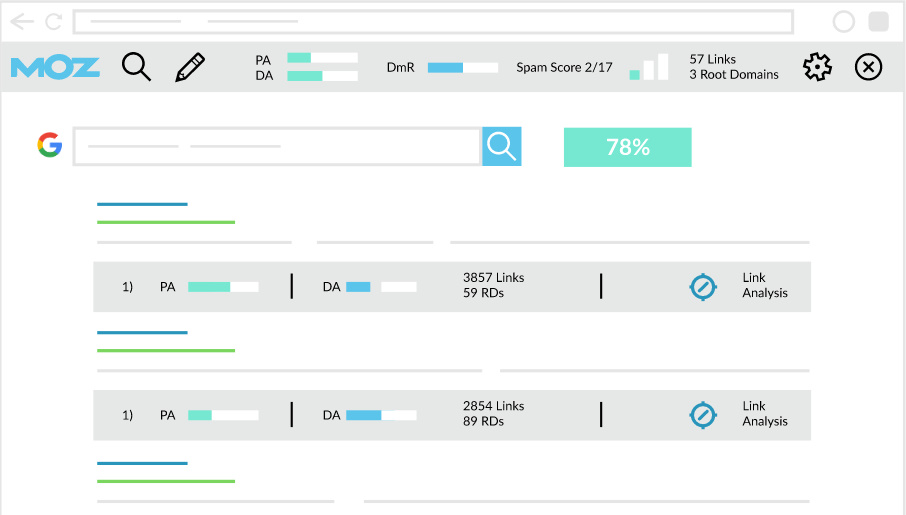 MozBar is a chrome extension by the SEO leader Moz. It allows you to have access to metrics of any page or SERP. You can view the link metrics of any page by simply going to that page. You also get to have pieces of information like Domain Authority, Page Authority, number of backlinks, and see which links are do-follow or no-follow. It could help you get custom results based on the different search engines, countries, regions, or cities.
The domain authority is not one of the factors that Google considers while ranking a page. But, it could give you an insight on how well a page is performing the SEO based on their page authority and domain authority. You get an idea of the title, meta description, schema markup, and other link attributes of a specific page. These all metrics could help you have better competitive analysis and assist you in making strategies to outrank your competition, rank higher and get organic traffic to your website. 
You should also be checking on your competitors' strategies.
4. Office Editing for Docs, Sheets & Slides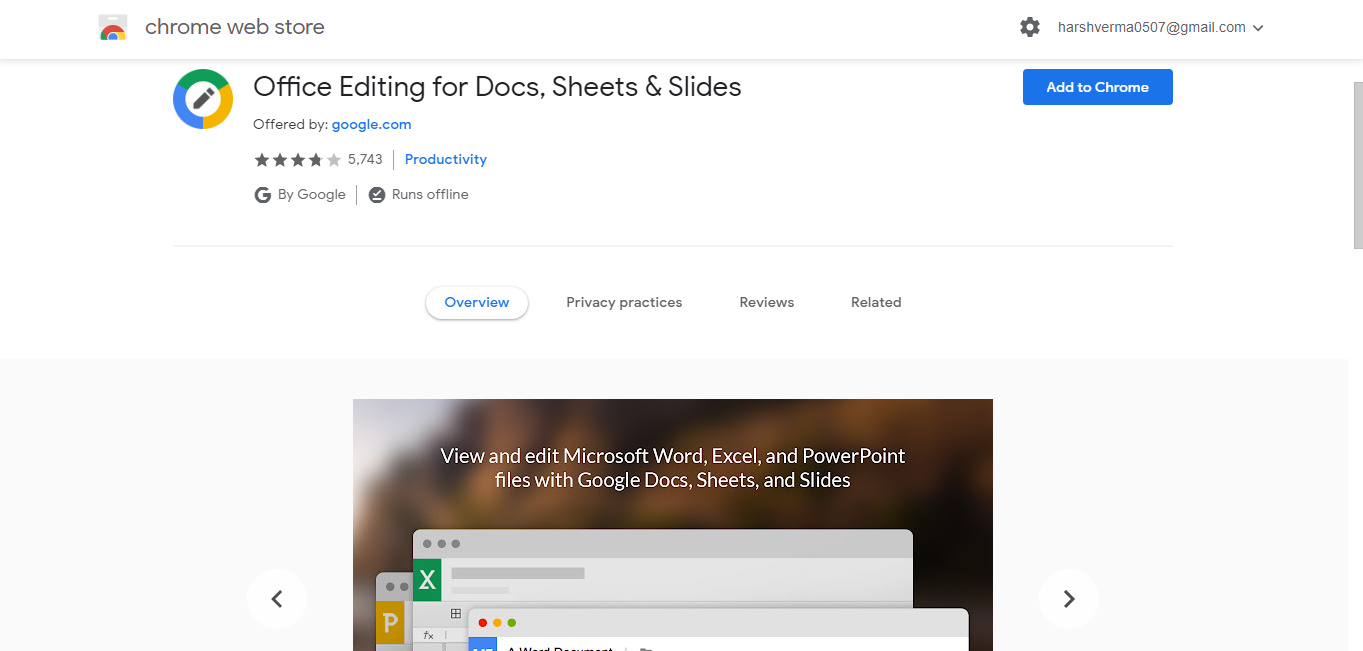 The office editing chrome extension could be very useful to view and edit Microsoft Word, Microsoft Excel, and Microsoft Powerpoint without having Microsoft Office installed. It is very serviceable for digital marketers who use Google Docs, Sheets, and Slides for their daily activities.
You also have the privilege to either save each file back to its office format or convert it to Google Docs, Sheets, or Slides. This control gives a chance to use the files in the preferred software.
The formats that are supported on Office Editing are:
.xls
.xlsx
.ppt
.pptx
.doc
.docx
You can easily install Office Editing on your browser and then drag the office files easily into Chrome and open it with the aid of Sheets, Slides, or Docs to view, edit or change the file
5. Keywords Everywhere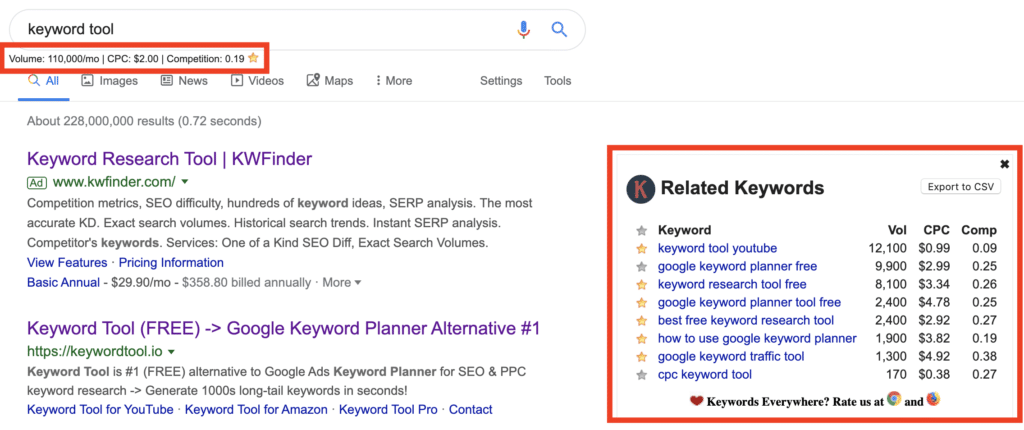 Keywords Everywhere is a useful extension for the SEO team to have a deeper insight into the keyword suggestion, search volume, cost-per-click, and competition metrics on 15+ websites like Google, Amazon, YouTube, Bing, etc.
As an SEO specialist, you get the data on the different keyword forms, like the long-tail keyword form of the searched keyword and the "people also search" section. In terms of competitive analysis, you get to know about the keywords for which any webpage or domain is ranking. The estimated organic traffic could help you separate the keywords you need to strategize to maximize the organic traffic flow.
You could also get the metrics like the top five thousand pages of any website that ranks on Google.
As a video marketer, you could get access to see the Search Insights widget, SERP Metrics, Video Insights, as well as the Tags widget.
6. Buffer
As a digital marketer, it is crucial to promote content on various social media channels to get the most results. You have to constantly communicate with your audience on all the channels possible to leave a long-lasting impact on their minds. With digitalization, it has become vital that you keep in touch with your audience, before and after-sales, to increase sales and reduce the churn rate.
Buffer could assist you in content promotion and tracking of the social media posts. This chrome extension integrates with other social media platforms like Twitter, Facebook, and LinkedIn. With the help of Buffer, you could schedule content posts and share infographics or other details just with a simple click. It could be a great add-on to your chrome extension list to schedule the posts on different social media channels without any hassle. You can also use the Facebook marketplace for localized sales.
7. Hubspot sales
Hubspot Sales is no doubt the best chrome extension for Email tracking and Sales Insights. It is the inbox tool that any digital professional would need to start an inbound sales process. You could use Hubspot Sales with any of the mailing services like Gmail, Outlook, or Salesforce accounts to track who opens the email, click tracking, and schedule the email for the future. You also have analytics like the recipients' contact details, social profiles, and recent tweets.
This chrome extension is recommended to anyone who wants to improve their email productivity, close deals, and coordinate teams. Hubspot sales have various sets of tools that could optimize the sales process and help in selling. Did you know machine learning in digital marketing is the new trend?
8. SEOquake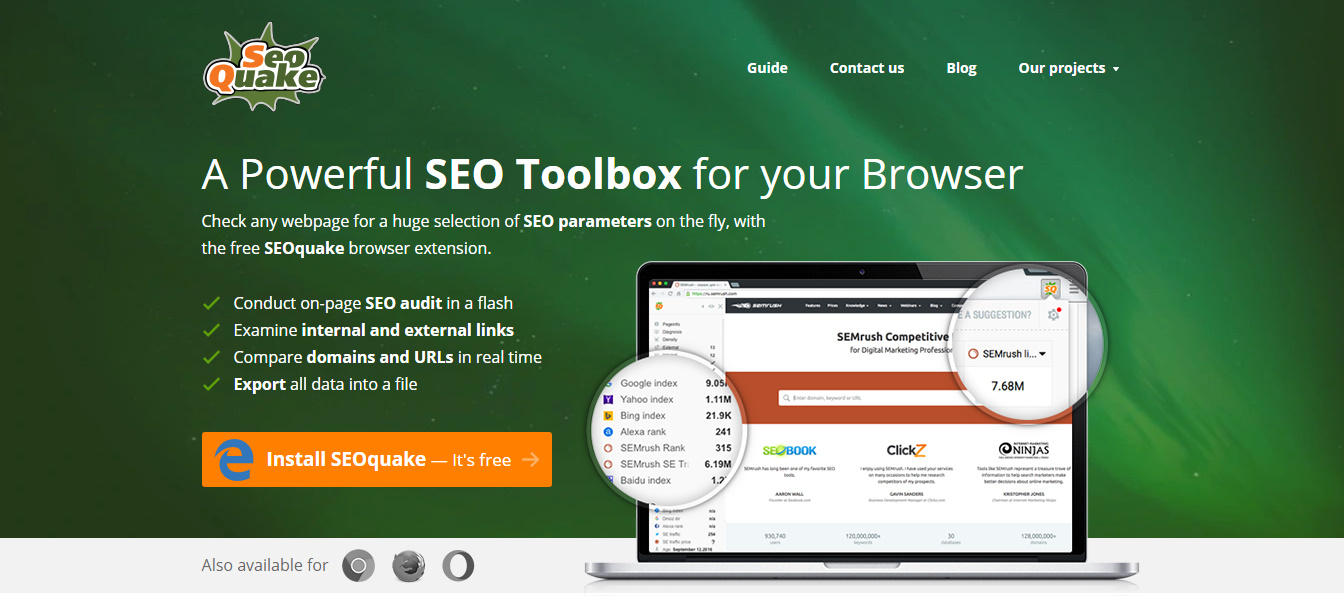 SEOquake is a free plugin that supports browsers like Google Chrome, Mozilla Firefox, and Opera. SEOquake presents you the analytics like the organic search data of the listings on a search results page. For the SEO specialist of your team, this tool can generate an SEO audit report, link analysis(both internal and external), keyword density report, and social metrics.
You have the authority to activate this plugin anytime and see the SEO implementation reports of the website. SEOquake has much information to uncover, and it could turn out to be an important tool in planning your digital marketing strategy.
9. Sniply

Sniply is a simplistic tool that assists you in shortening the links and gives you the authority to add a call-to-action to every shortened link you share. Sniply also gives you the chance to streamline all your social media channels so that your followers could take a specified action.
If you add values to your followers by curating valuable content from third parties, you can communicate with your audience more frequently with lesser effort. You have to look for interesting content on the internet, shorten the link, personalize it with a personal message for the users to complete the activity as specified by you.
10. Momentum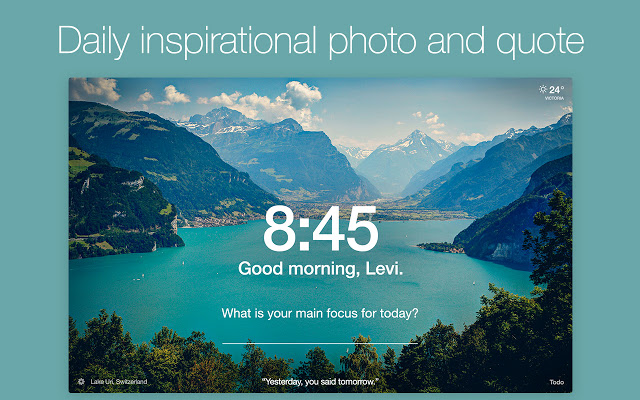 Social media marketers have to handle multiple projects, clients, and activities at a time. They have tremendous demand to optimize various channels, improve the sales funnel and get more leads with time. In the quest for professionalism, we undervalue how important it is to motivate ourselves and have a positive mindset to bring the best out of ourselves.
Momentum is a chrome extension that shows something beautiful and soothing whenever you open a new tab.
Momentum could show you an inspiring quote, a beautiful land, or a personalized dashboard that features the to-do list. It could be a great way to start the day. Let us understand that every great decision could be taken with a positive mindset.
Conclusion
The Google Chrome Extensions are great tools for professionals and digital marketers to carry out their digital strategies efficiently. You could also check these local SEO services to boost your online presence. Multiple extensions could come in handy, but the tools mentioned above are the most popular ones and are a must for any digital marketer.
The Google Extensions could surprise you with the ease they could bring to you. You should analyze and finalize the tools that could help you be more productive.
Here are 10 tips for you to excel in digital marketing.
CodeDesign is a leading:
- Amazon marketing agency, and
Feel free to contact us to see an unprecedented growth of your business.
---