Account-based marketing: The ultimate guide in 2022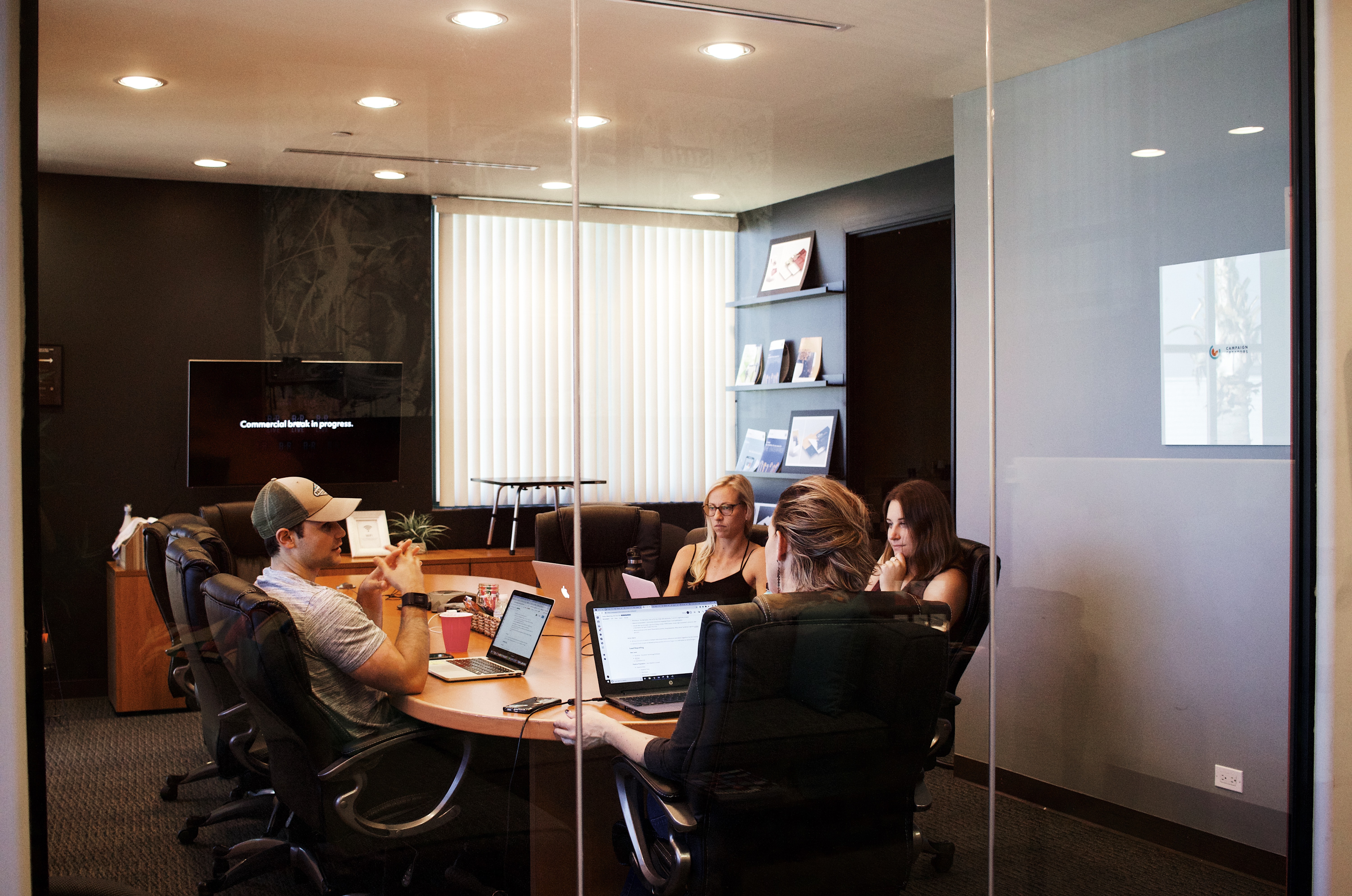 Source: Unsplash.
Ever wondered how to handle a company with too many employees and too many clients? Yes, in most cases this is the view of success many business owners imagine, but when you arrive at this point you need a better strategy to handle it all in a smooth and efficient way.
That is when Account-Based Marketing, a B2B marketing approach comes into your life to help you sell your products and services in both B2B and B2C companies.
In a marketing survey from Marketo, 97% of marketers affirm that ABM strategies report a higher Return on Investment for their companies, which is more than other strategies do.
With this type of strategy, you can reduce your sales efforts by only targeting the high-value customers and companies that need your service with personalized campaigns that aim to their specific needs, helping you close more deals, boost your revenue, and generate a higher return in your marketing investment.
If this hook keeps your eyes closer to the screen, keep reading because in CodeDesign we will show you a complete guide on how you can use Account-Based Marketing for your business.
Scroll down and keep reading!
What is ABM marketing?
We may have your attention, but now is time to answer the basis, so... What is ABM marketing?
Usually, when you deal with an extend team, it can be difficult to put on the same page the marketing and sales team, but this is what ABM tries to do with its B2B market strategy. 
When you manage many clients at the same time, it is not good for your company to put all of them in the same box and offer the same campaigns. Instead, the right choice is to personalize each of these account based so you can fill their needs in a more efficient way.
In 2004 ITSMA created the concept of what ABM was going to be. 
Their idea was that businesses stop delivering the same sales speech to all of their potential customers and instead create a personal campaign and message for all of them. 
By ITSMA's definition, ABM is:
"Treating individual accounts as markets in their own right."
To define it more precisely, we can say that when we use an ABM strategy what we try is to get the most out of the clients we already have, and we are not trying to waste time and resources on customers that don't need or can't pay for our services.
Source: YouTube.
When you should consider using ABM for your company?
Now that we can define ABM. Let's continue with who can make the most of it. At first, ABM was considered mainly for the B2B enterprise-level companies. However, the technology and capabilities developed in the past few years changed the game and has made it more accessible.
If you want to know whether an account is a good fit to implement an ABM strategy, you should look for two deciding factors:
A Customer Lifetime Value (CLTV) of larger than $10k and up to millions of dollars
Organisations with complex sales environments where multiple decision-makers and influencers need to be on board to get the contract signed.
Usually, ABM is beneficial when your company is facing the following challenges:
Not enough highly qualified leads or too many leads from small companies that are not a good fit for the solution you are offering
The marketing and the sales team have trouble collaborating.
Your organisation usually has long sales cycles
Difficulty to show a return of investment (ROI) from your marketing campaigns
An ABM strategy can help with all of the above.
How can your company benefit from ABM?
Now let's find out how ABM can benefit your company.
It helps reduce friction between the marketing and sales team
When your team focus on the important accounts and decision-makers, your sales cycle gets shorter and make your organization more efficiently. This means that your team only focus on high value accounts that are more likely to become your new customer, rather than trying to engage with prospects that aren't your company's type.
Puts your marketing and sales on the same track
A Forrester Research informs that companies that align their marketing and sales team experience an average of 32% annual revenue growth.  This is because when both teams start to focus on the same target clients, they don't complain about having to track unqualified leads.
Instead, all of them are targeting and working the same accounts and don't lose focus on individual leads.
Increases your contract size
According to research done by "The ABM Leadership Alliance", companies that invest in this strategy experience an increase of 171% in average contract size. This is because businesses focus more on the right clients and don't waste resources on the ones that aren't a good fit.
Helps you identify what goals and metrics you should track
With ABM you can analyze how effective your campaigns are by measuring a smaller set of target accounts. This gives you more detailed data and helps you deliver the correct insights for your customers.
Gets you a higher close rate
When your team is aligned in the same accounts, they increase the engagement with them, resulting in an increase in the number of closed opportunities.
It's easier to calculate revenue
When you are a B2B business it's harder to show your clients how your marketing is contributing to their pipeline and revenue. But this doesn't happen when you use an ABM marketing strategy, because you focus more on specific data instead of traditional metrics like lead generation.
When you know what accounts you are evaluating, you can check directly if they have reached their goals and calculate their ROI for the campaigns.
Helps you save your budget resources for the right tasks
Account-Based Marketing strategies focus on investing in the correct customers, businesses that have the characteristics to make our company grow. So, when your team puts their effort in the right place, you don't waste any potential in worthless activities.
Generates more engagement
Since your campaigns are personalized for each account, they engage more with it because it is adapted to their personal needs.
Source: YouTube.
Best practices for ABM in B2B marketing
Now that we looked at the benefits of an ABM strategy for your company, let's what are its best practices for business-to-business marketing.
Lead Tracking
By gathering all data from accounts, you can evaluate it to make all of these processes more personal for each customer so you can meet their needs in every marketing aspect.
Interconnect your marketing process with technology
With the help of a CRM dashboard your marketing and sales team can have a centralized platform where they can keep track of all customer interactions, which helps them create a consistent quality branding between channels and teams.
Nevertheless, technology is more of an addition to your ABM strategy than the final solution. To get great results with your campaigns there must be quality content and a well-studied plan with each specific client.
Target a specific person
We have said that ABM can help you target the complete account for a business, nevertheless, as we explain in a human to human marketing article, the best type of marketing is made person to person. So, when you are trying to reach a new account the best option is to contact the one in charge, and that is the decision-maker within the business.
Build stronger relationships with customers
The ABM allows you to create personalized campaigns for each of your clients, however, the key to a strong relationship between brands is not only between fulfilling demands and receiving payment, you must also build strong links.
To do this ABM develops more stable alliances with specific interactions, content, and events to share. 
Once you close a deal with a business, the idea is to provide the same experience with all your interactions, this is a huge part of your business' branding. 
When you care about retention, the chances of upselling, cross-selling, and subscription renewals from your customers grow
Source: YouTube.
How to start your ABM strategy?
1. Define your Ideal Customer Profile (ICP)
Just like your target audience, with ABM the first thing you have to do is to define your Ideal Customer Profile.
For this task, it is important to do a qualitative and quantitative study on the type of companies you want to meet. To define your IPC you can look for characteristics like:
Size of the company
The vertical industry they operate in
Geographic footprint
It is also useful to investigate what kind of technology they are using, because this helps you understand how your company can help them with your existing tools.
2. Define buying centers & personas.
Now that you found your ideal customer profile, the next step is to find who you will talk to within these businesses.
Now, depending on each case you might have to communicate with different departments, in this case you hate to identify the buying center, for example, the IT or marketing departments.
After this, you have to identify who are the key stakeholders and get information on their goals, motivations and pain points to start defining personas.
3. Create a target account list
When you gather the basic information about the companies you want to reach, now its time to write them on a list and start to dig deeper in some aspects that will help you further.
When studying your target accounts find information about:
Their corporate culture
Investments
The companies they are networking with
How decisions are made within the company
Interests of the decision makers.
4. Tier the accounts you have selected
Now that you have your account lists and their information researched, you can tier them into different lists.
We will talk about this more deeply in a next section, but basically, with ABM you can qualificate all your prospects depending on the size of opportunity and likelihood of success. These tiers are:
    Strategic ABM tier: one-to-one
    Scale ABM tier: one-to-few
    Programmatic ABM tier: one-to-many
5: Figure out how you'll communicate with them
You already have enough information about all your accounts and you have organized them in the tiers, it is time to send personalized messages to each one of them.
With all your study you will know how to communicate with them, and best of all, how to touch their pain points in your speech so that they engage with your proposal.
6: Choose the right channels to reach them
With your message and speech created for each of the accounts, it is time to investigate which are the platforms or media that most use these to be able to communicate with them. Some of the most used in ABM are:
Email marketing
Social media ADs
Social media
Sales outreach
Targeted IP 
Content syndication
Tradeshows, events and virtual events
7. Create an ABM play
An ABM play is a series of activities that are planed to reach and engage your target accounts. 
The idea is to design a plan that specifies the sequence of actions that will be done when reaching a decision maker to close this target account. Your play should be multi-touch and multi-channel.
8. Execute and measure
You start your ABM plan!
Awesome!
Now there are a few questions you can answer to measure the effectiveness of your campaign, so take time to answer them:
Are you expanding the amount of accounts you interact with?
Have you seen any obstacle in your ABM plan? How can you fix it?
Are your KPIs aligned with company revenue?
9. Try once again and go better next time!
After you have done your firs ABM strategy there will be a lot of things you'll learn to do it better next time.
As you measure your future results learn from what was right and you can improve and take your campaigns to the next level.
Source: YouTube.
Types of ABM
Going back to the tiers of ABM, in this section we'll explain to you how each of them can suit you for each type of account.
When you are writing down the list of target accounts, you will see that some of them have more compatibility with your company. 
So, why do you need to tier all of these in different tiers? Because, rather than spending tons of resources on many accounts that couldn't respond, you just save it for the right ones.
Depending on the level of personalization you want, ABM divides into three different tiers, and as you start to use both programmatic and strategic ABM you will see progress in areas like:
Increase ROI on each account
Increase involvement from marketing and sales team
Increase the level of personalisation for each account
So, let's study each tear more deeply:
Strategic ABM Tier: one-to-one
This is the ABM strategy used for top accounts because is the most personalized type of campaign.
What you want to do is to focus your team on building stronger relationships with the most notorious stakeholders in your target accounts. To do this, you have to show that you understand in detail the customer's goals and create your strategy and messaging around these aspects.
This tier is used for target account expansion and tends to be used when your chances of winning a deal are high.
Scale ABM tier: one-to-few
When using this tier, treatment is not as personal, instead, you are trying to create a program that can take a bunch of accounts that are similar in their business attributes and opportunities.
You are not aiming all your efforts in just one, instead, try some luck with a selected group of accounts.
This program is designed to customize each campaign lightly, focusing more on the similar issues that all of these accounts face.
Programmatic ABM tier: one-to-many
This tier is more relied on technology - as you may guess from its name - and tries to send the message to many accounts that are within the same niche. The idea is to find the balance between programmatic and customization, so as customers start to get closer and respond more your team puts the spotlight on them and starts moving them to the tiers above.
A successful ABM strategy tends to blend two or all three of these tiers.
Source: YouTube.
ABM mistakes you should avoid
Thinking of it as something only for the marketing department
As we have said repeatedly, an ABM strategy is not the task of a single team but the mix of marketing and sales to achieve personalized and higher-quality campaigns.
That is why when implementing this type of strategy, both teams must speak the same language and be aware of all the news that occurs with the accounts.
Seeing it as a campaign
We have also emphasized - subliminally - that ABM is not a type of campaign, but a strategy.
But what is the difference you may ask?
Well, a campaign can run for 3 months and generate results, while a strategy is more like a work style that will be well implemented.
You can't run a three-month ABM campaign, that won't work. The idea is to adopt an ABM work style that generates more personalized campaigns for each of your clients.
Conclusion
Managing several accounts at the same time is a sign of success for our campaign, it means that we know how to deal with our clients and that above all our services are the right ones for them.
However, we must understand that if we do not give customization to each of your campaigns, we will seem like a company that only offers a template for its audience and that does not have the capacity to adapt to the different demands that each of them may have.
Giving a personalized treatment to each client is what gives us the quality of a company that cares about its clients and has the right team to meet each of their demands.
And it is in the team part where we would like to emphasize that in order to have a good ABM strategy, your sales and marketing team must shake hands and generate a powerful alliance that makes them work towards a more detailed campaign for each one of them. the clients.
ABM strategies teach you not to waste your time with companies that do not match yours or that do not have the resources to pay for you, focusing more on the quality of the leads than on their quantity.
You should know that changing to this type of strategy is not a transformation from day to night, but it is best to test it progressively until everyone adapts to it.
If you are looking for a digital marketing agency to help you with strategies of this style, contact us at CodeDesign and let's take your online business to the next level.
Until a new article, see you!
---