What is Programmatic Advertising?

Programmatic Advertising is the process of automatically buying and selling advertisement space with the help of technology in real-time. The entire method where the advertisers had to manually bid, order, set up the ads, and report the analytics is streamlined and automated with the help of technology.
The programmatic platforms have set up their inventory and database of publishers who have their websites with ad spaces. When an advertiser wishes to launch a digital marketing campaign, these platforms use Demand Side Platform(DSP) to automate ad-buying. The DSP fastens the process as it automates the decision-making process on bidding for an ad in real-time.
Why is programmatic advertising a good choice?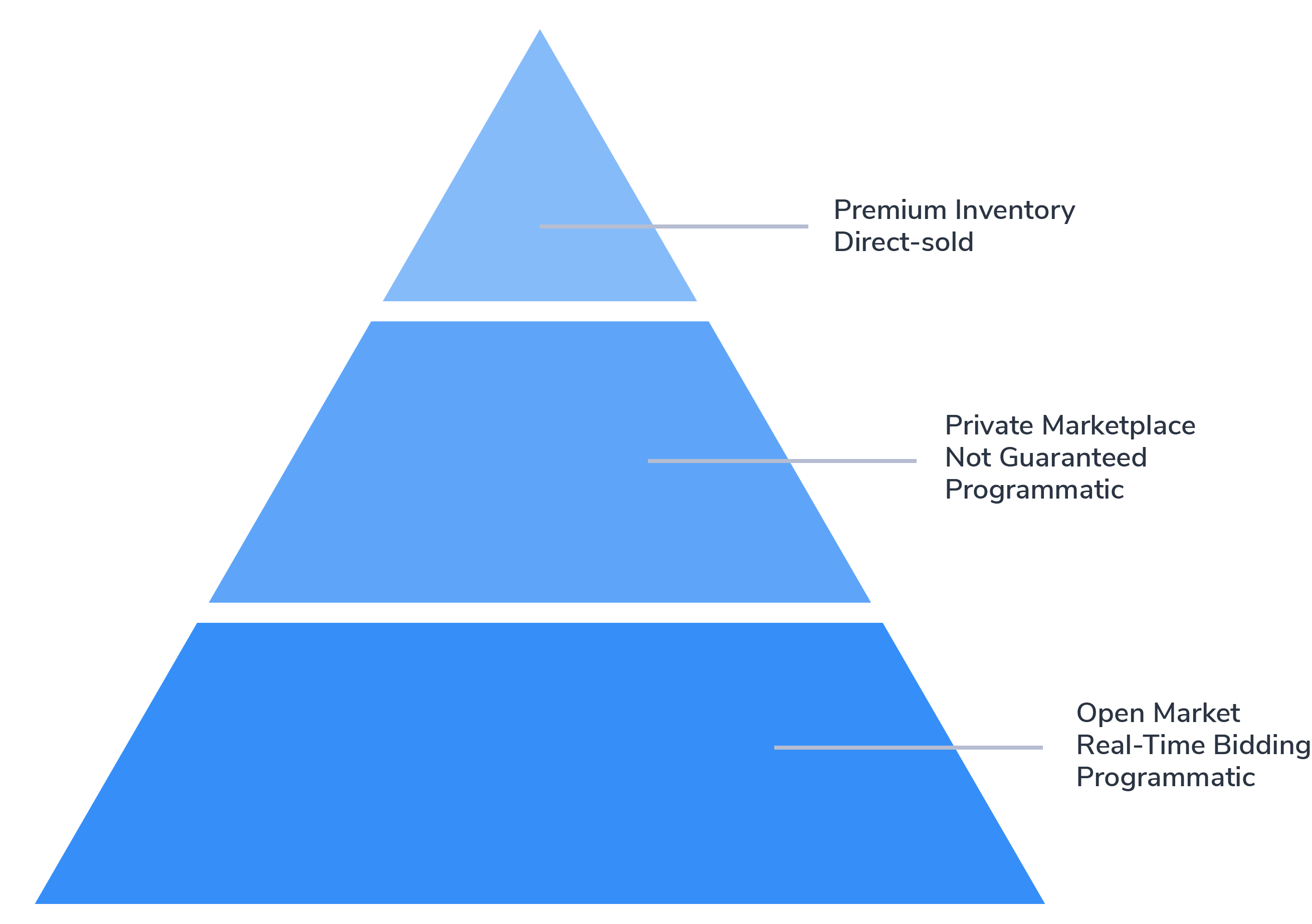 In 2020, 85% of display advertising in the US used programmatic technology, suggesting that marketers welcome this faster process. Earlier, the publishers had to maintain their ad space manually and negotiate with advertisers manually, which meant a slow and inefficient process.
Now, with the help of DSP(Demand-Side Platform), the process of bidding across different networks is automated. This automation saves a lot of time for marketers as they no longer have to approach the webmasters for ad space manually. This flexibility provides a chance for marketers to run campaigns quickly and efficiently.
The Demand-Side Platform has an extensive database of ad-inventory. Thus, the advertisers(marketers) or other ad agencies get to choose their preferred websites. Also, there is an advantage of targeted marketing as well. The Demand-Side Platform uses a data-management platform(also known as DMP) to ensure that the ads are aimed at the right audience. The DMP considers many factors like location, user behavior, online activity, location, and others to allow advertisers to make the most out of their campaigns.
Here are the reasons why Programmatic Advertising should be a part of your plan:
Scale the online presence to a more extensive audience base: Programmatic advertising allows you to bid on ad space from various options available. This feature could help you target ads at any location or demography. Now, you get to have a better reach to come quickly in the views of your targeted audience base globally.
The entire process is more efficient than before: Advertisers don't have to outreach other web admins for ad space. Also, the efficient system allows you to make changes in the advertisements in real-time based on the impressions you got. Also, a more extensive base of publishers means more options for the advertisers to maximize the return on investment.
Here are ten tips for you on how to excel in programmatic advertising:
1. Ensure Brand Safety and reputation management.
If your brand gets featured along unwanted, extremist, or degrading content, then there is a high possibility of your reputation getting ruined. So, make a complete list of websites or industry verticals that you would never want to get featured in. And, on a positive note, you could again make a list of the URLs that you should feature your brand. 
Some platforms have a list of approved websites, but it is always better to take one extra step to protect your reputation. And, it is advised to choose a private marketplace over the 'open exchange' (open marketplaces). Programmatic PMP(Private Marketplace) is getting popular nowadays as it ensures that your ads would be placed on premium websites.
2. Understand the Customer Journey to bid for better ad spaces.
Focus on the customer journey to understand more about the needs or desires of your customers. Not only would you be able to make better display advertisements, but you would also be able to place ads on websites with more chances of conversion. If you know that your consumer is in the awareness stage, you also know that they might look on blogs related to the products. 
A better understanding and compassion with the consumer always help in every step of marketing.
3. Invest in premium inventory.
As a marketer, it is your job to deliver compelling and converting campaigns on various channels. However, it becomes challenging to provide the best return on investment and focus on reputation management simultaneously as the job doubles up for the marketer. To overcome this problem and understand where your ads are placed, you could check Adobe's premium inventories or others. 
However, having an idea about the list of websites where your ads are placed is always a better option. Moreover, if your analysis shows that premium inventories are the most costly and reduce your exposure, you could list other websites to put your ad on.
4. Be clear about the objective, whether it is brand awareness or driving conversions?
Once you have a clear idea behind the motive of your campaign, it becomes easier to allocate a budget for different inventories. You must have a clear strategy before moving ahead with programmatic advertising. The basic questions that you need to ask yourself are whether this strategy would reach my audience and how could programmatic advertising improve my bottom line?
With the target audience and objective in mind, you should focus on choosing the right DSP.
5. Do A/B testing before pouring in a large amount:
You should never leave room for assumption and talk with data insights available. In programmatic advertising, you should run multiple A/B tests based on your objective and customer persona. You could pour in a small amount in the private marketplace and open exchange to see which one brings you a better return on investment. 
You could test your ad campaign on various parameters to ensure that you put more money in campaigns that bring more ROI in real-time.
6. Use attractive and rich media for your campaigns:
Rich media is the term in digital marketing used for advertisements with images, audio, video, or other stunning graphics to ensure that it captivates the viewer's attention and encourages them to engage with the ads. The digital sphere is competitive, and your chances of conversion increase when prospects connect with you. For CPM, getting more clicks would obviously increase your ROI.
7. Maximize your profits with mobile programmatic advertising:
Mobile programmatic advertising is the automatic buying and selling of ad inventory for mobile phones in real-time with the help of software. More people prefer being online from their smartphones instead of desktop. Your customers are on mobile. Thus it becomes essential for you to target them at the comfort of their mobile phones. 
Also, the world is experiencing a mobile-first era. And, if you don't leverage this opportunity, then you are surely missing a lot. If you use Amazon to sell products, you would love these Amazon listing optimization tricks.
8. CRM data integration is an exciting part of programmatic advertising:
CRM data could be beneficial for you to create a look-alike audience base based on your existing customers. This option gives an opportunity for the marketers to look outside of their current database and get the audience who are very similar to their customer persona. 
Also, CRM integration could be an excellent way to retain customers and categorize them for your new services with offers and discounts. CRM data integration could take your programmatic advertising campaign to an entirely next level and help you leverage the most out of your data insights to maximize return on investment.
9. Segment your audience and target them with personalized ads.
We have discussed it multiple times to emphasize how competitive is the digital world and connecting with the right audience. Advertising has also changed tremendously. Advertisers now segment their audience base based on which step they are at the customer journey. For prospects at the awareness stage, marketers could show them ads to prompt them to jump to the website or the landing page. Based on how these prospects behave, they could again be remarketed to deliver the message in a better way. For people who are at the consideration stage, you could again show them why your product is the best and how you can add value to your people and provide them additional discounts and offers.
10. Employ insightful audience data.
The more accurate data you have, the better are your chances of connecting with the right audience. If you run ad campaigns without sufficient insightful audience data, then you might be wasting a chunk of your money. Data helps you understand how nicely you would target, which locations you are targeting, how well you could see conversions, and finally, how much revenue you could make at the end of the day.
Data can come in the form of 1st party; generally, the data you as a marketer collect. 2nd party or the non-proprietary data retrieved by a partner, and 3rd party data, aggregated data typically from DMPs.
Conclusion
Programmatic advertising has increased the efficiency of marketers as they can quickly bid on premium inventories in real-time and track their performance. Make sure that you keep brand safety and reputation management as a top priority. If you know more about your customer, empathy map, and the customer journey, then it is apparent that you could create more appealing ad campaigns. 
Focus on premium inventories first and never hesitate to do A/B testing to leave no room for assumptions. 
CodeDesign is a performance digital marketing and Amazon agency. Feel free to ask your queries.
---