What is Meme Marketing, and why should you take it seriously?
No, we aren't joking.
Today, we'll talk about memes, and trust us when we say these funny images and videos will do wonders for your marketing campaign.
Every day we see more memes than ads on our social networks, and it is that these funny and highly referential images become viral almost daily.
Memes have been around a while, but events like the pandemic and the US presidential election significantly augmented meme consumption. In a survey of US and UK internet users by We Are Social and GlobalWebIndex, memes were the third most shared type of content on social platforms in May 2020, only behind the news and funny videos, which, if you think about it, is kind of long format memes. You could work with us CodeDesign, the leading digital marketing agency.
Millennials and Gen Z were the heaviest meme consumers during COVID. Still, nevertheless, Gen X and Baby Boomers also enjoyed it to some degree, as we see in this graphic by Insider Intelligence: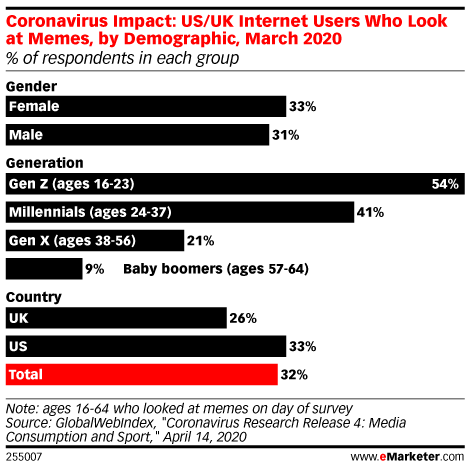 Source: Insider Intelligence.
We appreciate a tendency among young users who aren't engaging too much with traditional digital marketing and opt for a more relaxed type of marketing. 
In the article "How internet memes became the most effective digital marketing strategy across Asia?" we found that memes have 60% more organic reach than marketing graphics with 5%. Besides, a Forbes council post affirms that meme campaigns have a CTR of 14% higher than email marketing. 
Looking at this trend, companies have decided to adopt Memetic Media as a marketing strategy, and the results are pretty decent for them.
In this article, we want to introduce you to the beautiful world of Meme Marketing, how you can use it in your strategy, and give you some examples of brands that took advantage of it.
So get ready and enjoy this article on funny images and meta-references!
Let's go!
Why can Memes help your business?
Our users don't commonly surf social media or the internet to search for products or services; they tend to use it more to unwind and have a good time. Our task is to reach them out and persuade them with our marketing strategy, but what happens when we try too hard?
We get perceived as a little "needy,", and the only thing we'll do is keep them away from our business.
Customers will get tired quickly when you only show "advertising content" because your creations aren't rich enough. Read this guide on how to improve website traffic and get relevant customers.
We always recommend keeping a variable offer of content so customers can get a lot more from your brand. But what happens when you make a good meme within your niche and business?
Well, first, you'll cause a good laugh in your audience, but after that, people will see you as a relatable entity. You are humanizing your brand, and they'll empathize with your brand and have it as a reference.
When you are relatable, people will see your company as a cool friend who can solve their needs and chat and laugh about everyday things in life. But if you aren't quite sure to try this marketing strategy, there are some other reasons which could persuade you:
Unexpensive strategy: Memes can be created in any design app or even go to Giphy to create your own. 
Viral capabilities: The main idea with memes is to share with friends to share some laughs with them. If yours is funny enough, users will send this to many more, helping you reach new customers or markets.
Humanize your company: As we said before, when you share memes you show your customers that you also want to communicate with them more habitually and not just about business.
Generate instant feedback:  If your meme causes the expected reaction, you can expect a lot of instant comments and feedback towards your brand. 
How to do Meme Marketing the right way
When we talk about Meme Marketing, we can be touching a territory that we haven't mastered because when we create humorous content, we can be between something that makes people laugh or something that makes them cringe.
Comedy is an art, so we must be honest with our brand and analyze if it can credibly develop with this style. If so, take note of the following tips.
Understand your audience like they were your friends
In this case, we will treat our audience as close friends.
Are they friendly or sociable? Or on the contrary, they are people with whom we only deal in a 100% professional environment.
When you understand your audience as a natural person, you will be able to deduce whether they will tune in with a good sense of humor or expect proper behavior from you.
Earlier, we mentioned how younger audiences are the ones who interact the most with memes. However, you can have an older audience and still connect with their type of humor. If you want to make a joke, you have to be empathic with the person and bring out the humorous side of any situation. Finally, the hook has to connect to the solution your company offers so that your meme isn't only a joke but a subtle marketing campaign. How can you use QR codes for your digital marketing campaign?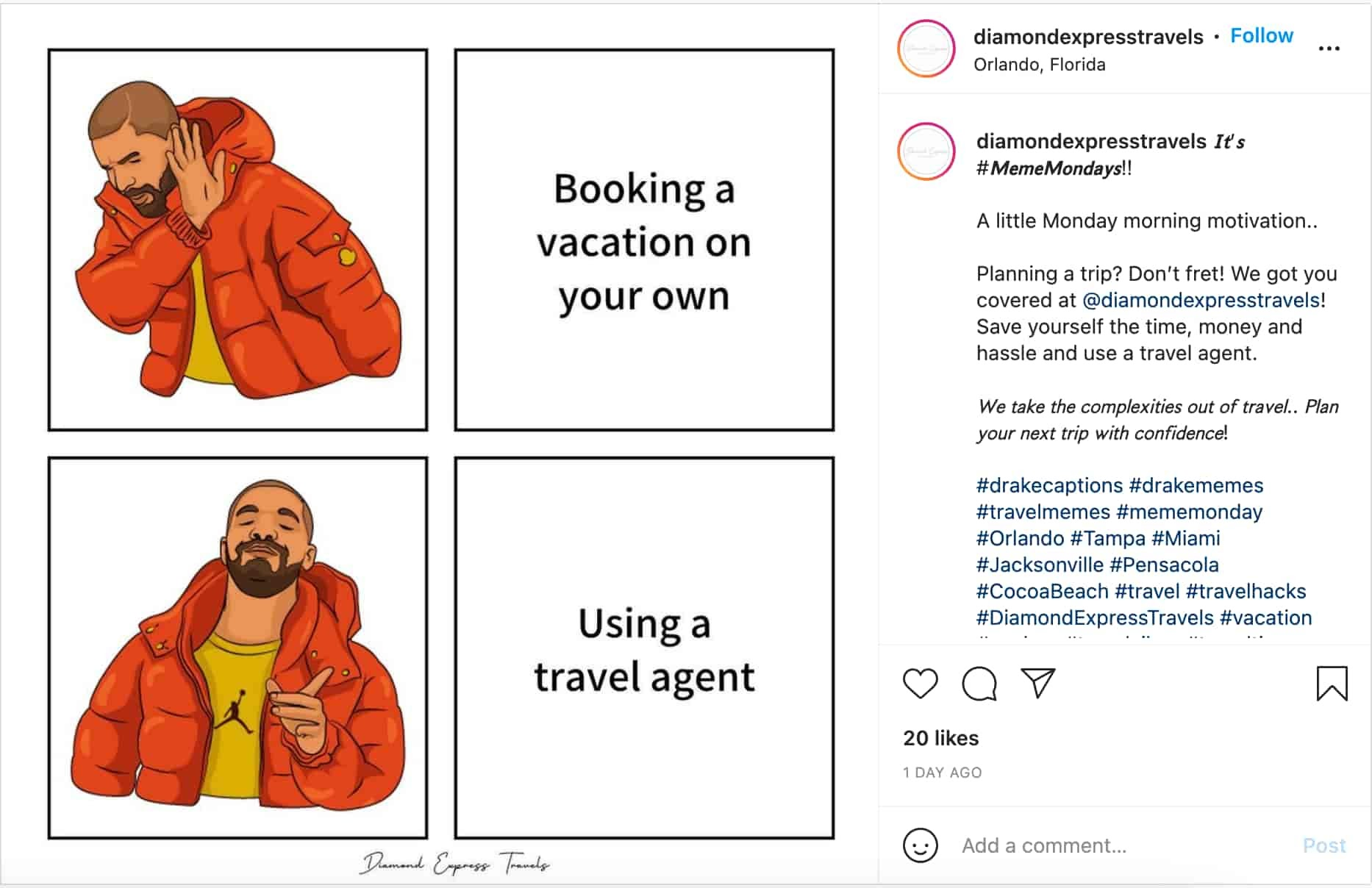 Stay tuned with trends.
If there's one trend on the internet that goes by really fast, it's memes. This month's trending meme isn't the same as last month's and probably not the same as last week's.
As these trends are volatile, we must be aware of what is happening and take advantage of good timing to use those memes to adapt to our brand voice. 
And if you don't seem to catch a good meme, you can make fun of other common topics everyone knows.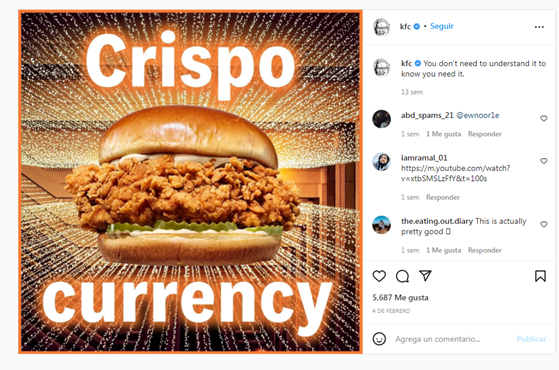 KFC does an excellent job of making fun of current topics that haven't lost their relevance, such as cryptocurrencies. Although not everyone masters this perfectly, the joke is obvious, and it also looks nice. 
A great piece of Meme Marketing from the fast-food company!
Adapt Memes to your brand voice
Like any strategy in our arsenal, they all need to align with our brand voice. Memes are not the other way around, so you should have a keen eye for which trends can align with your business's personality, rather than jumping to grab one that goes viral.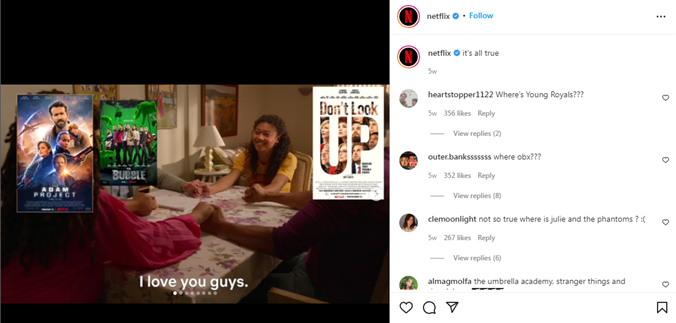 Be original
In addition to adapting to the trends for your brand, you must create a meme that is not just one of the many because otherwise, you will look like an amateur making memes for pages like 9GAG.
The idea is that your meme shows your identity, and in that way, customers can differentiate it as something unique within any trend. To give you a better example, let's take a look at this famous Spider-Man meme and how McDonald's offered an original spin on it: 
And now let's see what Mcdonald's did.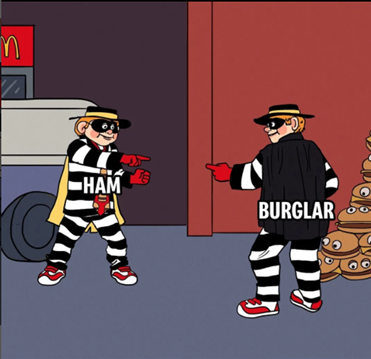 Follow the non-official meme rules.
Although memes don't have strict regulations, we can abide by specific guidelines if you want to do it correctly.
When brands misuse memes, it will look cringe, which isn't the reaction you want.
To do it correctly, try to:
Keep memes short and catchy.

Write easy-to-read enormous text.

Make sure your meme is recognizable after you added your twist.

Don't change the meme's meaning, and this could distract people.

Don't include CTAs.
Save them for user-generated content.
Thanks to their shareable potential, memes can work great for user-generated content.
The idea is to create some viral challenge in which you encourage your followers to create their memes so they can have fun making while your brand goes viral.
A great example of this is what food delivery service Seamless did during the 2014 Oscars, where they encouraged their followers to rename movies using any food with #OscarNomMoms. The results are hilarious, and they received so many ideas that they made them come true. Just look at these images: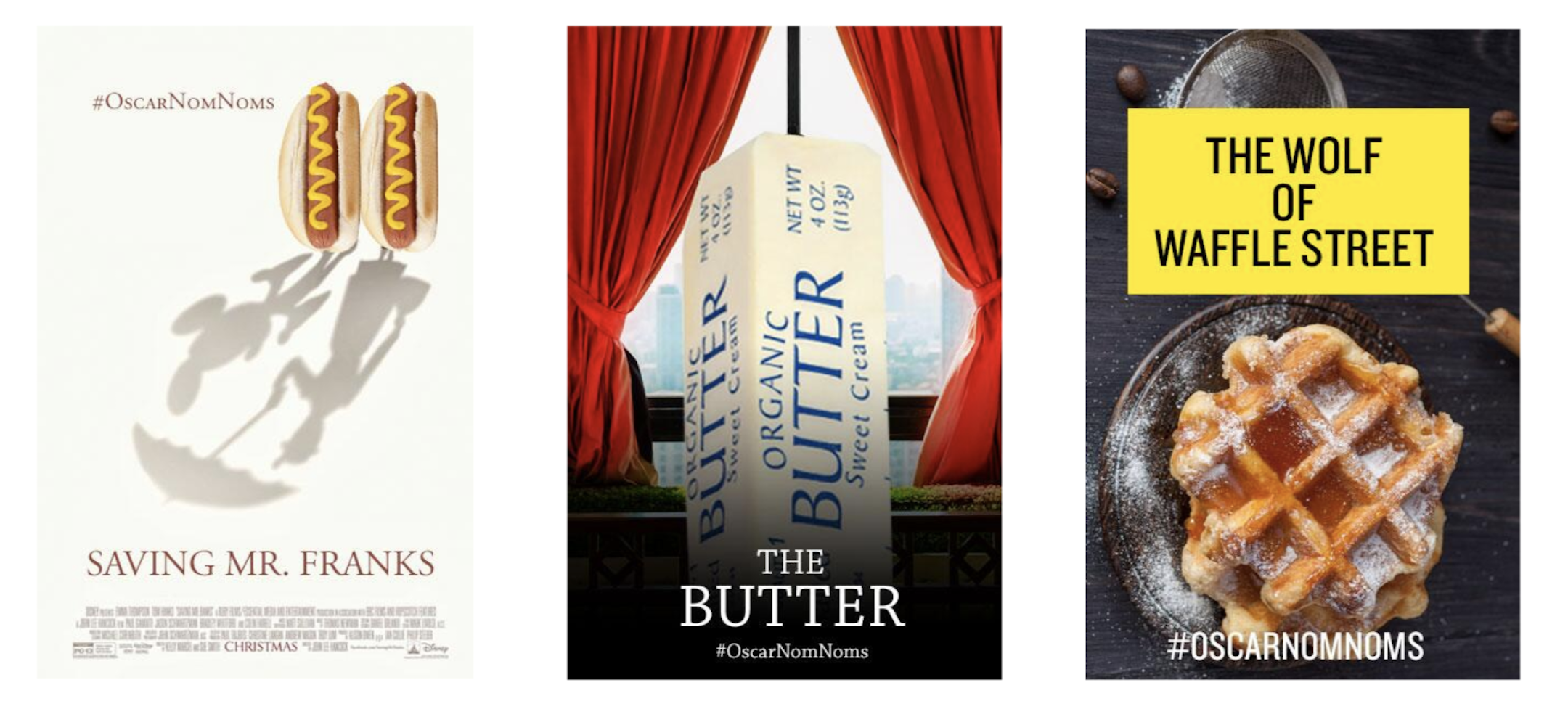 Things to avoid with Meme Marketing
When it comes to using humor in marketing, we must draw clear limits since if it is done wrong, we can cause two counterproductive reactions:
Hurt audience susceptibilities.

Be perceived as ridiculous and not taken seriously.
That is why we will explain what things you should avoid at all costs so that your memes aren't seen as bad jokes.
Pay attention!
Don't overuse it
Unless your business is memes - which oddly enough brings in an incredible amount of income - your main content should never be memes.
Let's be emphatic about this: memes are just complementary, not the main course of your brand. Therefore, when you create this type of humorous content, establish a well-defined position within your calendar to be seen as a respite within the publications directly to sales.
Remember that a good meme shouldn't have a CTA or be very salesy. We're looking to make them laugh so they buy later.
Source: YouTube.
Don't be offensive
This should be obvious. However, in a society where everybody is trying to correct the politically incorrect, a joke without bad intention can be taken very severely. If you don't believe us, ask Chriss Rock and Will Smith.
Jokes are great for building a good relationship with your users, but they're often best viewed when they're relatable rather than teasing another person.
For example, making a joke about an everyday situation like paying taxes can cause a good laugh within your audience because everyone understands how complicated or annoying this can be. However, similar to what happened with Chriss Rock, making jokes about a person's looks that they cannot change can be pretty heavy and have a catastrophic effect on your brand.
To make sure that your meme is not going to hurt susceptibilities, check this checklist:
Does your meme make fun of a person or a community?

Does it make fun of a tragic event? No matter if it's recent or in the past

Is your meme not apt for your age group?

Does it rely on suggestive imagery or language?

Does it have insults or incorrect words?
If your meme doesn't have any of these aspects, it should be good to go to your social media timeline.
Don't use them if your audience won't like them.
Understanding our brand as if it were a close friend is a clear example to illustrate this. Knowing what we are addressing in-depth can determine if they will take a joke within our brand as something cool or something ridiculous. Memes can be great for marketing, but if your brand can't find an organic way to use them, don't force it because that's when something cringe is generated, something that doesn't look convincing.
We must clarify that memes are not only for young people; elder audiences have a sense of humor, but each laughs at different things depending on their generational gaps. For Gen Xers, Adam Sandler's "goofy" humor may look outdated, while millennials may love some nonsensical meme, as millennial and gen z humor can be pretty quirky.
Whatever the case, the secret to success is fully understanding your audience to know what you can offer.
Final Thoughts


Humor used in the right way is a valuable tool to create an effective digital marketing strategy since it humanizes and makes your users refer more to your brand.
Let's remember that although our final goal is always to sell, the more relatable and close we are to our followers, the more confidence they will have in our services.
As we mentioned earlier, before you even think about using memes within your content offering, make sure to study your audience in-depth, so you'll know if they'll like them or not.
If you need more advice regarding your digital strategies, at Codedesign, we are pleased to offer you a hand to get your business off the ground, no matter if it is small or large, and make it shine within the world of the worldwide web. Contact us, and let's talk business!
Until the next article...




---