* Due to our NDA's and non compete clauses with our clients all data presented on our case studies can be obtain using multiple sources .
The challenge
Omstars is real, watchable, entertaining, enlightening, authentic, life-changing content made for yogis by yogis. The brand positions as "Netflix for Yogis". Omstars offer covers programs for all students from total yoga beginner, to someone looking for healing from chronic pain, searching for mindfulness and meditation to soothe a busy mind, or trying to master a handstand.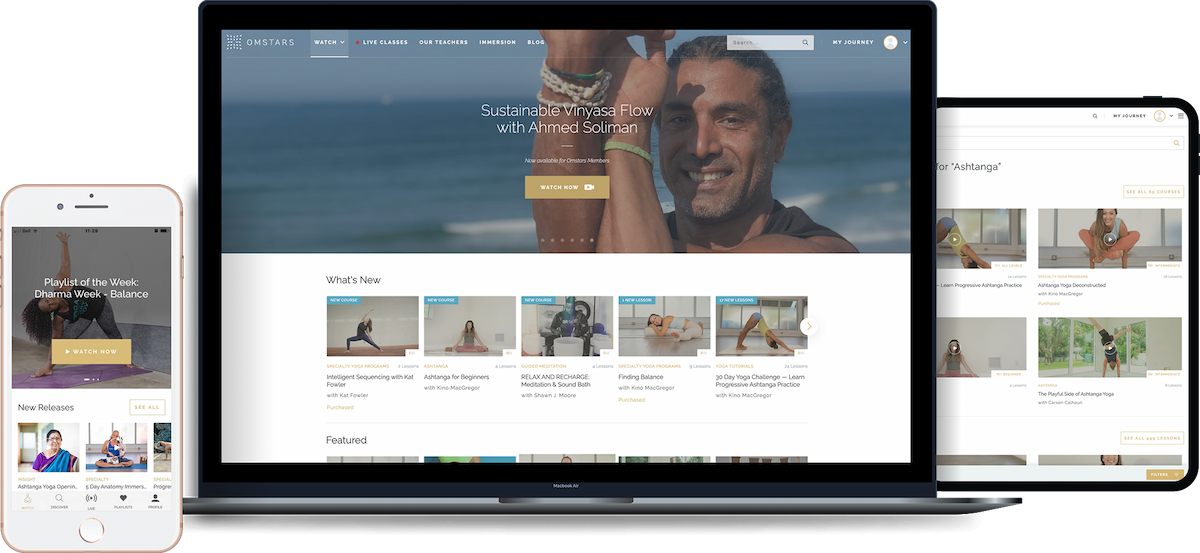 The approach
Bringing an online yoga program sounds like a no brainer after COVID but this project started long ago. We needed to explain the consumer that daily practice can be done while traveling, staying in hotels,  on morning break, and that the teacher could be online. Secondly the brand is very ambitious and wants to become the world reference for Yoga practice. Looking a the traffic it was incredible.

Our strategy was simple but highly effective. After trying multiple approaches we realized that the perfect funnel was developed after we acquired students to try the first 5 classes for free, and the work them via CRM automation and email marketing. Originally our model was CPA based covering all the stages of the conversion funnel, and acquiring students along the way, 
The results
With our strategy Omstars pushed their student base from a few hundreds to several thousands, and website has now more than 200.000 visits per month. 
Sign ups rocketed, representing and estimated in generated revenue of hundreds of thousands of dollar per month. Since we know that Paid Ads create a universal uplift effect to website conversion rates, and attribute for many view-through or non last-click conversions, we can estimate a 2,500% ROAS overall.
We saw that daily sign ups started to increase towards the end of the sale - a typical occurrence in Promotional campaigns, especially when time sensitive messaging is being used. More than half of these purchases were form Direct Sources, which tells us that people were considering the offer until the very last minute, and had likely been impacted previously by another channel. We also saw several spikes when specific Course were released; however this was still not as prominent as the increase that occurred at the very end of a sales period.


Tools we've used
Content marketing development for Social Media 
Search Engine Optimization for all content 
Google Ads 
Facebook Ads 
Instagram Ads 
CRM automation (Salesforce) 
Mail chimp with automation layer 
GTM
Google Analytics
Google Data Studio 
Let the numbers speak for themselves
Here are a few numbers (after 6 months).
43% increase in Website Traffic, with each month showing substantial yearly growth

48% increase in new users

Average session duration increased by 185% (indicator of traffic quality)

Sign ups increased by 548%

Subscription increased by 17%

Looking at Google Ads, we increased the volume of clicks by 1080% and decreased the CPC by 87%

We decreased the CPL by 40% (note: comparing from when we first started with the campaigns, as conversion tracking was not accurately set up prior to us receiving the account).
Codedesign is a leading digital agency. Feel free to contact us with any queries.
---