Case study produced by Google Inc
The challenge
As a beauty retailer, Perfumes & Companhia's Black Friday 2020 challenge was to cover a demand more digital than ever. The goal was to expand opportunities to engage with the brand beyond Search and Shopping, without loosing a conversion-oriented focus during the most competitive week of the year.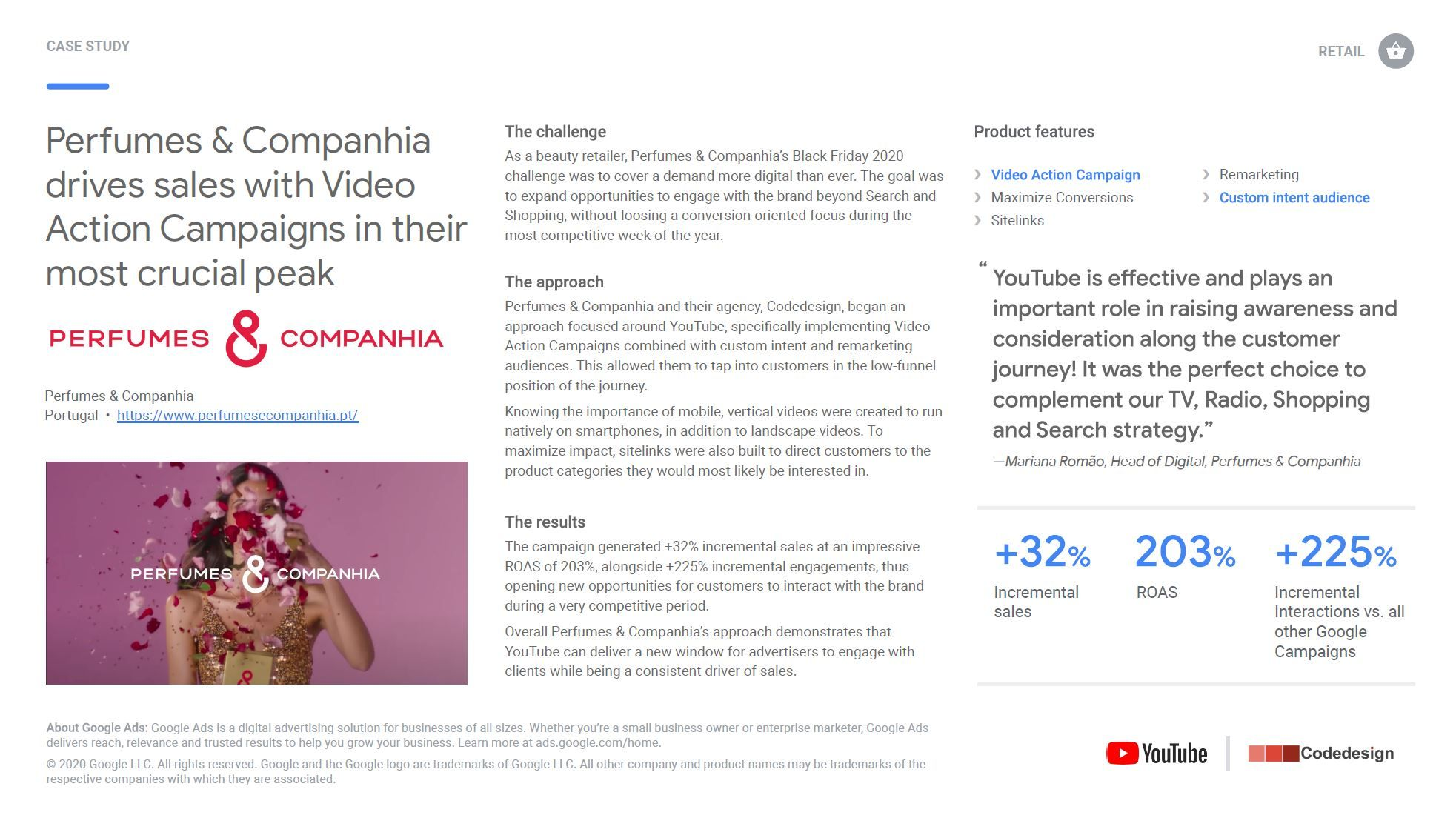 The approach
Perfumes & Companhia and their agency, Codedesign, began an approach focused around YouTube, specifically implementing Video Action Campaigns combined with custom intent and remarketing audiences. This allowed them to tap into customers in the low-funnel position of the journey.
Knowing the importance of mobile, vertical videos were created to run natively on smartphones, in addition to landscape videos. To maximize impact, sitelinks were also built to direct customers to the product categories they would most likely be interested in
The results
The campaign generated +32% incremental sales at an impressive ROAS of 203%, alongside +225% incremental engagements, thus opening new opportunities for customers to interact with the brand during a very competitive period,
Overall Perfumes & Companhia's approach demonstrates that YouTube can deliver a new window for advertisers to engage with clients while being a consistent driver of sales all sizes. Whether you're small business owner or enterprise marketer, Google Ads a more at ads google.com/home.
RETAIL
Product features
> Video Action Campaign
> Maximize Conversions
> Sitelinks
> Remarketing
> Custom intent audience
"YouTube is effective and plays an important role in raising awareness and consideration along the customer journey! It was the perfect choice to complement our TV, Radio, Shopping and Search strategy."
- Mariana Romão, Head of Digital, Perfumes & Companhia
Incremental sales : +32%
ROAS: +203%
Incremental: +225% Interactions vs. all other Google Campaigns


Codedesign is a leading digital agency. Feel free to contact us with any queries.
---