At Codedesign, as full-service digital marketing agency, we lead businesses of all sizes, from up-and-coming startups to fully-established corporations, in the face of any digital challenge. We identify growth opportunities and deliver success-driven solutions that bolster your organizational efficiency. From digital strategies to e-commerce services, Codedesign ensures only the best results for your business.
As we strive to grow alongside our clients within the evolving digital landscape, we recently received our latest positive feedback on Clutch, a B2B ratings and reviews platform.
If you don't know, Clutch is an established market research resource based in Washington, DC. They evaluate technology service and solutions companies based on the quality of work, thought leadership, and client reviews. 
A rapidly expanding startup, Clutch has become the go-to resource in the agency space. Their review process is reliable and transparent, and we're grateful to those of our clients who have taken the time to provide feedback.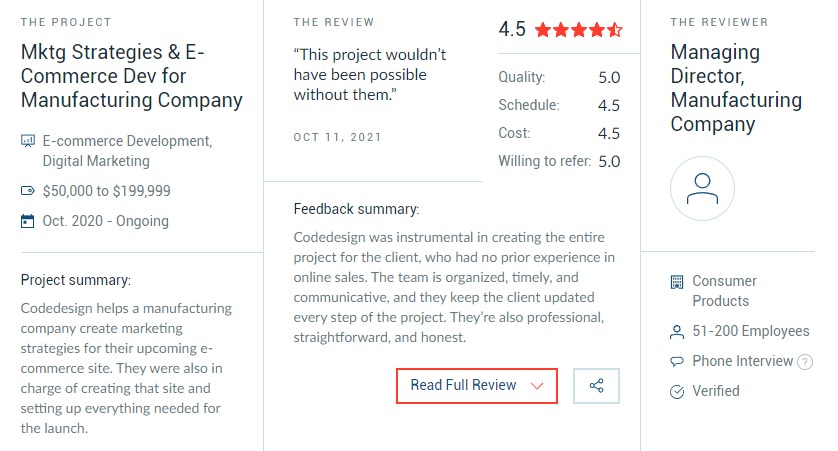 Take a look at the most recent review on our profile:
In their interview with the analysts at Clutch, our client, a manufacturing company, shared their thoughts on our ongoing project. When our partnership started in October 2020, they tasked us with providing comprehensive support to their e-commerce department. 
"Codedesign helps us with our marketing strategy to approach e-commerce, a new distribution channel for us. Initially, we presented them with our brands, our products, the technical advantages of our products, and our target audience.
Currently, they also help us improve our site as needed. For example, they can implement new drop-out menus and banners to attract potential clients."
Our partnership with the client grows stronger as we aim to discover new ways to leverage their e-commerce efforts. Having said that, we're proud of the results that we've achieved together thus far:
"Codedesign's professionalism distinguishes them from other providers. They're very professional and straightforward. For example, if they don't see any potential in a particular effort or strategy, they tell us. They don't want to sell anything that they know is not going to work — not everyone does that."
Don't forget to check out the full review on Clutch to learn more about our work methodology. Additionally, our team is highlighted as a leading digital strategy consultant on Top Design Firms, the newest company listing resource from the minds behind Clutch.
Let's talk about your digital strategy. Request a quote from us today!
---