Case Study: How CodeDesign Helped Raja Pack Secure an Audit Project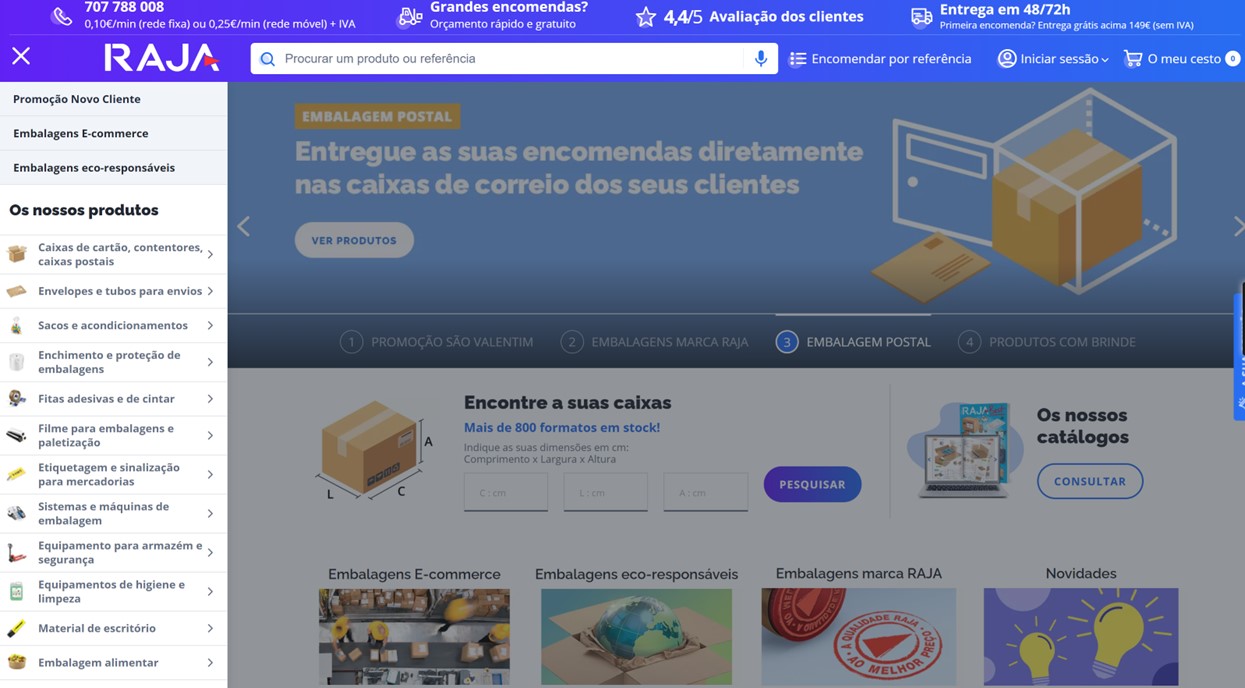 Raja Pack is a leading packing business, providing various packing solutions for domestic and international customers. However, the company faced numerous challenges in digital marketing, particularly with its search engine advertising (SEA) campaigns. Raja Pack sought the help of CodeDesign, a digital marketing agency, to improve their SEA campaigns. CodeDesign is a leading digital marketing agency ranked #1 in Lisbon, Portugal. You could work with us to accelerate your business growth.
CodeDesign conducted an audit of Raja Pack's SEA campaigns. CodeDesign used the latest tools and techniques to analyze the campaigns and found several areas for improvement. CodeDesign's audit report provided Raja Pack with detailed and actionable findings. 
CodeDesign worked with Raja Pack to implement the recommendations from the audit. CodeDesign changed the SEA campaigns, including restructuring the campaigns to target potential customers better and adjusting the budget to ensure maximum efficiency. CodeDesign also provided Raja Pack with detailed reporting to track the progress of the campaigns. 
The audit results and subsequent changes to the SEA campaigns were a great success. Raja Pack saw a dramatic increase in their return on investment (ROI), and their campaigns saw improved performance in terms of click-
Introduction:
Raja Pack were looking for a digital marketing agency to help them with their search engine advertising (SEA) efforts. They wanted an agency that could provide detailed, actionable data that would allow them to make informed decisions on how best to proceed. After a thorough vetting process, Raja Pack chose CodeDesign to help them with their digital marketing needs.
The Challenge:
Raja Pack had experience with digital marketing but needed an agency to help them understand the nuances of search engine advertising and provide them with actionable insights. Due to the competitive nature of the packing vertical, Raja Pack needed an agency with a deep understanding of SEA to help them stay ahead of the competition.
The Strategy:
CodeDesign worked closely with Raja Pack to understand their needs and challenges. After thoroughly auditing the existing SEA campaigns, CodeDesign developed a tailored strategy to help Raja Pack get the most out of their marketing dollars. CodeDesign focused on optimizing their campaigns to increase efficiency and ensure a better return on investment.
The Results:
Through CodeDesign's careful optimization of the SEA campaigns, Raja Pack has seen a significant improvement in its performance. The changes implemented by Code
Client testimony:
"The audit project was a valuable resource for us. The results were detailed, and presented clearly and concisely with actionable inputs that allowed us to improve the performance of our SEA campaigns. This information allowed us to take decisive steps, including changing agency."
About CodeDesign
Codedesign is a digital marketing agency specializing in e-commerce and B2B online marketing. Our digital team utilizes the latest digital marketing tools and strategies to help clients reach their business goals. We offer comprehensive services such as website design, search engine optimization (SEO), content marketing, performance marketing, social media marketing, CRM and marketing automation, email marketing, and more. Our experts create and implement customized digital marketing campaigns to increase website traffic, generate leads, and drive sales. Our expertise in e-commerce and B2B marketing allows us to understand the nuances of the digital marketplace and create effective marketing solutions tailored to their client's needs.
CodeDesign is leading:
- Digital Agency
- Digital Marketing Agency
- Amazon Marketing Agency


Feel free to contact us to see the unprecedented growth of your business.
---