Elon Musk bought Twitter! Should marketers worry about it?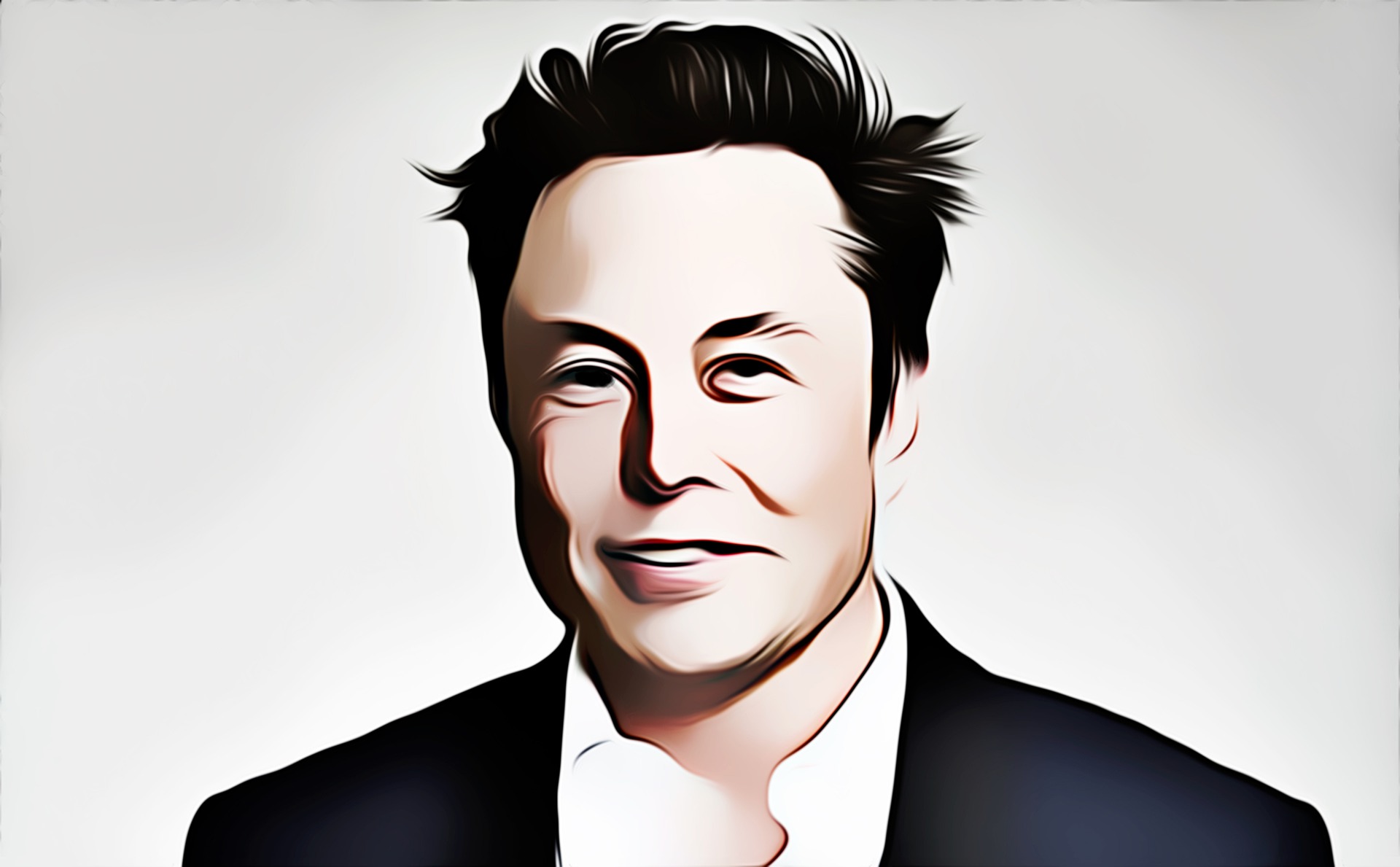 Source: Pixabay.
Billionaires are eccentric people, and the case of Elon Musk is no exception.
Born on June 28, 1971, in Pretoria, South Africa, the little Musk went from being a bullied boy at school who programmed video games in his teens to being the richest man by 2022, dethroning industry giants like Jeff Bezos, and having a fortune of approximately $219 billion. In his professional career, we see how he has led large companies such as SpaceX or Tesla and even been the forerunner for companies such as Paypal. But this article refers us to another platform.
Last month the unexpected happened: Elon Musk bought Twitter. 
At first, the South African multi-millionaire acquired 9,2% of the actions with USD 2.9 million. Despite leaders claiming that they wouldn't give the entire platform to Musk, the tycoon made his final offer giving 44 billion USD to be the sole owner of this social network. While the acquisition isn't finally closed because Twitter stockholders have to vote to consider the complete transaction, he will rule Twitter in its entirety if everything goes in the right way for him.
Reactions to this topic are polarizing. As digital marketers, we'd like to put some light on all the different opinions and understand how this big event could affect our jobs within this platform.
But before talking about what experts are saying, we have to discover the significant changes Elon wants to bring to this social media are?
Source: YouTube.
What are Elon Musk's plans for Twitter?
Social media is the most visited means of communication today, and specifically, Twitter is the place where users check the news. However, fake news, bots, and conspiracy theories hinder the user experience in focusing on facts.
The top priority for Elon Musk's Twitter is to respect "Free-speech" on the platform, which could raise an eyebrow among many specialists.
On the one hand, what does free speech mean in the words of Elon?
On Twitter or Facebook, the platforms tend to censor hate messages to make the network a safer place for any minority. But could this change mean that anybody can tweet hurtful thoughts about any topic? 

Nevertheless, Elon Musk will have some trouble with this free speech because "The US Congress" is debating some regulations and federal laws to hold social media platforms and big techs accountable for information shared inside their domains.
Among other controversies, Elon talks about welcoming back former President Donald Trump onto the platform since he was expelled after several of his tweets caused a protest inside the capitol. Before his expulsion from Twitter, Donald Trump decided to create a similar social platform called "Truth" and refused to return to Twitter.
Now, what are your plans beyond the political context? Well, let's study it further.
Creating an "Edit Button"
Many users and marketers have asked for an edit button on Twitter for a long time, and with Elon Musk at the center, this could be an option soon. Although the multi-millionaire doesn't have a full plan yet, marketers and content creators could use it to correct any mistake they make, like launching a campaign with the wrong file.
On the not-so-optimistic side, people think that this feature can take messages out of context after they have been retweeted.
Make the Algorithm public.
Algorithms are omnipotent beings that marketers must deal with to deliver our content on social media. Lucky for you, we already have an article about teaching you how to use the algorithm in your favor!
Returning to the topic, Elon has stated that he wants the Twitter algorithm to be a public source, providing an environment of transparency.
The problems around the algorithm are innumerable, and among the most common complaints, users comment: why do certain accounts have more excellent vision than others?; What factors cause my content to be seen or left behind in the vortex of oblivion?; why seemingly harmless posts are censored while other users publish the same thing, yet their posts have never been removed.
Over the years,  users and brands have complained about these same faults and seem to accuse the platform of doing political slant to suppress free speech. In these aspects, Elon Musk emphasizes his goal of a Twitter with complete freedom of expression, being the main reason he decided to buy it.
If the public algorithm becomes a reality, marketers, and brands would have to rethink their content to focus more on their followers, creating more immersive experiences and maintaining a safe environment.
If you want more information on Twitter's public algorithm, check out this ted talk where Elon Musk explains it.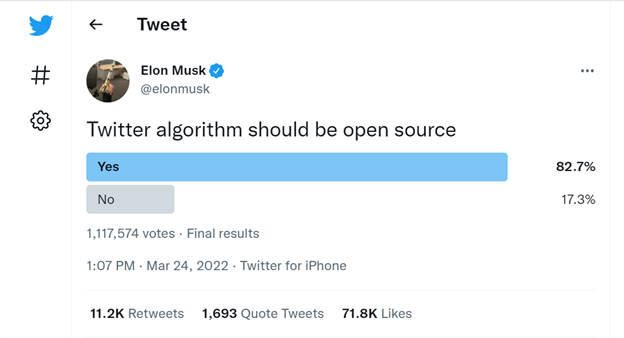 Real Accounts Verification
Twitter and other platforms have long had a problem with bots, as they are fake accounts that post dubious information or are used to inflate accounts with inactive followers. Verifying all users contributes to the battle against these bots, demonstrating human users' full names and documentation.
But while this can look good firsthand, some experts say that this would cause the opposite effect on Twitter. If we face a new lack of moderation, marketers would have to face much content without filters, opening more fake news.
Businesses and governments may have to pay to use Twitter.
This is what might alarm us, marketers. After announcing his offer on Twitter, Elon Musk commented that companies, influencers, and government entities will probably have to pay an extra fee to use the platform. The amount is unknown, but this worries several experts since they know that Twitter's profits are not close to its competitors, who are more open to digital marketing.
The company has already experimented with a paid-for subscription, Twitter Blue, available in the U.S, New Zealand, and Australia, that offers additional features like undoing tweets and bookmarking tweets. Last Month, Mr. Musk affirmed that he wanted to cut costs on this service, which is 2.99 USD in the U.S., and introduce a ban on ads.
Source: YouTube.
What are Elon's thoughts on advertising?
Ladies and gentlemen, please don't panic, but...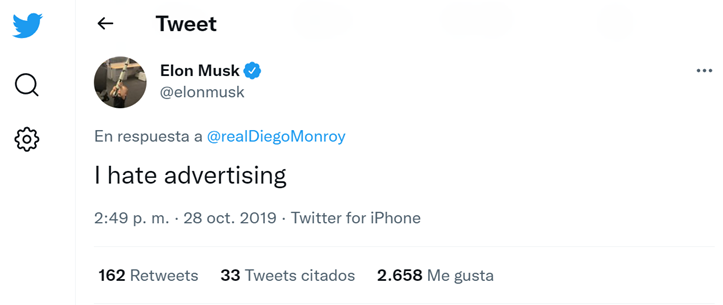 Yep, Elon Musk straight-up hates advertising. 
From the beginning, Elon Musk has made clear that advertising is not a priority for the new Twitter. And you could ask yourself, how is he going to make money from it? We talked about charging some users - AKA brands, government, and influencers - to use the platform. Musk will eliminate the service's content moderation policies to damage our job, which helps marketers prevent their ads from showing alongside hate speech or misinformation.
But, as Sir. According to The New York Times, Elon Musk must figure it out someday - We hope he does  - the downside of this Twitter with fewer ads is that they represent 90% percent of its revenue. 
Regardless of this decision, some agency leaders have complained about Twitter's advertising capabilities, alleging that this platform can't target ads as good as Facebook, Amazon, and Google.
Hand in hand with the free speech promise, many professionals, anticipate pulling their investments out of the platform if this new Twitter board would allow hate, racism, or any other type of misbehavior, as they don't want to tarnish their companies.
If the advertising exodus happened, the company could get weeker, leaving Mr. Musk to balance its free speech goal with the marketing relationships that keep it going.
But Musk isn't the only one who approves this policy since Twitter's co-founder and some investors reject advertising and think the platform needs to break away from it.
According to American businessman Ben Horowitz, Twitter has to face problems like bots, abuse, and censorship due to its status as a public company that only relies on advertising. Having the same mentality as Elon, this man became a general partner at the Venture Capital firm Andreesen Horowitz investing 400 million USD to take Twitter private. These are the tweets where he shows his support for Elon.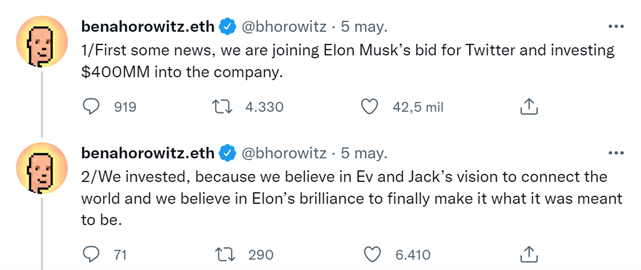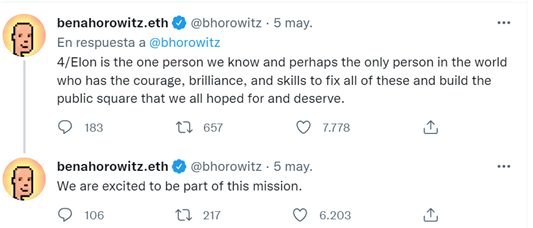 The company's co-founder Jack Dorsey agreed with a tweet saying: "This is true. It needs a cover for a while".
As a result of these alarming statements, David Jones, longtime advertising and the chief of the Bradtech Group, responded.
"At the end of the day, it's not the brands who need to be concerned, because they'll just spend their budgets elsewhere — it's Twitter that needs to be concerned. If you said to me that TikTok went away, that would be a disaster. But Twitter going away? Yeah, whatever."
Facebook tends to make more profit in advertising since its ads are more valuable and customizable for marketers. Meanwhile, Twitter offers a window to mainstream companies that worry that their content will appear alongside hateful messages.
Twitter's strength within advertising is more towards brand awareness campaigns, which aren't as easy to measure as a PPC campaign or clicks to your website.
But the company isn't guilty of not trying since they have been making some effort to make the site better for ads. In this way, in 2019 and 2020, the company began allowing advertisers in the U.S.A to add shopping catalogs.
But the reality is that Twitter's reach is way lower than its competitors regarding marketing. So, while Twitter has only 229 million users that see ads, competitors highly surpass it with:
830 million users on Linkedin.

1.96 daily users on Facebook.
Twitter's revenue isn't all right also. While it generated 1.2 billion by the first three months of this year, the company has lost money in eight of the past ten years, says The New York Times.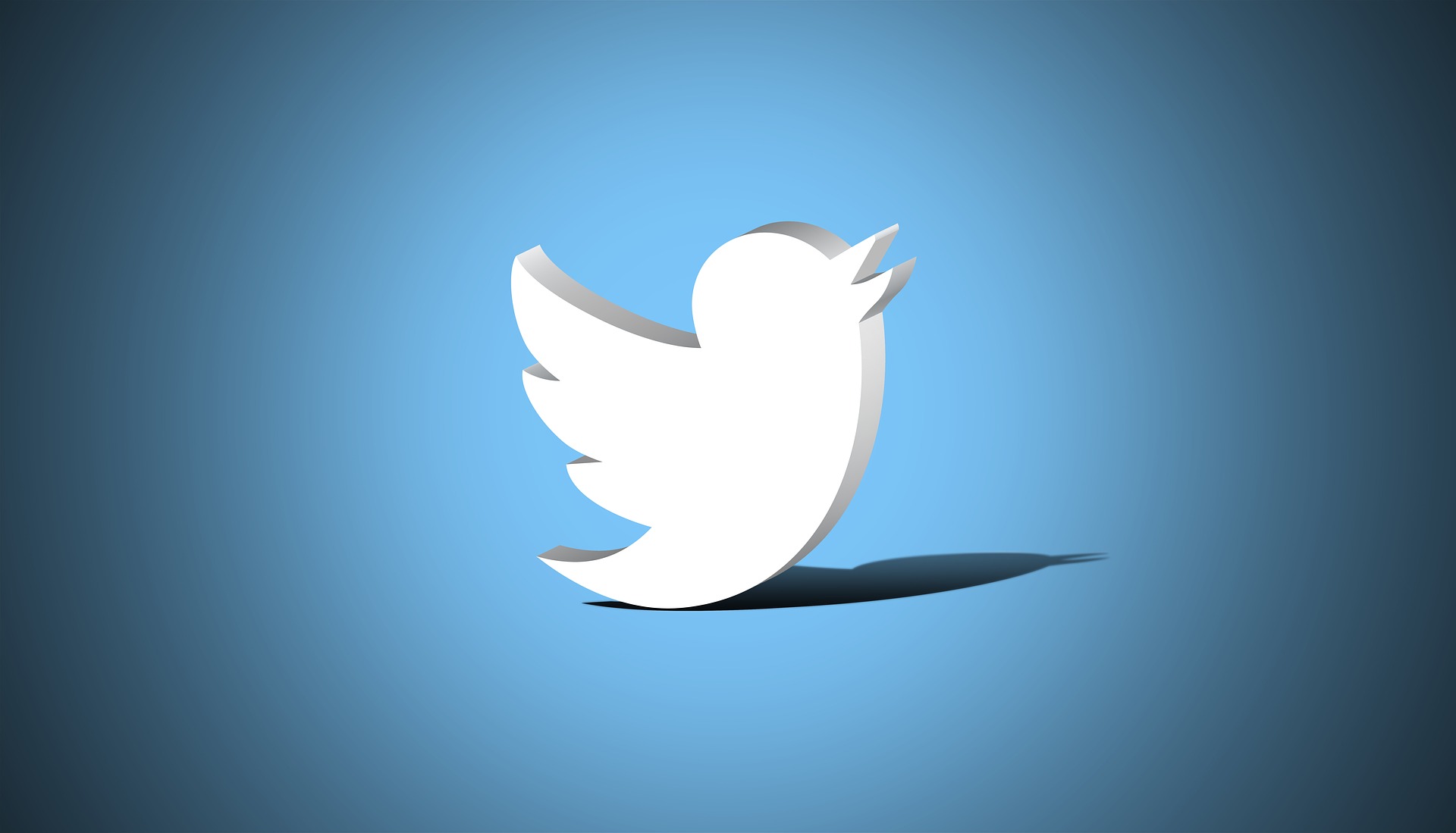 Source: PixaBay.
Meanwhile, experts have put Twitter's attitude toward content control as something positive. The platform banned all political ads and introduced warning labels about misinformation related to U.S elections. Also, in response to the conflict in Ukraine, Twitter stopped the Russian Government account and blocked their tweets. Before Elon made the deal, the company announced that it would ban any climate change ads. 
About these great efforts, the chief executive of WPP, Mark Read, one of the largest advertising companies worldwide, said:
"Twitter's done a better job than many platforms at building trust with advertisers — they've been more progressive, responsive, and humble about initiating ways to learn." 
But as we go back to the drama surrounding the "free speech" dilemma, many more professionals decide to abandon the ship before it sinks; this is the case of Arun Kumar, the chief data and technology officer at the ad giant IPG, that says:
"We can safely say that if the content moderation policies change, and if there is no way for us to protect the brand, we will recommend that they pull back on their investments."
Elon Musk has had many bad opinions on advertising, and because of this, advertising executives doubt that he will change his opinion. The founder of companies like SpaceX does too little marketing for his own companies. In his own words, he criticizes ads saying that it is "manipulating public opinion" and refuse to pay celebrities to fake endorse.
On a deleted Tweet, he introduced a $3 a month subscription with no ads saying that "the power of corporations to dictate policy is greatly enhanced if Twitter depends on advertising money to survive."
So as we have seen, Mr. Musk does not have much sympathy for marketing, so we will have to evaluate and elucidate what awaits us. According to his statements, some believe that the only way to do it will be through a subscription or a pay-per-tweet model, while experts hope that the tycoon will come to his senses and open the doors for all of us who practice digital marketing.
Final Thoughts
A time of renewal is coming for one of the social networks that have had the longest time with us. Change is sometimes necessary, but if the same platform becomes hostile to our digital marketing practices, we will only have two options: adapt or migrate to another platform that makes our lives easier.
Advertising isn't only our work and passion; it is also the largest source of income for any social media platform. For this reason, beyond the practices or cliches of our area, perhaps Musk should direct these practices more efficiently so that the company will earn more income and an upgrade over its competitors, and we don't lose a valuable channel to meet our users.
Until that time comes, at Codedesign, we will keep you informed with any news, and if you want more advice on your brand to choose the proper channels to advertise, contact us and let us make your business an unprecedented success!
See you in the next article!
---