Black Friday Trends: How to sell more?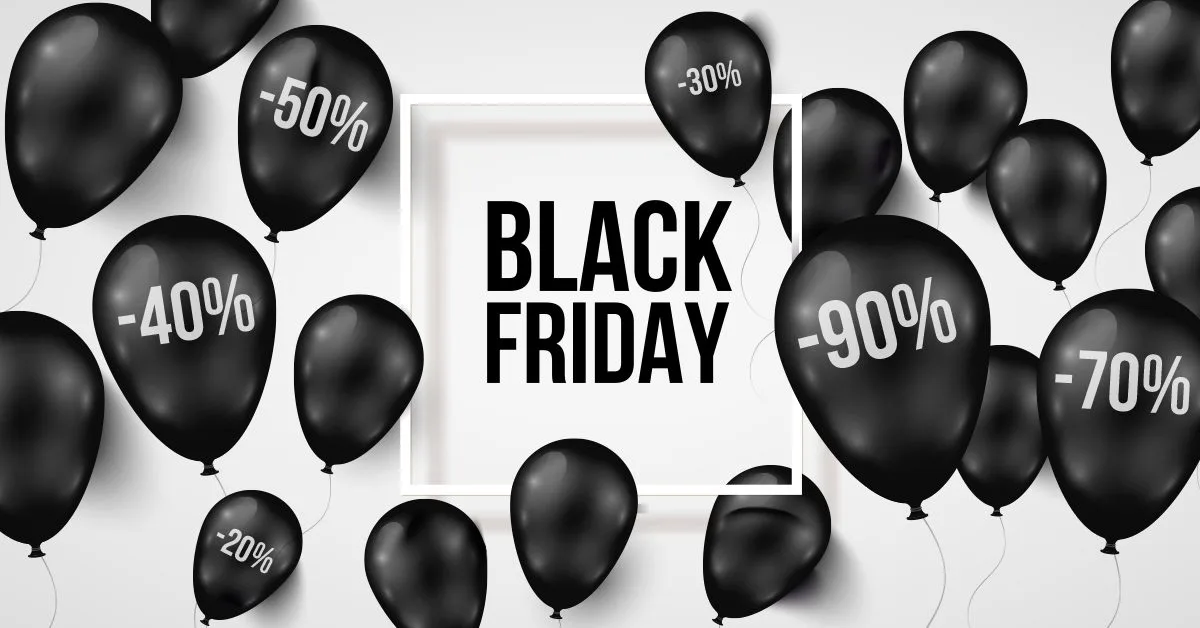 The winter solstice is almost approaching. 2022 is building up to be a year of opportunity and change, whether you're getting ready for the Christmas shopping season or specific days like Black Friday and Cyber Monday.
Despite several difficulties this year, more individuals are shopping online than ever since most customers wait for these holiday seasons to get what they want. At the same time, customers are thrilled to be able to once again shop at their neighbourhood brick-and-mortar establishments.
It's crucial to begin planning as soon as possible if you want to maximise this year's most prominent shopping event. Despite the complex geopolitics, Black Friday and Cyber Monday still present a fantastic opportunity for your company to close the year on a high note.
CodeDesign is a leading digital marketing agency ranked #1 in Lisbon, Portugal. You could work with us to accelerate your business growth.
Increase in demand for electronics during Black Friday Sale 2022: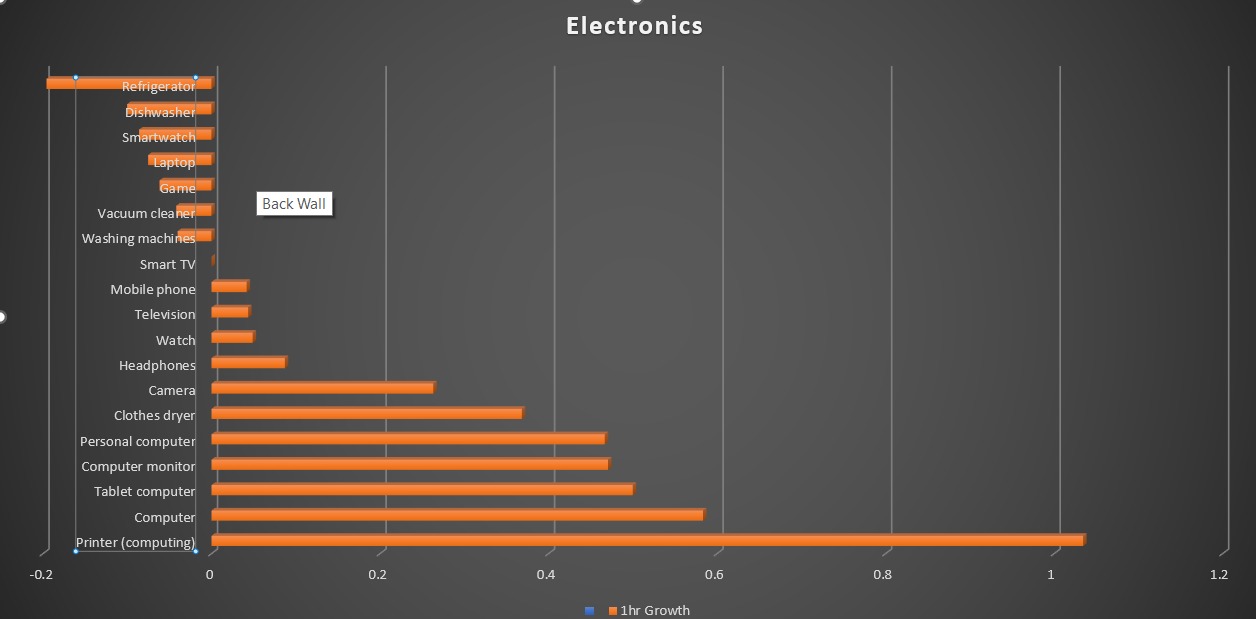 According to Semrush, electronics are the most eagerly awaited commodities. Regarding Black Friday product searches, Nintendo Switch, Apple Watch, iPhone, and AirPods take the top four rankings. For brands, "Black Friday" searches for Nike, Zara, and Lululemon are the most popular.
Given that Amazon dominates the retail world, it's intriguing to look at their most popular items to get an idea of what may be in high demand this year. The top searches for 2022 thus far are "iPhone 13 Pro Max case" and "Apple watch band."
Demand for various fashion products in a 1-hr chart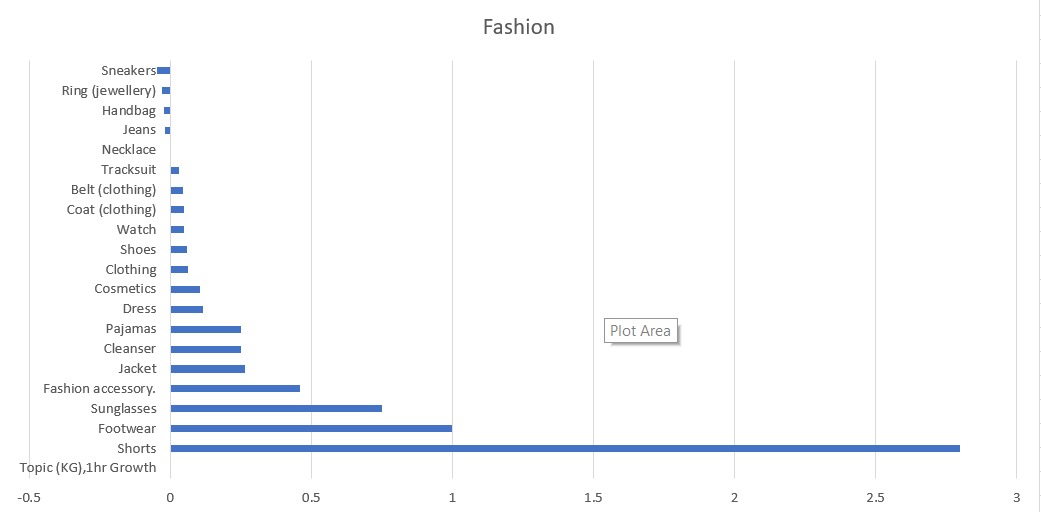 Shorts and footwear demand increased by 280% and 100%, respectively, in the 1-hour chart. Sunglasses, fashion accessories and jackets were yet other popular items. However, the search demand for sneakers, jeans, rings, and handbags saw a decline.
Luxury Products
Sunglasses outperformed other items in the luxury category. While products like handbags and rings saw a decrease in demand, sunglasses, watches, and belts saw a spike.
Home Products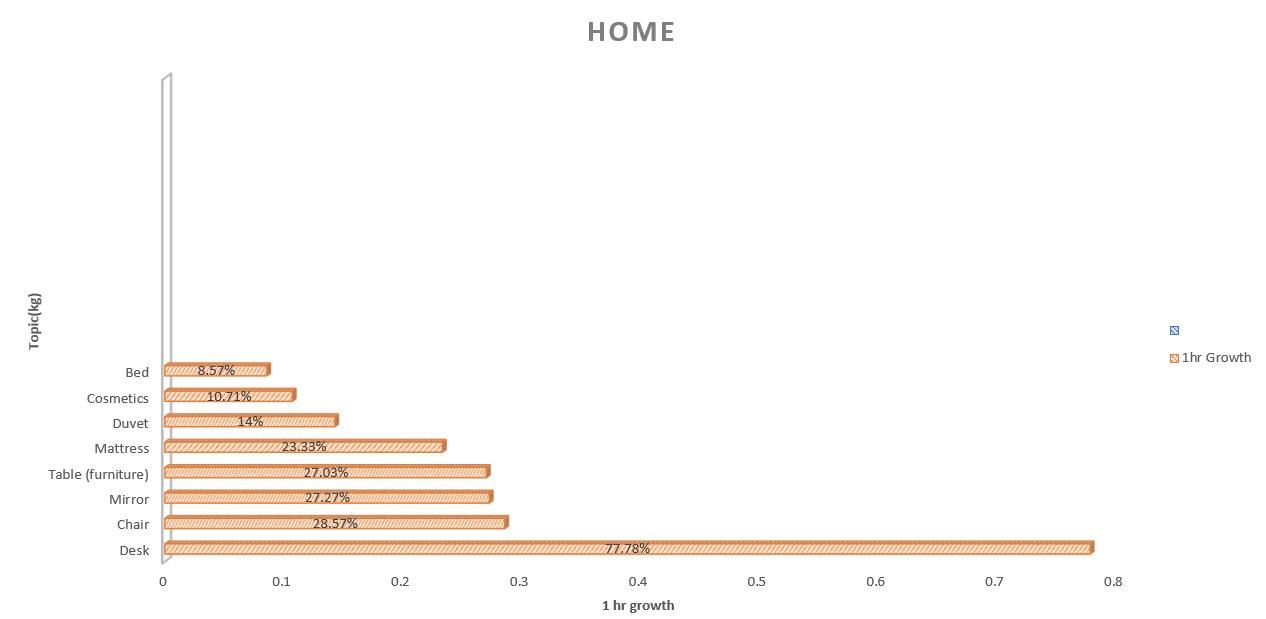 There is an increased demand for home products, with almost a positive spike for every item. Demand for desks increased by 77.87%, while chairs increased by more than 28%. Mattresses, tables and chairs also saw an increase in demand by more than 20%.
General e-commerce and consumer trends for Black Friday in 2022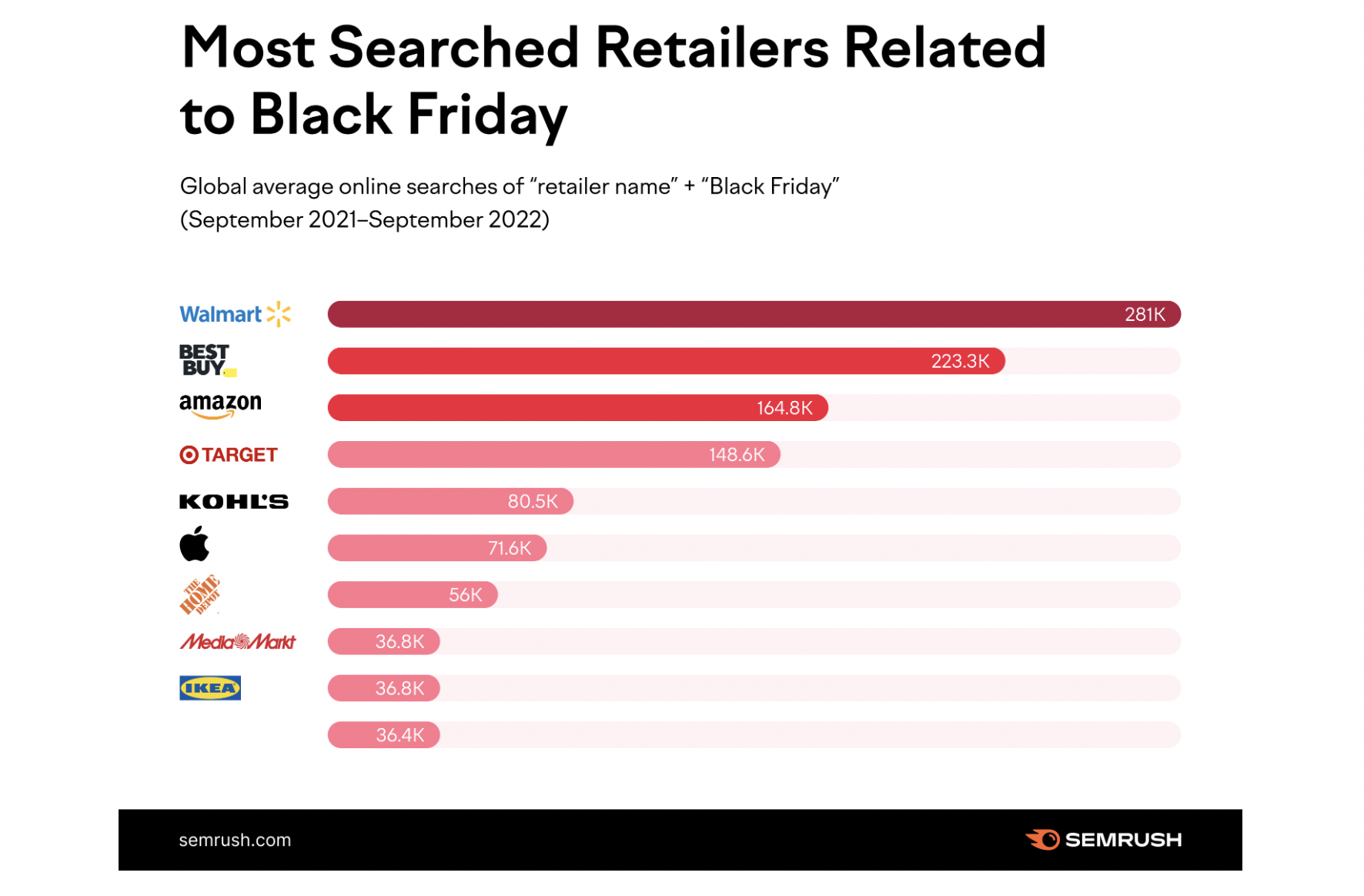 Image Credits: Semrush
The report by SimilarWeb very well explains the growth in popularity in demand and the shift towards online shopping during Black Friday and Cyber Monday.
- According to the Digital Dot, as of this writing in 2022, online sales make up around 21% of all retail sales worldwide, a rise of about 50% from pre-pandemic levels.
- Social commerce makes up roughly 4.5% of all online sales in the US.
- About 4.5% of all online sales in the US are in social commerce. Over 70% of all purchases were made using mobile devices, according to Shopify.
- Baby Boomers, Millennials, and Gen Z customers are spread out relatively evenly. But people between the ages of 25 and 34 make up the largest segment of online shoppers (24%).
- According to Future Publishing, 76% of American shoppers want to complete most of their holiday shopping on Black Friday this year.
- According to Dot Digital, a staggering 94% of consumers want to make their purchases online this year. (And anticipate getting better deals online than in physical stores.)
- Around 78% of global shoppers abandon their carts on Black Friday (Digital Dot).
- On Black Friday, each purchaser typically saves approximately 24%.
Cyber Monday against Black Friday
The Monday after Black Friday is known as "Cyber Monday." It effectively serves as Black Friday's eCommerce counterpart because retailers only offer deals online. It's also true that this is the one Monday everyone looks forward to each year.
The most crucial internet shopping day in American history, 2020 Cyber Monday, generated an incredible $10.7 billion. However, consumers spent around $100 million less in 2021 than in 2020.
While Black Friday undoubtedly has a more extended history, Cyber Monday quickly overtakes it in popularity.
Here are three crucial statistics to help you make the most of the day:


- Salescycle.com reports that the highest period for mobile web traffic on Cyber Monday in 2021 was 21:00, but the peak time for PC traffic was 11:00.
- AirPods, HP and Dell laptops, Nintendo Switches, Samsung TVs, Chromecasts, and VR devices are frequently among the top-selling electronics on Cyber Monday(Source: Adobe Digital Insights)
- Additionally, European nations like the UK, Germany, Spain, Italy, Netherlands, Sweden, and Denmark have seen an increase in interest in Cyber Monday.

Credits for Image: Similarweb
How to sell more during the Holiday Sale?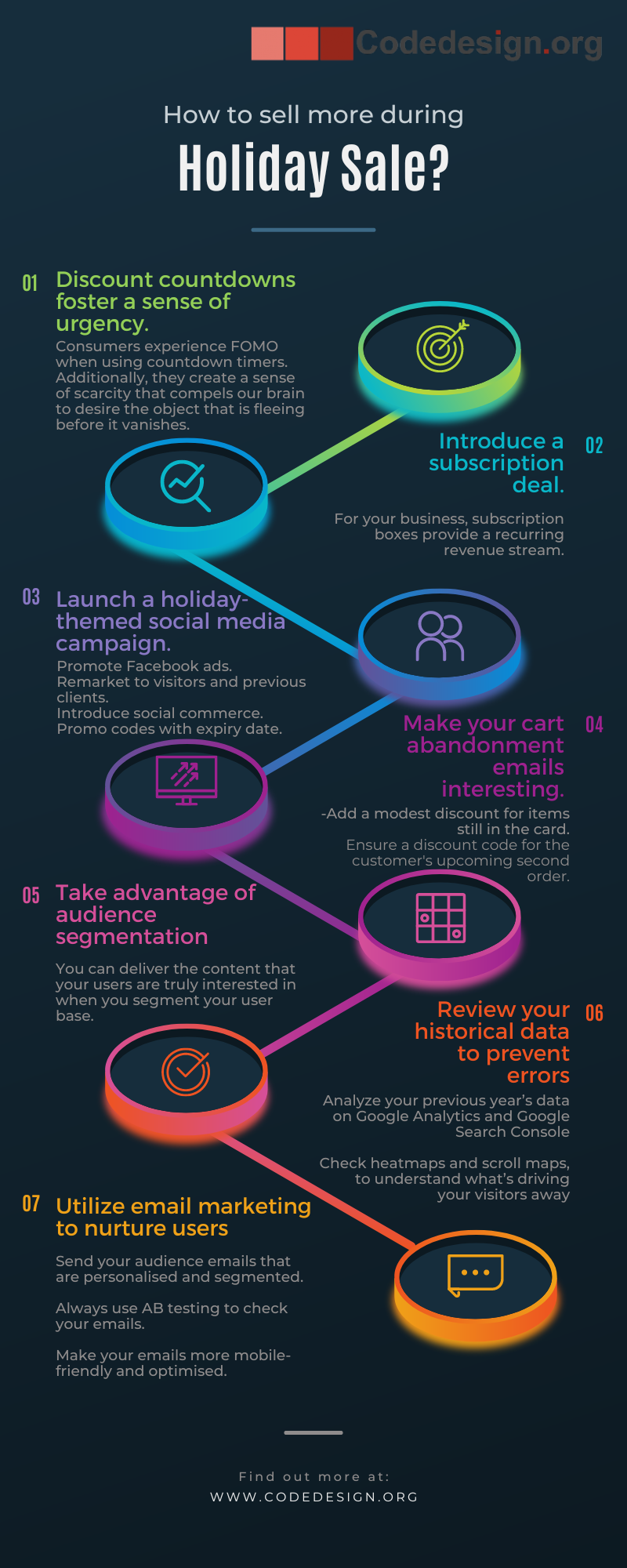 Countdown clocks can be used to boost sales.
According to research from the University of Nebraska, retailers can compel customers to act quickly by giving them the impression that something is scarce.
As the customers fear regret over missing a deal in the future, it encourages customers to make a purchase now. This remains true even if they are aware that the retailer purposefully created the scarcity. Customers may respond more favourably to urgency when considering making a purchase.
Every sale item should have a countdown timer to remind customers that there is a finite window of opportunity to save money on an item they've had their eye on. Another strategy to encourage sales is displaying the original and sale prices. It is also known as anchoring or comparing pricing. Shoppers are more likely to purchase something when a higher price is placed next to one marked down.
A Growing Trend in eCommerce Is the Subscription Business Model.


One of the best models for e-commerce is the subscription model, which gives customers the flexibility they deserve and retailers the business sustainability they want. If done correctly, it can significantly expand your company.
To put it simply, subscription-based eCommerce is a business strategy that enables customers to subscribe to the goods or services they require regularly. Your customer's lifetime value may significantly increase with this model. By upselling or cross-selling relevant products, a subscription commerce business model allows you to retain a sizable portion of your customers and thereby boost revenue. Higher customer retention translates into more loyal customers and better business stability.
Launch a holiday-themed social media campaign.
Reflect the holiday in your profile picture and cover photo.
This could entail changing your cover photo to one of your staff members posing in front of your building wearing Halloween costumes or flinging candy from a Christmas float. Or you could use a picture with a holiday theme.
Strategic planning, often months in advance, is necessary for a social media campaign to be successful. You can avoid ambiguous goals, unfinished creative materials, and an overstuffed content calendar with a roadmap. You might waste money on marketing and fall short of critical corporate objectives. 
Think about how to use social media platforms to achieve your goals. First, present your target audience with an offer. Some offer types to consider are as follows:
- Create a promotional code or offer a temporary discount to boost sales.
- Provide a lead magnet that can be downloaded or viewed to generate leads.
- Use a loss leader that offers a free item to entice more purchases.
- Develop online contests and strategies to pique interest and attract more customers.
Reduce shopping cart abandonment
The act of a potential customer adding your product to their shopping cart and then leaving your website without finishing their purchase is known as "cart abandonment." Because online retailers have no direct control over their customers, shopping cart abandonment has become a severe problem for marketers. 
According to a Shopify report, shopping cart abandonment costs the e-commerce sector $18 billion annually. According to a Statistica study, 26% of customers who abandoned their shopping carts went on to buy the item from another online merchant, compared to 8% of customers who visited a physical store to buy the same item.
1. Provide customers with simplicity and transparent pricing
2. Simplify the online checkout process to improve user experience
3. Establish credibility and authority in your industry, and add security measures to your e-commerce website.
4. Use email marketing or social media advertising to retarget customers.
5. Accept payments using all available and widespread methods
Take advantage of audience segmentation.


Audience segmentation divides your target market into smaller groups based on shared preferences, interests, demographics, etc. It raises engagement levels, increases brand exposure, and strengthens email marketing initiatives. Customer segmentation is the process of grouping your consumers according to their common characteristics.
A straightforward method of organising and maintaining your company's interactions with clients is segmentation. This method also makes it simple to personalise and tailor your marketing, customer service, and sales initiatives to meet the demands of particular demographics. This increases sales and consumer loyalty.
You may already utilise buyer personas in your marketing and sales outreach, depending on the nature of your company. Personas can be a significant asset for small organisations regarding consumer segmentation.
Review your historical data to prevent errors


Data analysis allows you to see how your company has performed in the past, which can advance your ability to forecast the future. Additionally, analysing historical results can help you improve the strategies for campaigns used in your digital marketing plan.
You can determine how you spend your money and adjust to more effective strategies. Your marketing teams can calculate advertising expenses and how they impact overall revenue, which helps them calculate your return on investment (ROI). Analytics offers in-the-moment monitoring of the numerous marketing indicators you define, with new information influencing your decision-making for the following actions.
- Examine the information from last year using Google Analytics and Google Search Console.
- Examine heatmaps and scroll maps to determine what is turning users away from your website.
- View the page visit recordings to observe user behaviour on your pages.
- Fix the issues that plagued your company last years, such as unsuccessful product marketing and ineffective advertising.
CodeDesign is a leading:
- Amazon marketing agency, and
Feel free to contact us to see the unprecedented growth of your business.
---