Health & Wellness: "Rethink your Paid Media Strategy in Health and DNA Testing Companies."
As per the report by grandviewresearch.com, the global genetic testing market was worth around USD 7.4 billion in 2022 and is expected to grow by about 22.0% each year from 2023 to 2030. The growth is influenced by factors like increased awareness of testing for newborns and more people having genetic disorders. In the U.S., newborns are checked for over 60 diseases as part of the Recommended Uniform Screening Panel (RUSP) by the Department of Health and Human Services.
The market for genetic testing in the U.S. is also expected to expand. This growth is mainly driven by the need for pharmacogenomics testing. This type of testing helps doctors choose the right medicines and doses for patients. In recent guidelines, specific genotyping assays for genes like NUDT15 and TPMT were recommended, ensuring consistency in labs.
Who's Leading and What's Growing in DNA Testing?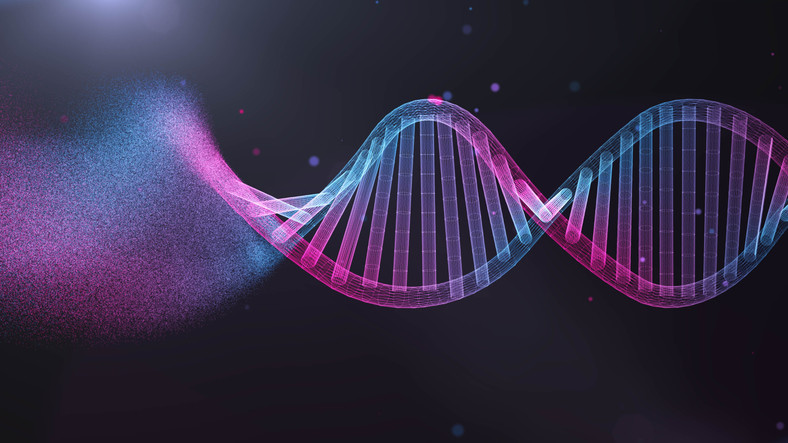 In 2022, most of the genetic testing industry's action happened in the consumables section, which took up about 60.67% of the whole industry. This part involves various players dealing with the supply and sales of consumables, offering a bunch of products like reagents and accessories. The consumables, which are the things used up during the testing process, are expected to keep growing because they get used repeatedly. Many competitors in this market are trying different strategies, both natural and through partnerships, to make their product range bigger and to strengthen and spread their presence in different parts of the world.
The service part of the industry is also set to grow a lot in the coming years. Contract Research Organizations (CROs) are making big moves in this area, investing a lot and pushing the market to grow. For example, in January 2022, Inotiv Inc. made a significant step by spending USD 56 million to acquire Integrated Laboratory System (ILS), boosting its toxicology research. ILS is expected to bring more capacity and chances for growth to Inotiv, especially in in-vivo and in-vitro toxicology services. The service part is also benefiting from more services being offered, especially in skin and genetic testing.
Simplifying the market trends for DNA testing companies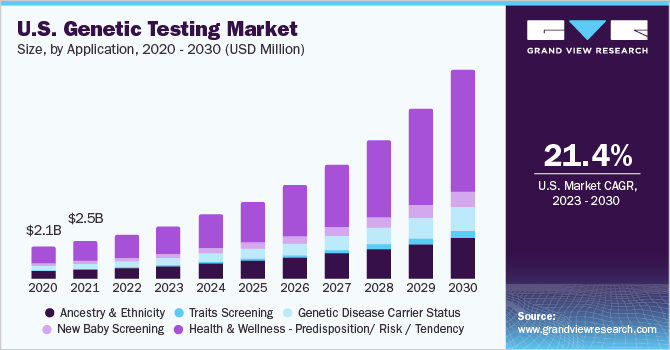 The grandview research stated that the online channel is expected to be the fastest-growing part of the market, growing at a rate of 24.06%. This growth is mainly due to increased funding in molecular biology research, a rise in direct-to-consumer testing, and a growing awareness of personalized medicine. Companies that sell directly to customers offer tests both online and over-the-counter, making them easily accessible. In 2020, online channels made up 77.8% of the global direct-to-consumer market, while over-the-counter channels were 22.2%. Online channels are predicted to keep growing and make up 80% of the entire genetic testing industry by 2030.
On the other hand, the offline channel, which includes traditional methods, had the most market share in 2022. New technologies in molecular genetic testing are helping the industry expand quickly, especially with many private diagnostic laboratories offering a variety of genetic testing solutions. A new trend is emerging where molecular-based testing services, including buccal swab collection kits and saliva tests, are being sold over-the-counter by pharmacies.
Hospitals and clinics were the biggest contributors to market revenue in 2022, making up 46.06% of the share. This is because newborns are often screened for genetic disorders, and the prevalence of cancer is increasing in different regions. For example, in the U.S., almost 98% of women give birth in hospitals. The government of Australia has allocated a significant budget to healthcare, with a portion supporting newborn screening programs.
Recent trends like telehealth and in-house hospital services are also expected to help the market grow. In December 2021, a U.S. healthcare company, Intermountain, significantly increased its telehealth visits, showing a shift in how healthcare services are delivered.
Shift in consumer preferences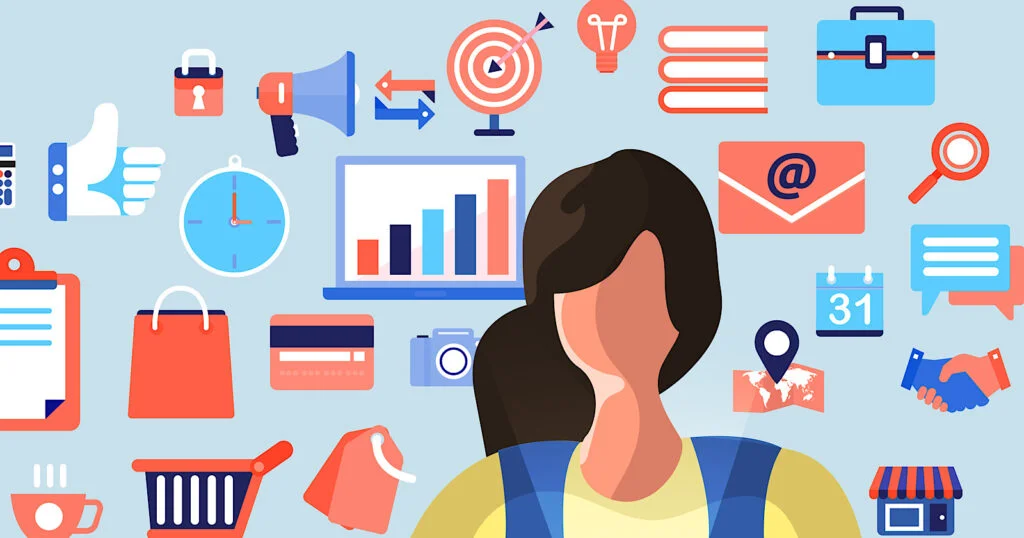 Adoption of Pharmacogenomics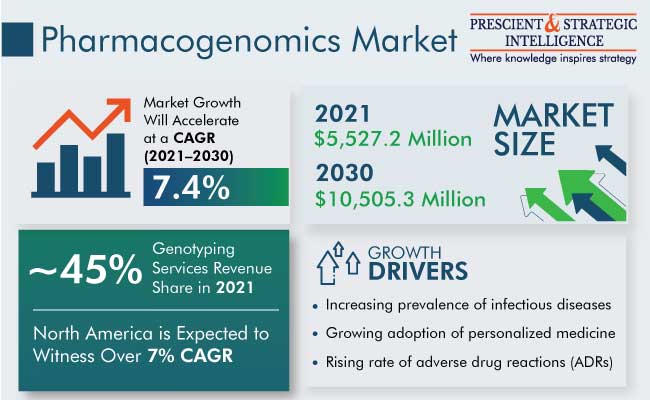 Credits for image: P&S Intelligence
Nowadays, there's a growing trend in using pharmacogenomics testing. It's becoming a crucial tool for doctors when they prescribe medications and figure out the best doses for patients. The Association for Molecular Pathology (AMP) is supporting this trend by recommending clinical pharmacogenomics assays. As of August 2022, there are new guidelines for clinical NUDT15 and TPMT genotyping assays, making sure labs follow a consistent approach.
Affordability is still a concern for middle classes of the developing economies
The cost of genetic testing has been a concern, especially in developing countries. Prices can range from less than $100 to over $2,000, creating a financial hurdle. To add to the challenge, health insurance coverage for genetic testing varies, making it complicated for some people to access these important tests.
So, if you have more affordable options, then showcase the benefits and its importance to these budget-minded customers.
People want healthier lifestyle and it's the best way to start conversation with your customers
A significant 47.64% of the global market is driven by the health and wellness segment, particularly in predisposition/risk/tendency testing. This segment's popularity is fueled by a surge in demand for predictive genetics and consumer/wellness genomics, reflecting the ongoing shift towards healthier lifestyles and increased awareness through healthcare campaigns.
Growing Curiosity in Carrier Disease Genetic Testing
The segment focusing on genetic disease carrier status is gaining traction, indicating a global rise in curiosity about ancestral DNA matching and a broader exploration of genetic information. This trend reflects the evolving landscape of genetics, with more individuals opting for carrier disease genetic testing, thereby contributing to the overall market growth.
It means that you could talk to pregnant or new parents about what does genetic testing mean for their child. 
Why should paid advertising be the number one priority for CMOs of DNA testing companies?
We helped our client Vitagene- a DNA testing company, add $1.4 Million in additional revenue.
Targeted Marketing Channels
As we have already seen in the report above, online channels are expected to experience the highest growth in the genetic testing market. This underscores the importance for marketers to prioritize digital platforms. A focused, calculated, and analytical approach with investments in areas such as social media, search engine advertising, and promoting content in reputable online publications has the potential to improve brand awareness and attract more loyal customers.
Messaging for Consumer Segments
As more people want personalized suggestions and recommendations in medicine and special genetic tests, it's super important to create ads that speak directly to them. By being specific and clear in our messages about how genetic testing can benefit these individuals, especially those interested in personalized health info or pharmacogenomics, we can make our ads more effective and relatable.
Highlighting Service Offerings: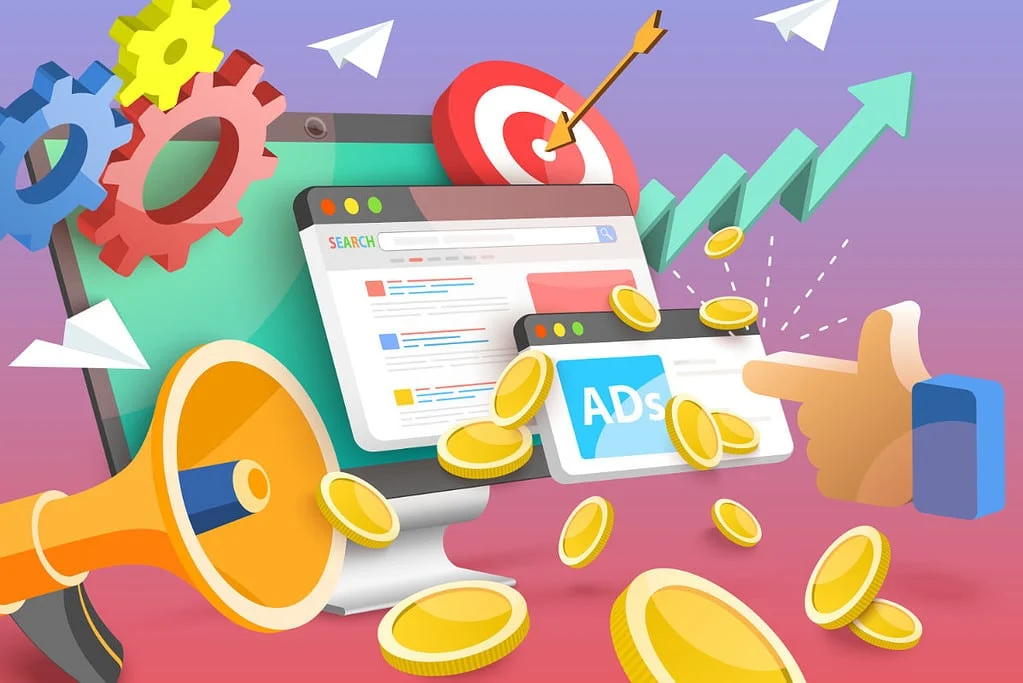 As the field of genetic testing services experiences significant growth, it becomes crucial for companies to effectively communicate the variety of services they provide. When crafting paid advertising campaigns, the emphasis should be on showcasing the dependability, efficiency, and specialized nature of these services. By doing so, the aim is to shed light on how these offerings precisely meet the unique needs and preferences of consumers. This approach ensures that individuals gain a clear understanding of the value and specificity that these genetic testing services bring to the table.
Online Accessibility and Convenience:
It's essential for advertising messages to highlight the ease and accessibility that online genetic testing services offer. Key features such as user-friendly home test kits, secure online platforms, and quick results should be emphasized to directly address the needs of consumers looking for a straightforward and hassle-free experience. This strategic communication aims to ensure that individuals understand and appreciate the convenience and efficiency that online genetic testing services bring to their health journey.
Promoting New Technologies:
The DNA testing industry is ever-evolving and with the advancement of technology, it becomes more imperative that you show customers how well you are adopting the new changes. Let's say when you inform and educate your customers about your new offerings, it would play a vital role in positioning you as pioneers within the industry. 
Advertising campaigns that highlight these innovations and technological strides not only grab the audience's attention but also solidify a brand's reputation for credibility and trustworthiness. This emphasis on staying at the forefront of technological developments ensures that the company is viewed as a reliable authority within the genetic testing landscape.
Addressing Affordability Concerns:
Recognizing the affordability challenges within genetic testing, advertising messages should stress cost-related benefits, such as discounts, affordable testing packages, or available insurance coverage options. Transparent communication regarding pricing structures and potential financial assistance serves to alleviate consumer concerns, promoting accessibility.
Aligning with Health and Wellness Trends:
Given the substantial influence of the health and wellness segment, advertising campaigns should align seamlessly with this trend by emphasizing the contributions of genetic testing to overall well-being. Messages should focus on promoting a proactive approach to health, the prevention of genetic diseases, and the endorsement of a healthy lifestyle, resonating with the growing health-conscious consumer base.
Educational Content:
With more people getting interested in testing for genetic diseases, it's important to include helpful info in our ads. We should create ads that explain the perks of ancestral DNA matching and testing for carrier diseases. These kinds of ads will attract folks who want to fully understand their genetic info. The goal is to give people the knowledge they need to make smart choices about their health. Informative advertisements that tell the benefits of ancestral DNA matching and carrier disease testing attract consumers seeking a comprehensive understanding of their genetic information, fostering informed decision-making.
5 strategies to use paid advertising to accelerate your growth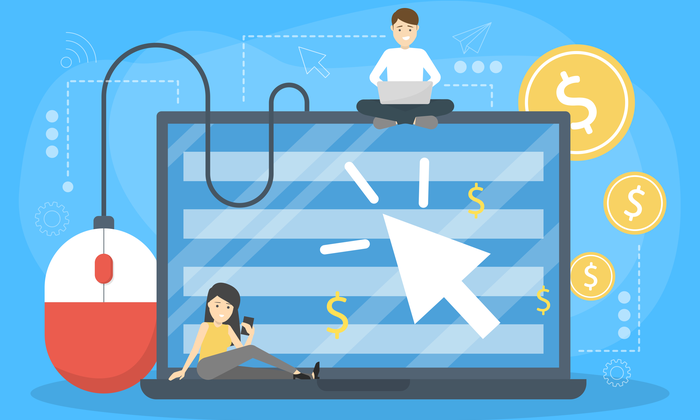 What are the types of Google Ads and how could you leverage each one of it for your DNA testing company?
Google offers six distinct types of ads tailored to different purposes. Let's delve into each to understand how they can benefit companies providing genetic testing services.
Search Ads: Positioned at the top and bottom of Google search results pages, Search Ads are crafted to swiftly connect users with relevant information, making them an ideal tool for genetic testing services reaching potential clients actively seeking DNA testing.
Display Ads: These versatile ads surface on various websites across the Internet, available in text, image, or video formats. For genetic testing services, Display Ads provide a visual and informative way to create awareness and capture the attention of a diverse online audience.
Video Ads: Video Ads, appearing as videos on YouTube and other online platforms, offer genetic testing services a dynamic way to engage with their audience. Utilizing visual storytelling, these ads can effectively convey the benefits and significance of genetic testing services.
Gmail Ads: Tailored for the Gmail inbox, these text ads appear alongside messages. Genetic testing services can use Gmail Ads to discreetly showcase their offerings to a targeted audience, ensuring visibility among potential customers.
App Install Ads: Genetic testing services with mobile apps can leverage App Install Ads to encourage users to download and install their app. This type of ad is particularly useful for enhancing accessibility to genetic testing services through mobile platforms.
Remarketing Ads: Crafted to reconnect with individuals who have previously visited a website, Remarketing Ads offer genetic testing services an opportunity to re-engage with interested parties. This can reinforce brand awareness and encourage those familiar with the company's offerings to take the next steps in their genetic testing journey.
Choose the right keywords that are relevant to your products and services
Choosing the right keywords for your DNA testing company's paid advertising is crucial for a successful campaign. Instead of just focusing on high search volume, it's important to target specific long-tail keywords that align with the intent of potential customers looking to use your DNA testing services. Utilize tools like Google Keyword Planner, Semrush, Ahrefs, or Ubersuggest to generate a list of keywords related to genetic testing.
For instance, if you only target a broad term like "genetic testing," you might attract a large volume of searches, but not all of them will be relevant to your business. Some may be seeking information on the science behind genetic testing, while others could be researchers or marketers. It's essential to dig deeper into the search intent.
Instead, consider long-tail keywords that specify the type of DNA testing services you provide. For example, "ancestry DNA testing for health risks" or "genetic testing for personalized health plans." These terms give a clearer indication that the searcher is interested in the specific services your DNA testing company offers.
When compiling your list of keywords, prioritize those that are not only relevant but also have a good search volume and lower competition. This approach ensures that your paid advertising efforts are directed towards attracting the right audience – people actively looking for the DNA testing services your company provides.
Improve your quality score
It might surprise you, but having the highest bid doesn't guarantee the top spot on the search engine results page (SERP). Google is dedicated to delivering quality to its users, and it conducts a thorough quality check to ensure that only the best pages and websites rank at the top in paid searches. The Quality Score is a metric ranging from 1 to 10, indicating how valuable your ads and landing pages are to the audience. It considers three key factors: ad relevance, expected click-through rate, and landing page experience.
Ad relevance is all about whether your landing page matches the keyword you're targeting. Google's algorithm assesses if it makes sense for users to land on your page when they're searching with those specific keywords.
CodeDesign is a leading digital marketing agency in Portugal, and is ready to assist you in your marketing campaign.
Your landing page needs to offer a positive user experience to encourage buyers to take the desired action and convince the algorithm that your page aligns with what your ad promises. Considering that Google's primary revenue comes from paid ads, your expected click-through rate becomes a crucial factor influencing your Quality Score.
Utilize negative keywords wisely
Negative keywords act as filters in your ad campaigns. They help refine the audience that sees your ads by excluding specific terms. Let's consider a scenario: suppose you run a DNA testing company with a focus on ancestry testing. Negative keywords for your campaign could include terms like "DIY DNA testing," "home DNA testing kits," or "free DNA testing online."
When these negative keywords are integrated into your campaign, they serve to filter out individuals searching for information or services unrelated to your core offerings. The goal is to ensure that the traffic directed to your website consists of individuals genuinely interested in DNA testing services. Understanding and leveraging negative keywords is a crucial aspect of optimizing your Google Ads campaigns.
Have a proper call to action
A compelling call-to-action (CTA) is crucial in guiding your website visitors to take specific actions aligned with your objectives. CTAs can manifest as buttons, pop-up boxes, or banners strategically placed on your website. The primary aim of a CTA is to motivate visitors to engage in a desired action. 
Choose words that convey a clear directive, avoiding ambiguity to ensure visitors understand precisely what action is expected of them. By incorporating persuasive language, you can effectively influence your audience to follow through on the intended action. To maintain clarity and avoid confusion, limit the number of CTAs presented and keep the accompanying copy concise. This approach not only builds trust and integrity but also communicates a strong value proposition, enticing visitors to act on your call and further engage with your DNA testing services.
Focus on retargeting campaigns
Implementing retargeting ads is a critical component of effective paid advertising, especially in the context of DNA testing companies. When a visitor has previously explored your DNA testing website, it indicates potential interest in your services. However, they might not be ready to take immediate action or require additional persuasion through targeted ads.
It's important to recognize that the decision-making process for DNA testing services involves a comprehensive customer journey. Addressing the needs of individuals who have already visited your website is crucial, as they are positioned in the lower stage of the marketing funnel. As a marketer in the DNA testing industry, it is imperative to tailor advertising efforts toward these specific audiences. By doing so, you not only enhance the likelihood of converting these potential customers into actual sales but also contribute to improved overall conversion rates for your DNA testing services.
How did we help Vitagene add an additional 1.4 million $ in revenue?

Our work at CodeDesign made a big impact for Vitagene, the DNA testing company. We helped them bring in an extra $1.4 million in revenue through paid ads. We knew Vitagene wanted to reach more people, so we crafted ads that spoke directly to their audience.
Using our expertise, we figured out the best places and times to show the ads, making sure they reached the right people. We focused on telling folks why Vitagene's DNA testing services are reliable and beneficial. By keeping a close eye on how the ads were doing, we tweaked things to get the most bang for the buck.
This success isn't just about boosting visibility; it's about real financial growth. Our partnership with Vitagene is a clear example of how smart and targeted advertising can make a significant impact on the bottom line. At CodeDesign, we're not just about making noise – we're about getting results.
About CodeDesign
Codedesign is a digital marketing agency specializing in e-commerce and B2B online marketing. Our digital team utilizes the latest digital marketing tools and strategies to help clients reach their business goals. We offer comprehensive services such as website design, search engine optimization (SEO), content marketing, performance marketing, social media marketing, CRM and marketing automation, email marketing, and more. Our experts create and implement customized digital marketing campaigns to increase website traffic, generate leads, and drive sales. Our expertise in e-commerce and B2B marketing allows us to understand the nuances of the digital marketplace and create effective marketing solutions tailored to their client's needs.
CodeDesign is leading:
- Digital Agency
- Digital Marketing Agency
- Amazon Marketing Agency


Feel free to contact us to see the unprecedented growth of your business.
---